Open Access This article is
freely available
re-usable
Review
Regulation of Smooth Muscle Cell Proliferation by NADPH Oxidases in Pulmonary Hypertension
Department of Medicine, Division of Pulmonary and Critical Care Medicine, Johns Hopkins School of Medicine, Baltimore, MD 21224, USA
*
Author to whom correspondence should be addressed.
Received: 30 January 2019 / Accepted: 1 March 2019 / Published: 5 March 2019
Abstract
:
Hyperproliferation of pulmonary arterial smooth muscle cells is a key component of vascular remodeling in the setting of pulmonary hypertension (PH). Numerous studies have explored factors governing the changes in smooth muscle cell phenotype that lead to the increased wall thickness, and have identified various potential candidates. A role for reactive oxygen species (ROS) has been well documented in PH. ROS can be generated from a variety of sources, including mitochondria, uncoupled nitric oxide synthase, xanthine oxidase, and reduced nicotinamide adenine dinucleotide phosphate (NADPH) oxidase. In this article, we will review recent data supporting a role for ROS generated from NADPH oxidases in promoting pulmonary arterial smooth muscle cell proliferation during PH.
Keywords:
NADPH oxidase; pulmonary arterial smooth muscle; reactive oxygen species
1. Introduction
Arising from various etiologies, pulmonary hypertension (PH) is a complicated condition diagnosed by increased pulmonary arterial pressure. Historically, the threshold for diagnosis has been a mean pulmonary arterial pressure of ≥25 mm Hg, although recently, reductions to >20 mmHg when combined with other hemodynamic abnormalities have been proposed [
1
]. The increase in pulmonary arterial pressure is due to both contraction and remodeling of the pulmonary vessels. The World Health Organization has clinically classified PH into five main groups (
Table 1
), based on the hemodynamics, underlying cause, clinical presentation, and therapeutic responsiveness [
1
]. Perhaps because of this complexity, our understanding of the mechanisms underlying disease development and progression remains incomplete, and treatment options are limited to targeting a few main pathways primarily involving the reduction of vasomotor tone. However, significant vascular remodeling is a component of all forms of PH, although the relative contribution of remodeling and contraction may vary. Thus, the development of treatments aiming to de-remodel the pulmonary vasculature would be beneficial, but requires a better understanding of the processes involved.
Histological analysis provided early evidence of the changes in the pulmonary vascular wall components that occur during the development of PH. Hyperproliferation of smooth muscle, fibroblasts, and endothelial cells (ECs) is evident, as is the migration of muscle into typically non-muscular small arterioles. Numerous studies have explored factors governing the changes in cell phenotype that lead to the increased wall thickness, and have identified various potential candidates. For example, a role for reactive oxygen species (ROS) has been well documented in PH (reviewed in [
2
,
3
,
4
,
5
]). ROS can be generated from a variety of sources, including mitochondria, uncoupled nitric oxide synthase, xanthine oxidase, and reduced nicotinamide adenine dinucleotide phosphate (NADPH) oxidase (Nox) (reviewed in [
6
,
7
,
8
]), and are important for the control of a variety of cell functions. In vascular smooth muscle cells (VSMCs), processes modulated by ROS include calcium homeostasis, transcriptional regulation, response to hypoxia, and activation of apoptotic pathways [
9
]. In this article, we will review recent data supporting a role for ROS generated from NADPH oxidases in promoting pulmonary arterial smooth muscle cell proliferation during PH.
2. NADPH Oxidases
A variety of Nox isoforms exist. As mentioned earlier, Nox2 has been best characterized in phagocytes, but has also recently been found in VSMCs. Nox4 is by far the best characterized Nox isoform in non-immune cells, and has been extensively studied in cancer. More recently, Nox5, and a distinct subfamily of Noxs termed dual oxidase (Duox1-2), have also been described. For the purposes of this review, discussion will be limited to Nox1-4, as these have been the most extensively studied in VSMCs. As discussed below, Noxs share several isoform-independent common features including: Mechanism of ROS generation, requirement of binding partners for activation, and modification of activity based on subcellular compartmentalization.
2.1. Noxs and the Regulation of Smooth Muscle Proliferation in Pulmonary Hypertension
While the role of Noxs has been extensively studied in a variety of diseases, including cancer, chronic granulomatous disease, infections, and a spectrum of fibrotic diseases, including idiopathic pulmonary fibrosis (IPF) [
25
], exploration of Nox isoform expression and function in PAH has been relatively limited, as detailed below.
2.1.2. Nox2
Nox2, often referred to as phagocyte NAPDH oxidase, plays a well characterized role in antimicrobial host defense via the generation of ROS by neutrophils, eosinophils, and macrophages. Composed of the membrane-bound subunits, gp91
phox
(often referred to simply as Nox2) and p22
phox
, Nox2 is known to be well expressed in phagocytes. There is some contention, however, as to the expression of Nox2 in the pulmonary vessel wall. Archer et al. [
31
] characterized gp91
phox
expression in the media and p22
phox
expression in the endothelium of mouse resistance pulmonary arteries, although both were more abundant in alveolar macrophages and airway epithelium. Others corroborated the presence of gp91
phox
in mouse [
32
] and rat [
27
,
33
] pulmonary arteries, and gp91
phox
expression has been documented in pig PASMCs and pulmonary arterial endothelial cells (PAECs) [
34
]. In some studies, however, gp91
phox
expression was not detected in rat PASMCs [
26
] or in mouse pulmonary arteries [
35
].
Changes in Nox2 expression have been interrogated in several models of PH. While increases in gp91
phox
were reported in the MCT rat model [
27
,
33
], other studies found no change in gp91
phox
expression in mice exposed to CH [
32
], chronic intermittent hypoxia (CIH) [
36
], or MCT [
37
], rats exposed to MCT [
26
], or the Fawn-Hooded rat [
27
], a model that spontaneously develops PH. The reasons for these discrepancies are not completely clear, but may be related to the method of measuring expression or to the size/location of the vessels being analyzed, and for in vivo studies, the expression of Nox2 by nearby adherent macrophages may confound attempts to measure its expression in vascular wall cells.
While data detailing any potential direct effect of Nox2 upon PASMC remodeling remain sparse, there has been some limited exploration of the effect of genetic deletion of Nox2 in models of PH. In the CH mouse, gp91
phox
deficiency is protective against the development of medial wall thickening in distal pulmonary arteries and against elevations in right ventricular pressure; the knockout mice lack CH-induced increases in pulmonary artery superoxide levels seen in wild-type mice [
32
]. Similar findings are noted in a CIH mouse model, in which the loss of gp91
phox
results in attenuated pulmonary vascular remodeling and right ventricular hypertrophy (RVH) [
36
]. In this study, gp91
phox
-deficient mice were spared from CIH-induced increases in whole lung protein kinase B (Akt) and platelet-derived growth factor receptor beta (PDGRβ) phosphorylation, suggesting that Nox2 is important in driving proliferative signaling pathways. As these studies utilized global constitutive knockouts, it remains unclear whether Nox2 activity in phagocytic cells or PAECs/PASMCs, or both, is necessary for hypoxia-induced vascular remodeling. Further, Nox4 expression is increased in the wildtype CIH mouse lung, but not in the gp91
phox
knockout [
36
], raising the possibility that any observed effects of Nox2 on pulmonary vascular remodeling may have been mediated by Nox4.
2.1.4. Nox3
Little is known regarding any role for Nox3 in the pulmonary vasculature or in PASMCs more specifically. Nox3 mRNA expression was not detected in whole lungs from either normal or MCT rats [
67
]. However, others have since identified Nox3 in mouse lungs and PAECs [
68
]. A single nucleotide polymorphism (SNP) in the
Nox3
gene has been found to be associated with PH susceptibility in a Chinese population [
69
]. A clearer role for Nox3 in pulmonary vascular function awaits further study.
2.1.5. Nox5
Nox5 is expressed in the media and adventitia of pulmonary arteries from PH patients [
70
]. To our knowledge, however, it is unknown whether Nox5 expression is altered in PH or whether Nox5 contributes to PASMC function.
3. Conclusions
Based on the available evidence, it seems clear that Nox plays an important role in modulating PASMC function during the development of PH. The factors regulating Nox expression and activity, along with the downstream effector pathways controlling proliferation, are still being explored, but the data to date yield a complex picture with a built-in redundancy and amplification mechanisms. As detailed exploration of the role of Noxs in controlling PASMCs proliferation continues, there is little doubt that additional pathways are likely to be identified. While Nox inhibition is currently being studied in other diseases, like IPF [
71
], it remains to be resolved whether Nox can be a useful therapeutic target in PAH. Due to their key roles as modulators of signal transduction throughout the body during normal physiology, and considering adverse findings in animals with genetic deletion of Noxs, it is not unreasonable to suspect that the inhibition of Noxs could bring on unexpected or undesirable outcomes. However, recently developed compounds specifically targeting Nox isoforms to reduce, but not eliminate, ROS production may have better safety profiles for use in vivo [
72
]. Given that the relative contribution of various Nox isoforms to PASMC hyperproliferation may vary with species, inciting causes of PH and sex, should these compounds ultimately be found safe for use in humans, more data will also be required to ultimately determine exactly which patients might benefit.
Author Contributions
Conceptualization, J.C.H., K.S. and L.A.S.; Writing—Original Draft Preparation, J.C.H., K.S. and L.A.S.; Writing—Review & Editing, J.C.H., K.S. and L.A.S.
Funding
National Institutes of Health: HL073859, HL126514, HL132055, HL133475; Pulmonary Hypertension Association K08 Supplement Award.
Conflicts of Interest
The authors declare no conflict of interest.

Figure 1. Nox isoforms and subunits. Diagram showing subunit requirements for the isoforms 1–4 of NADPH oxidase (Nox). In addition to the base Nox enzyme, p22phox is constitutively required across Nox1–4. While Nox4 does not require any further subunits before ROS generation can commence, Nox1–3 require additional organizational and activator subunits. NOXO1 = NADPH oxidase organizer 1; NOXA1 = NADPH oxidase activator 1.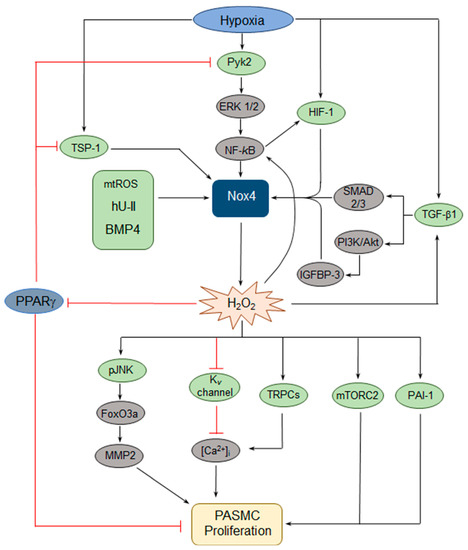 Figure 2. Schematic of key pathways involved in Nox4-mediated effects on pulmonary arterial smooth muscle cell (PASMC) proliferation. Hypoxia upregulates Nox4 via several pathways, including a proline-rich tyrosine kinase 2 (Pyk2)-extracellular signal-regulated kinase (ERK 1/2)-nuclear factor-kappa B (NF-kB) axis, hypoxia-inducible transcription factor 1 (HIF-1), transforming growth factor β1 (TGF-β1), and thrombospondin-1 (TSP-1). Other activators of Nox4 include human urotensin II (hU-II), bone morphogenetic protein 4 (BMP4), and mitochondrial reactive oxygen species (mtROS). Importantly, several of these pathways include feed-forward loops, some of which feature peroxisome proliferator-activated receptor γ (PPARγ) as a key component. Downstream effectors of Nox4-derived hydrogen peroxide (H2O2) include phosphorylated c-Jun-NH(2)-terminal kinase (pJNK), mammalian target of rapamycin 2 (mTORC2), plasminogen activator inhibitor-1 (PAI-1), and multiple pathways that increase intracellular calcium ([Ca2+]i). PI3K = phosphatidylinositol 3-kinase; Akt = protein kinase B; IGFBP-3 = insulin-like growth factor binding protein-3; FoxO3a = Forkhead Box O3a; MMP2 = matrix metalloproteinase 2; Kv = voltage-gated potassium; TRPC = transient receptor potential channel.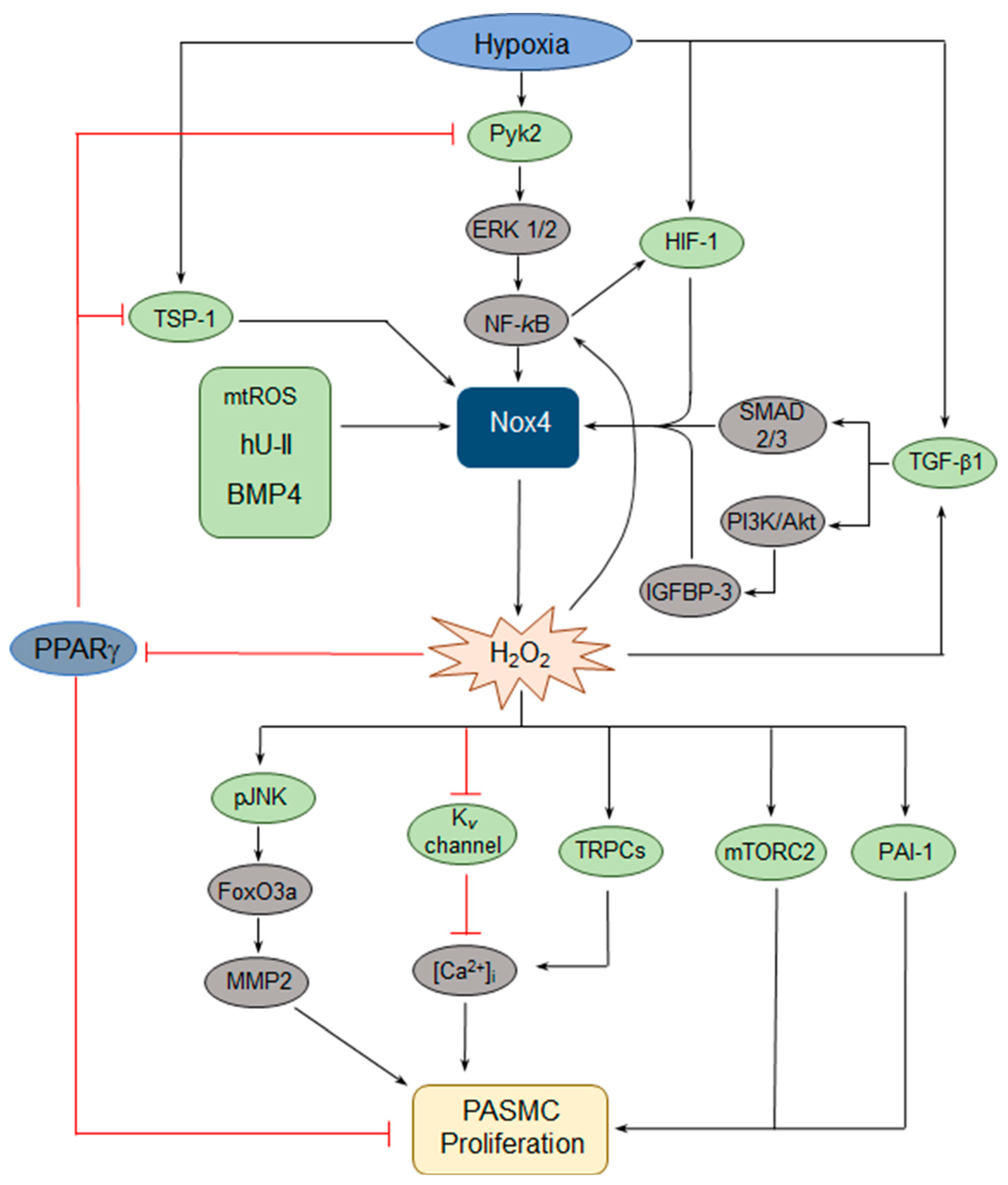 Group 1—Pulmonary Arterial Hypertension (PAH)
Idiopathic
Heritable
Drug and toxin induced
Associated with connective tissue disease; infections; portal hypertension; congenital heart diseases
Long-term responders to Ca2+ channel blockers
Overt pulmonary venous and/or capillary involvement
Persistent pulmonary hypertension of the newborn
Group 2—Pulmonary Hypertension Due to Left Heart Disease
Failure with preserved ejection fraction
Failure with reduced ejection fraction
Valvular disease
Congenital/acquired left heart inflow/outflow tract obstruction and congenital cardiomyopathies
Group 3—Pulmonary Hypertension Due to Lung Diseases and/or Hypoxia
Chronic obstructive pulmonary disease
Restrictive lung disease
Other pulmonary diseases with mixed restrictive and obstructive pattern
Hypoxia without lung disease
Developmental lung disease
Group 4—Pulmonary Hypertension Due to Pulmonary Artery Obstructions
Chronic thromboembolic pulmonary hypertension (CTEPH)
Other obstructions
Group 5—Pulmonary Hypertension with Unclear/Multifactorial Mechanisms
Hematologic disorders
Systemic/metabolic disorders
Complex congenital heart disease
Others

© 2019 by the authors. Licensee MDPI, Basel, Switzerland. This article is an open access article distributed under the terms and conditions of the Creative Commons Attribution (CC BY) license (http://creativecommons.org/licenses/by/4.0/).