Evaluation of the AGE/sRAGE Axis in Patients with Multiple Myeloma
1
Division of Hematology, Department of Human Pathology in Adulthood and Childhood "Gaetano Barresi", University of Messina, 98125 Messina, Italy
2
Institute of Biomedicine and Molecular Immunology "A. Monroy" (IBIM), National Research Council (CNR), 90146 Palermo, Italy
3
National Research Council of Italy (CNR)-Institute of Applied Science and Intelligent System (ISASI), 98164 Messina, Italy
4
School and Operative Unit of Allergy and Clinical Immunology, Department of Clinical and Experimental Medicine, University of Messina, 98125 Messina, Italy
5
Department of Biomedical Sciences, Dental, Morphological and Functional Investigations, University of Messina, 98125 Messina, Italy
*
Author to whom correspondence should be addressed.
†
These authors contributed equally.
Received: 23 January 2019 / Revised: 26 February 2019 / Accepted: 3 March 2019 / Published: 4 March 2019
Abstract
Glycative stress influences tumor progression. The aim of the present study was to evaluate the advanced glycation end products/soluble receptor of advanced glycation end products (AGE/sRAGE) axis in patients with multiple myeloma (MM). Blood samples were taken from 19 patients affected by MM and from 16 sex-matched and age-matched healthy subjects. AGE and sRAGE axis were dosed in patients with MM and matched with controls. AGEs were measured by spectrofluorimetric methods. Blood samples for the determination of sRAGE were analyzed by ELISA. AGE levels were significantly reduced in patients with respect to controls. Instead, sRAGE was significantly elevated in patients affected by MM compared to healthy subjects. Moreover, we showed that there was a statistically significant difference in sRAGE according to the heavy and light chain. IgA lambda had significantly higher sRAGE values than IgA kappa, IgG kappa, and IgG Lambda MM patients. From our data emerges the role of the sRAGE/AGE axis in MM. Since AGE is a positive regulator of the activity of RAGE, circulating sRAGE concentrations may reflect RAGE expression and may be raised in parallel with serum AGE concentrations as a counter-system against AGE-caused tissue damage. Serum concentrations of AGE and sRAGE could therefore become potential therapeutic targets.
View Full-Text
►

▼

Figures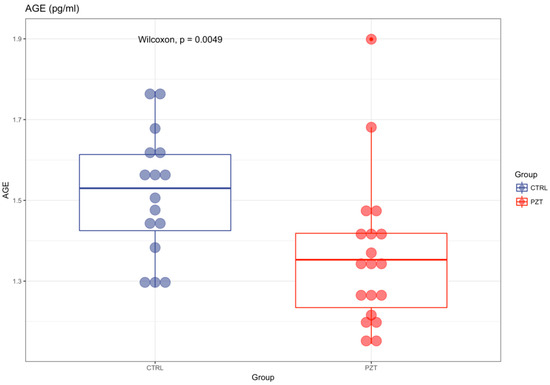 Figure 1
This is an open access article distributed under the
Creative Commons Attribution License
which permits unrestricted use, distribution, and reproduction in any medium, provided the original work is properly cited (CC BY 4.0).

Share & Cite This Article
MDPI and ACS Style
Allegra, A.; Musolino, C.; Pace, E.; Innao, V.; Di Salvo, E.; Ferraro, M.; Casciaro, M.; Spatari, G.; Tartarisco, G.; Allegra, A.G.; Gangemi, S. Evaluation of the AGE/sRAGE Axis in Patients with Multiple Myeloma. Antioxidants 2019, 8, 55.
Note that from the first issue of 2016, MDPI journals use article numbers instead of page numbers. See further details here.
Related Articles
Comments
[Return to top]