Open Access This article is
freely available
re-usable
Review
The Influence of Light on Reactive Oxygen Species and NF-кB in Disease Progression
Laser Research Centre, Faculty of Health Sciences, University of Johannesburg, P.O. Box 17011, Johannesburg 2028, South Africa
*
Author to whom correspondence should be addressed.
Received: 6 November 2019 / Accepted: 2 December 2019 / Published: 12 December 2019
Abstract
:
Reactive oxygen species (ROS) are important secondary metabolites that play major roles in signaling pathways, with their levels often used as analytical tools to investigate various cellular scenarios. They potentially damage genetic material and facilitate tumorigenesis by inhibiting certain tumor suppressors. In diabetic conditions, substantial levels of ROS stimulate oxidative stress through specialized precursors and enzymatic activity, while minimum levels are required for proper wound healing. Photobiomodulation (PBM) uses light to stimulate cellular mechanisms and facilitate the removal of oxidative stress. Photodynamic therapy (PDT) generates ROS to induce selective tumor destruction. The regulatory roles of PBM via crosstalk between ROS and nuclear factor kappa-light-chain-enhancer of activated B cells (NF-кB) are substantial for the appropriate management of various conditions.
Keywords:
photobiomodulation; reactive oxygen species (ROS); nuclear factor kappa-light-chain-enhancer of activated B cells (NF-кB); cancer; diabetes; wound healing
1. Introduction
Reactive oxygen species (ROS) are formed by the fractional reduction of molecular oxygen and include, but are not limited to, superoxide anions, hydrogen peroxide, and hydroxyl radicals, all obtained from sequential oxidation–reduction processes involving nicotinamide adenine dinucleotide phosphate (NADPH) oxidase, lipoxygenases, or cyclooxygenases [
1
]. Unusually high levels of ROS can allegedly be used for cancer diagnoses, varying according to tumor type, and are potent signaling molecules in cancer, leading to nuclear damage, genetic instability, and tumorigenesis [
2
,
3
,
4
]. However, at non-cytotoxic levels, ROS act as secondary messengers with signaling roles in many physiological systems to activate programmed cell death, gene expression, and other cell signaling cascades [
5
]. Increased ROS production was observed in diabetes and diabetic complications, leading to oxidative stress. As a result, a series of cell death mechanisms were observed within the cell, finally leading to tissue and organ damage. Elevated levels of blood glucose appear to be the prime source of free radicals, unbalancing the pool of antioxidants and ROS. Therefore, the down-regulation of ROS production and targeting factors resulting in their increased generation may have a significant role in controlling diabetic complications [
6
,
7
].
ROS plays a pivotal role in the initial stages of wound healing by killing invading bacteria and other microorganisms. However, under chronic conditions, increased production of free radicals was observed, thereby inhibiting the proliferation and migration of key cell types and leading to delayed wound healing [
8
,
9
]. The regulation of certain redox transcription factors is dependent on the level of ROS. Nuclear factor kappa-light-chain-enhancer of activated B cells (NF-кB) was the first discovered redox-regulated transcription factor. NF-кB is a protein complex with multiple functions in immune, inflammation, cell growth, and survival responses. ROS are able to both activate and suppress NF-кB signaling pathways [
10
,
11
]. Photobiomodulation (PBM) is a modern therapeutic approach which results in beneficial outcomes and the modulation of various signaling pathways in the presence of light at a specific wavelength. Photodynamic therapy (PDT) uses a specific wavelength light to activate the photosensitizer to induce cell death in conjunction with molecular oxygen.
Even though PBM is well-known for its cell-stimulating properties both in vitro and in vivo, clinical studies have been very mixed, and some contradicted non-clinical studies [
12
,
13
,
14
,
15
]; as a result, some clinicians consider PBM a very controversial therapy [
16
,
17
,
18
]. It is important to realize that the underlying cellular mechanisms of PBM are not fully understood [
19
,
20
]. Additionally, PBM treatment parameters vary, such as the wavelength, fluence, power density, pulse structure, and irradiation time. These are factors that preclude efficient clinical transition of PBM [
21
,
22
,
23
,
24
]. However, some studies reported the role of cytochrome c oxidase as an important chromophore in the cellular response to PBM [
25
]. A similar problem exists with PDT, in that it is not clinically accepted by many clinicians. Although photodynamic therapy (PDT) has a long history, there is a minimal amount of proven clinical research, making it difficult for it to be recognized as a first-line treatment approach in modern medicine. This review focuses on the effect of ROS on NF-кB activity, how ROS are affected by PBM/PDT, and its role in diabetes, wound healing, and cancer, respectively.
2. Sources and Stimuli of ROS
ROS are oxygen intermediates with unpaired electrons; both superoxide and hydroxyl radicals are highly unstable oxygen radicals [
26
]. Experimentally, hydrogen peroxide is a simple peroxide radical involved in various signaling functions and is frequently used as a source of all oxygen-related free radicals [
27
]. Elevated levels of hydrogen peroxide effectively oxidize cysteine residues (Cys-SH) to cysteine sulfenic acid (Cys-SOH) or cysteine disulphide (Cys-S-S-Cys) in various proteins, such as kinases, phosphatases, and transcription factors. A well-established mechanism by which ROS regulate cellular functions is through the redox balance of cysteine residues [
28
].
Mitochondria and NADPH promote endogenous ROS formation in cancer and reports have shown crosstalk between these two producers [
29
]. The mitochondrial oxidative generation of adenosine triphosphate (ATP) is a major source of free radicals. During the Krebs's cycle, unpaired electrons are transferred to the electron transport chain (ETC), resulting in the production of superoxide anions [
30
]. About ten mitochondrial sites generate numerous superoxide anions through different mechanisms [
31
]. The reactions of the five complexes of the ETC (complex I to V) are involved in the production of ATP and free radicals as byproducts. The radicals produced from complexes I and III have various cellular signaling roles [
32
]. Both superoxide anions and hydrogen peroxides are constantly produced by complex III, with 80% released into the intermembrane space and the rest into the mitochondrial matrix. These ROS intermediate radicals are necessary for cell differentiation, proliferation, survival, and adaptive immunity responses [
33
]. In complex IV and during oxidative phosphorylation reactions, the movement of electrons results in the reduction of oxygen to water. Almost all of the generated superoxide anions are effectively quenched by manganese superoxide dismutase (MnSOD) to form hydrogen peroxide, which serves as an important precursor for other free radicals and acts as a secondary messenger with the ability to diffuse across the mitochondrial membrane, mediated by a specialized protein from the aquaporin family [
33
,
34
]. Other than the positive functions, mitochondrial ROS also have some deleterious ones, including the formation and progression of various cancer types like chronic lymphocytic leukemia, acute myelogenous leukemia, and breast cancer [
35
].
Figure 1
depicts the generation of free radicals and their fate in the ETC. Free radicals formed by the ETC are immediately removed and converted to water by a series of enzymatic reactions.
3. Conclusions
Unusually high levels of ROS can allegedly be used for cancer diagnosis, varying according to tumor type, and are potent signaling molecules in cancer scenarios, thereby leading to nuclear damage, genetic instability, and tumorigenesis. The regulation of redox transcription factors is dependent on the generation of ROS levels. NF-кB was the first redox-regulated transcription factor to be discovered. It is a protein complex with multiple functions in immune, inflammation, cell growth, and survival responses. ROS have NF-кB stimulatory effects in the cytoplasm and inhibitory effects in the nucleus. Therefore, ROS have the ability to both activate and suppress NF-кB signaling pathways. PBM promotes photon availability and absorption by chromophores in the catalytic center of mitochondrial cytochrome c oxidase the and subsequent reduction of molecular oxygen. This disturbs the mitochondrial membrane potential and changes the fission–fusion homeostasis in the mitochondrial network, leading to increased levels of intermediates such as ATP, cAMP, and ROS. PBM-mediated ROS interact with certain family proteins that enclose highly reactive cysteine (Cys) residues and after the oxidation of Cys residues. The activity of NF-кB is regulated by direct activation or after disassembling from IkB, an inhibitor, then the released NF-кB translocate to the nucleus and promotes gene transcription. The regulation of crosstalk between ROS and NF-кB appears to be a key factor for better management of many conditions. PBM facilitates the reduction of oxidative stress and activation of mechanisms that upregulate or downregulate NF-кB, which are critical for the promotion of anti-apoptotic responses and tumor progression, insulin dependence or resistance in diabetes, cell proliferation and migration in wounded sites, or cell survival by ROS attenuation.
Author Contributions
N.K.R., B.P.G., R.C., and I.M.T. equally contributed to the writing of the manuscript. N.H. and H.A. contributed to the reviewing of the manuscript.
Funding
This work is based on the research supported by the South African Research Chairs Initiative of the Department of Science and Technology and National Research Foundation of South Africa (Grant No 98337).
Acknowledgments
The authors sincerely thank the University of Johannesburg, South Africa for their support.
Conflicts of Interest
The authors declare no conflict of interest.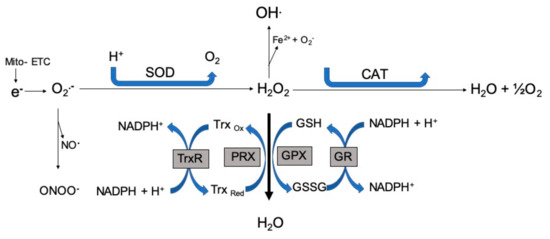 Figure 1. Free radical generation. Free radicals formed by the electron transport chain are immediately removed and converted to water through a series of enzymatic reactions. ETC: electron transport chain; SOD: superoxide dismutase; CAT: catalase; GPX: glutathione peroxidase; GR: glutathione reductase; PRX: peroxiredoxins; GSH: glutathione; GSSG: glutathione disulfide; Trx: thioredoxin; O2•−: superoxide; NO•: nitric oxide; ONOO−: peroxynitrite; H2O2−: hydrogen peroxide.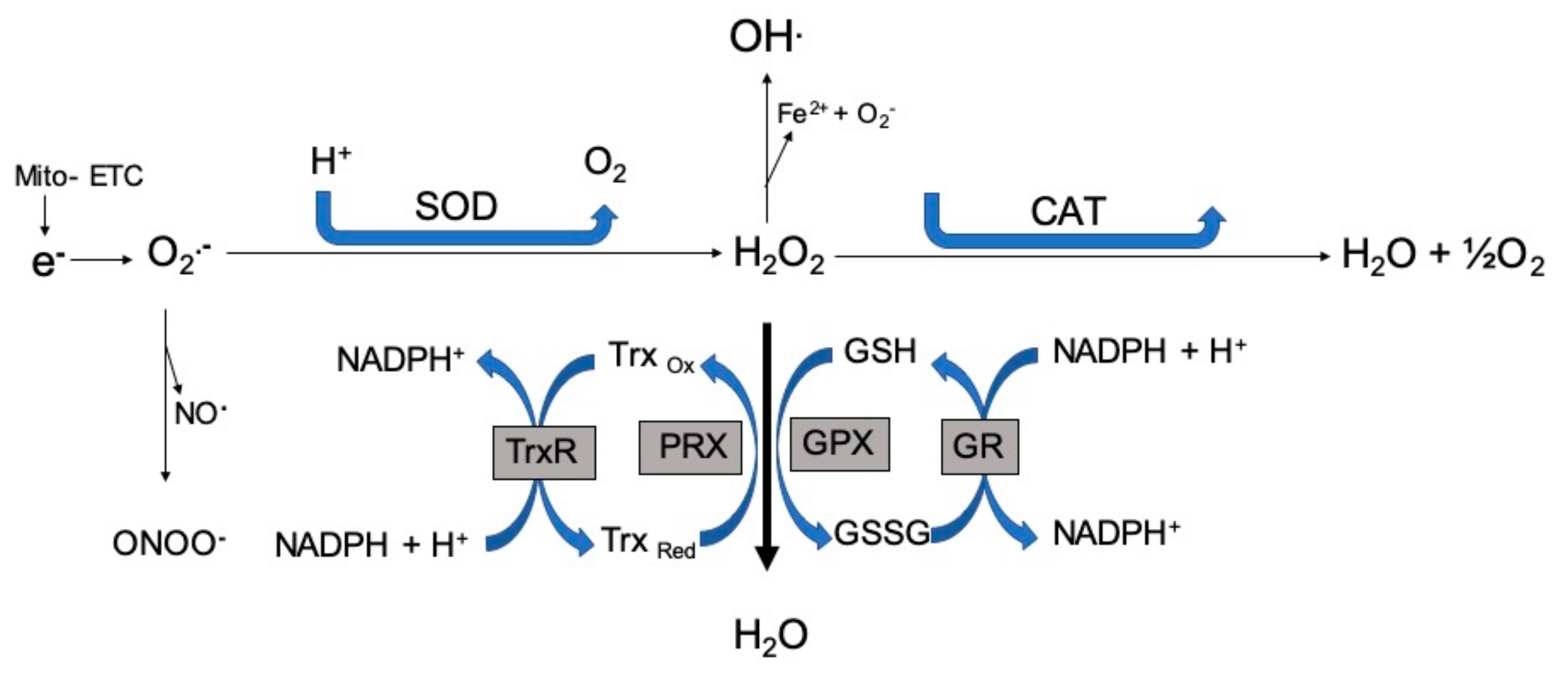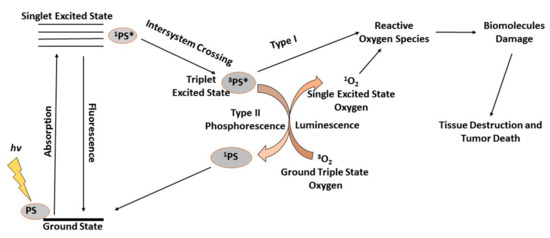 Figure 2. During photodynamic therapy (PDT), generated reactive oxygen species (ROS) kill the targeted tumor cells. PDT depends on the successful accumulation of photosensitizers (PSs) in tumor cells to initiate the process of irradiation of targeted areas for activation of the PSs. When irradiated with light of a specific wavelength, a photochemical reaction leads to the production of ROS in the presence of oxygen. When the PS absorbs the photon energy it is excited and jumps from the ground state to the excited singlet state and the energy is emitted back as fluorescence or heat via internal conversion. Should intersystem-crossing occur, the PS is converted to an excited triplet state, which can transfer electrons with cellular biomolecules, ultimately leading to the generation of ROS in a Type I reaction. Alternatively, the excited triplet state PS transfers its electrons to ground triplet state molecular oxygen (3O2), leading to the generation of an excited singlet oxygen (1O2) in a Type II reaction.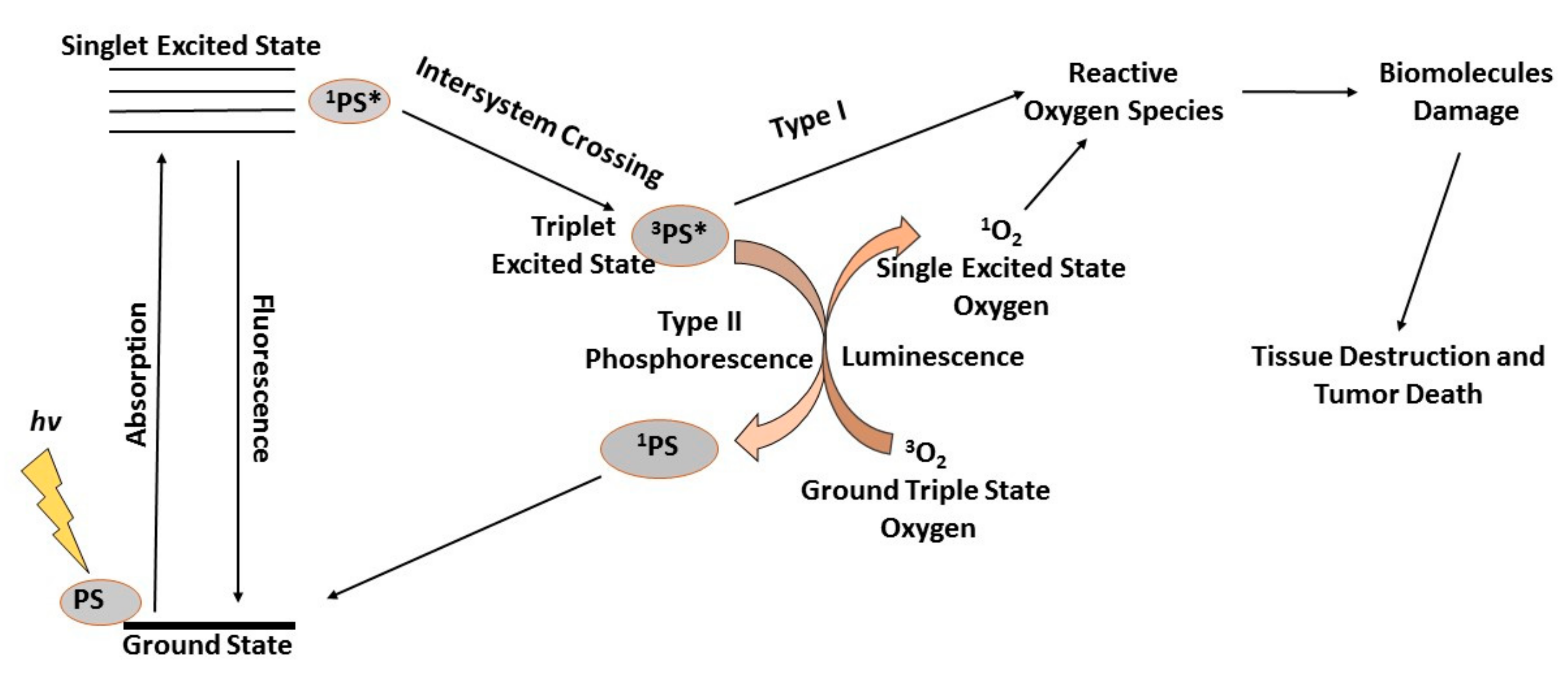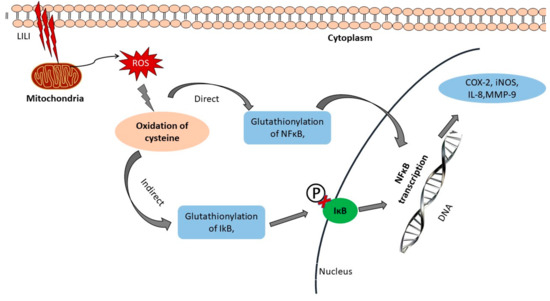 Figure 3. Mechanism of photobiomodulation (PBM). When low-powered light (LILI) enters the cell, it is immediately absorbed by cytochrome c oxidase, which is present in mitochondria. This results in an increased respiratory chain reaction and the overall redox reaction is altered. The increase in reactive oxygen species (ROS) stimulates the oxidation of cysteine molecules. The glutathionylation of IkB and S-glutathionylation of p50 activates NF-kB and transcription of specific genes. This further stimulates the activation of the IkB kinase complex, leading to phosphorylation, ubiquitination, and degradation of IkB proteins. Released NF-kB dimers then translocate into the nucleus, bind to specific DNA sequences, and promote the transcription of target genes such as interleukin (IL)-2, IL-6, IL-8, inducible nitric oxide synthase (iNOS), COX-2, and matrix metallopeptidases (MMP)-9.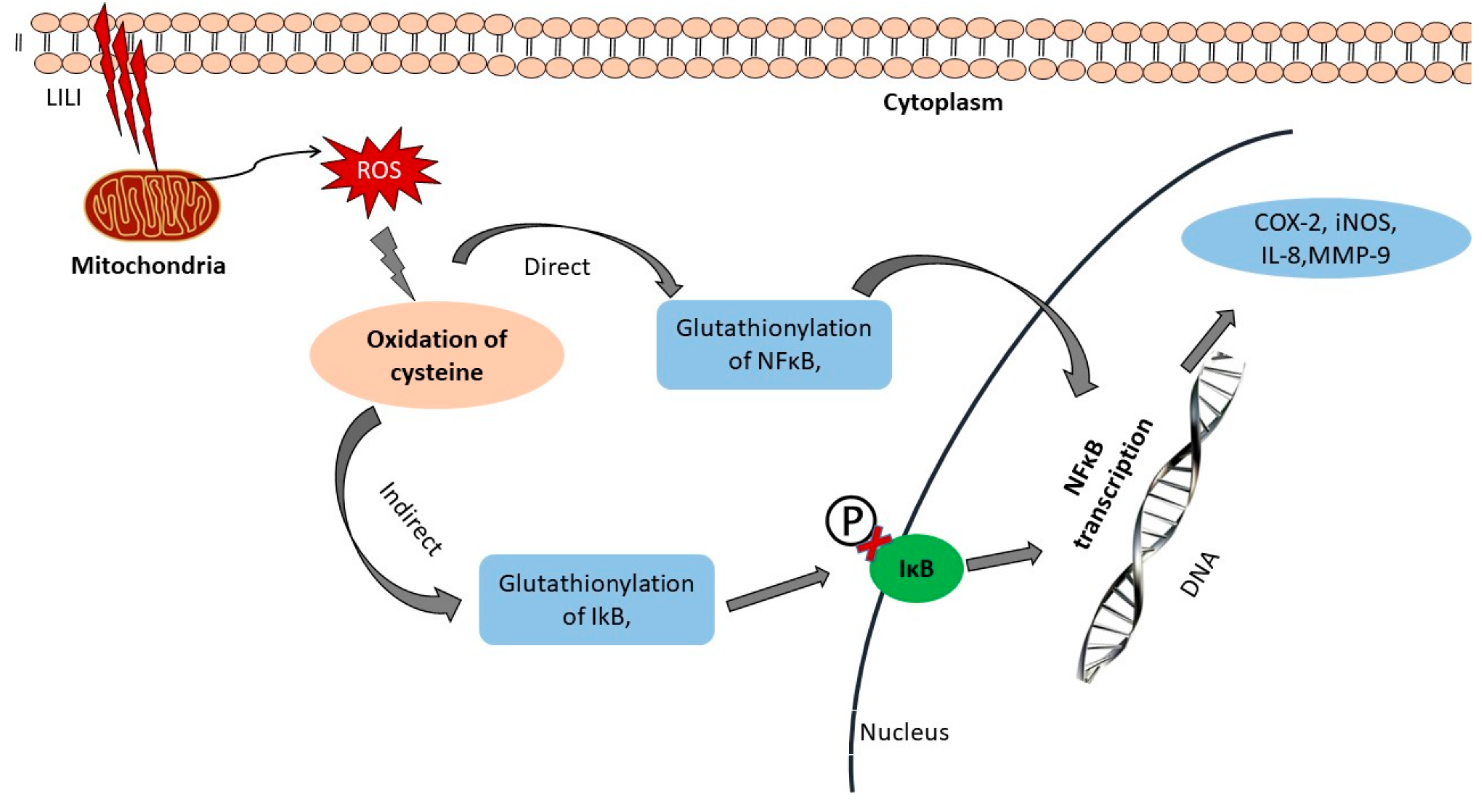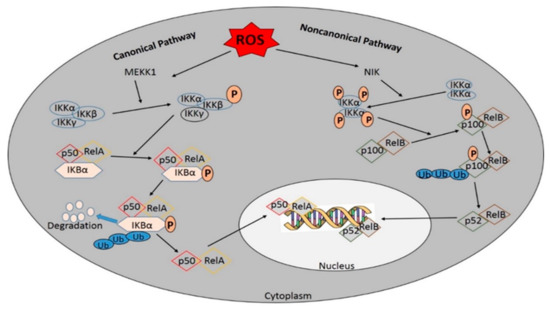 Figure 4. Activation of NF-кB by the canonical and/or the noncanonical pathway. The canonical NF- кB-activating pathway depends on the phosphorylation of IкB-kinase (IKK) β. The phosphorylation and ubiquitination of IкBα translocate NF-кB into the nucleus. where it helps in the transcription of target genes. Many membrane-bound ligands involved in activating the NF-кB pathway act as effective upstream regulators and the IKK complex is the common upstream component of all NF-кB pathways. In contrast, the non-canonical pathway is NF-kB essential modulator (NEMO)-independent and depends on IKKα activation to induce the NF-kB/RelB activation complex, leading to the phosphorylation of p100 and the generation of p52/RelB complexes.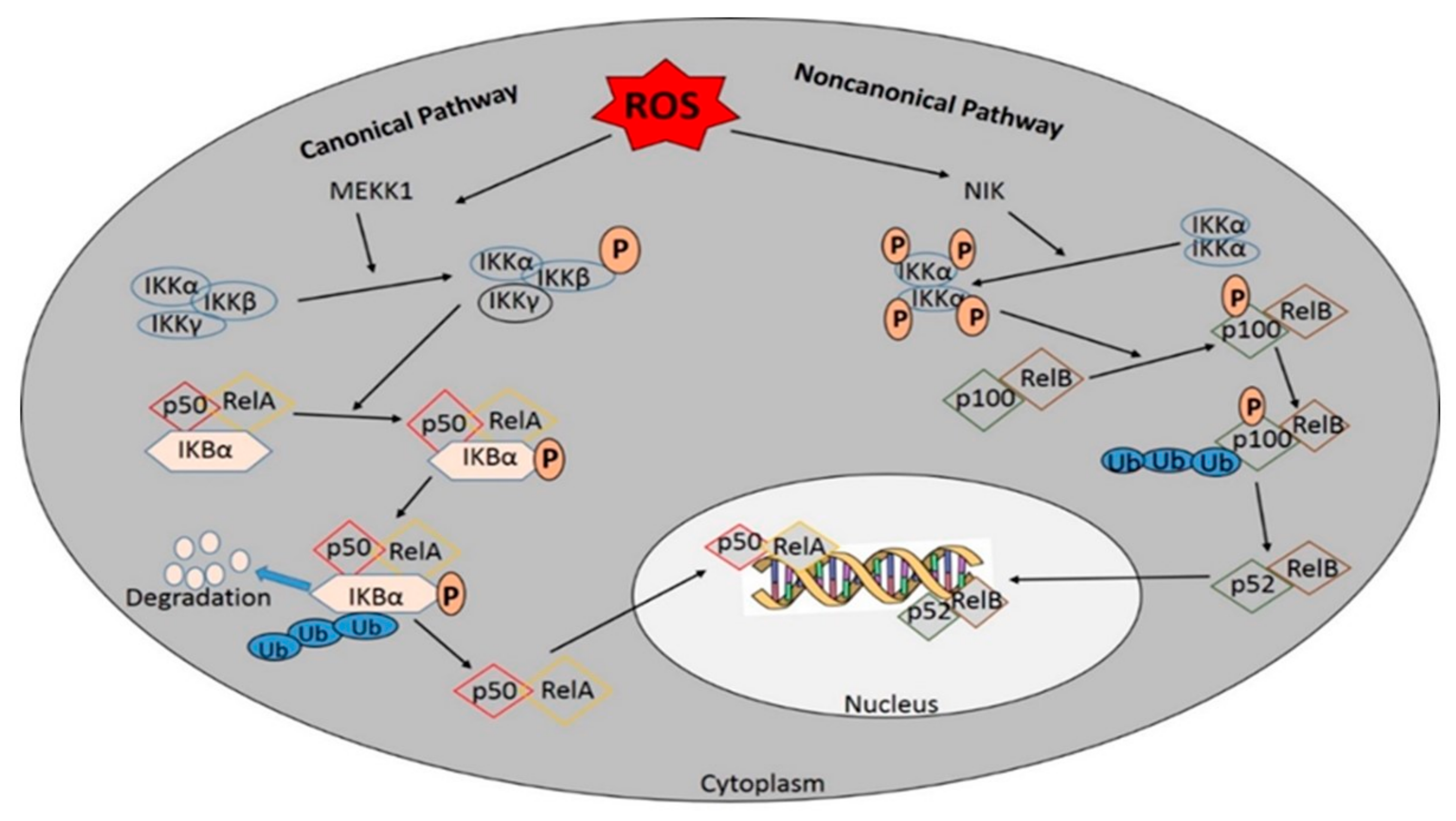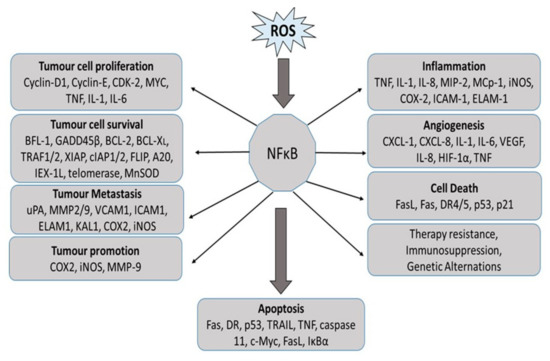 Figure 5. NF-κB activation in the progression of cancer by regulating genes involved in tumor cell proliferation, cell growth, survival, angiogenesis, tumor promotion, and metastasis. BCL2: B-cell lymphoma protein 2; BCL-XL, also known as BCL2-like 1; BFL1, also known as BCL2A1; CDK2: cyclin-dependent kinase 2; COX2: cyclooxygenase 2; CXCL: chemokine (C-X-C motif) ligand; DR: death receptor; ELAM1: endothelial adhesion molecule 1; FLIP, also known as CASP8; GADD45beta: growth arrest and DNA-damage-inducible protein beta; HIF1alpha: hypoxia-inducible factor 1 alpha; ICAM1: intracellular adhesion molecule 1; IEX-1L: radiation-inducible immediate early gene (also known as IER3); IL: interleukin; iNOS: inducible nitric oxide synthase; KAL1: Kallmann syndrome 1 sequence; MCP1: monocyte chemoattractant protein 1 (also known as CCL2); MIP2: macrophage inflammatory protein 2; MMP: matrix metalloproteinase; MnSOD: manganese superoxide dismutase (also known as SOD2); TNF: tumor necrosis factor; TRAF: TNF receptor-associated factor; uPA: urokinase plasminogen activator; VCAM1: vascular cell adhesion molecule 1; VEGF: vascular endothelial growth factor; XIAP: X-linked inhibitor of apoptosis protein.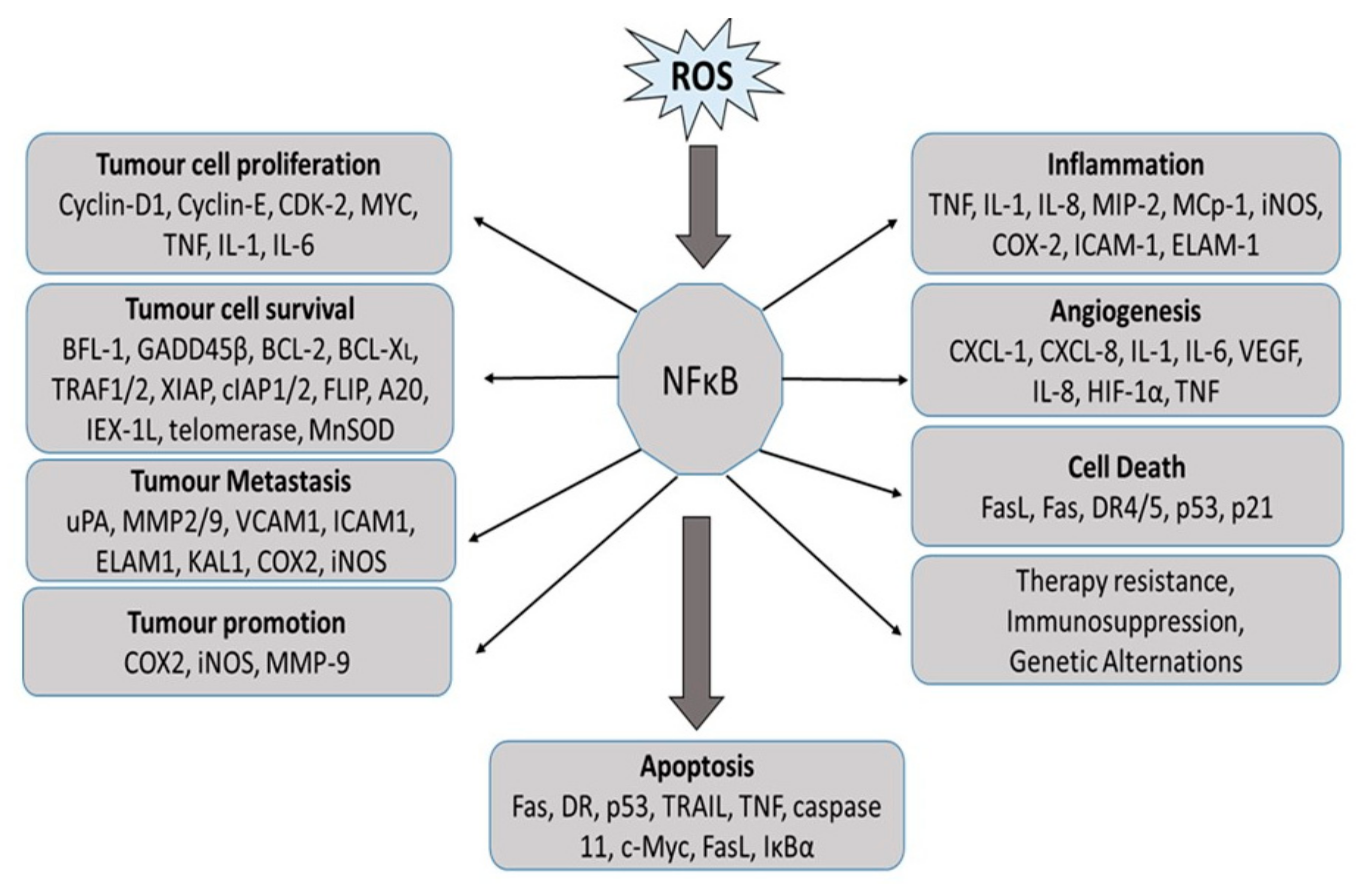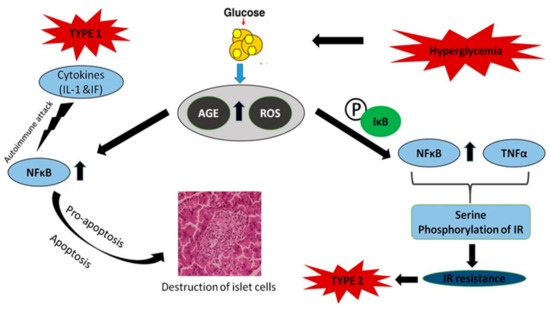 Figure 6. Role and activation of NF-кB in diabetes mellitus. NF-кB regulates the expression of cytokine-induced genes that affect pro- or anti-apoptotic cascades. NF-кB is one of the major causes in the development of insulin resistance. Tumor necrosis factor (TNF) predominantly induces insulin resistance by the serine phosphorylation of insulin receptor substrate-1 (IRS1), and NF-кB is a major cause of insulin resistance.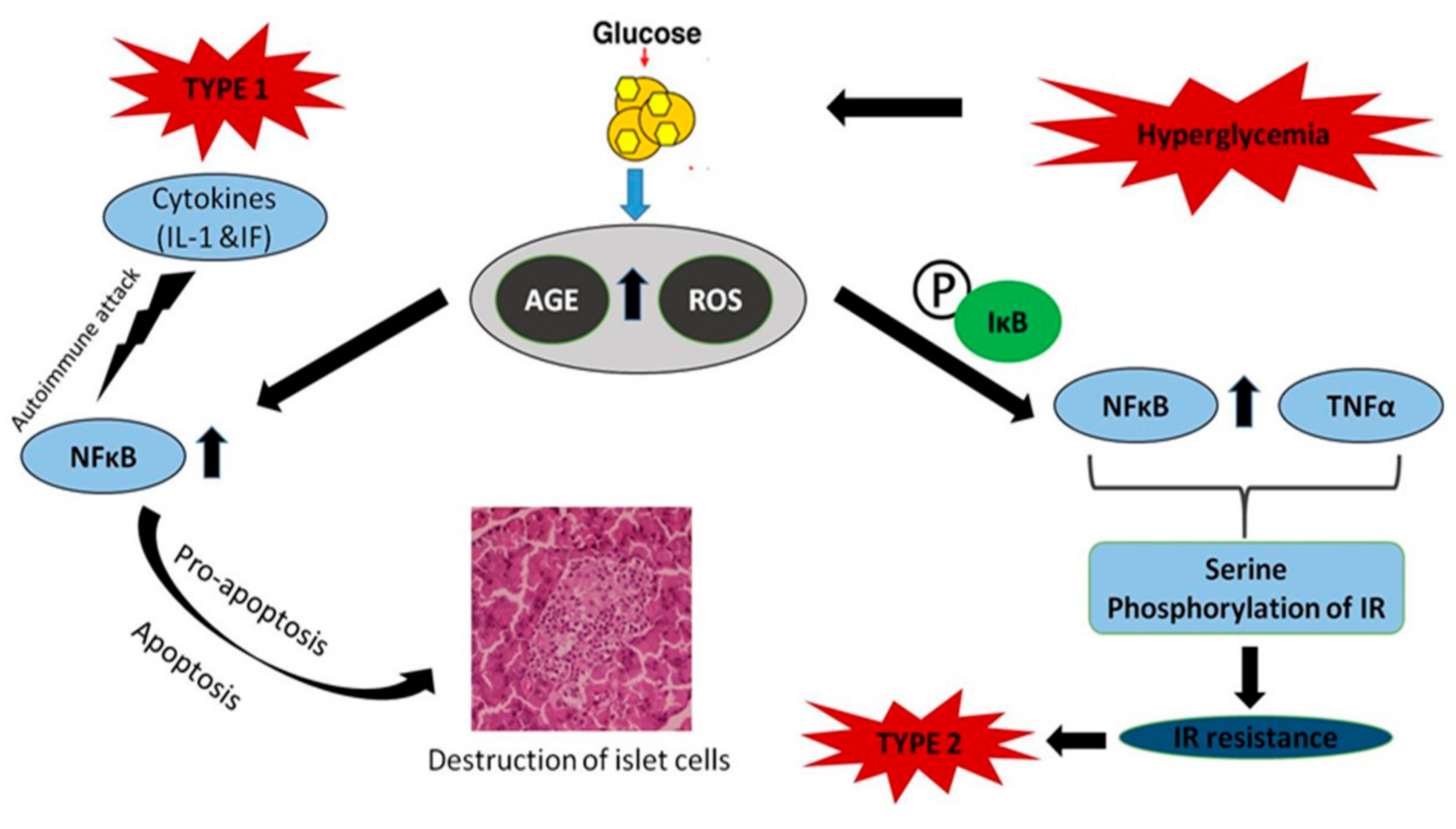 © 2019 by the authors. Licensee MDPI, Basel, Switzerland. This article is an open access article distributed under the terms and conditions of the Creative Commons Attribution (CC BY) license (http://creativecommons.org/licenses/by/4.0/).