Lipid Peroxidation-Derived Aldehydes, 4-Hydroxynonenal and Malondialdehyde in Aging-Related Disorders
1
Dipartimento di Scienze Cliniche e Biologiche, Università di Torino, 10124 Turin, Italy
2
Dipartimento di Scienze e Tecnologia del Farmaco, Università di Torino, 10124 Turin, Italy
3
Dipartimento di Medicina e Scienze della Salute "V. Tiberio", Università del Molise, 86100 Campobasso, Italy
4
Presidio Ospedaliero "A. Cardarelli", Azienda Sanitaria Regione Molise, 86100 Campobasso, Italy
*
Author to whom correspondence should be addressed.
Received: 29 June 2018 / Revised: 26 July 2018 / Accepted: 27 July 2018 / Published: 30 July 2018
Abstract
Among the various mechanisms involved in aging, it was proposed long ago that a prominent role is played by oxidative stress. A major way by which the latter can provoke structural damage to biological macromolecules, such as DNA, lipids, and proteins, is by fueling the peroxidation of membrane lipids, leading to the production of several reactive aldehydes. Lipid peroxidation-derived aldehydes can not only modify biological macromolecules, by forming covalent electrophilic addition products with them, but also act as second messengers of oxidative stress, having relatively extended lifespans. Their effects might be further enhanced with aging, as their concentrations in cells and biological fluids increase with age. Since the involvement and the role of lipid peroxidation-derived aldehydes, particularly of 4-hydroxynonenal (HNE), in neurodegenerations, inflammation, and cancer, has been discussed in several excellent recent reviews, in the present one we focus on the involvement of reactive aldehydes in other age-related disorders: osteopenia, sarcopenia, immunosenescence and myelodysplastic syndromes. In these aging-related disorders, characterized by increases of oxidative stress, both HNE and malondialdehyde (MDA) play important pathogenic roles. These aldehydes, and HNE in particular, can form adducts with circulating or cellular proteins of critical functional importance, such as the proteins involved in apoptosis in muscle cells, thus leading to their functional decay and acceleration of their molecular turnover and functionality. We suggest that a major fraction of the toxic effects observed in age-related disorders could depend on the formation of aldehyde-protein adducts. New redox proteomic approaches, pinpointing the modifications of distinct cell proteins by the aldehydes generated in the course of oxidative stress, should be extended to these age-associated disorders, to pave the way to targeted therapeutic strategies, aiming to alleviate the burden of morbidity and mortality associated with these disturbances.
View Full-Text
►

▼

Figures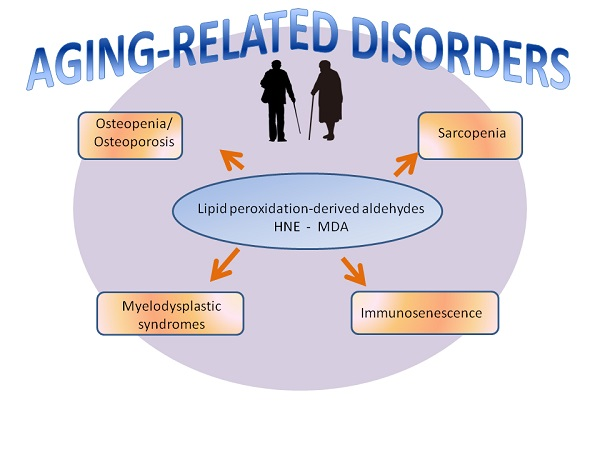 Graphical abstract
This is an open access article distributed under the
Creative Commons Attribution License
which permits unrestricted use, distribution, and reproduction in any medium, provided the original work is properly cited (CC BY 4.0).

Share & Cite This Article
MDPI and ACS Style
Barrera, G.; Pizzimenti, S.; Daga, M.; Dianzani, C.; Arcaro, A.; Cetrangolo, G.P.; Giordano, G.; Cucci, M.A.; Graf, M.; Gentile, F. Lipid Peroxidation-Derived Aldehydes, 4-Hydroxynonenal and Malondialdehyde in Aging-Related Disorders. Antioxidants 2018, 7, 102.
Note that from the first issue of 2016, MDPI journals use article numbers instead of page numbers. See further details here.
Related Articles
Comments
[Return to top]