Open Access This article is
freely available
re-usable
Article
Integrating a Path Planner and an Adaptive Motion Controller for Navigation in Dynamic Environments
College of Systems Engineering, National University of Defense Technology, Changsha 410073, China
*
Author to whom correspondence should be addressed.
Received: 8 March 2019 / Accepted: 29 March 2019 / Published: 2 April 2019
Abstract
:
Since an individual approach can hardly navigate robots through complex environments, we present a novel two-level hierarchical framework called JPS-IA3C (Jump Point Search improved Asynchronous Advantage Actor-Critic) in this paper for robot navigation in dynamic environments through continuous controlling signals. Its global planner JPS+ (P) is a variant of JPS (Jump Point Search), which efficiently computes an abstract path of neighboring jump points. These nodes, which are seen as subgoals, completely rid Deep Reinforcement Learning (DRL)-based controllers of notorious local minima. To satisfy the kinetic constraints and be adaptive to changing environments, we propose an improved A3C (IA3C) algorithm to learn the control policies of the robots' local motion. Moreover, the combination of modified curriculum learning and reward shaping helps IA3C build a novel reward function framework to avoid learning inefficiency because of sparse reward. We additionally strengthen the robots' temporal reasoning of the environments by a memory-based network. These improvements make the IA3C controller converge faster and become more adaptive to incomplete, noisy information caused by partial observability. Simulated experiments show that compared with existing methods, this JPS-IA3C hierarchy successfully outputs continuous commands to accomplish large-range navigation tasks at shorter paths and less time through reasonable subgoal selection and rational motions.
Keywords:
autonomous navigation; dynamic environments; Deep Reinforcement Learning; geometrical path planner
Author Contributions
J.Z. and L.Q. conceived and designed the paper structure and the experiments; J.Z. performed the experiments; Y.H., Q.Y., and C.H. contributed materials and analysis tools.
Funding
This work was sponsored by the National Science Foundation of Hunan Province (NSFHP) project 2017JJ3371, China.
Acknowledgments
The work described in this paper was sponsored by the National Natural Science Foundation of Hunan Province under Grant No. 2017JJ3371. We appreciate the fruitful discussion with the Sim812 group: Qi Zhang and Yabing Zha.
Conflicts of Interest
The authors declare no conflicts of interest. The founding sponsors had no role in the design of the study; in the collection, analysis, or interpretation of data; in the writing of the manuscript, or in the decision to publish the results.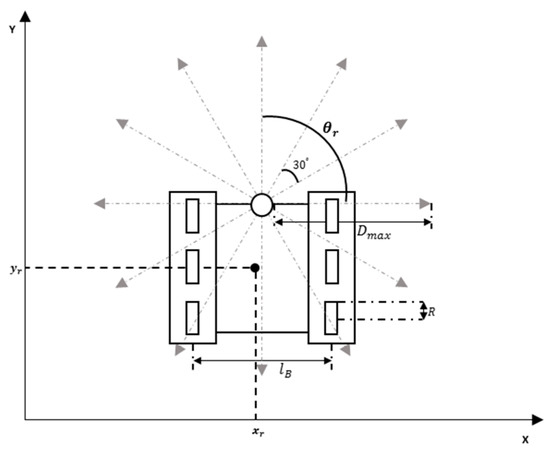 Figure 1. Schematic diagram of the tracked robot. Gray dash-dotted lines denote the senor lines of the robot.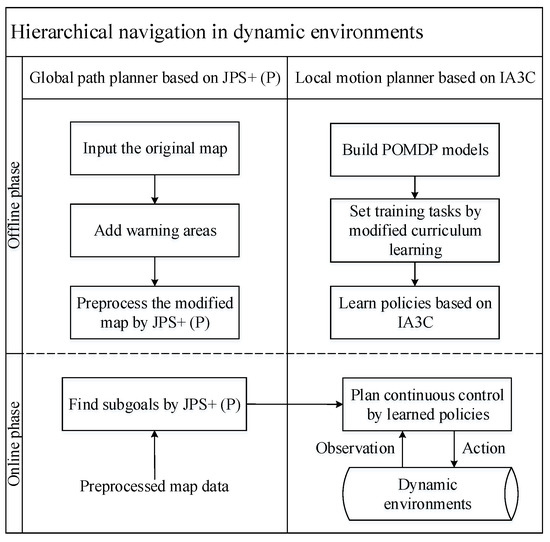 Figure 2. Flowchart of the Jump Point Search improved Asynchronous Advantage Actor-Critic (JPS-IA3C) method.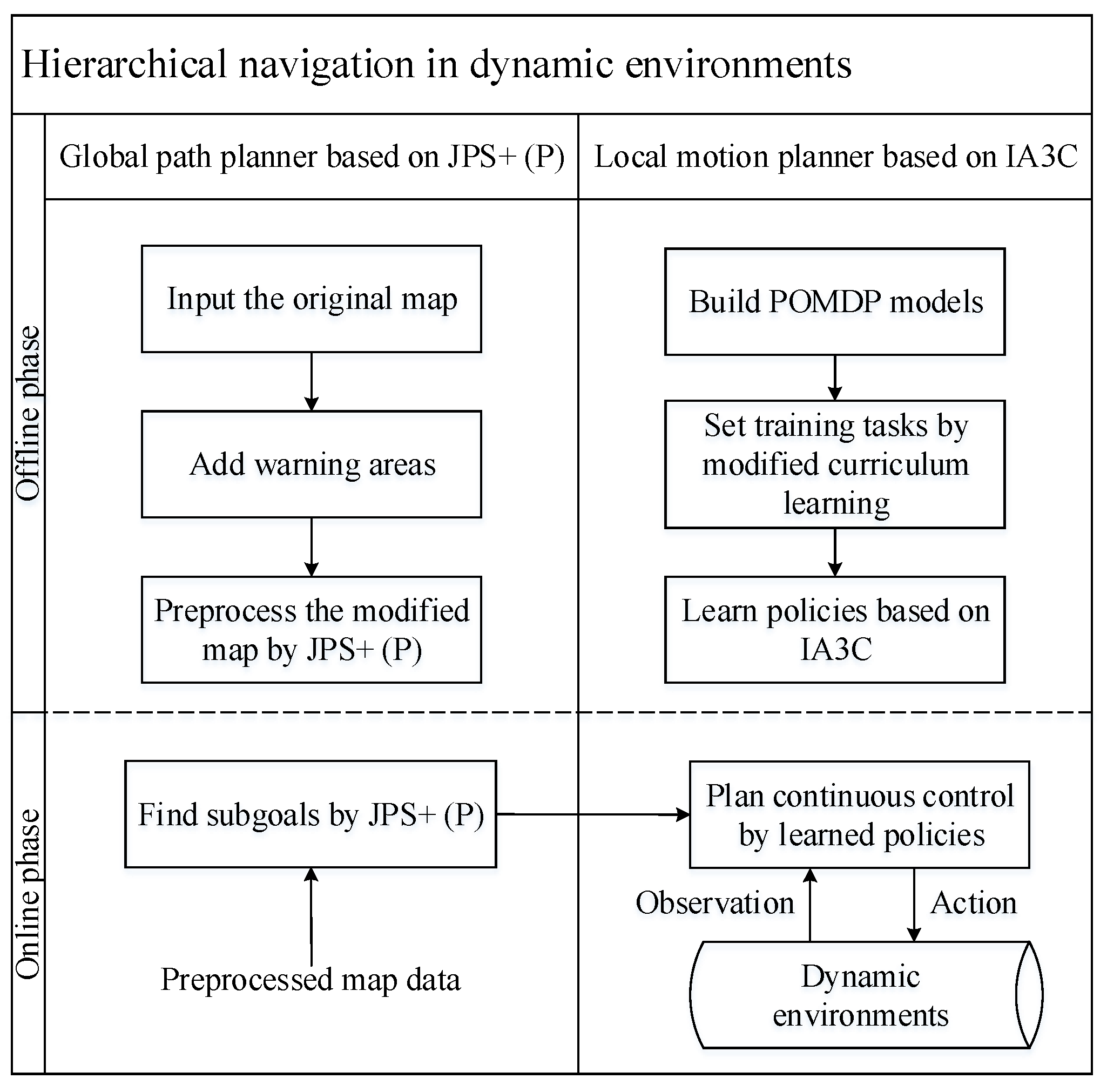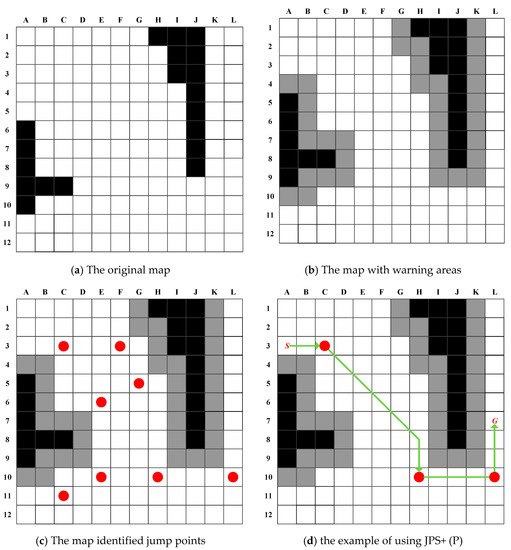 Figure 3. A graphical representation of how Jump Point Search+ (Prune) (JPS+ (P)) preprocesses an initially known grid-based map and what the paths that it plans look like. (a) An original map in which the white and black cells are unblocked and blocked locations, respectively. (b) Gray cells denote warning areas. (c) Jump points are marked as red. (d) Green lines denote an optimal path planned by JPS+ (P).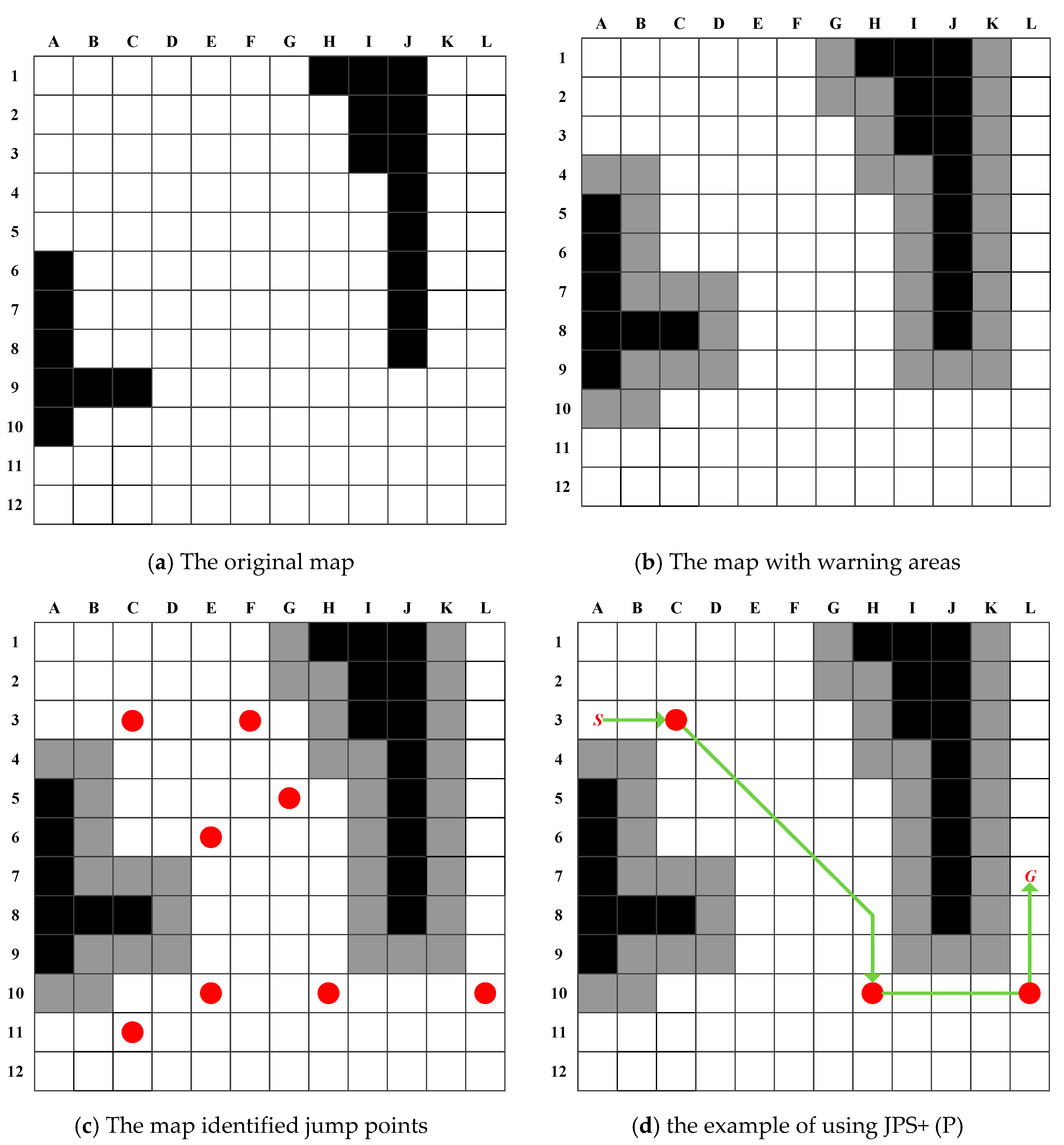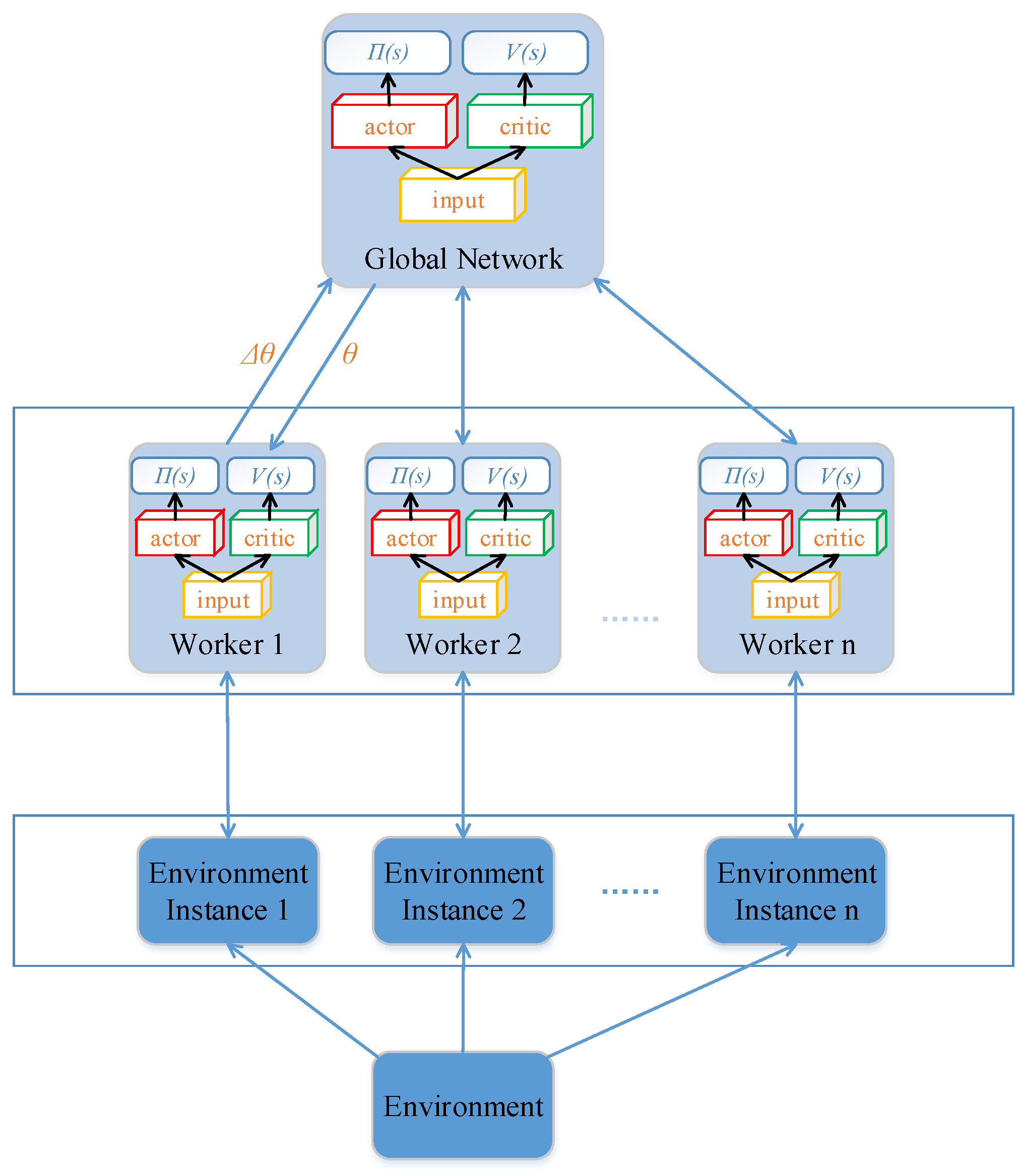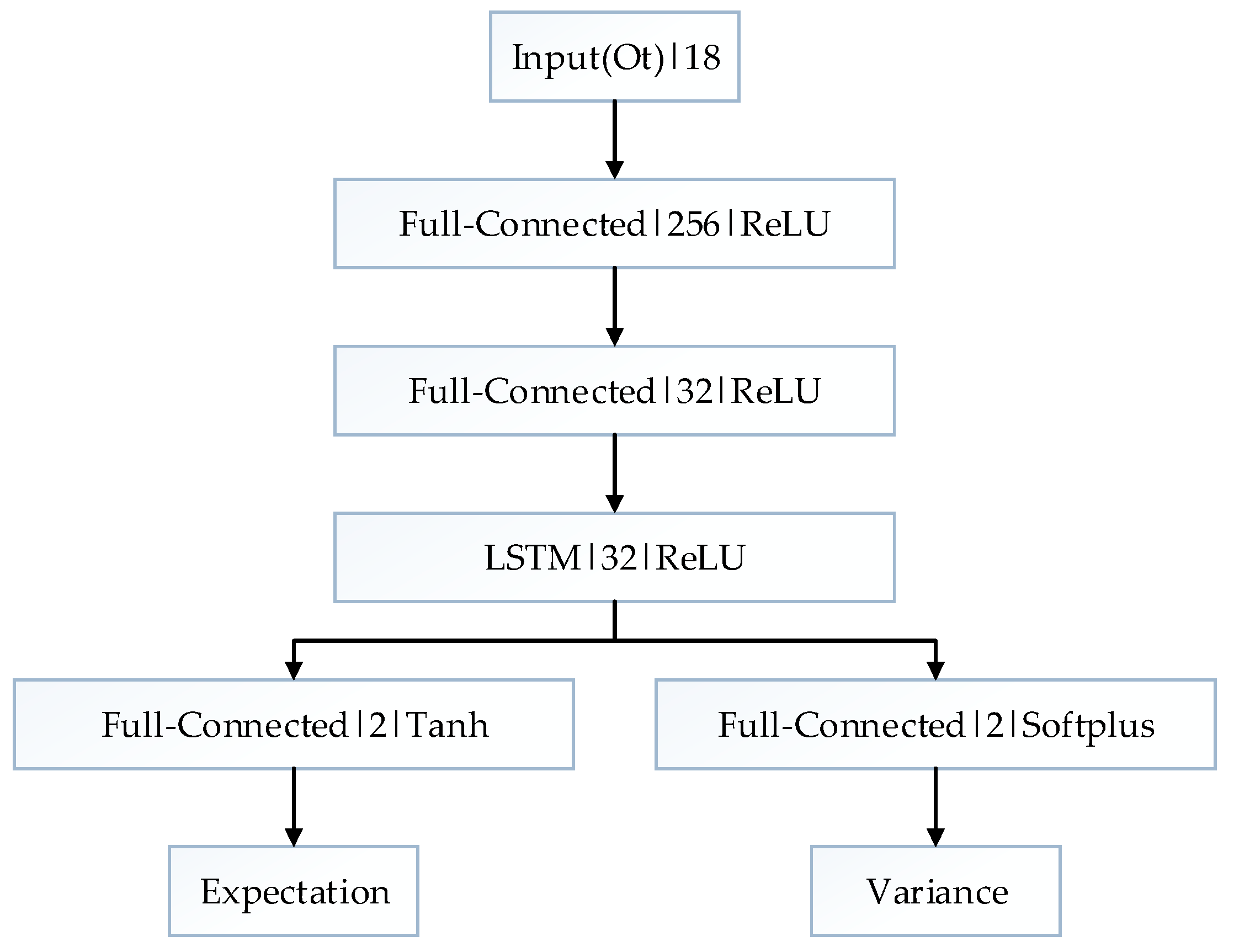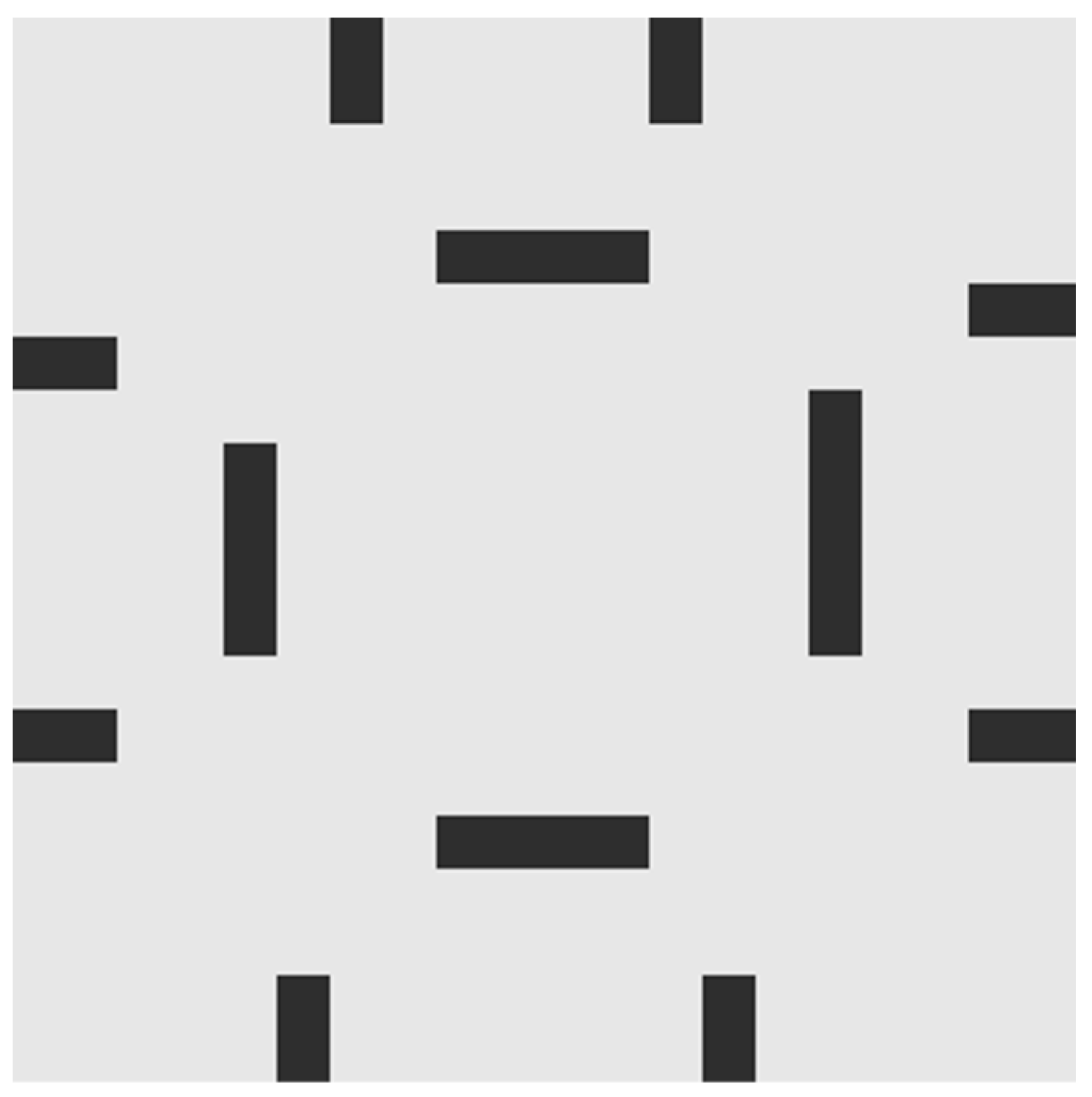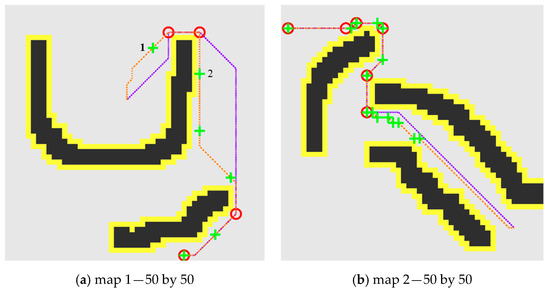 Figure 7. (a–b) Orange lines denote paths planned by A*, and purple lines denote paths generated by the path planner in JPS-IA3C. Small red circles denote subgoals planned by JPS-IA3C. Yellow regions denote warning areas. (a) A* find subgoals (i.e., green crosses) by sampling optimal paths at fixed intervals. (b) A* plans subgoals (i.e., green crosses) through taking the inflection points of optimal paths.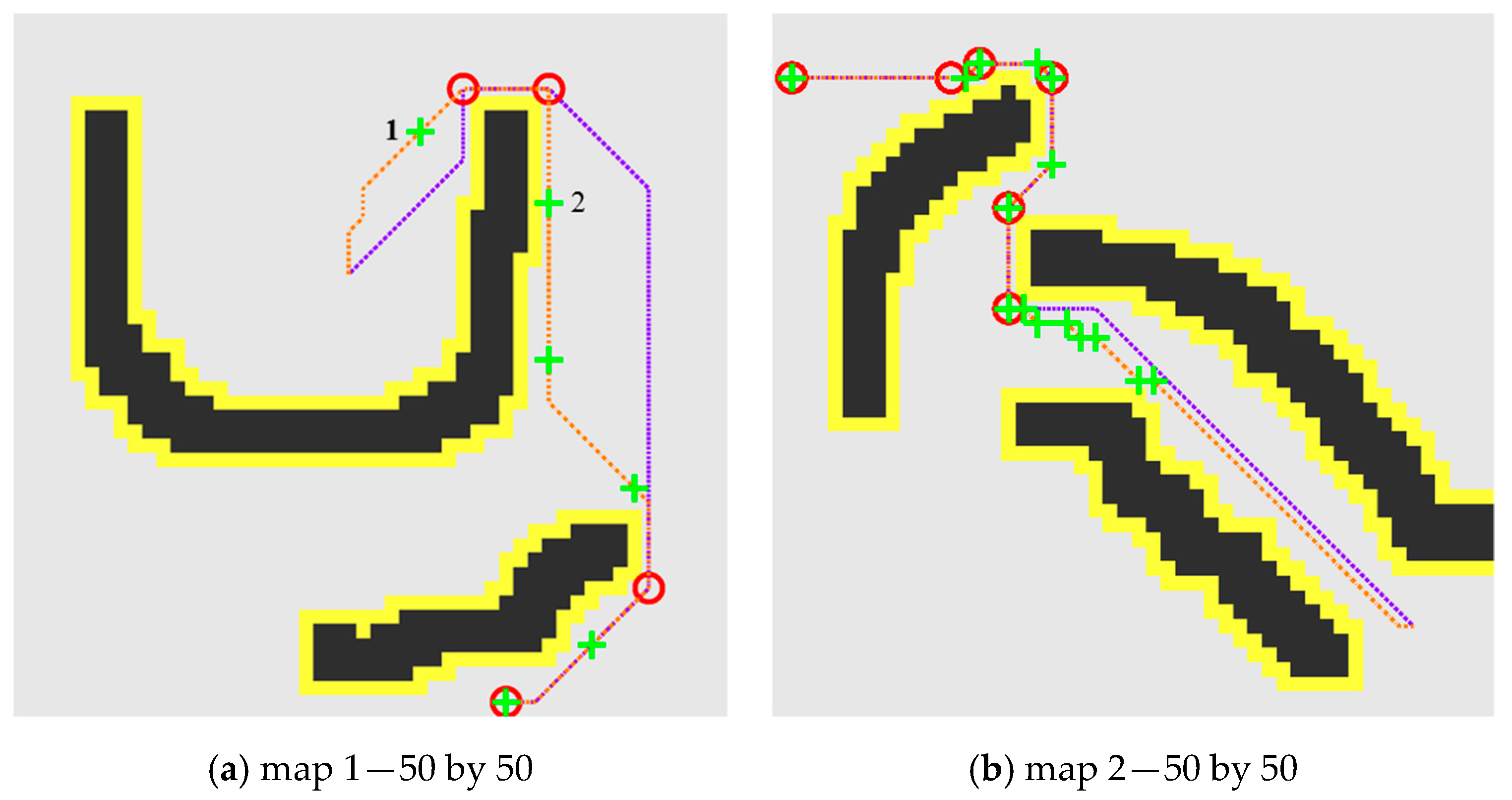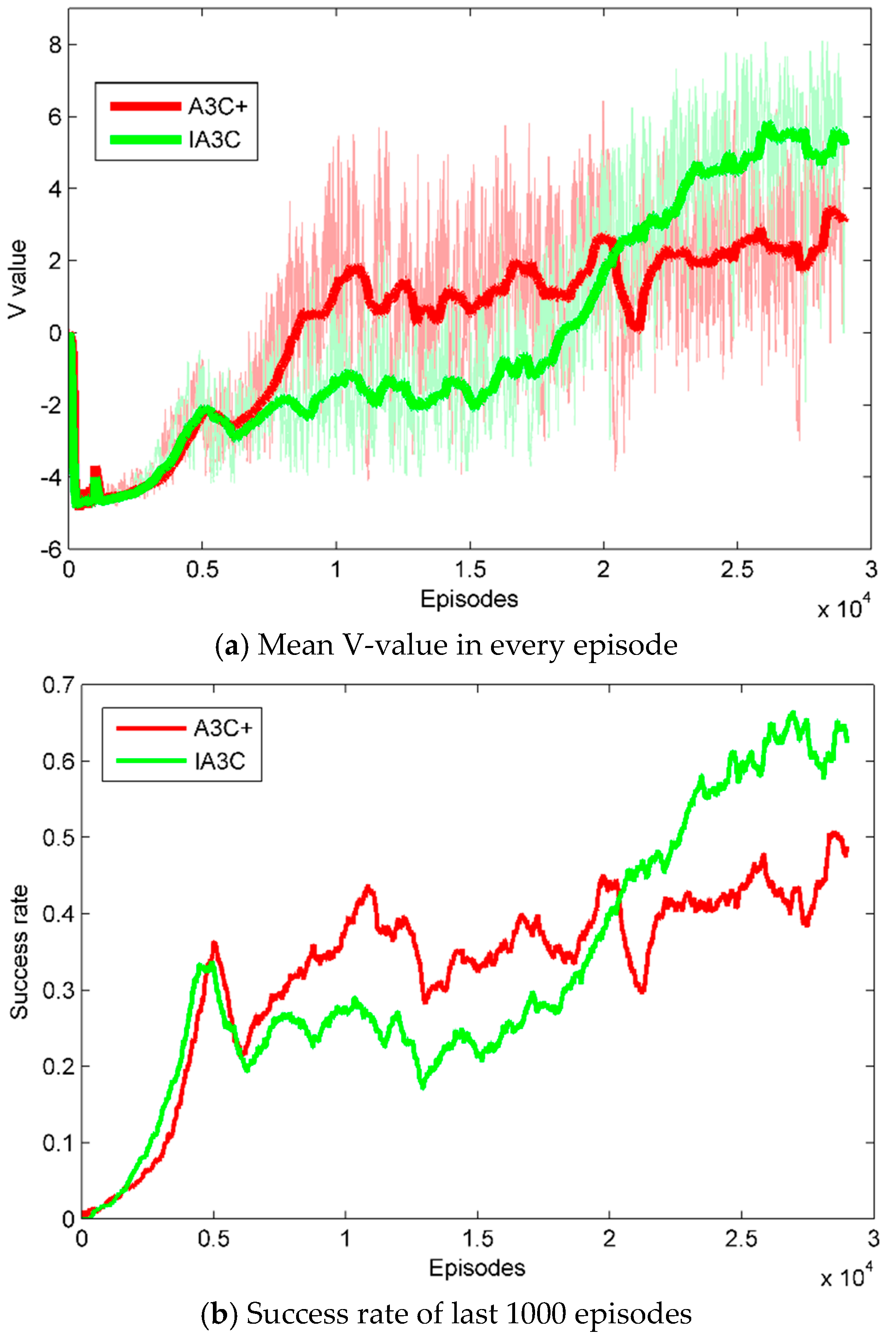 Figure 9. (a–c) Given the start position and the goal position, the purple line is the path planned by the Jump Point Search+ (Prune) (JPS+ (P)), and the blue line is the trajectory generated by JPS-IA3C. Black regions are unpassable, while light white regions are traversable for robots. Yellow regions close to obstacles denote warning areas. Moving obstacles appear in pink square areas, where there are 30 random moving obstacles.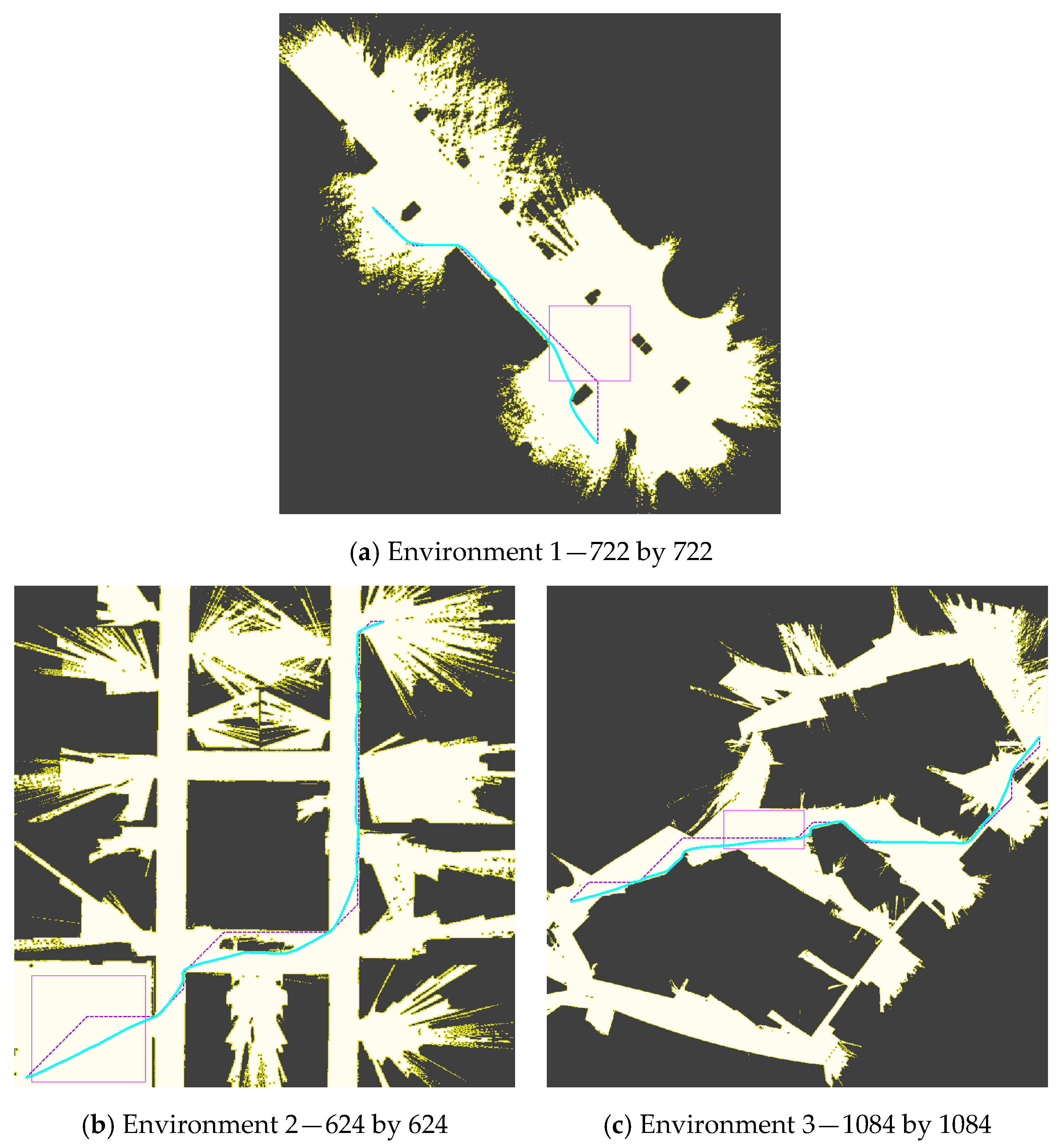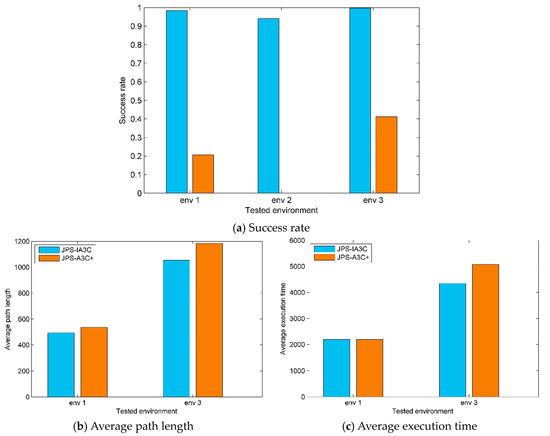 Figure 10. We generate 500 navigation tasks in each tested environment (in sum 1500) whose starting and goal points are randomly chosen. The distance between the initial starting and goal position is greater than half of the width of the environment. (a) Success rate denotes the probability of successfully finishing tasks. (b) Path length denotes the traveling length between the starting and goal position. (c) Execution time denotes the total execution time for the motion controller.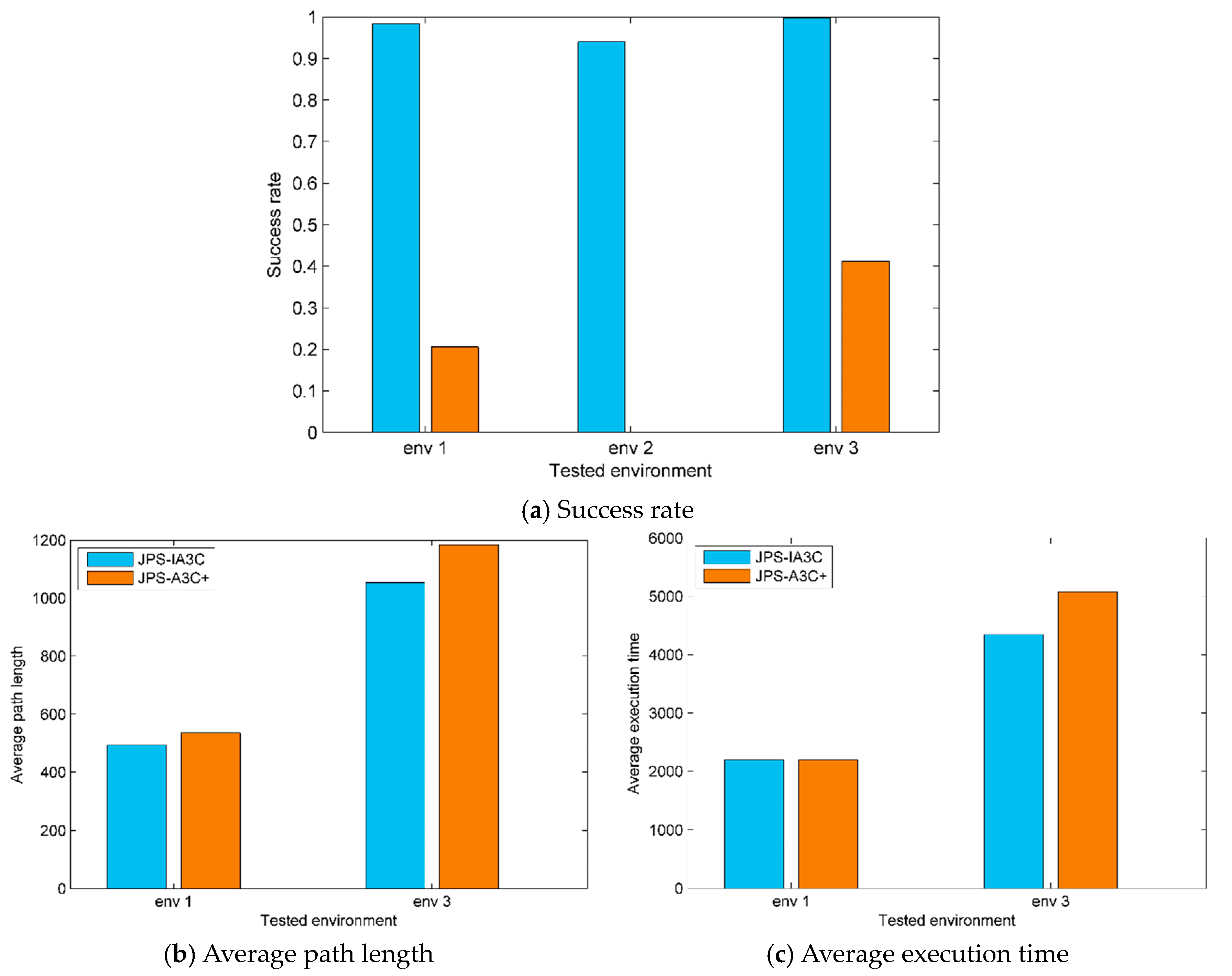 Observations
()
Actions


Reward
+10
if
−5
if
0
else
| Number of Obstacles | Distance | Training Episodes |
| --- | --- | --- |
| 1 | 3 | 5000 |
| 2 | 5 | 7000 |
| 3 | 9 | 8000 |
| 3 | 13 | 9000 |
| Method | Environment 1 (ms) | Environment 2 (ms) | Environment 3 (ms) |
| --- | --- | --- | --- |
| JPS-IA3C | 0.097 | 0.134 | 0.230 |
| A* | 26.287 | 175.36 | 197.71 |
The first-move lag denotes the amount of planning time the robot takes before deciding on the first move (i.e., time of finding subgoals).

© 2019 by the authors. Licensee MDPI, Basel, Switzerland. This article is an open access article distributed under the terms and conditions of the Creative Commons Attribution (CC BY) license (http://creativecommons.org/licenses/by/4.0/).