Measurement of Off-Flavoring Volatile Compounds and Microbial Load as a Probable Marker for Keeping Quality of Pasteurized Milk
1
School of Food Sciences, Washington State University, Pullman, WA 99164-5110, USA
2
Department of Dairy Technology, University of Veterinary and Animal Sciences, Lahore 5400, Pakistan
3
Department of Food Science and Human Nutrition, University of Veterinary and Animal Sciences, Lahore 5400, Pakistan
4
University Institute of Diet and Nutritional Sciences, The University of Lahore, Lahore 54000, Pakistan
5
School of Exercise and Nutrition, Deakin University, Victoria 3217, Australia
6
Department of Biosciences, COMSATS University Islamabad, Tarlai Kalan, Islamabad 46000, Pakistan
7
Department of Clinical Laboratory Sciences, College of Applied Medical Sciences, Jouf University, Sakaka 72341, Saudi Arabia
8
Student Research Committee, Bam University of Medical Sciences, Bam 44340847, Iran
9
LEPABE—Department of Chemical Engineering, Faculty of Engineering, University of Porto, Rua Dr. Roberto Frias, s/n, 4200-465 Porto, Portugal
10
Food Safety Research Center (salt), Semnan University of Medical Sciences, Semnan 3519899951, Iran
11
Faculty of Medicine, University of Porto, Alameda Prof. Hernâni Monteiro, 4200-319 Porto, Portugal
12
Institute for Research and Innovation in Health (i3S), University of Porto, 4200-135 Porto, Portugal
*
Authors to whom correspondence should be addressed.
Received: 23 January 2019 / Revised: 19 February 2019 / Accepted: 27 February 2019 / Published: 6 March 2019
Abstract
(1) Background: Multiple attempts have been conducted to correlate milk keeping quality with chemical, physical or bacteriological parameters. These methods only measure the chemical changes in milk produced by bacteria. Headspace solid-phase micro-extraction (HS-SPME) is an economic and recent method used to measure both volatile compounds and microbial load in milk, also allowing to keep the quality of the milk product. (2) Methods: The present study was conducted to identify and measure the off-flavoring volatile compounds through gas chromatography coupled with flame ionization detector (GC-FID) and the microbial load of pasteurized fluid milk stored at different temperatures, as a possible indicator of its keeping quality. (3) Results: The highest results were obtained to acetone, followed by butanone, pentanal and ethanol. These mean values were significantly enhanced from the 0 to 19th day of storage, at 10 °C. At day 19th, the minimum score for aroma, flavor and overall acceptability were also recorded as 4.33 ± 0.17, 4.02 ± 0.06, 4.00 ± 0.04, respectively. Likewise, maximum values for standard plate count (Log
10
CFU 15.54 ± 0.40 mL
−1
) and total psychotroph count (Log
10
CFU 11.67 ± 0.30mL
−1
) were reported at 10 °C and 4 °C. (4) Conclusion: HS-SPME/GC-FID methodology revealed to be very sensitive and capable to be applied in volatile compounds quantification in pasteurized milk produced during the storage period at different temperatures.
View Full-Text
►

▼

Figures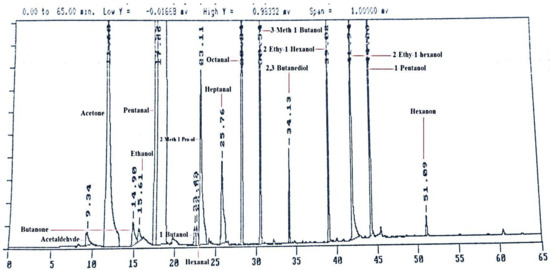 Figure 1
This is an open access article distributed under the
Creative Commons Attribution License
which permits unrestricted use, distribution, and reproduction in any medium, provided the original work is properly cited (CC BY 4.0).

Share & Cite This Article
MDPI and ACS Style
Rashid, A.; Javed, I.; Rasco, B.; Sablani, S.; Ayaz, M.; Ali, M.A.; Abdullah, M.; Imran, M.; Gondal, T.A.; Afzal, M.I.; Atif, M.; Salehi, B.; Rodrigues, C.F.; Sharifi-Rad, J.; Martins, N. Measurement of Off-Flavoring Volatile Compounds and Microbial Load as a Probable Marker for Keeping Quality of Pasteurized Milk. Appl. Sci. 2019, 9, 959.
Note that from the first issue of 2016, MDPI journals use article numbers instead of page numbers. See further details here.
Related Articles
Comments
[Return to top]