Open Access This article is
freely available
re-usable
Article
Fully Symmetric Convolutional Network for Effective Image Denoising
1
Graduate Institute of Applied Science and Engineering, Fu Jen Catholic University, New Taipei City 24205, Taiwan
2
Department of Electrical Engineering, Fu Jen Catholic University, New Taipei City 24205, Taiwan
*
Author to whom correspondence should be addressed.
Received: 8 January 2019 / Accepted: 14 February 2019 / Published: 22 February 2019
Abstract
:
Neural-network-based image denoising is one of the promising approaches to deal with problems in image processing. In this work, a deep fully symmetric convolutional–deconvolutional neural network (FSCN) is proposed for image denoising. The proposed model comprises a novel architecture with a chain of successive symmetric convolutional–deconvolutional layers. This framework learns convolutional–deconvolutional mappings from corrupted images to the clean ones in an end-to-end fashion without using image priors. The convolutional layers act as feature extractor to encode primary components of the image contents while eliminating corruptions, and the deconvolutional layers then decode the image abstractions to recover the image content details. An adaptive moment optimizer is used to minimize the reconstruction loss as it is appropriate for large data and noisy images. Extensive experiments were conducted for image denoising to evaluate the FSCN model against the existing state-of-the-art denoising algorithms. The results show that the proposed model achieves superior denoising, both qualitatively and quantitatively. This work also presents the efficient implementation of the FSCN model by using GPU computing which makes it easy and attractive for practical denoising applications.
Keywords:
image denoising; convolutional–deconvolutional networks; Adam optimizer; GPU computing
1. Introduction
Despite their high denoising quality, most of these methods suffer from significant drawbacks where a complex optimization in the testing stage is required, thus making the denoising process time-consuming. These methods can hardly achieve high performance without sacrificing computational efficiency.
2. Related Works
Therefore, we propose a method comprising a deep convolutional architecture with supervised pretraining and fine-tuned fully symmetrical convolution to learn efficiently from the whole image inputs. The key objective is to build a "fully convolutional" network which takes in arbitrary-size images and produces corresponding-size images with efficient inference and learning. The proposed work uses a unique FCN architecture for easier training with less time consumption while achieving better performance.
3. Deep Symmetric Convolutional–Deconvolutional Network
The proposed FSCN model for denoising is presented in this section. The FSCN model involves network architecture design and learning from training data. For network architecture design, fully symmetric convolutional–deconvolutional layers are used alternatively and the depth of the network is set based on the results. This architecture design aids in faster training and improved performance. The performance of the model is evaluated by comparing with other known networks. A visualization technique is employed to give insight into the function of intermediate feature layers.
4. Experimental Results
In this section, the experimental results of the FSCN model using different network parameters are discussed, and the image denoising is evaluated by calculating PSNR values and comparing with other few existing state-of-the-art methods. For training, 20,000 images from the Kaggle dataset with 256 × 256 resolution are used.
4.1. Network Parameter Setting
Although deeper networks tend to achieve better image restoration performance, problems related to different parameters still need to be investigated. A set of experiments is carried out with different network parameters: (a) filter number, (b) filter size, and (c) depth of the layers.
4.2. Comparative Analysis of Algorithm
The results of the proposed FSCN method were compared with three nonlocal, similarity-based methods (i.e., BM3D [
2
], WNNM [
11
], and PCLR [
37
]), and three discriminative training-based methods (MLP [
13
], CSF [
27
], and DnCNN [
28
]). The source codes were downloaded from the authors' websites and tested on the images with their default parameter settings. Ten common benchmark images were used for testing. A detailed comparison was made to evaluate the proposed model against the above competing algorithms on the standard test set.
4.2.1. Quantitative Evaluation
The average PSNR results of different methods on AWG noise with σ = 0.09 are shown in
Figure 8
. It can be seen that the proposed FSCN model yielded the highest PSNR on most of the images. The proposed model outperformed the competing methods by 0.4 dB to 0.8 dB on most of the images and failed to achieve best results only on two images, "Barbara" and "fingerprint", which were dominated by repetitive structures and contained many regular structures. This result is consistent with the findings in [
28
,
39
]: nonlocal, means-based methods are usually better on images with repetitive and regular structures, whereas discriminative training-based methods generally produce better results on images with irregular textures. This is reasonable because images with regular and repetitive structures meet well with nonlocal similarity prior; conversely, images with irregular structures would weaken the advantages of such specific prior, thus leading to poor results.
The proposed model was also evaluated for varied noise levels (0.05–0.19) and produced best results on 8 out of the 10 test images.
Figure 9
presents the average PSNR results of different denoising methods with respect to various noise levels. It is worth noticing that the proposed architecture gave a higher average PSNR value compared to WNNM, which is the best method known so far. From the above results and discussion, it is obvious that the combination of 10-layer convolutional and deconvolutional network achieves better results than previously known state-of-the-art methods in terms of denoising. The main reason for this superior performance of the FSCN model could be attributed to the sequence of convolution and deconvolution layers built in our architecture. Even the minute loss of details of the image contents were recovered due to the unique combination of layers.
4.2.2. Visual Quality Evaluation
Visual results of different methods are illustrated in
Figure 10
and
Figure 11
. Some details of the clean images and the recovered images by different methods are highlighted for clarity. It can be seen that all other models tended to produce oversmoothed edges and textures compared to the FSCN model as shown in
Figure 10
. It is seen that the proposed FSCN model could well reconstruct the tiny masts of the boat, while the masts almost disappeared in the images reconstructed by other methods. Similarly, the proposed method outperformed other denoising algorithms on images with smooth surfaces and nonregular structures as shown in
Figure 11
. It is discernible that the proposed network obtained visually smooth results compared to other methods while retaining even the smallest details. It still tends to oversmooth image details and cause ringing artifacts.
4.2.3. Running Time
In addition to visual quality, another important aspect in the image restoration process is the testing speed with respect to image resolution.
Figure 12
lists the running times of different algorithms for denoising gray images of sizes 128 × 128 and 256 × 256 with noise level 0.09. Unlike CSF and DnCNN algorithms, the running time for the proposed model remained consistent irrespective of the image resolution. It is highly efficient such that it can denoise an image of size 256 × 256 in just 0.2 s. Therefore, taking denoising performance and flexibility into consideration, the proposed model is competitive for practical applications as it achieves very appealing computational efficiency. The evaluation was performed in MATLAB(R2015b) environment on a computer with a dual-core Intel(R) Xeon(R) CPU E5-2650LV3 @1.80 GHZ, 32 GB of RAM for BM3D, WNNM, PCLR, and MLP and an NVidia Titan X GPU was used for CSF, DNCNN, and FSCN algorithms. The NVidia cuDNN-v5.1 deep learning library was used to accelerate the computation of the FSCN model. However, different execution environments did not influence the finding that the deep-learning-based approach has the performance advantage for the restoration stage of image denoising.
5. Conclusions
Convolutional networks have played an important role in the history of deep learning. In this work, convolution and deconvolution layers are alternatively combined to extract the primary image content and recover details. The proposed model was tested for various filter numbers, filter size, optimizers, and depth of layers. It was also compared with other existing state-of-the-art methods. The results on standard images with AWGN demonstrated that the proposed model not only led to visual PSNR improvements but also preserved the image local structure more effectively. The superior denoising and visual results prove that the proposed model can recover the image details efficiently compared to other methods. The running time comparisons showed that the FSCN model is fast and effective, suggesting it to be very practical for CNN-based denoising applications. The application of this model could also be envisioned for other tasks with appropriate tuning of hyperparameters.
Author Contributions
The idea of this project was conceived by S.A.P. and Y.K.W. Data curation, experiments, and writing is done by S.A.P. under the guidance and resources supported of Y.K.W.
Funding
This research was partially funded by Ministry of Science and Technology, Taiwan, R.O.C (approval number: MOST 103-2221-E-030-011-MY2).
Conflicts of Interest
The authors declare no conflict of interest.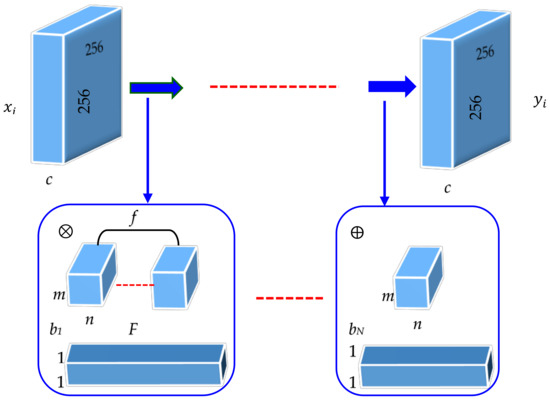 Figure 2. A schematic illustration of FSCN architecture in which 256 × 256 pixel gray images are used for training.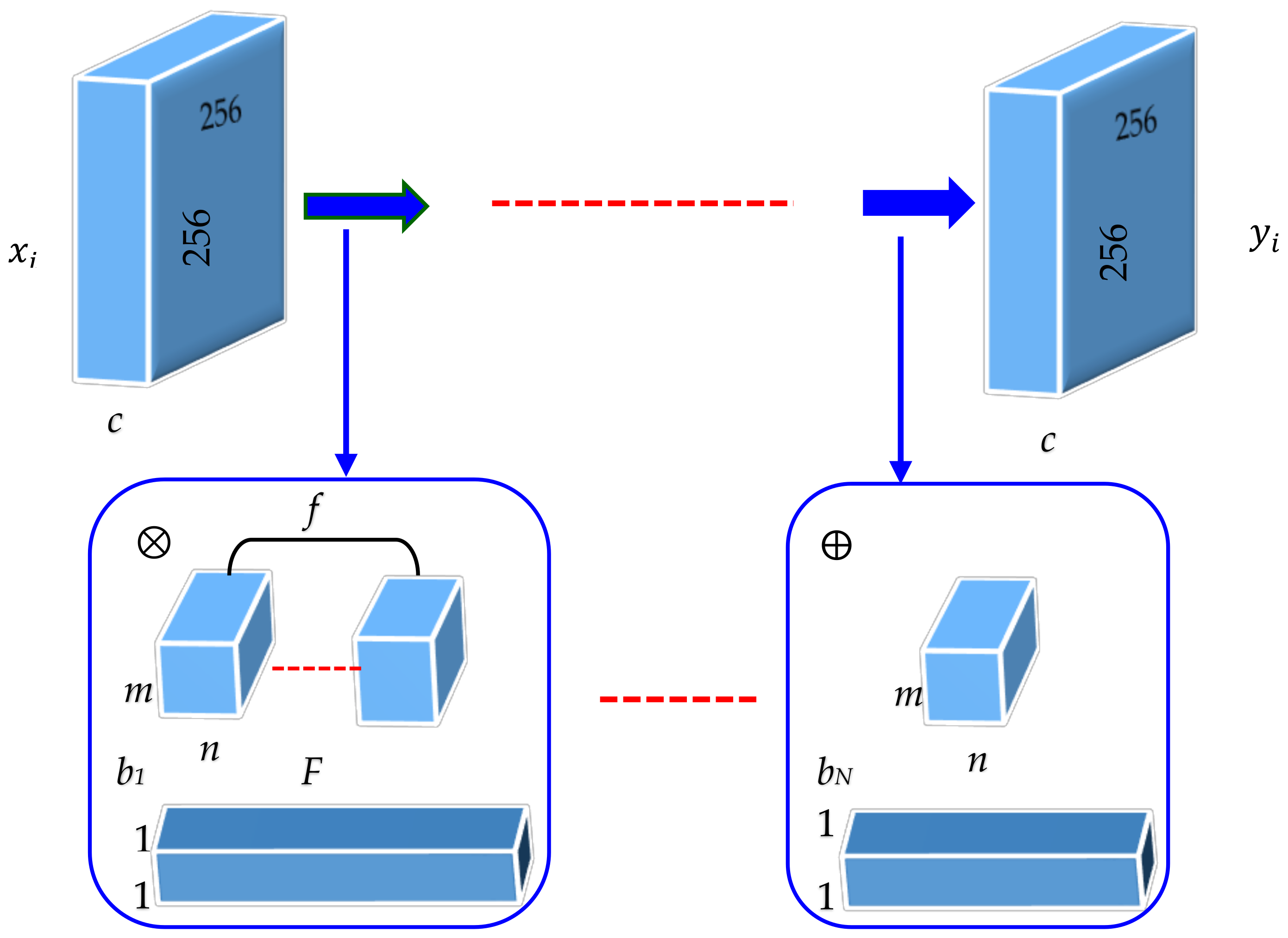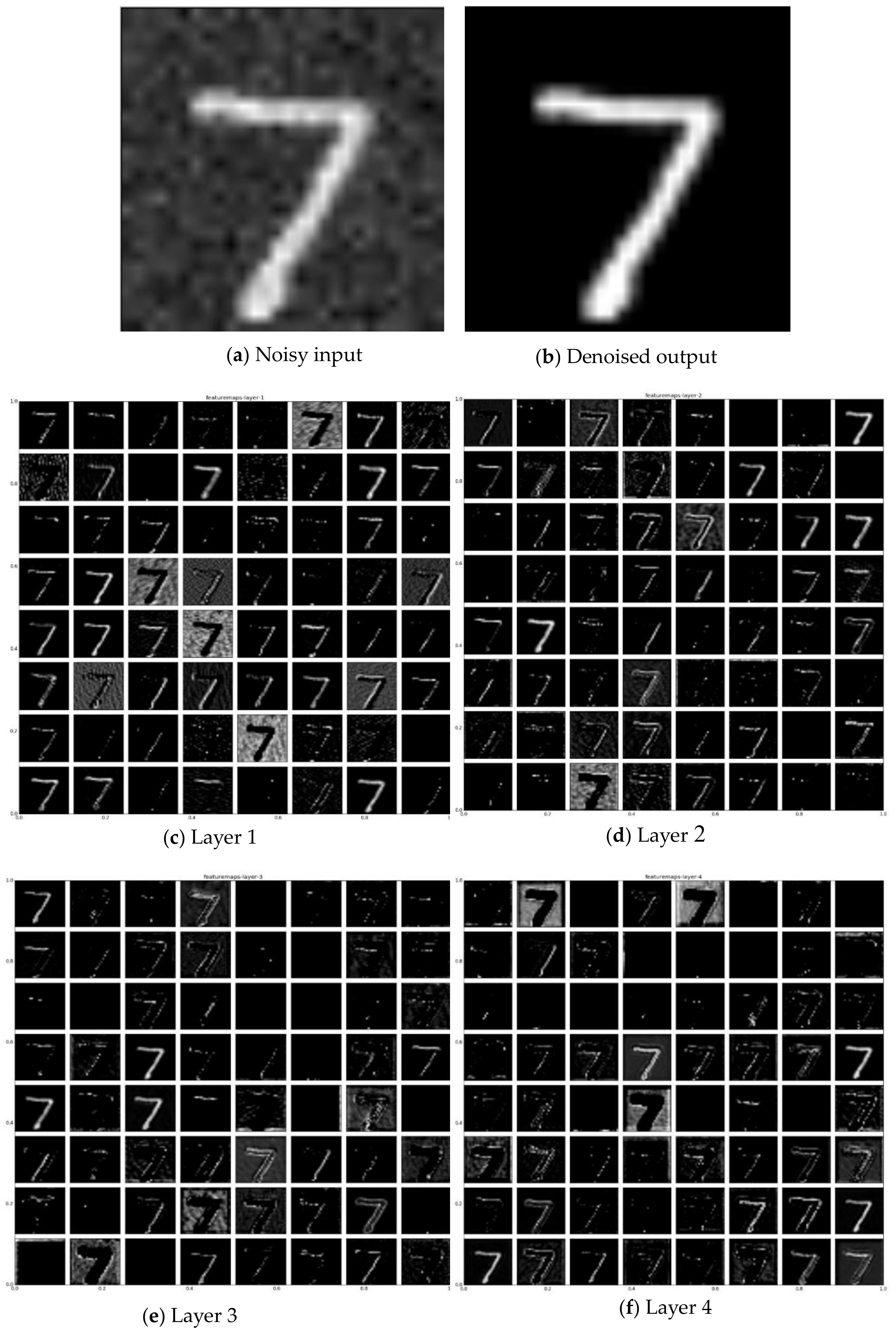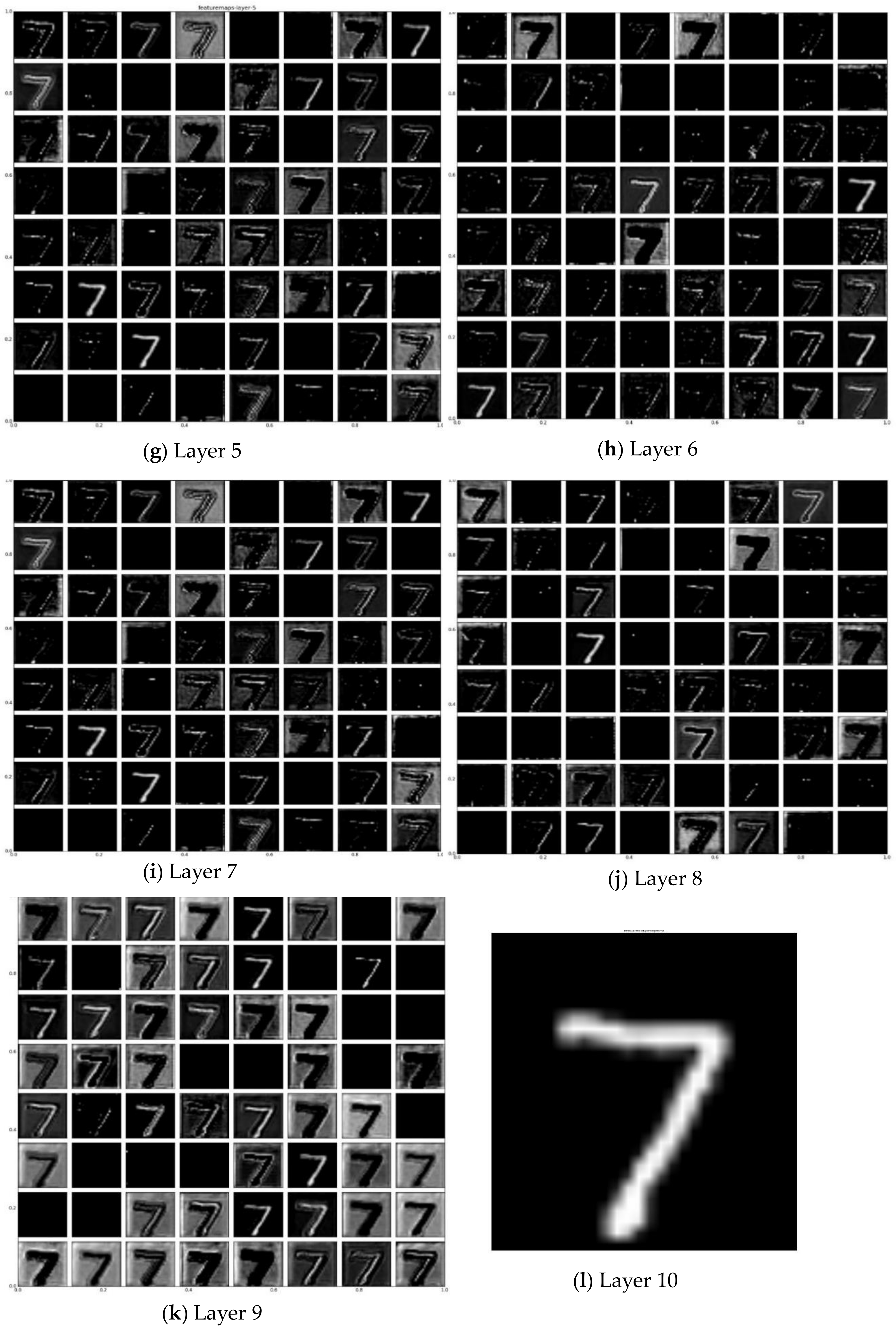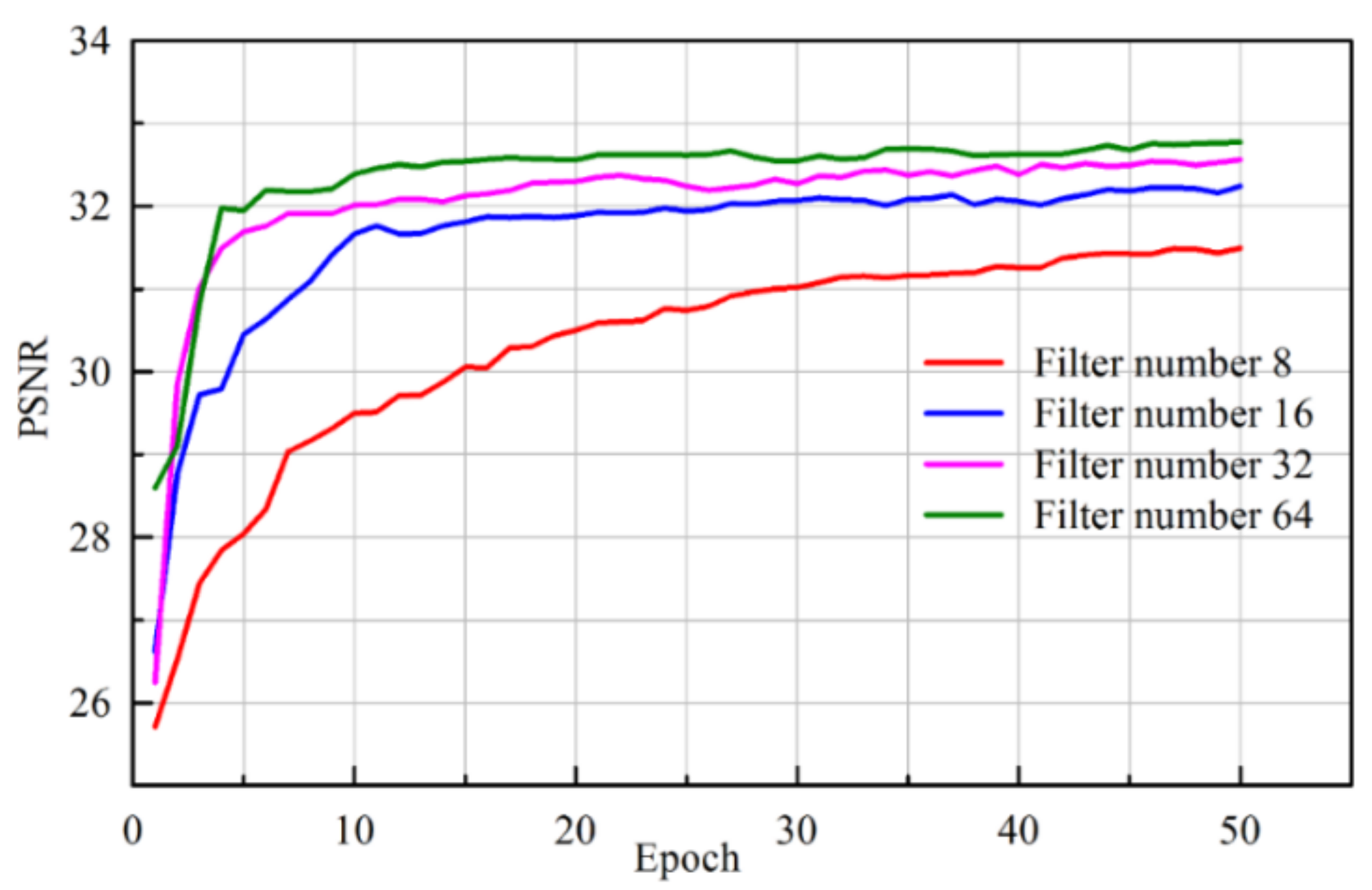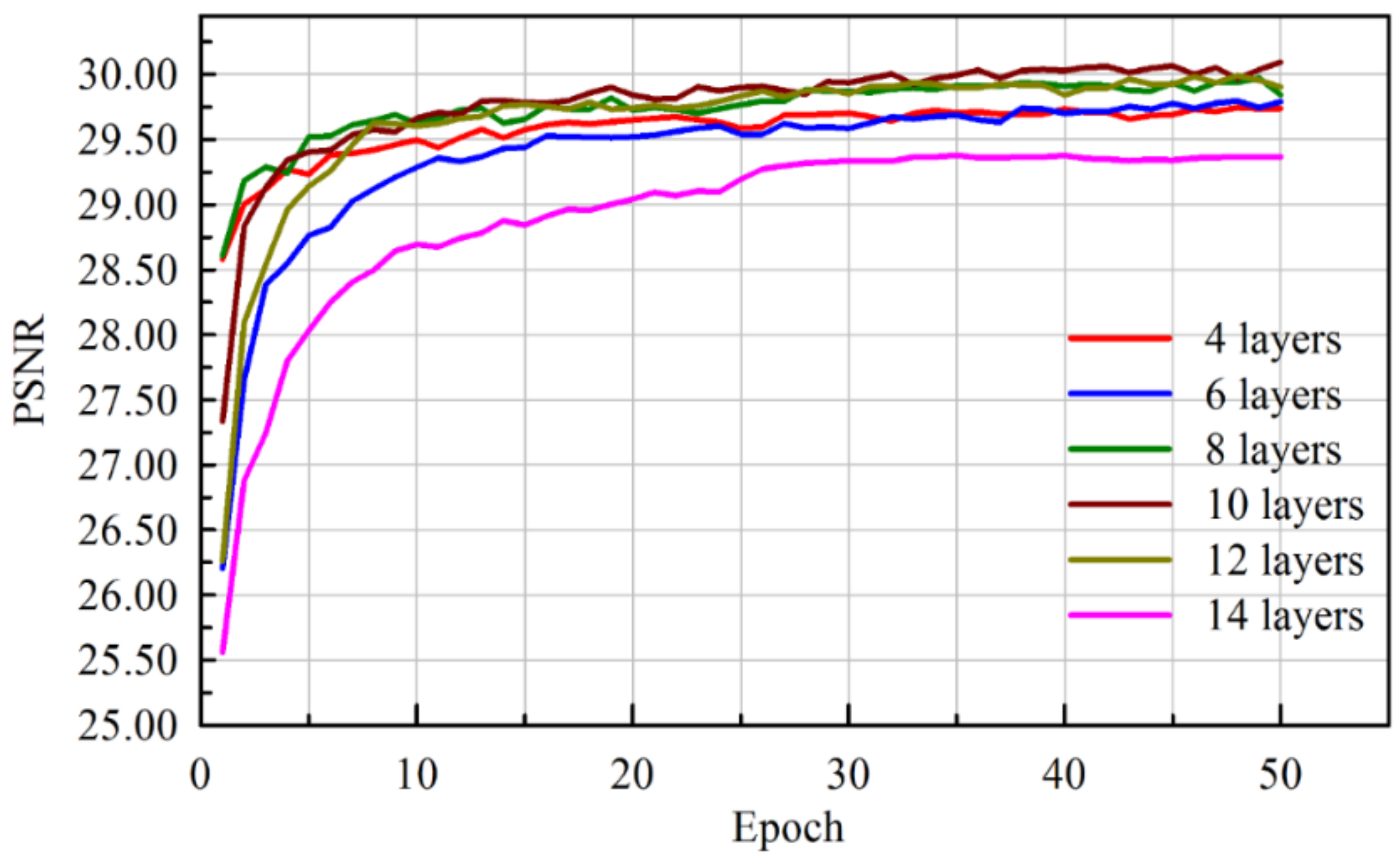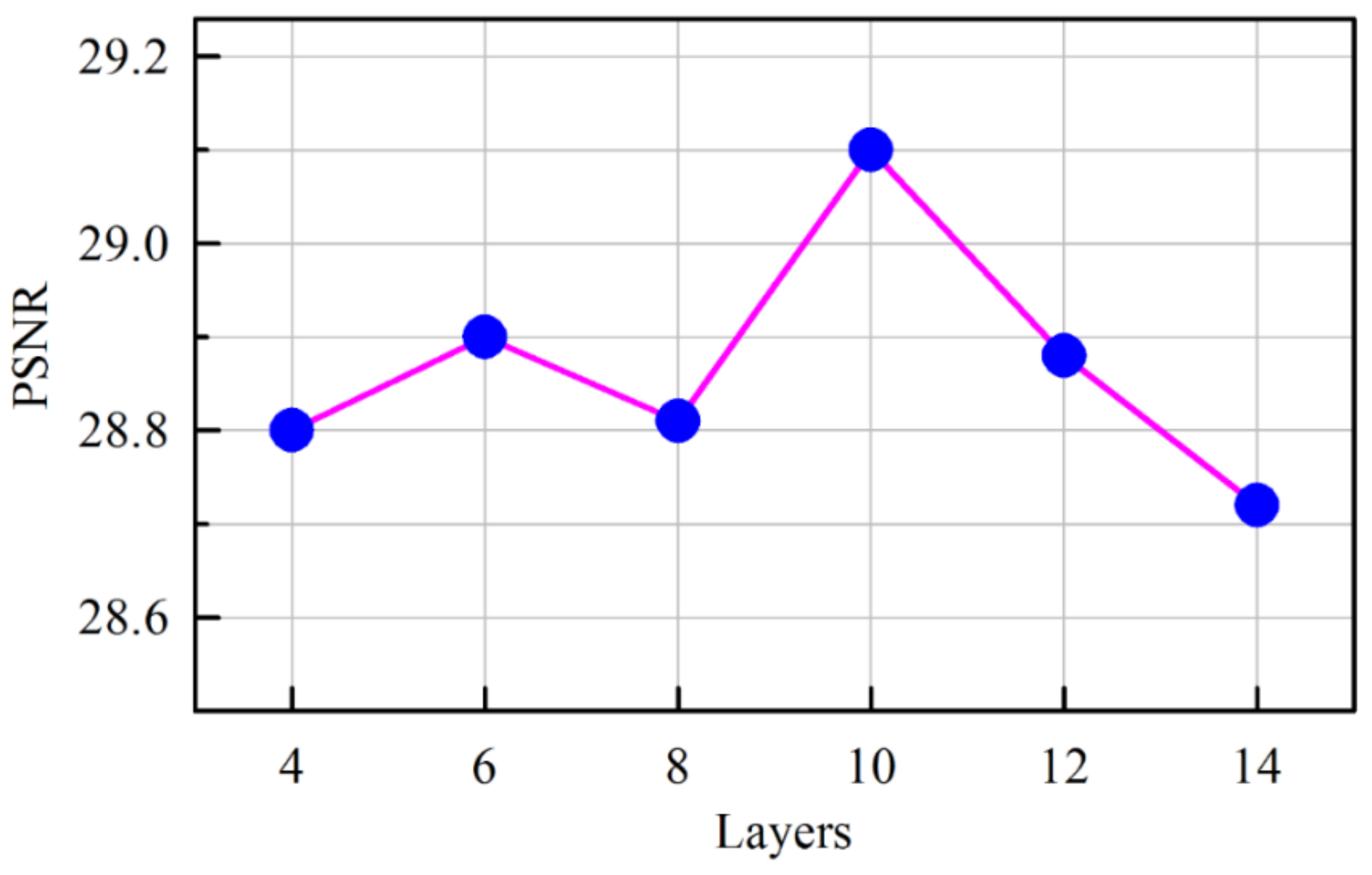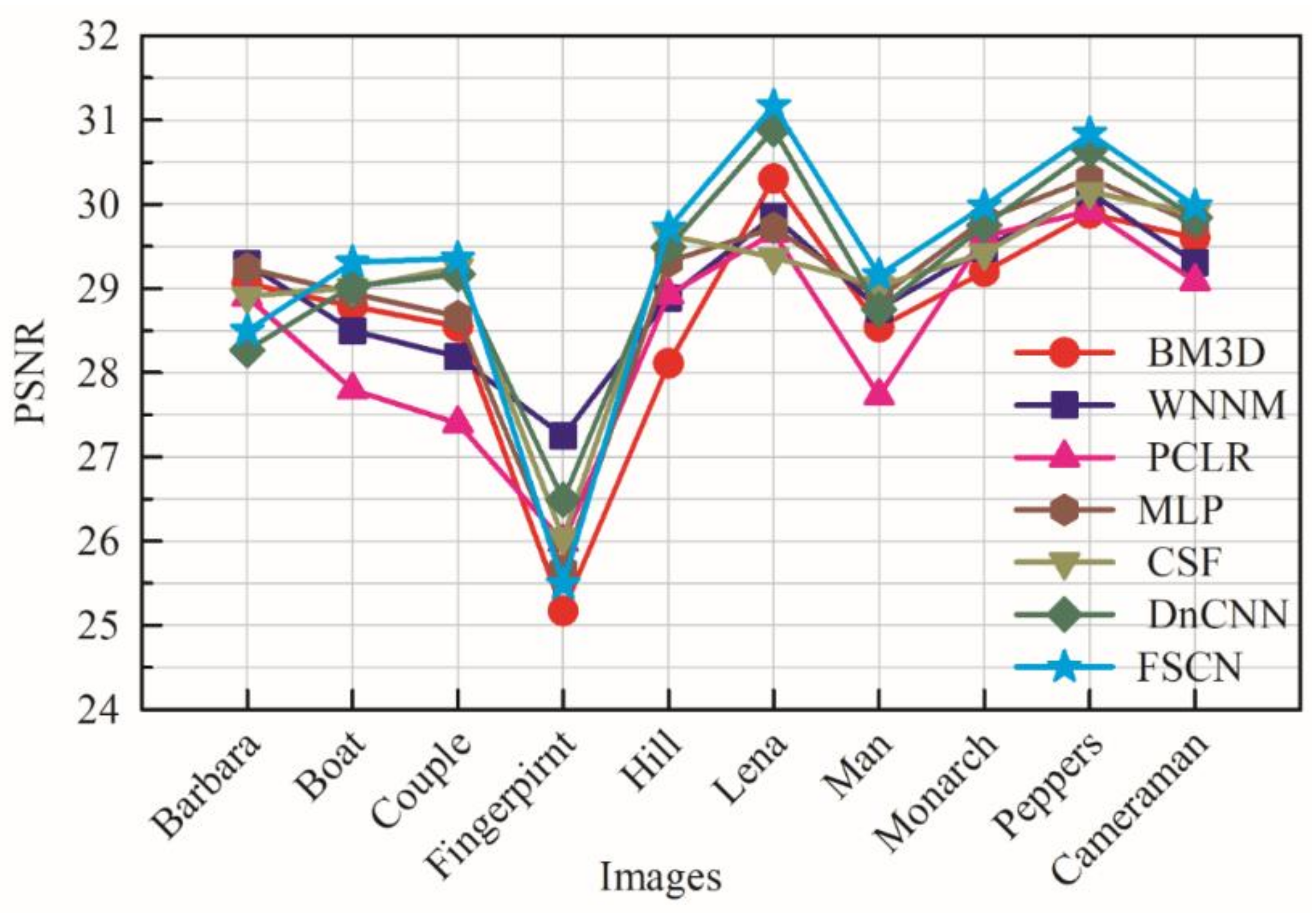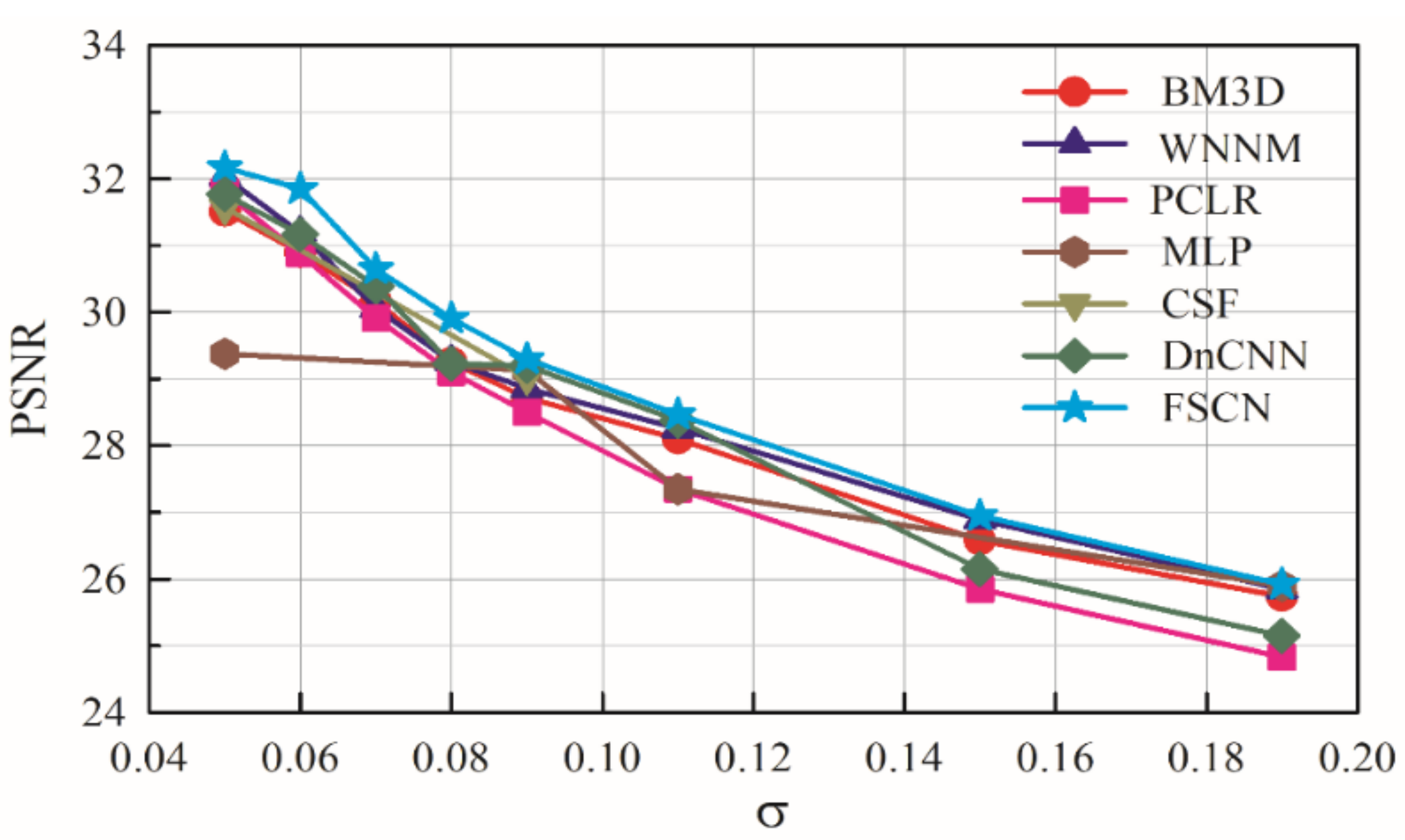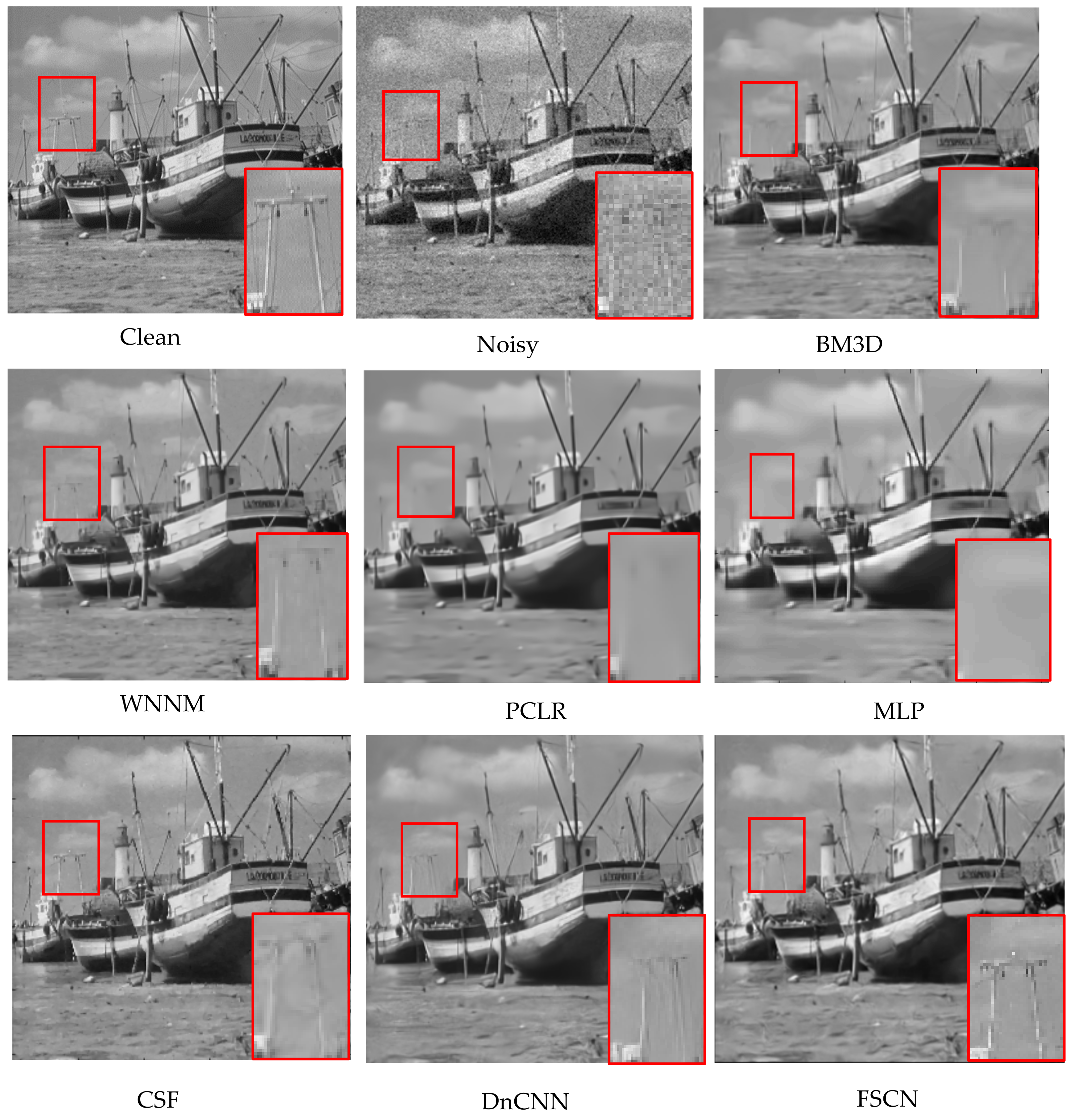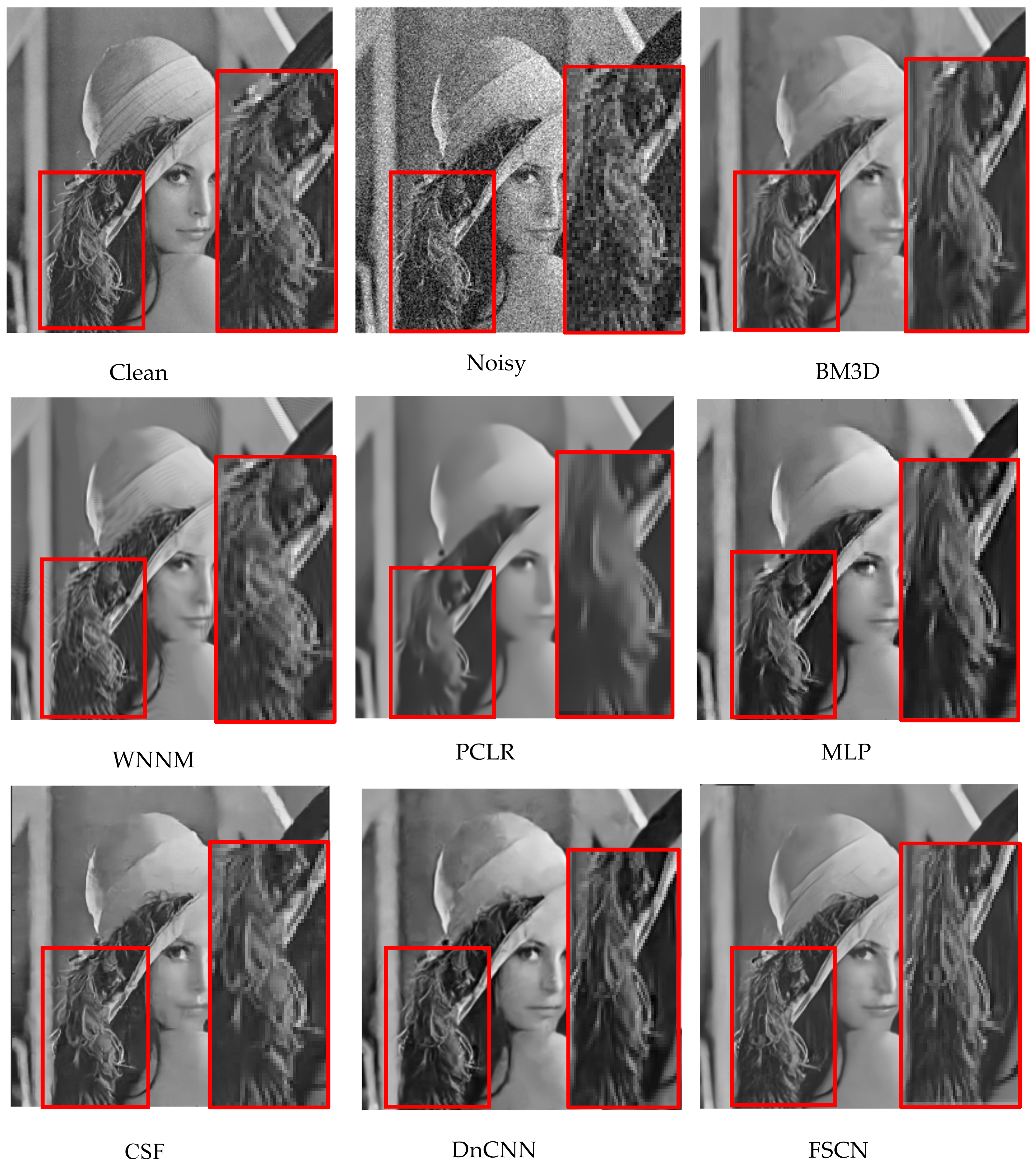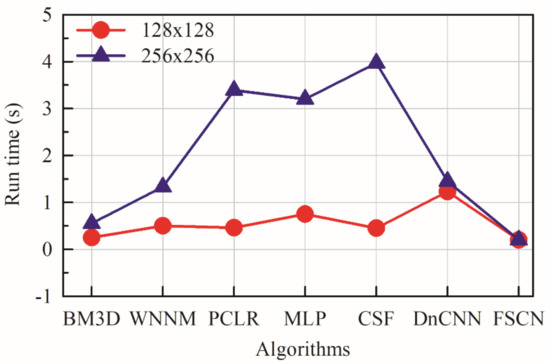 Figure 12. Run time of different methods on images of size 128 × 128 and 256 × 256 with noise level 0.09.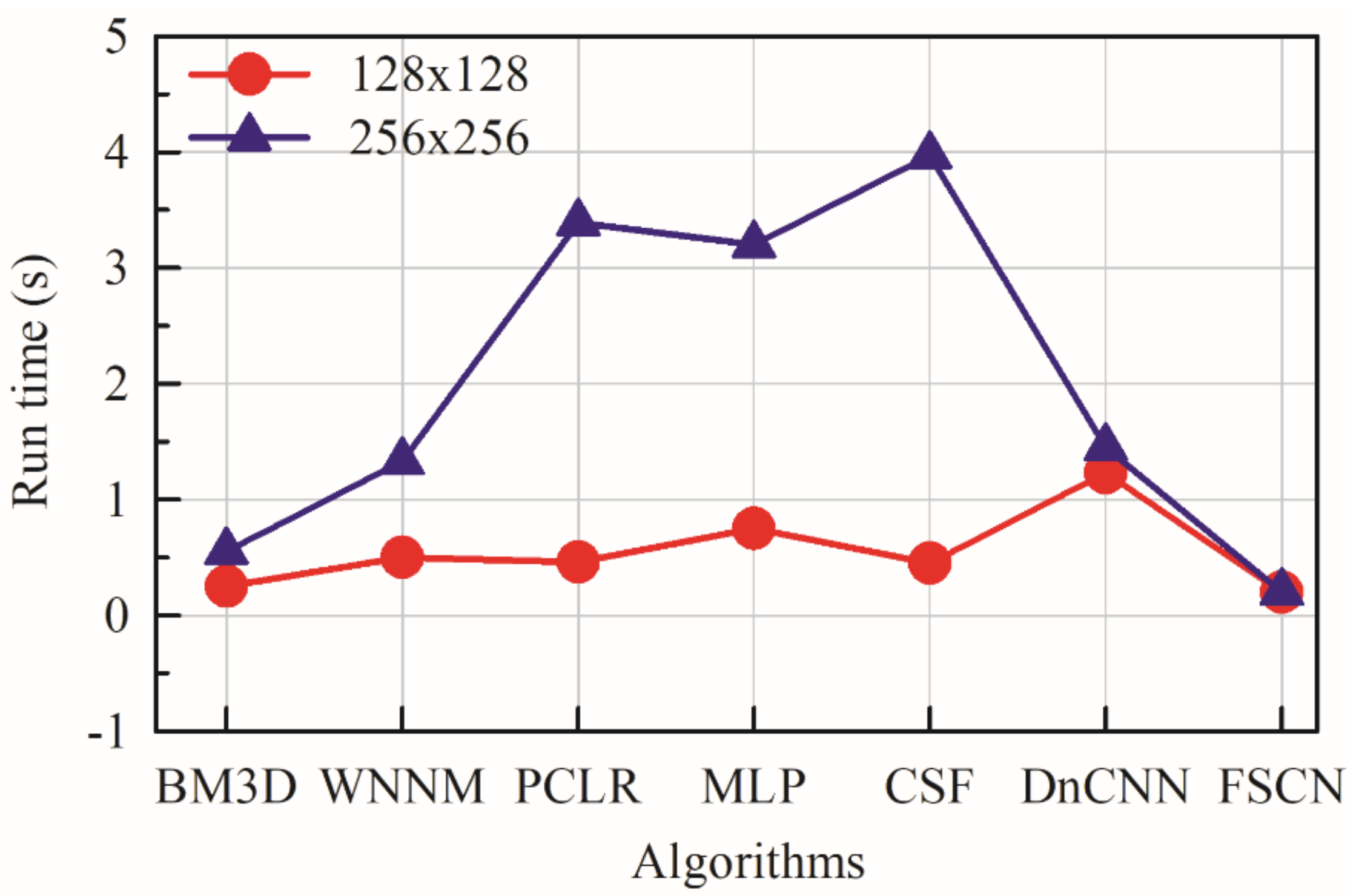 Sl.no
Model
Architecture
PSNR
1
C
CCCCC CCCCC
31.51
2
D
DDDDD DDDDD
32.00
3
BN
DBDBD BDBDB
30.14
4
CBCBC BCBCB
30.31
5
CD
CCCCC DDDDD
32.03
6
DDDDD CCCCC
31.68
7
CDCDC DCDCD
32.70

© 2019 by the authors. Licensee MDPI, Basel, Switzerland. This article is an open access article distributed under the terms and conditions of the Creative Commons Attribution (CC BY) license (http://creativecommons.org/licenses/by/4.0/).