Open Access This article is
freely available
re-usable
Article
Distinct Bacterial Consortia Established in ETBE-Degrading Enrichments from a Polluted Aquifer
1
Université Lyon1, CNRS, UMR5557, Ecologie Microbienne, INRA, 69622 Villeurbanne CEDEX, France
2
Biology Centre of the Czech Academy of Sciences, Institute of Soil Biology, 37005 České Budějovice, Czech Republic
3
University of Groningen, Groningen Institute for Evolutionary Life Sciences, 9747 AG Groningen, The Netherlands
4
SERPOL, 69200 Vénissieux, France
5
IFP Energies Nouvelles, 92852 Rueil-Malmaison, France
*
Author to whom correspondence should be addressed.
Received: 16 August 2019 / Accepted: 2 October 2019 / Published: 11 October 2019
Abstract
:
Ethyl tert-butyl ether (ETBE) is a gasoline additive that became an important aquifer pollutant. The information about natural bacterial consortia with a capacity for complete ETBE degradation is limited. Here we assess the taxonomical composition of bacterial communities and diversity of the
ethB
gene (involved in ETBE biodegradation) in ETBE-enrichment cultures that were established from a gasoline-polluted aquifer, either from anoxic ETBE-polluted plume water (PW), or from an upstream non-polluted water (UW). We used a 16S rRNA microarray, and 16S rRNA and
ethB
gene sequencing. Despite the dissimilar initial chemical conditions and microbial composition, ETBE-degrading consortia were obtained from both PW and UW. The composition of ETBE-enrichment cultures was distinct from their initial water samples, reflecting the importance of the rare biosphere as a reservoir of potential ETBE degraders. No convergence was observed between the enrichment cultures originating from UW and PW, which were dominated by
Mesorhizobium
and
Hydrogenophaga
, respectively, indicating that distinct consortia with the same functional properties may be present at one site. Conserved
ethB
genes were evidenced in both PW and UW ETBE-enrichment cultures and in PW water. Our results suggest that the presence of
ethB
genes rather than the taxonomical composition of in situ bacterial communities indicate the potential for the ETBE degradation at a given site.
Keywords:
ethyl tert-butyl ether; ETBE biodegradation; bacterial community; polluted aquifer; fuel oxygenates;
ethB
gene
5. Conclusions
The functional redundancy of ETBE-degrading bacterial consortia observed in this work shows that the taxonomical composition provides little information regarding potential for the ETBE degradation at a given site, while the gene
ethB
appears to be a good indicator of ETBE-degradation potential for further in situ operations.
Supplementary Materials
The following are available online at
https://www.mdpi.com/2076-3417/9/20/4247/s1
, Figure S1: A simplified overview of the ETBE-enrichment cultures from PW and UW water and their biodegradation properties, Figure S2: Microarray comparisons of bacterial communities between PW and UP water, PW water and PW ETBE-enrichments, UP water and UP ETBE-enrichments, and PW ETBE-enrichments and UW ETBE-enrichments, Figure S3: Analysis of the 16S rRNA gene diversity in UW and PW water and ETBE-enrichment subcultures based on cloning-sequencing, Figure S4: Comparison of UW and PW water bacterial communities by 16S rRNA gene sequencing, Figure S5: Degradation of ETBE and TBA in UW ETBE-enrichment subcultures S1–S3 and PW ETBE-enrichment subcultures S1–S3, Figure S6: Phylogeny analysis of 16S rRNA clones from the UW ETBE-enrichment subculture S1, Figure S7: Phylogeny analysis of 16S rRNA clones from the PW ETBE-enrichment subculture S3, Table S1: List of new microarray probes designed in this study and their targets.
Author Contributions
Conceptualization, M.K., J.F.S., A.D., Y.B. and G.L.G. Methodology, M.K., J.F.S., Y.B. and G.L.G.; Validation, M.K., Y.B. and G.L.G.; Formal Analysis, M.K.; Investigation, M.K., J.F.S. and Y.B.; Resources, A.D., Y.B. and G.L.G.; Data Curation, M.K.; Writing–Original Draft Preparation, M.K. and G.L.G.; Visualization, M.K.; Supervision, A.D. and G.L.G.; Project Administration, A.D.; Funding Acquisition, A.D.
Funding
This work was funded by the project TISATIE (
Traitements in situ alternatifs: Traçabilité, Innocuité, Efficacité: Application aux polluants pétroliers type MTBE, ETBE
), funded by VALORSITES AXELERA, a French competitiveness cluster.
Acknowledgments
We thank Jacqueline Haurat (CNRS, UMR5557, Écologie Microbienne; Villeurbanne; France), and Jean Philippe Tracol (SERPOL; Vénissieux, France) and SERPOL technical team for technical help.
Conflicts of Interest
The authors declare no conflict of interest.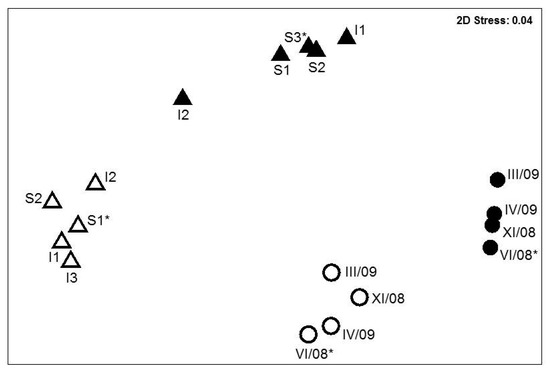 Figure 1.
Multidimensional Scaling of bacterial communities from PW water (black circles), UW water (white circles), PW ETBE-enrichment cultures (black triangles) and UW ETBE-enrichment cultures (white triangles). Water samples are labeled with month/year of sampling. ETBE-enrichment samples are labeled I1-I3 for the initial cultures and S1–S3 the subcultures (see
Figure S1
for more details). Samples that were used for 16S rRNA and
ethB
gene sequencing are marked with an asterisk. The distances between samples were based on Bray-Curtis similarity matrix, which was calculated from normalized probe signals. Low 2D stress value (<0.1) indicates that the distances between samples in reduced 2-dimensional space correspond well with the actual multivariate distance between the samples.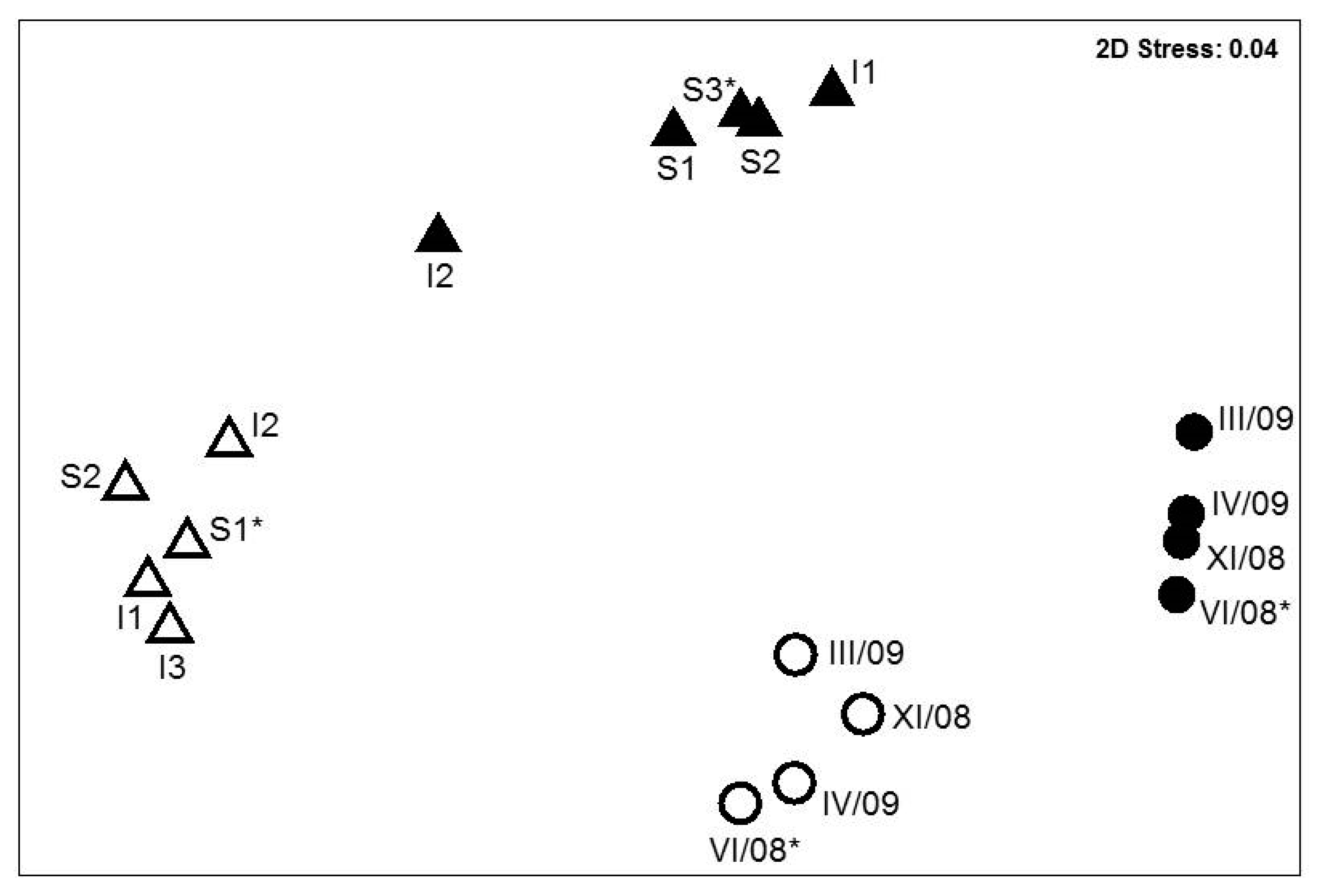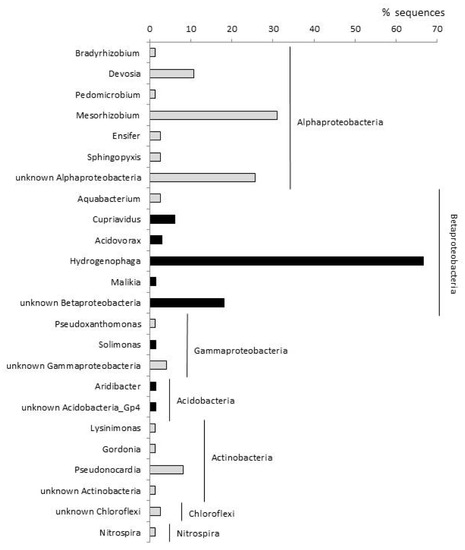 Figure 2. Comparison of PW and UW ETBE-enrichment subculture communities by 16S rRNA gene sequencing (based on 66 and 74 clones, respectively). Bars represents per cents of recovered clones from PW (black) and UW (white) ETBE-enrichment subcultures affiliated to the indicated bacterial taxa.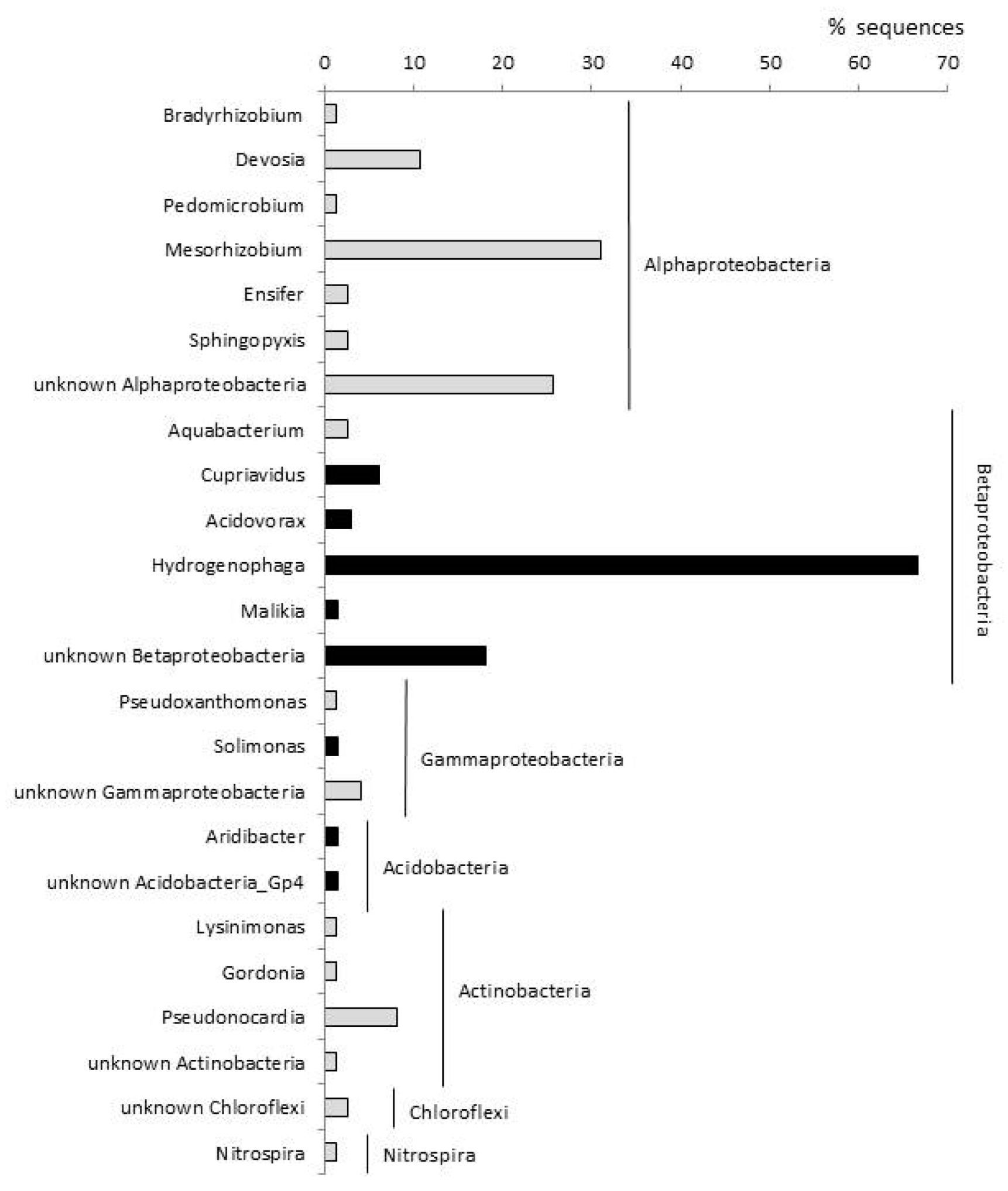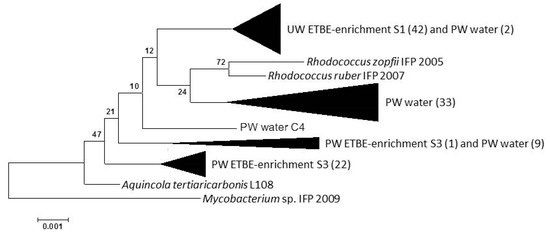 Figure 3.
Phylogenetic tree based on
ethB
sequences recovered from PW ETBE-enrichment subculture S3 (23 sequences), UW ETBE-enrichment subculture S1 (42 sequences) and PW water (45 sequences), and highly similar (>99% identity, according to blastn)
ethB
sequences from published strains. The Neighbor-Joining tree was constructed based on phylogenetic distances calculated with Kimura-2 parameter (816 nucleotide positions included in the analysis), and bootstrapped over 1000 replicates. The collapsed parts of the tree (presented as black triangles) are labeled with the corresponding samples and numbers of clones (in brackets). Bootstrap values are marked in bold next to the branches. The scale bar shows phylogenetic distance.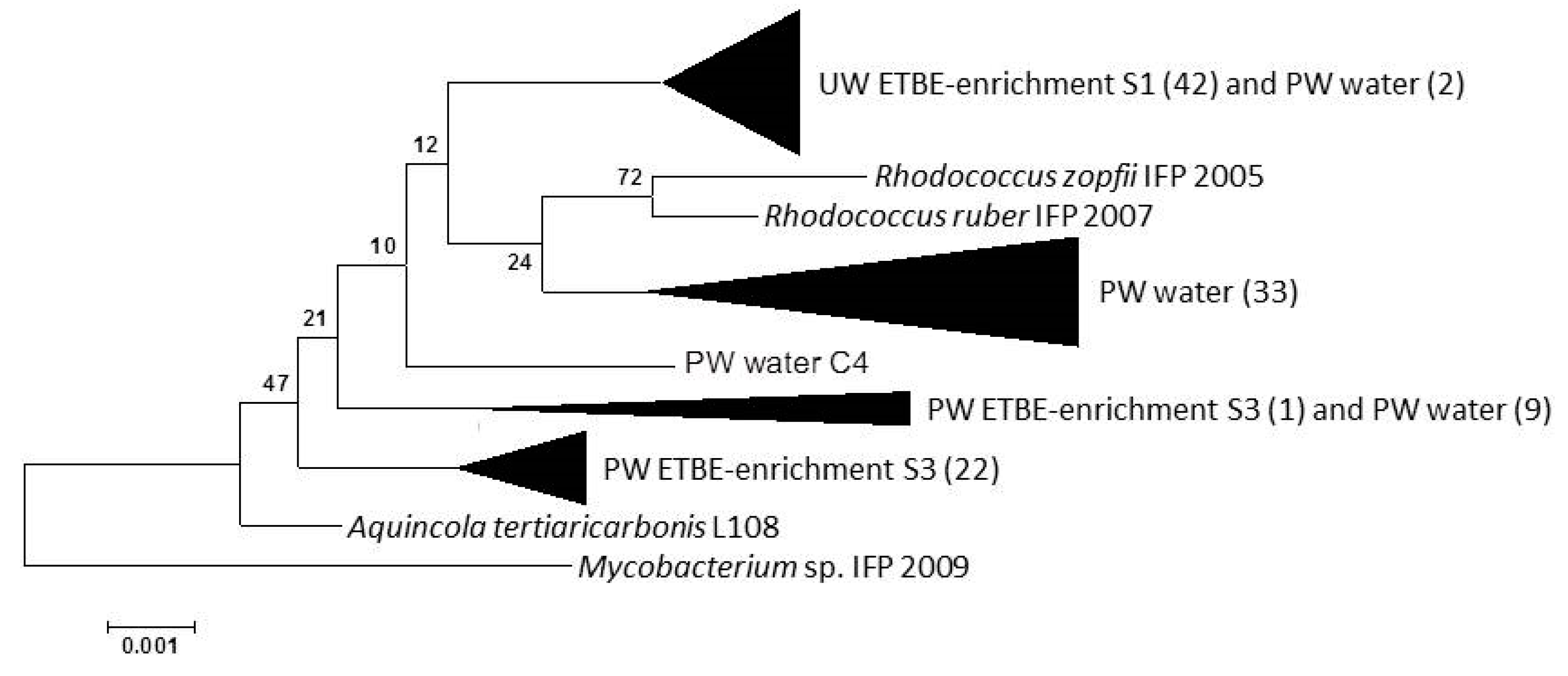 ETBE
(mg/L)
MTBE
(mg/L)
TBA
(mg/L)
BTEX
(mg/L)
TOC a
(mg/L)
Nitrates
(mg/L)
Sulfates
(mg/L)
Oxygen
(mg/L)
PW
160.8
2.5
1.9
4.4
204
ND b
7
0.33
UW
ND
ND
ND
ND
ND
3
25
2.54
a Total organic carbon, b ND—not detected.

© 2019 by the authors. Licensee MDPI, Basel, Switzerland. This article is an open access article distributed under the terms and conditions of the Creative Commons Attribution (CC BY) license (http://creativecommons.org/licenses/by/4.0/).