Supplementation of Non-Dairy Creamer-Enriched High-Fat Diet with D-Allulose Ameliorated Blood Glucose and Body Fat Accumulation in C57BL/6J Mice
1
Department of Pharmacology, Kyungpook National University School of Medicine, Daegu 41566, Korea
2
Department of Food Science and Nutrition, Kyungpook National University, Daegu 41566, Korea
3
Center for Food and Nutritional Genomics Research, Kyungpook National University, Daegu 41566, Korea
4
Department of Biochemistry, School of Medicine, Keimyung University, Daegu 42601, Korea
5
CJ Cheiljedang Food Research Institute, Suwon 16495, Korea
*
Author to whom correspondence should be addressed.
†
These authors contributed equally to this work.
Received: 26 April 2019 / Revised: 19 June 2019 / Accepted: 5 July 2019 / Published: 8 July 2019
Abstract
D-allulose, which has 70% of the sweet taste of sucrose but nearly no calories, has been reported to inhibit the absorption of lipids and suppress body weight gain in obese mice. Fats in non-dairy creamer consist of highly saturated fatty acids, which can cause various lipid disorders when consumed over a long period. We investigated whether D-allulose supplementation alleviates the effects of a non-dairy creamer-enriched high-fat diet on lipid metabolism. High-fat diets enriched with non-dairy creamer were administered to C57BL/6J mice with or without D-allulose supplementation for eight weeks by the pair-feeding design. Lipid metabolic markers were compared between the non-dairy creamer control group (NDC) and non-dairy creamer allulose group (NDCA). Body, adipose tissue, and liver weights, and fasting blood glucose levels, were significantly lower in the NDCA group than in the NDC group. Fecal fatty acid and triglyceride levels were significantly higher in the NDCA group than in the NDC group. Supplementing a non-dairy creamer-enriched high-fat diet with D-allulose improved overall lipid metabolism, including the plasma and hepatic lipid profiles, hepatic and adipose tissue morphology, and plasma inflammatory adipokine levels in mice. These results suggest that D-allulose can be used as a functional food component for preventing body fat accumulation from a high-fat diet that includes hydrogenated plant fats.
View Full-Text
►

▼

Figures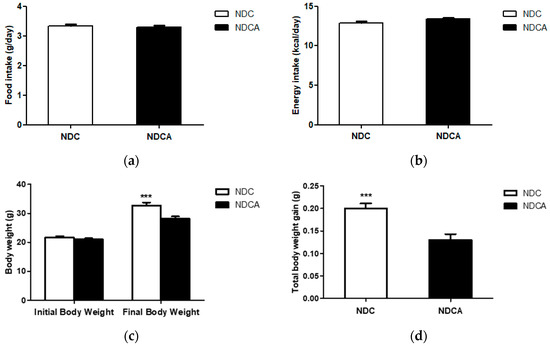 Figure 1
This is an open access article distributed under the
Creative Commons Attribution License
which permits unrestricted use, distribution, and reproduction in any medium, provided the original work is properly cited (CC BY 4.0).

Share & Cite This Article
MDPI and ACS Style
Do, G.Y.; Kwon, E.-Y.; Kim, Y.J.; Han, Y.; Kim, S.-B.; Kim, Y.H.; Choi, M.-S. Supplementation of Non-Dairy Creamer-Enriched High-Fat Diet with D-Allulose Ameliorated Blood Glucose and Body Fat Accumulation in C57BL/6J Mice. Appl. Sci. 2019, 9, 2750.
Note that from the first issue of 2016, MDPI journals use article numbers instead of page numbers. See further details here.
Related Articles
Comments
[Return to top]