Open Access This article is
freely available
re-usable
Review
Developments in Contact Lens Imaging: New Applications of Optical Coherence Tomography
Division of Ophthalmology and Optometry, Department of Ophthalmology, Collegium Medicum, Nicolaus Copernicus University, Bydgoszcz 85-168, Poland
*
Author to whom correspondence should be addressed.
Received: 17 May 2019 / Accepted: 24 June 2019 / Published: 26 June 2019
Abstract
:
Optical coherence tomography (OCT) is a high-speed and non-contact optical imaging technology widely used for noninvasive cross-sectional imaging of biological objects. Two main OCT technologies have been developed: time domain and Fourier domain technologies. The latter can be further divided into spectral domain OCT, which uses a broadband light source and a spectrometer as a detector, and swept source OCT, which employs a quickly-rotating laser source. Advances in OCT technology have made it one of the most helpful devices in ophthalmic practice. Fourier OCT has revolutionized imaging of the posterior segment of the eye, as well as of anterior structures and has enhanced the ability to diagnose and manage patients. It provides high-resolution information about the tear film, contact lens (CL), a qualitative and quantitative assessment of the anterior eye that is important in CL fitting, and allows possible eye surface changes while wearing CLs to be monitored. Potential swept source OCT technology applications include industrial processes of lens design and quality control. In this paper, we describe clinical applications ant outline a variety of multifunctional uses of OCT in the field of refractive error correction with CLs.
Keywords:
contact lens imaging; optical coherence tomography
2. Clinical Uses in CL Practice
About 2% of the world's population wears CLs, and in developed countries, this percentage is much higher, reaching 15% in the United States of America [
20
]. This number is expected to increase gradually given the various benefits that CLs provide in daily activities compared to eyeglasses. According to data from the International Survey of Contact Lens Prescribing in 2018, soft lenses accounted for about 90% of new fits and refits, and the rest used rigid gas permeable (RGP) lenses [
21
,
22
]. Scleral CLs have gained renewed interest since the late 2000s and have become an increasingly important part of RGP fittings in several countries [
23
].
Many factors influence lens fitting characteristics, such as the lens material and design, corneal shape, blink rate, lid–lens interactions, and post-lens tear film. Different powers, base curves, edge designs, and diameters affect the correct positioning of the CL on the eye, resulting in measurable lens lag and movement [
24
]. The RGP lens has a unique fitting method with "apical touch" (the lens to the corneal apex), intermediate clearance, and a band of touch at the junction of the optical zone and the secondary curve. The relationship between the lens edge and the cornea is another significant factor influencing optimal lens fitting and determining patient comfort and maximum wearing time [
25
,
26
]. Most studies on ocular surface shape only investigated the central cornea, which is the most important factor for vision. However, information from the peripheral part of the cornea is particularly relevant in the design and fitting assessment of CLs [
27
,
28
]. The general health of the patient, ergonomics, and the environment are important for the comfort of CL users.
At present, during the application of soft CL, the practitioner routinely observes lens centration, coverage, and movement with a slit-lamp biomicroscope. Staining of the ocular tear film with fluorescein is used to evaluate the RGP contact lens fit and to assess the ocular surface after a period of wear. However, both methods provide limited information on the interaction between the lens and the ocular surface, and this examination may be insufficient to understand the cause of CL-induced discomfort and complications [
28
,
29
,
30
,
31
].
2.1. Qualitative and Quantitative Evaluation: Surface Topography and Biometric Data
2.2. Evaluation of Tear Fluid in CL Wearers
2.3. Static and Dynamic Assessment of CL Fitting
In the primary position, the ideal soft lens fit should be well-centered. The lens edge must always rest on the conjunctiva well clear of the limbus. A natural blink should induce movement that is observable [
22
,
27
]. This is especially important in toric and multifocal soft lens fitting. As these lenses are generally aspheric in nature, a decentered lens induces visually compromising aberrations, such as astigmatism, coma, and curvature [
22
]. Proper lens movement facilitates tear exchange underneath the lens and the removal of debris and inflammatory mediators [
24
]. Traditionally, the dynamic assessment of lens fitting has been performed via slit-lamp biomicroscopy evaluation. The ease of displacement or recovery speed of the push-up test can be registered and measured by video capture [
24
,
30
]. As the OCT allows for objective quantitative measurements of CL movement, it is thought to be a perfect complement to slit-lamp examination [
53
].
RGP lens fitting is more complicated and usually requires additional knowledge and clinical experience. The standard criterion for evaluating the lens-to-cornea fit has been to examine the fluorescein test and slit-lamp with a cobalt filter. Piotrowiak et al. compared the results of fitting RGP lenses with two methods and showed that fitting with a commercial SOCT is less accurate than the traditional subjective method according to the qualitative assessment of the difference in gaps between the front of the cornea and the lens, depending on changes in the base curve radius test lens.
In 2010, an analysis of blink-induced vertical movements of the interior lens edge of soft and rigid CLs using video-rate imaging modes of SOCT was reported. The method allowed the simultaneous real-time quantitative measurement of the movement of the CL and an objective evaluation of the fitting relationship between the lens and the ocular surface [
10
].
According to Cui et al., combining ultra-high-resolution and ultra-long scan-depth OCT has enabled the dynamic tracking of lens micro-movements and the overall shape of the ocular surface [
24
]. A recently-published study demonstrated the feasibility and good repeatability of a novel method based on the ultra-long scan-depth OCT system to assess the centration and movement characteristics of CLs [
54
].
4. Conclusions
OCT has a vast range of properties that are superior to traditional clinical methods. Anterior eye structures can be visualized with a high resolution, then analyzed and measured. Being a non-contact procedure, it does not influence patient comfort, permitting in vivo imaging and biometric measurement. OCT is a valuable new technology enabling corneal topography and tomography to be performed. Using OCT, we can assess the design, shape, and lens edge position and measure the scleral toricity, corneal vault, thickness of the lens, corneal epithelium, and stroma, as well as the space between the lens and the eye surface, the tear film, and other parameters that allow a faster and more precise fit, which helps the CL work better and improves the comfort of the wearer. OCT can also be useful for the diagnosis, evaluation, and documentation of CL complications and then for measuring the effectiveness of the therapy in clinical trials. Therefore, the OCT, as a powerful imaging modality, could become a standard technology applied in CL practice in the near future. Potential applications of SSOCT include industrial processes of lens design and research. Nondestructive, fast and reliable CL metrology may provide an efficient and improved quality control during and after manufacturing and may be useful in developing new materials and designs of CLs, especially in the face of the incipient revolution in contactology, including concepts such as drug-eluting lenses or ones containing electronic components.
Author Contributions
Conceptualization, B.J.K.; analysis of the literature, J.S., M.S.-B., I.P.-S., M.K.-M., J.R.-Z. and B.J.K.; writing, original draft preparation, J.S.; writing, review and editing, M.S.-B., I.P.-S., M.K.-M., J.R.-Z. and B.J.K.
Funding
This work was supported by the grant 2015/18/E/NZ5/00697 funded by the National Science Centre, Poland.
Conflicts of Interest
The authors declare no conflict of interest.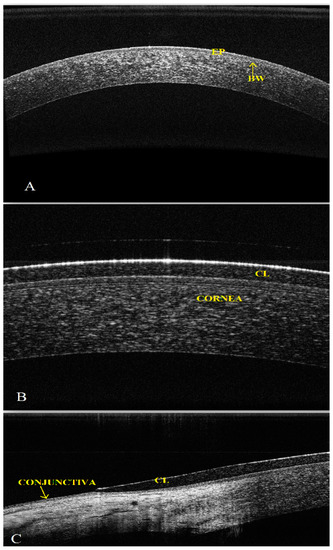 Figure 2. Optimal fitting of a soft CL. The central part of the cornea (A). The cornea with a well-fitted soft CL Dailies, Ciba Vision (B,C) (EP, epithelium; BW, Bowman membrane).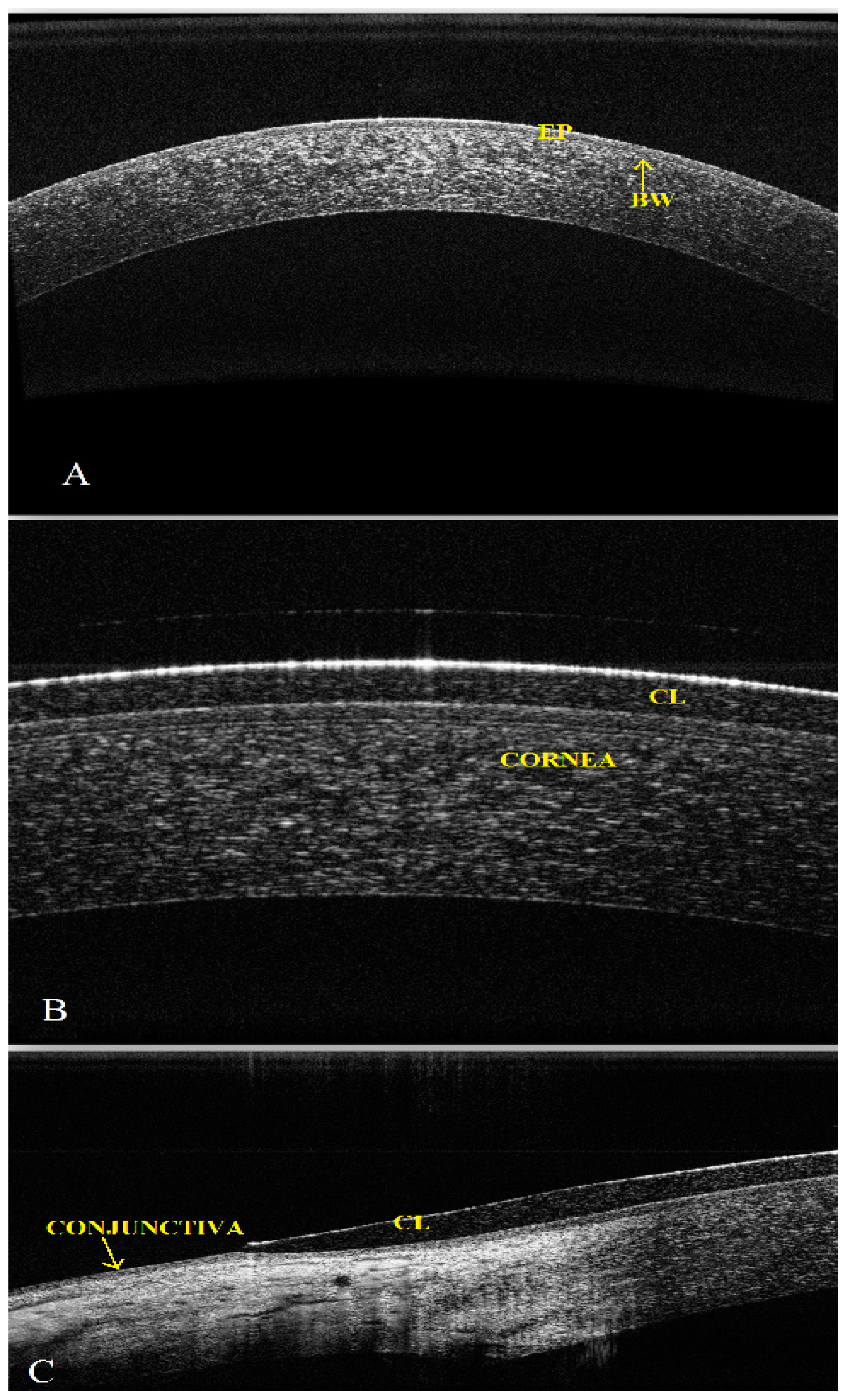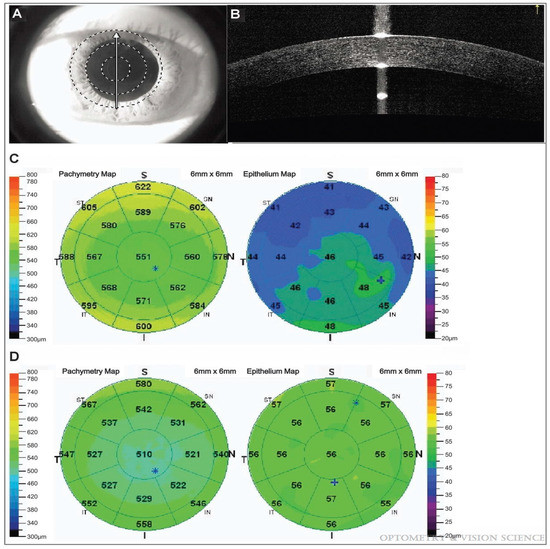 Figure 3.
Central cornea's field marked for pachymetry scan (
A
). Cross-section projection of cornea's OCT image (
B
). Corneal total thickness maps and corneal epithelial thickness maps of a long-term contact lens user (
C
) and a non-CL wearer (
D
). Adapted with from Hong et al. [
40
].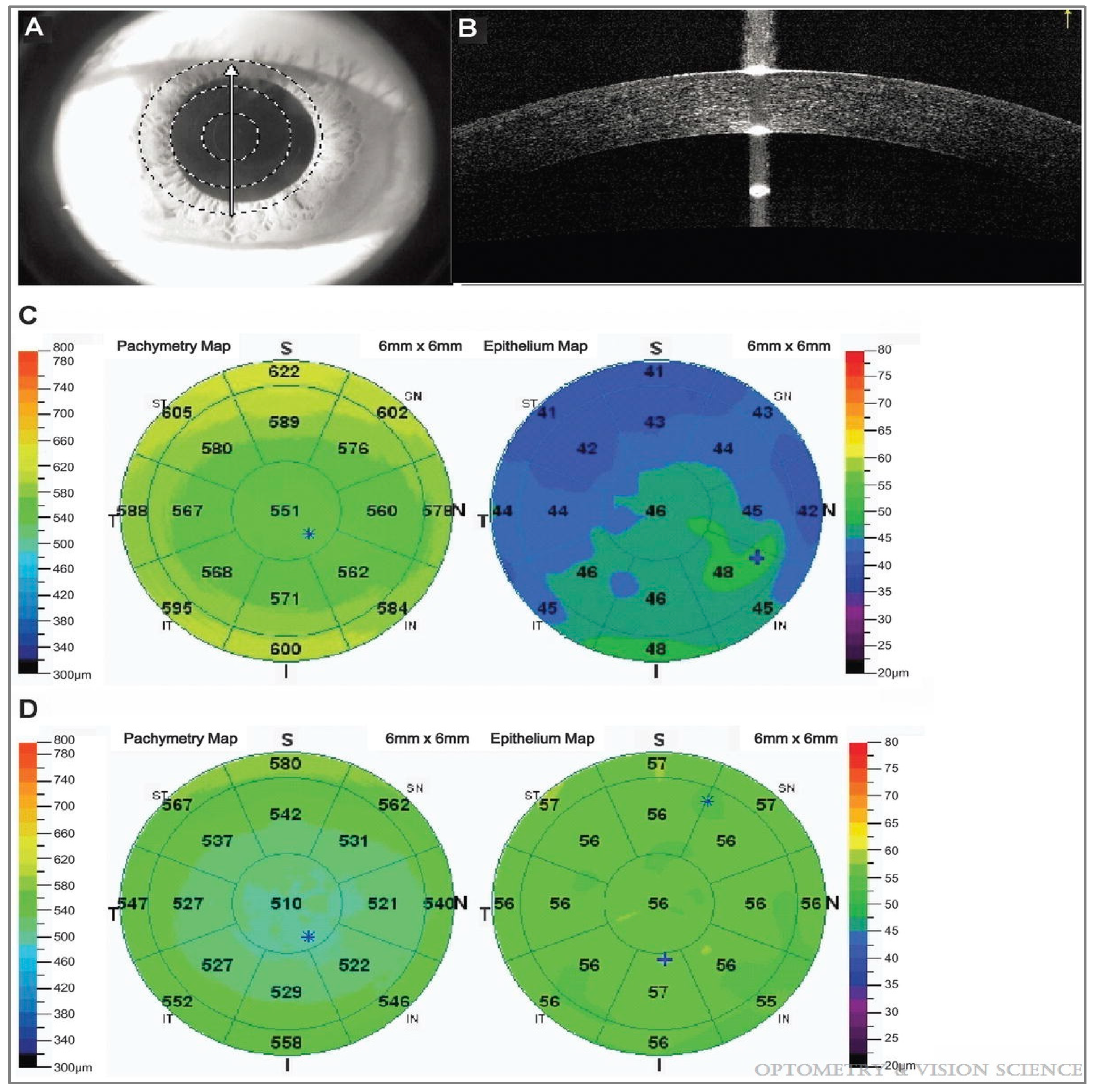 Figure 4.
Analysis of tear meniscus as a cross-sectional image (LTM, lower tear meniscus; UTM, upper tear meniscus; LL, lower lid; UL, upper lid). Adapted from Tao et al. [
16
].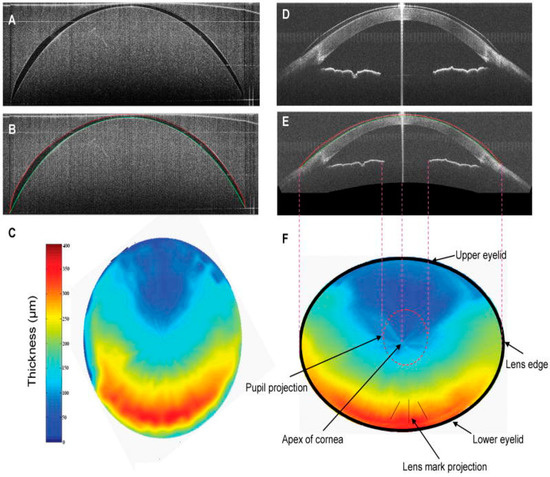 Figure 5.
The whole area of a CL in vitro and on the ocular surface imaged by SOCT. Cross-sectional OCT image of a toric soft CL immersed in CL solution (
A
) and in vivo (
D
) and their segmented surfaces: anterior in red and posterior in green can be seen in (
B
) and (
E
), respectively. The thickness map of the toric soft CL is the same in vivo (
F
) and in vitro (
C
). The resolution is 6.0 µm axially and ~15.0 µm transversally. Adapted from Shen et al. [
28
].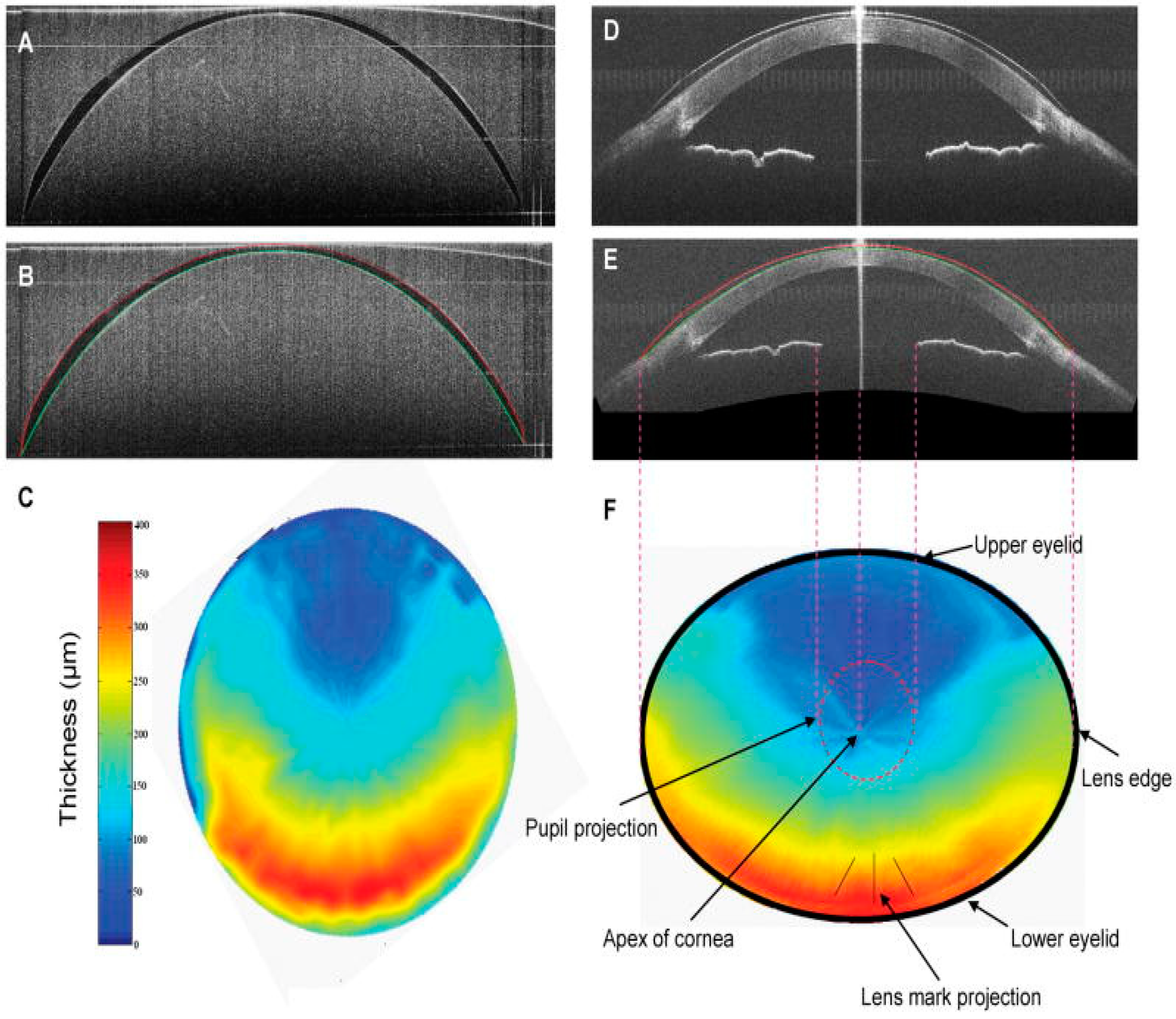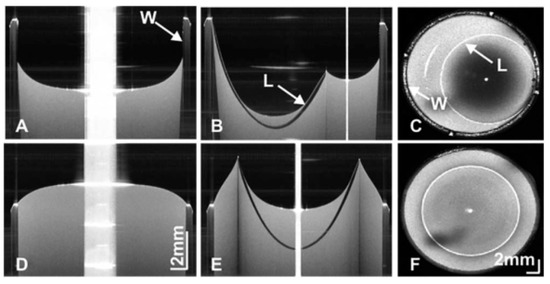 Figure 6.
Experimental confirmation of the capillary forces between wet cell walls filled with a solution of increased reflectivity and a CL. Concave (
A
) and convex meniscus (
D
) formed at a partially-filled and overfilled cuvette as cross-sectional images. Cross-sections (
B
,
E
) and en face projections (
C
,
F
) showing attraction and repulsion effects (W, cuvette wall; L, contact lens). Adapted from Karnowski et al. [
58
].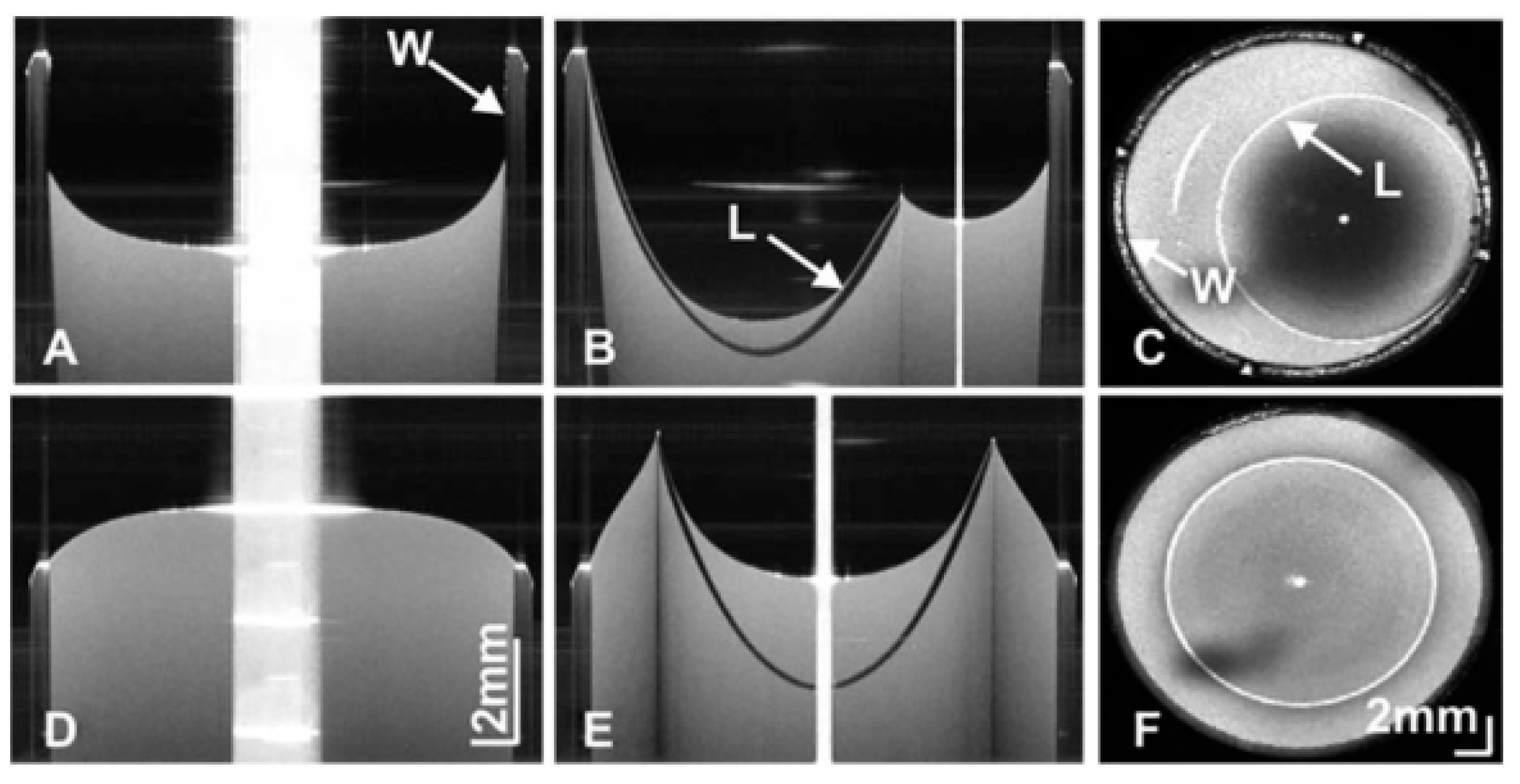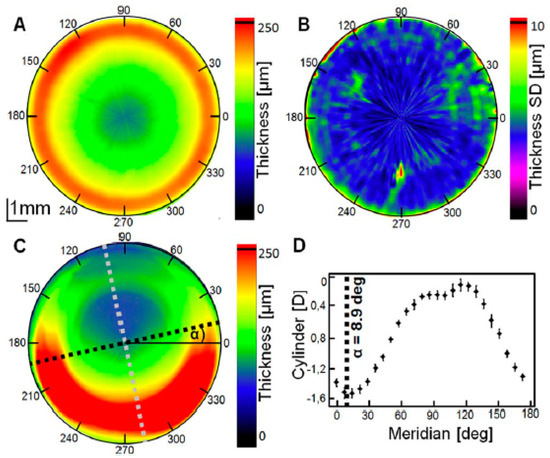 Figure 7.
SSOCT of a CL's measurable estimation. Averaged thickness map (
A
), standard deviation map of the thickness from 10 tests of the spherical soft CL (
B
), and thickness of the toric soft CL shown as maps (
C
); there is a brightly visible bottom weighting ballast with the axis rotated by α = 8.9 deg. Astigmatism of the toric soft CL (
D
). Adapted from Karnowski et al. [
58
].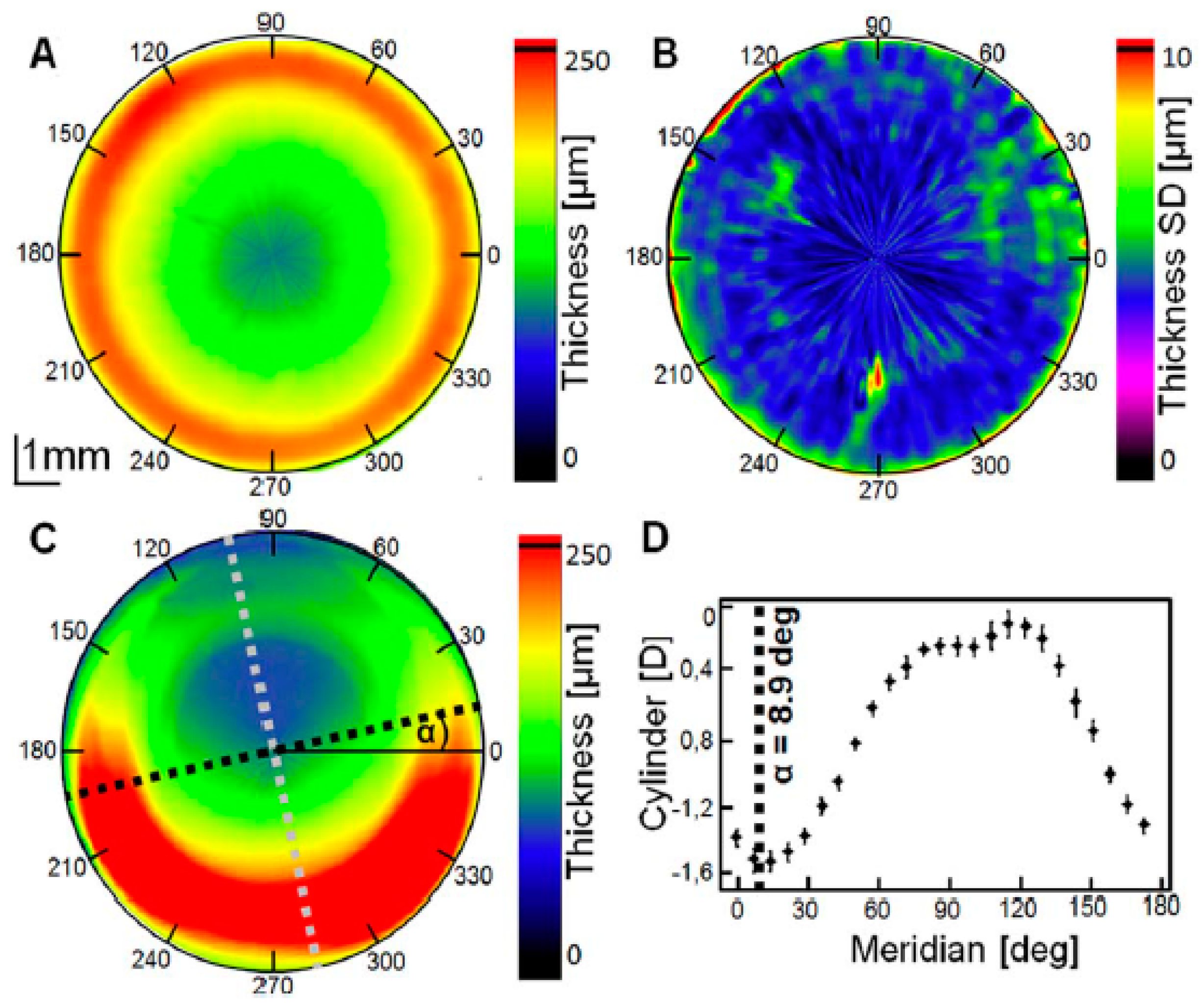 © 2019 by the authors. Licensee MDPI, Basel, Switzerland. This article is an open access article distributed under the terms and conditions of the Creative Commons Attribution (CC BY) license (http://creativecommons.org/licenses/by/4.0/).