Open Access This article is
freely available
re-usable
Article
Efficient Photoelectrochemical Water Splitting Reaction using Electrodeposited Co3Se4 Catalyst
Department of Materials Science & Engineering, Chonnam National University, Gwangju 61186, Korea
†
These authors contributed equally to this work.

Received: 25 October 2018 / Accepted: 17 December 2018 / Published: 21 December 2018
Abstract
:
Photoelectrochemical water splitting is a promising field for sustainable energy production using hydrogen. Development of efficient catalysts is essential for resourceful hydrogen production. The most efficient catalysts reported to date have been extremely precious rare-earth metals. One of the biggest hurdles in this research area is the difficulty of developing highly efficient catalysts comparable to the noble metal catalysts. Here, we report that non-noble metal dichalcogenide (Co3Se4) catalysts made using a facile one-pot electrodeposition method, showed highly efficient photoelectrochemical activity on a Si photocathode. To enhance light collection and enlarge its surface area even further, we implemented surface nanostructuring on the Si surface. The nanostructured Si photoelectrode has an effective area greater than that of planar silicon and a wider absorption spectrum. Consequently, this approach exhibits reduced overvoltage as well as increased photo-catalytic activity. Such results show the importance of controlling the optimized interface between the surface structure of the photoelectrode and the electrodeposited co-catalyst on it to improve catalytic activity. This should enable other electrochemical reactions in a variety of energy conversion systems.
Keywords:
photoelectrochemical cell; hydrogen evolution reaction (HER); metal free catalyst; cobalt selenide catalyst
2. Materials and Methods
2.1. Materials
Sodium selenite (Na2SeO3), cobalt acetate (Co(CH3COO)2), lithium chloride (LiCl), perchloric acid (HClO4), silver nitrate (AgNO3), hydrochloric acid (HCl), nitric acid (HNO3) and hydrofluoric acid (HF) were purchased from Sigma Aldrich (Seoul, Republic of Korea, 2018). All reagents used in this work were of analytical grade purity and were used without further purification. As (photo)electrodes, Si substrates (B-doped, p-type, 500 μm thickness, 10–15 Ω·cm resistivity, (100) oriented) were purchased from Namkang Inc. (Seongnam, Rep. of Korea, 2018) and FTO glass slides (1 × 2 cm2, 7 Ω/sq resistivity) were purchased from Wooyang GMS (Namyangju, Republic of Korea, 2018). Si wafers were cut to dimensions of 8 × 8 mm2 and then each of these Si wafers was cleaned prior to deposition with acetone, 2-propanol and deionized water, respectively, using a bath sonicator (10 min each). In the chemical etching of the nanostructured Si (NSi) surface, the Si substrates were dipped into a solution containing 20 mL aqueous etchant solution of AgNO3 (0.679 g, 0.02 M) and HF (5 M) under ambient conditions (25 °C). Finally, Ag residue was completely removed from the nanostructured silicon surface by treating with 70% nitric acid solution for two hours.
2.2. Electrodeposition of Co3Se4
Prior to electrodeposition, the substrates were cleaned using a standard protocol, which involves treating the substrates with acetone, 2-propanol and deionized water, respectively, using a bath sonicator (10 min each). For electrodeposition, substrates of planar silicon, nanostructured Si (NSi) and FTO were used to get the best possible results from the three electrodes. An aqueous solution containing 20mM Na2SeO3 (0.101 g), 20 mM Co(CH3COO)2 (0.146 g) and 100 mM LiCl (0.0121 g) were placed in a 30 mL container. The solution was kept near pH 2 by adding dilute HCl. The deposition was conducted at room temperature in a single compartment glass cell using a three-electrode configuration. Electrodeposition was performed with a CHI 7008E (CH Instruments, Inc., Austin, TX, USA, 2018) potentiostat. Graphite rod was used as a counter electrode and Ag/AgCl (3M NaCl) was used as the reference electrode for the electrodeposition. The chronoamperometric deposition was conducted at −0.8 V for varying deposition times (5, 10, or 15 s) and we determined that the optimal time was 15 s. A thin film of Co3Se4 co-catalyst was formed on the surface of the working electrodes.
2.3. Photoelectrochemical Measurements
Photoelectrochemical tests were conducted using a three-electrode cell. Working electrodes comprising a planar silicon photoelectrode, nanowire structured silicon photoelectrode and FTO glass were used. Graphite rods were used as counter electrodes and Ag/AgCl (3M NaCl) as reference electrodes. Each reference electrode was calibrated to −0.201 V (vs. RHE) in a proton-rich aqueous solution of 1 M perchloric acid and purged with a high-purity saturated H2 at 25 °C. For solar irradiation, a 300 W Xenon lamp was used as the light source at a light intensity of 100 mW/cm2 (Air Mass 1.5 Global condition glass filter).
3. Results and Discussion
4. Conclusions
In conclusion, we employed electrodeposited-cobalt selenide (Co3Se4) co-catalyst on a silicon photoelectrode system for the water splitting reaction. The SEM image confirms the uniform distribution of the Co3Se4 film over the electrode material. The controlled loading of Co3Se4 over the substrates was effectively optimized by varying the deposition time. The prepared Co3Se4 electrodes were successfully investigated and found to be efficient electrocatalysts for hydrogen evolution reactions. For the hydrogen evolution reaction, the Co3Se4 catalyst electrodeposited on FTO substrate for 20 s requires very low overpotential of 215 mV to provide an improved current density of 10 mA/cm2, compared to the other prepared electrocatalysts. Moreover, this electrocatalyst yielded a very low Tafel slope value of 42.5 mV/dec. From these enhanced HER catalytic activity results, we believe that Co3Se4 prepared by this easy, one-pot electrodeposition method, seems to be the most promising candidate for commercialization as a low cost efficient electrocatalyst for water splitting.
Author Contributions
Conceptualization, U.S.; Methodology, U.S.; Validation, U.S.; Formal Analysis, Y.S. and S.S.; Investigation, S.S. and U.S.; Resources, U.S.; Data Curation, B.M. and S.S.; Writing-Original Draft Preparation, Y.S., J.J and S.S.; Writing-Review & Editing, U.S., J.J., S.S. and Y.S.; Visualization, B.M. and Y.S.; Supervision, U.S.; Project Administration, U.S. † These authors contributed equally to this work.
Funding
This research was supported by the National Research Foundation of Korea (NRF) and funded by the Ministry of Science, ICT & Future, Republic of Korea (2018R1C1B6001267 and 2018R1A5A1025224).
Conflicts of Interest
The authors declare no conflict of interest.
Figure 1. Surface characterization of the Co3Se4 film: (a) XRD (x-ray diffraction) pattern of electrodeposited Co3Se4 on FTO (fluorine doped tin oxide). (b) Plan-view FESEM (field-emission scanning electron microscope) images of electrodeposited Co3Se4 on GC electrode. (c) Plan-view and cross-sectional (inset) FESEM images of electrodeposited Co3Se4 on FTO electrode. Different but conducting electrode substrates result in the same 3D porous structure of Co3Se4 film through the electrodeposition process. (d) Energy dispersive spectrometry spectrum showing the presence of cobalt and selenide elements and (e) High-resolution transmission electron microscopy (HR-TEM) image to identify Co3Se4. (f) TEM (transmission electron microscopy) image showing uniformly deposited Co3Se4.

Figure 2. Cyclic voltammograms of electrodeposited Co3Se4 on Si photocathodes: (a) Current density-potential curves of bare planar Si photoelectrode and electrodeposited Co3Se4 on planar Si photoelectrode under light condition (solid lines). For comparison, Co3Se4 on Si under dark condition was also displayed (dashed line). (b) Photocurrent density-potential curves according to electrodeposition time of Co3Se4 under light illumination condition. Inset image indicates chronoamperometry results from selected photocathode samples for the stability test. Co3Se4/NSi (15 s) at the potential 0.2 V vs. RHE (pink color) and Co3Se4/NSi (15 s) at the potential 0.1 V vs. RHE (purple color). (c) Dark current density-potential curves of Co3Se4 film on highly P-doped n+-type Si electrodes with increasing electrodeposition time of Co3Se4.

Figure 3. FESEM images Si photocathodes with variation of etching time (a) 10 min, (b) 20 min, (c) 40 min and (d) 150 min.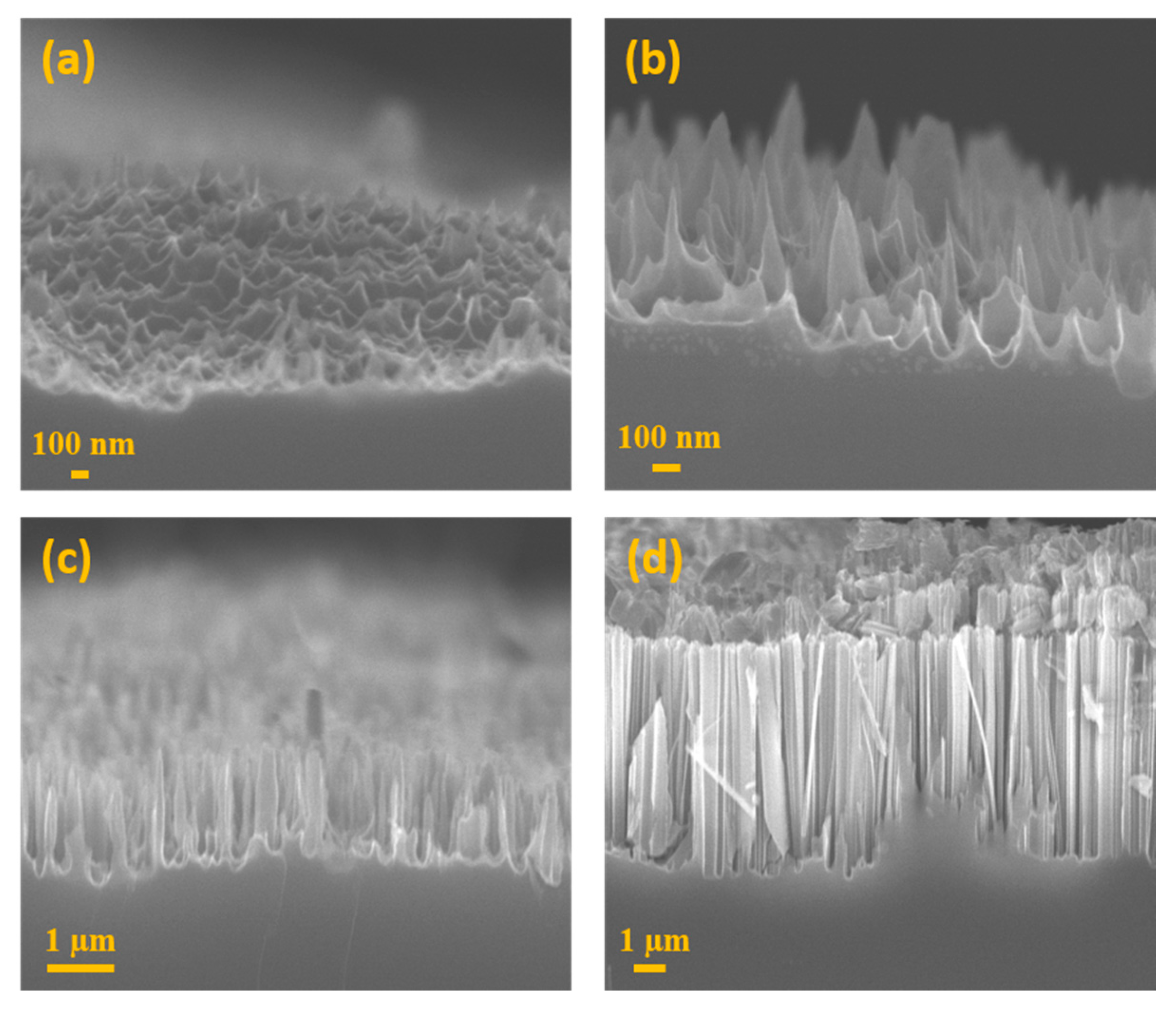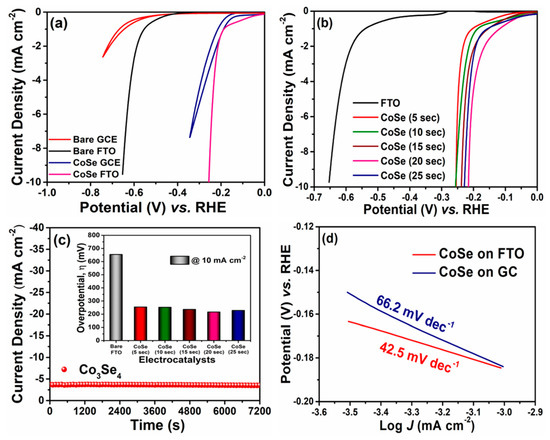 Figure 4. Electrochemical activity of cobalt selenide (Co3Se4) in 1 M HClO4 with respect to deposition time on glassy carbon and FTO electrode from RDE system: (a) Polarization curves of bare GCE, bare FTO, Co3Se4(10) on GCE and Co3Se4(10) on FTO. (b) Polarization curves of bare FTO without any co-catalyst and FTO with cobalt selenide deposited for 5, 10, 15, 20 and 25 s. (c) the stability of electrodeposited Co3Se4 during 7200 s at a steady potential of −0.2 V (vs. RHE) (d) HER Tafel slope of glassy carbon and FTO electrodeposited with cobalt selenide.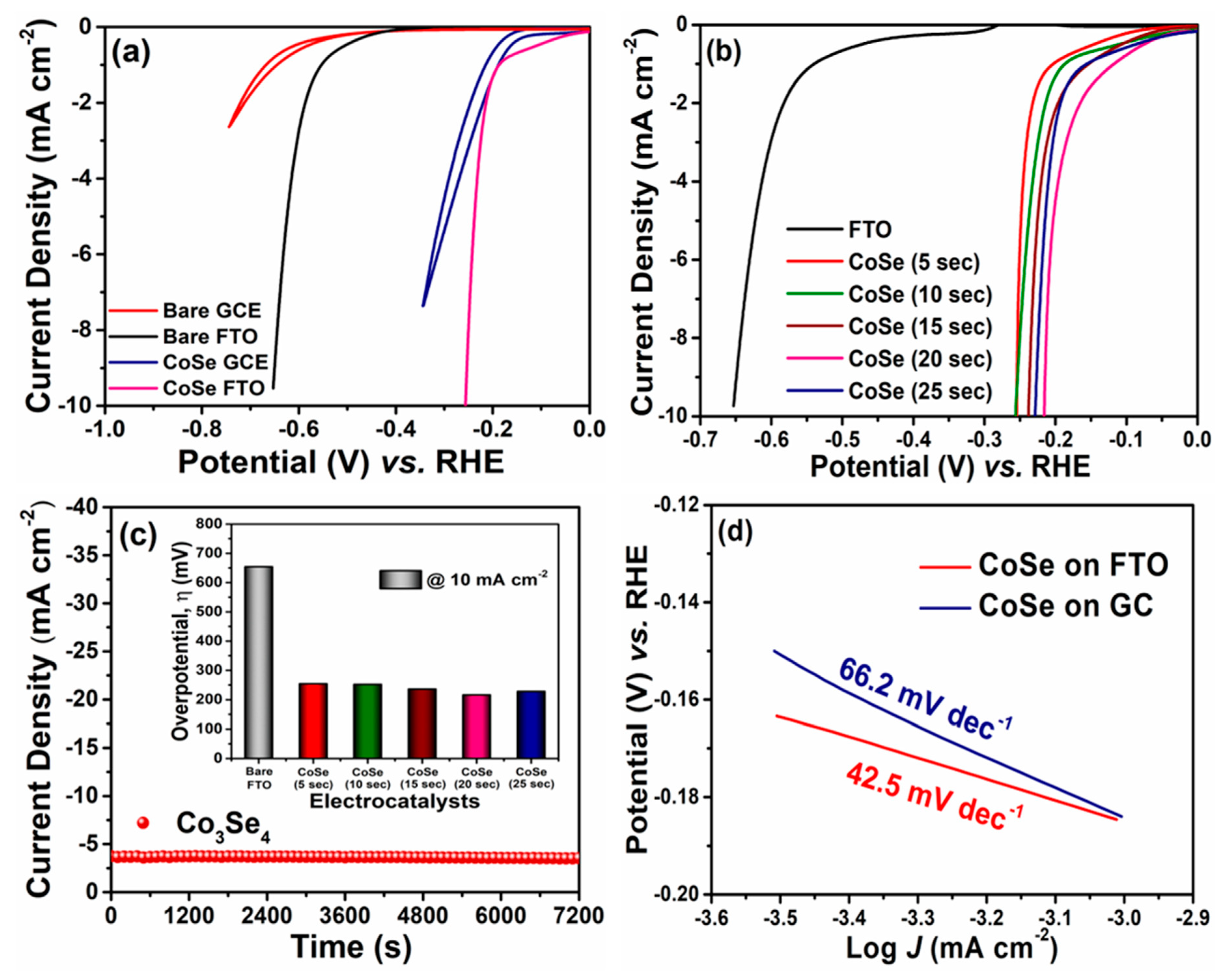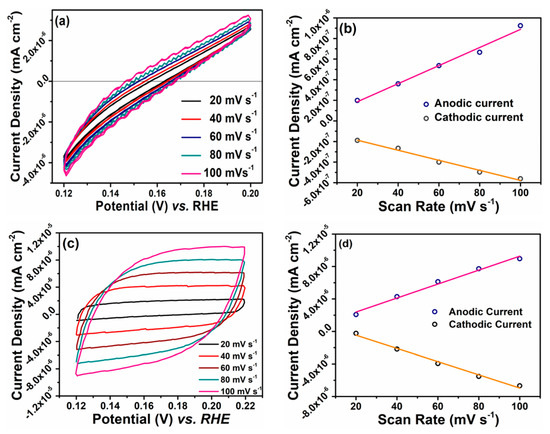 Figure 5. The current vs. potential result at diverse scan rates and The capacitance current (JC). (a) The CV curve of Co3Se4 on GC with different scan rate. (b) Jc of Co3Se4 on GC at Jnet = 0 mA cm−2 depending on scan rates. (c) The CV curve of Co3Se4 on FTO with different scan rate. (d) Jc of Co3Se4 on FTO at Jnet = 0 mA cm−2 depending on scan rates.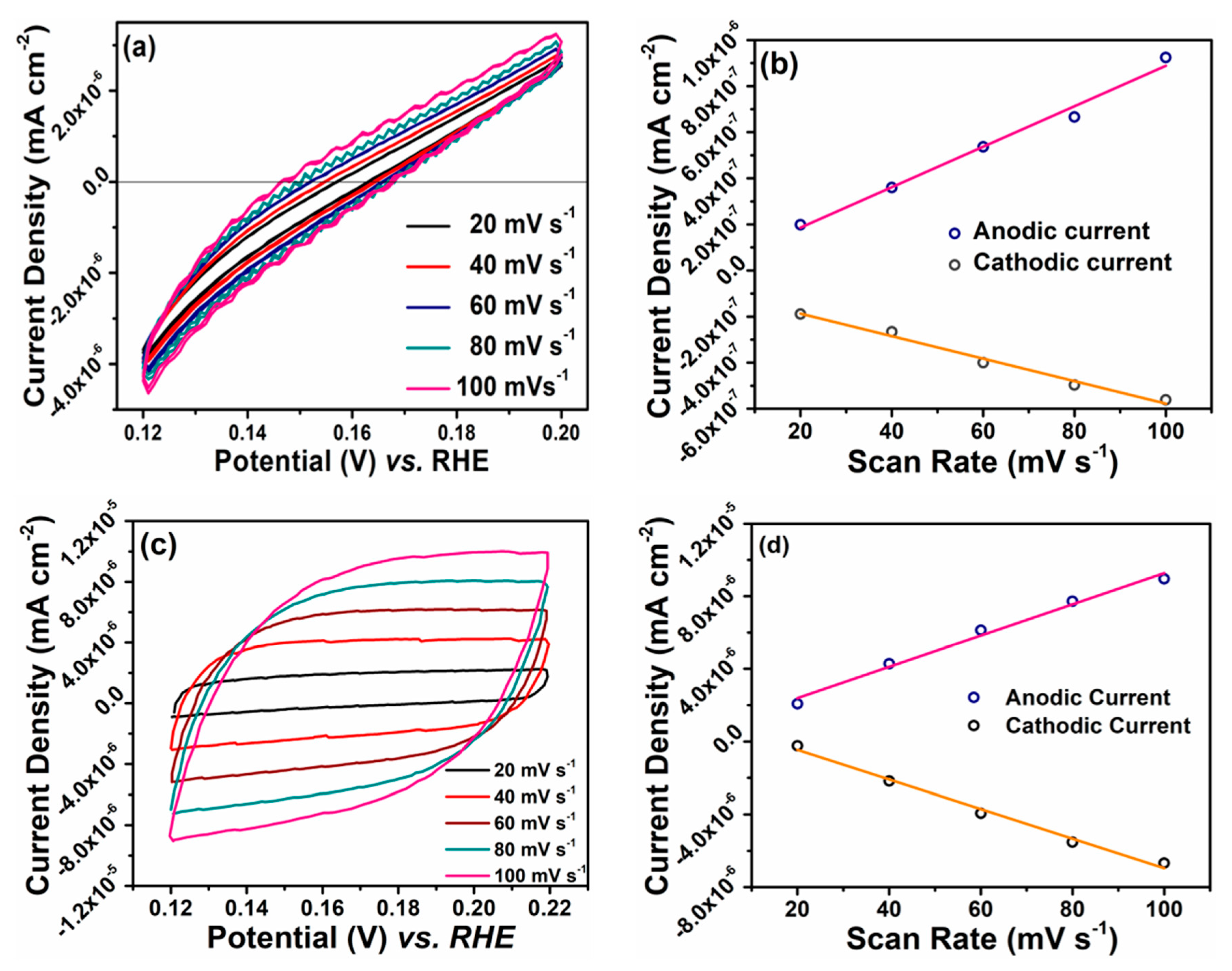 | Type of Si Photocathode | Efficiency (%) |
| --- | --- |
| Planar Si | 0.02 |
| Co3Se4 on planar Si | 0.20 |
| Nanostructured Si | 0.04 |
| Co3Se4 on nanostructured Si (5 s) | 0.47 |
| Co3Se4 on nanostructured Si (10 s) | 1.72 |
| Co3Se4 on nanostructured Si (15 s) | 2.71 |

© 2018 by the authors. Licensee MDPI, Basel, Switzerland. This article is an open access article distributed under the terms and conditions of the Creative Commons Attribution (CC BY) license (http://creativecommons.org/licenses/by/4.0/).