Open Access This article is
freely available
re-usable
Article
Self-Powered Fast Brazing of Ti-6Al-4V Using Ni/Al Reactive Multilayer Films
1
Department of Mechanical, Aerospace and Biomedical Engineering, University of Tennessee, 1512 Middle Drive, Knoxville, TN 37996, USA
2
Center for Nanophase Material Sciences, Oak Ridge National Laboratory, Oak Ridge, TN 37830, USA
3
Composite Solutions and Digital Manufacturing LLC, 3315 S. Waterfront Dr, Chandler, AZ 85248, USA
4
Jet Propulsion Laboratory (JPL), California Institute of Technology, M.S. 67-119, 4800 Oak Grove Drive, Pasadena, CA 91109, USA
*
Author to whom correspondence should be addressed.
Received: 26 May 2018 / Accepted: 12 June 2018 / Published: 15 June 2018
Abstract
:
Self-powered brazing of Ti-6Al-4V was performed using Ni/Al reactive multilayer films (RMFs) as self-propagated heat resources. BAlSi-4 was first coated on Ti-6Al-4V by plasma welding, then alternating layers of Ni and Al were successfully deposited on BAlSi-4 up to 32.9 μm thick with e-beam deposition. The joint microstructure was investigated and the AlNi and Ni5Al3 phases were identified in the RMF. The cause for the two phases was determined to be differences in the diffusivity of Ni and Al, ultrafast brazing time, and faster cooling at the interface between brazing filler metal and the RMF. The maximum temperature of 683 °C was reached in the brazed joint, with a total RMF thickness of 135 μm, which is more than sufficient to melt the BAlSi-4 brazing material. The maximum bonding strength obtained was 10.6 MPa, with a self-power brazing procedure conducted in a minute. It is possible to further improve the bonding strength by using more ductile RMFs and/or modifying the bonding interface configuration.
Keywords:
brazing; reactive bonding; self-powered; titanium; nanolayers; reactive multilayer
1. Introduction
In-space manufacturing covers a wide range of manufacturing and joining processes. For example, the Sealing, Seaming, Sterilization, and Separation (S
4
) process was developed for potential application for Mars sample return missions [
1
]. In addition, in-space repair is useful for a wider range of exploration mission capabilities, as well as personnel survival in human operated missions. These potential missions have requirements for an extremely high probability of success for full preservation of samples collected from space missions and for ensuring the safe handling of samples and planetary protection of samples and personnel when returned to Earth for analysis [
1
]. Brazing is one of the most effective methods of joining structures and supports both S
4
and repair procedures, however, in-space manufacturing has several stringent requirements that are not considered for terrestrial manufacturing processes. For instance, brazing, generally, requires high input energy, which is traditionally delivered by large, cumbersome equipment, which have a large energy cost. So, one of the objectives of in-space manufacturing is to minimize the necessary input energy, the weight of components, and the total operating time. Failure to consider these parameters may prohibit application and would limit exploration missions to bodies, such as ocean worlds in the solar system, including Europa, Enceladus, Ganymede, Callisto, Ceres, and Pluto, which are, increasingly, a potential target of proposed exploration.
Reactive multilayer films (RMFs) are comprised of alternating layers of materials that can be ignited electrically, thermally, by laser pulse, or mechanical striking, producing an exothermic heat release. The process of RMF-assisted joining has been demonstrated using several types, such as Ti/Al [
2
,
3
], Ti/Ni [
4
], and Ni/Al [
5
,
6
] in air, vacuum, and underwater for joining similar dissimilar metals, ceramics, and semiconductors [
6
,
7
]. Most RMF joining studies have been performed on solder materials (melting point ≤450 °C) [
8
] or using furnace-based joining procedures [
9
,
10
]. However, electrically ignited RMF joining for brazing applications (>450 °C) has been seldom explored.
Self-powered brazing is a novel and innovative joining process in which the heat required for joining is generated almost entirely from the energy in the brazing materials and only needs an inconsequentially small trigger to release the energy through an exothermic reaction. Using self-powered brazing via self-propagating reactions of Ni/Al RMFs offers an innovative solution that greatly reduces the significant power requirement for brazing and the weight of equipment transported into space. For this study, we will discuss, herein, the preparation of Ni/Al RMFs join Ti-6Al-4V (Ti64) coated with BAlSi-4 as the brazing filler metal and Ni/Al RMFs as the heat source and demonstrate the potential of this new technique, in addition to discussing the phase transformations associated with the bonding procedure.
2. Materials and Methods
2.1. Plasma Coating and Preparation of RMF
Ti64 was purchased from McMaster-Carr and cut into pieces that were 3 mm wide and 30 mm long. Ti64 pieces were coated with BAlSi-4 by melting a BAlSi-4 strip (liquidus temperature = 582 °C), purchased from Prince & Izant, directly on to Ti64 with a plasma welding torch. The composition of Ti64 and BAlSi-4 (BAl) are included in
Table 1
. The thickness of BAlSi-4 was grinded down to 80–110 μm to optimize the temperature increase experienced by BAlSi-4 during the RMF reaction. The BAl-coated Ti64 was polished up to a mirror finish with diamond paste. The surface coating and preparation process takes approximately 15 min per sample, but, for in-space manufacturing, this processing time is necessary and cost effective. The process can also be easily automated in future studies.
Ni/Al bilayers were deposited directly on to BAl-coated Ti64 and polyimide substrates using a modified Varian 3118 electron beam evaporator. The pressure inside the chamber was maintained <5 × 10
−6
Torr. Ni/Al RMFs were fabricated using electron beam physical vapor (e-beam) deposition. A direct current power supply (Sorensen DC560-18E) was used to heat the substrate during growth, while a deposition controller (Leybold XTC/2) was utilized for rate (nominally 6.5 Å/s) and thickness control. Each Ni layer was 44 nm and each Al layer was 66 nm. This thickness ratio generates an atomic ratio of Al/Ni of 1:1 based on the molar volume of Al and Ni [
11
]. A 60 nm-thick Ti layer was added as the bottom layer to help the film adhere to the BAlSi-4 substrate and 30 nm Ti interlayers were added intermittently to offset the internal stresses in as-deposited RMFs that cause the film to peel off the substrate or delaminate during deposition [
12
]. Ti was also chosen because of its compatibility with the Ni/Al reaction [
13
]. Ni was used as the final layer to mitigate oxidation when exposed to air. RMFs were also deposited on polyimide sheets so that the RMFs could be peeled off for SEM and XRD analysis.
2.2. Brazing
For brazing, the BAl-coated Ti64 pieces with the RMF were arranged in the configuration shown in
Figure 1
with applied pressure and ignited using electrical heating via a 13 V DC power source (
Figure 1
a). Electrical heating was supplied by touching the side of the BAl coating with 28-gauge Ni wire until the film reacted (within 3 s). The same ignition conditions were used for all RMF thicknesses because, based on the literature search, the ignition conditions affect the reaction initiation, but not the propagation [
14
]. Pressure was applied to ensure close contact between the RMFs and BAlSi-4. Extra RMFs were peeled off the polyimide substrate and added between the BAlSi-4, in addition to the as-deposited amount to vary thickness. RMF thickness = 66 μm was used to test the effect of applied pressure on the bonding strength, then the applied pressure that yielded the highest bonding strength was used to test the effect of RMF thickness on bonding strength. Brazed joints underwent lap shear testing to determine the strength (
Figure 1
b). The free end of the Ti64 plate was cut short to prevent buckling during lap shear testing. The total brazing procedure can be completed within 1 min and had negligible cooling time. A microhardness map was obtained using Phase II 900-390 Micro Hardness Tester to test a 300 μm × 300 μm area (each point is 50 μm apart).
2.3. Reaction Temperature Evolution
The temperature achieved during RMF brazing was estimated computationally and measured experimentally. The temperature was determined computationally using the Layer-wise Additive Manufacturing Predictions and Simulations (LAMPS)
©
software (Version 2.0, Composite Solutions and Digital Manufacturing LLC, Chandler, AR, USA, 2017) CS3DM. LAMPS is based on the analytical block technique that enables simulation of moving heat sources, such as the reaction propagation front in RMFs. The model had the parameters shown in
Table 2
. Thermal conductivity, the coefficient of thermal expansion, and heat capacity are assumed to be constant due to the short timescale of the reaction. It is reasonable for computations on the millisecond scale to assume that the thermophysical properties are temperature independent. Each frame is approximately 50 μs and the total simulation time was 3.44 ms. A slice of the cross-section was used for analysis of the temperature during brazing (See
Supplementary Materials
). The simulation time is shorter than the real reaction and cooldown procedure due to the computational limits of the LAMPS software. To experimentally determine the brazing temperature, a PowerView HS-650 highspeed camera was used to capture several images of BAlSi-4 in a furnace heated to a known temperature. The average brightness of the area of interest was extracted using MATLAB (Version R2017b, MathWorks, Natick, MA, USA, 2017) at five temperatures, including room temperature, and derived an equation for the temperature as a function of brightness. The same highspeed camera was used to record the brazing procedure from ignition to reaction extinction. MATLAB was, once again, used to extract the average brightness from the area of interest and, finally, the temperature was calculated using the derived equation. Note that the highspeed camera does not have the same time limitation as the LAMPS simulation, so the temperature of the entire brazing process can be measured.
2.4. Characterization
Cross-sectional analysis was evaluated by embedding a lap joint sample in epoxy and then polishing with SiC paper, then diamond paste and, finally, colloidal silica particles. Scanning Electron Microscopy (SEM) images were collected on a Zeiss Auriga Scanning Electron Microscope (Zeiss, Oberkochen, Germany). X-ray diffraction measurements were conducted on a Panalytical Empyrean X-ray Diffractometer (Panalytical, Almelo, The Netherlands); the post-brazing XRD profile was obtained from the lap-joint cross-section embedded in epoxy the XRD beam line is perpendicular to the bond interface to detect all phases present in the joint. Lastly, Energy Dispersive X-ray Spectroscopy (EDX) measurements were performed using a Zeiss MA15 EVO SEM (Zeiss, Oberkochen, Germany) equipped with a Bruker xFlash 6|30 detector. A PowerView HS-650 highspeed camera (1500 frames/s) (DICKEY-john® Corporation, Auburn, IL, USA) was used to determine the reaction propagation speed of Ni/Al films. Differential scanning calorimetry (DSC) was performed using a Netzsch-Gerätebau STA 449 C Jupiter Thermo-microbalance (AZO materials, Manchester, UK).
3. Results and Discussion
4. Conclusions
Self-powered brazing using Ni/Al RMFs has been demonstrated for quick brazing BAl-coated Ti64 without using a long brazing procedure, such as furnace brazing. The total heating and cooling time was less than 100 milliseconds. Due to a difference in the diffusivity of Ni and Al, Ni5Al3 nucleated in the RMF, in addition to the AlNi phase. However, no apparent reaction zone formed at the RMF-BAl interface due to a lack of excess Ni and the extremely short brazing time. The Ti64-BAl interface, on the other hand, clearly had a reaction zone in which Al3Ti was present. Applied pressure needs to be controlled to optimize bonding performance and there was a positive correlation between bonding strength and RMF thickness. Due to the local heating, the total operation can be completed within 1 min. This significantly simplifies the brazing technique.
Author Contributions
Conceptualization, D.B. and A.H.; Funding acquisition, Y.B.-C. and A.H.; Investigation, D.B., C.S., K.H. and J.C.; Methodology, D.B., C.R., Z.G., Z.Z. and K.H.; Software, C.S. and J.C.; Supervision, Y.B.-C. and A.H.; Validation, D.B.; Visualization, J.C.; Writing—original draft, D.B.; Writing—review & editing, A.H.
Funding
This project is jointly supported by a subcontract with the Jet Propulsion Laboratory/California Institute of Technology, the National Aeronautics and Space Administration (NASA) and a Department of Energy (DOE) Office of Science User Facility project at the Center for Nanophase Materials, Oak Ridge National Laboratory.
Acknowledgments
We also acknowledge John Dunlap, Maulik Patel, and the Joint Institute of Advanced Materials for use of their electron microscopy, EDX, and X-ray diffraction equipment and the training they provided.
Conflicts of Interest
The authors declare no conflict of interest.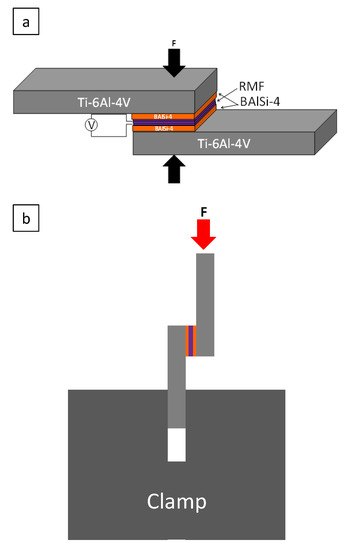 Figure 1. (a) Schematic of the configuration used in brazing experiments. (b) Schematic of lab shear testing.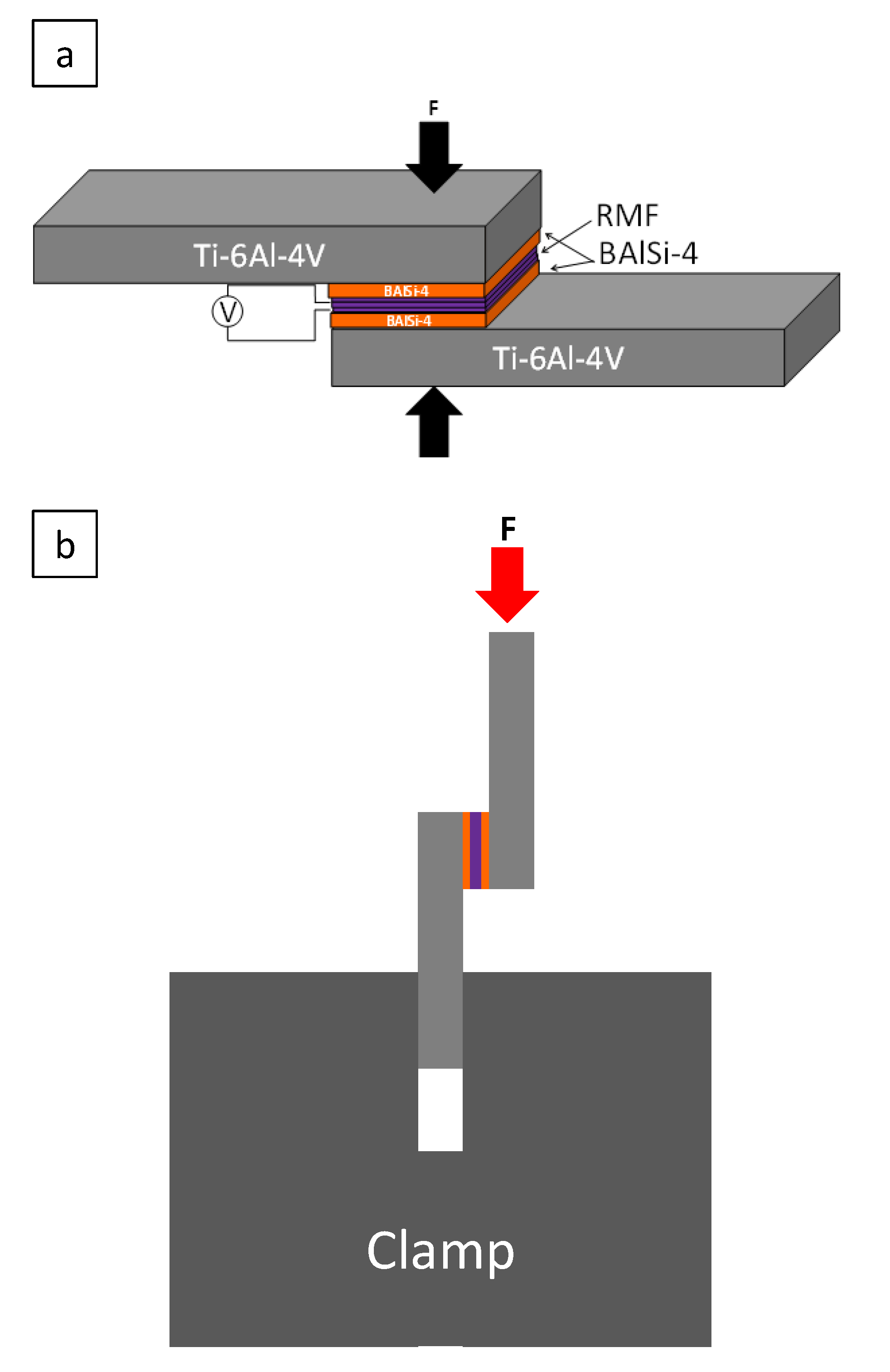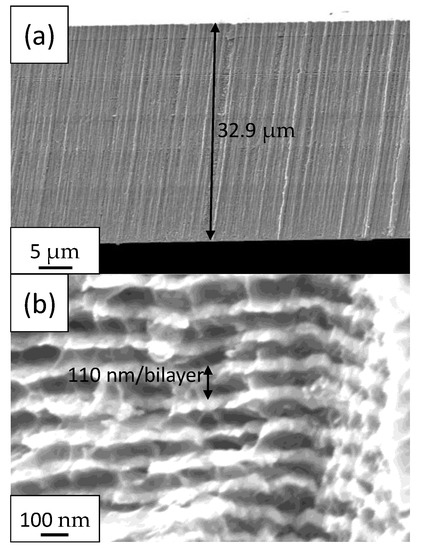 Figure 2. (a) SEM image showing the total as-fabricated RMF thickness and (b) the bilayer thickness (white is Ni and grey is Al).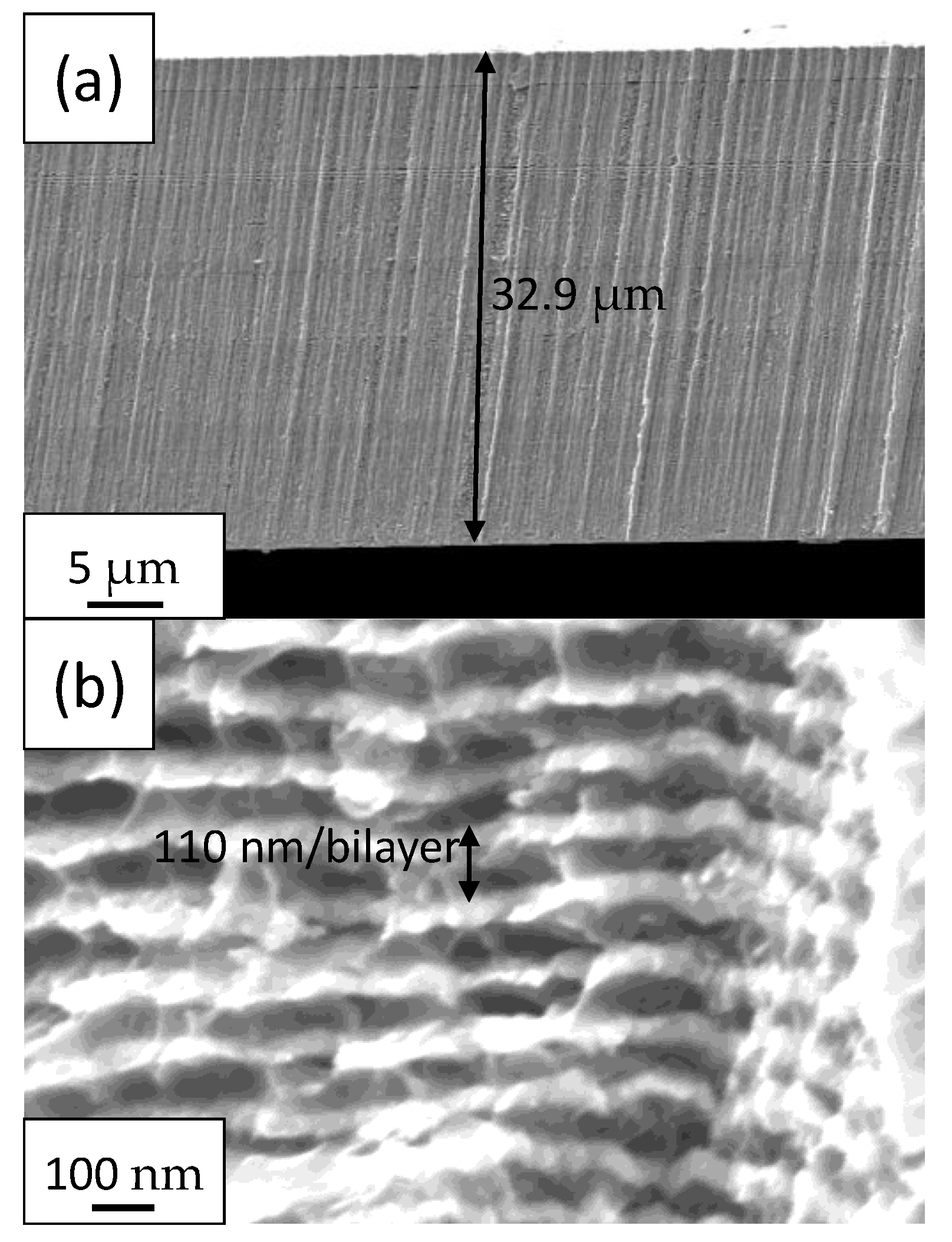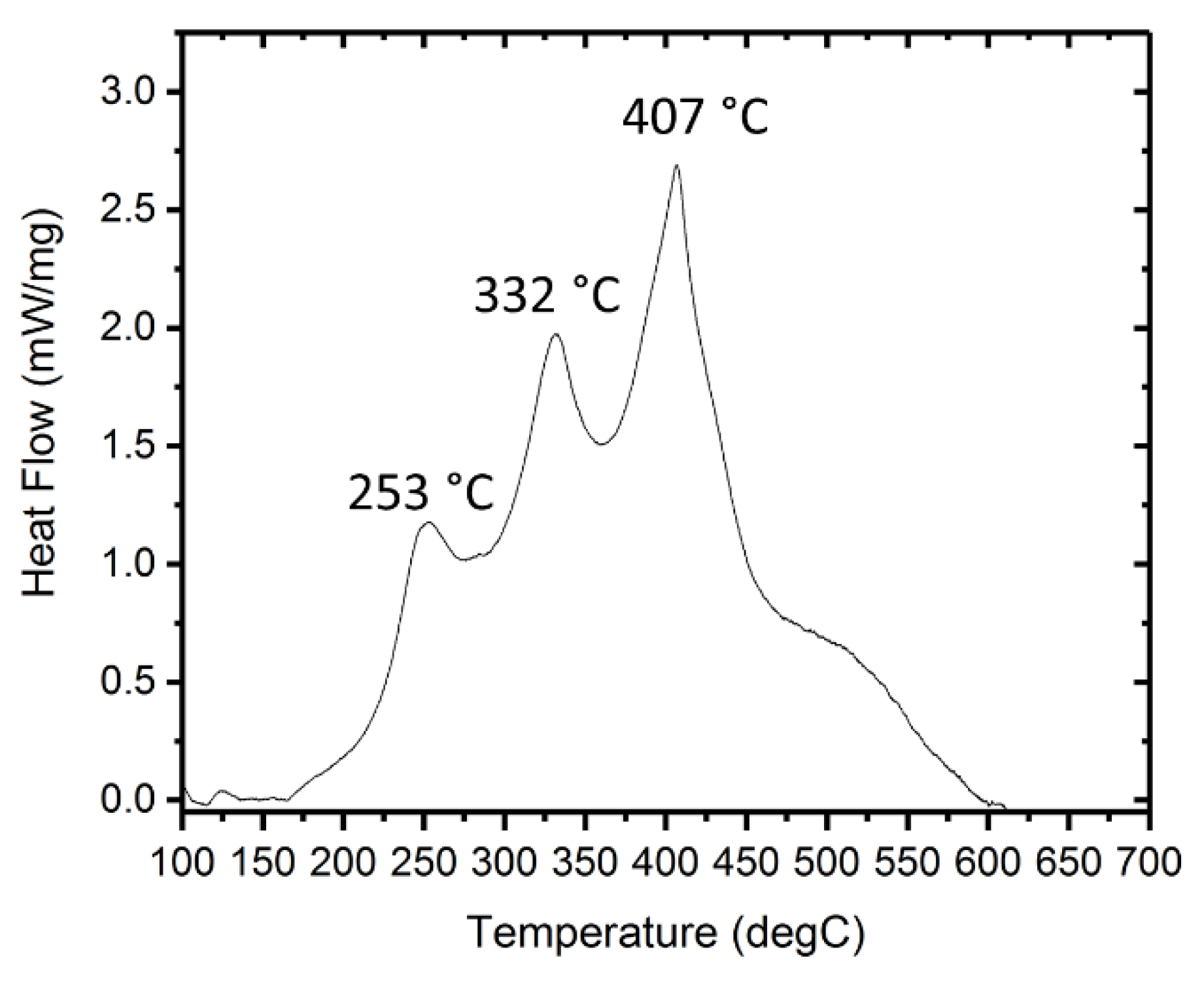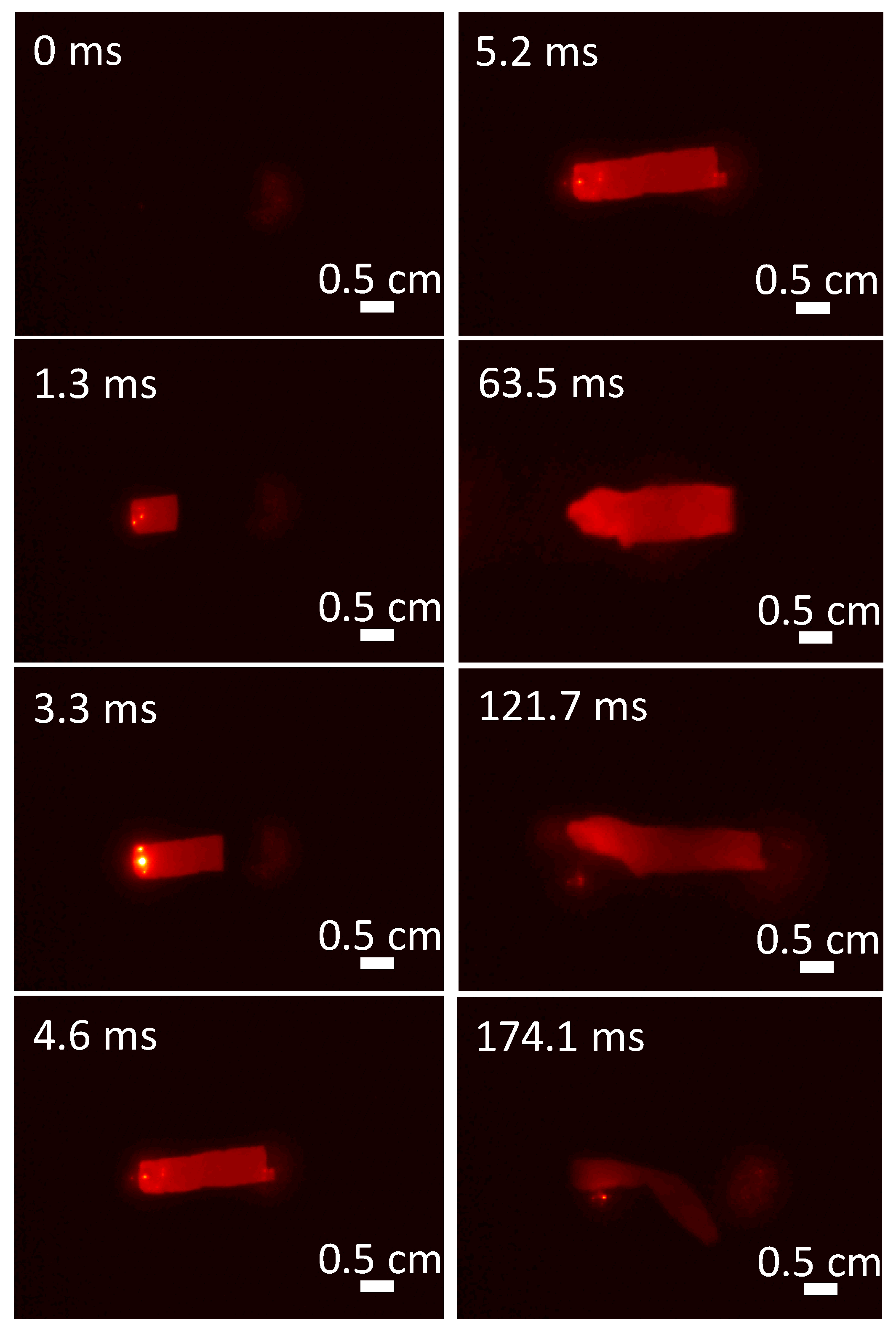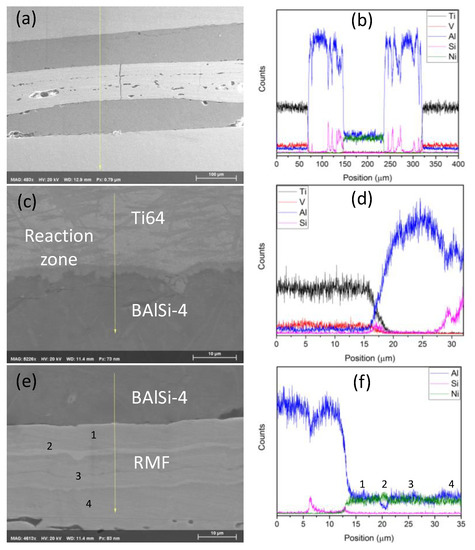 Figure 6. EDS line scan of (a,b) the entire brazed joint, (c,d) theTi64-BAl interface, and (e,f) BAl-RMF interface with select point analysis.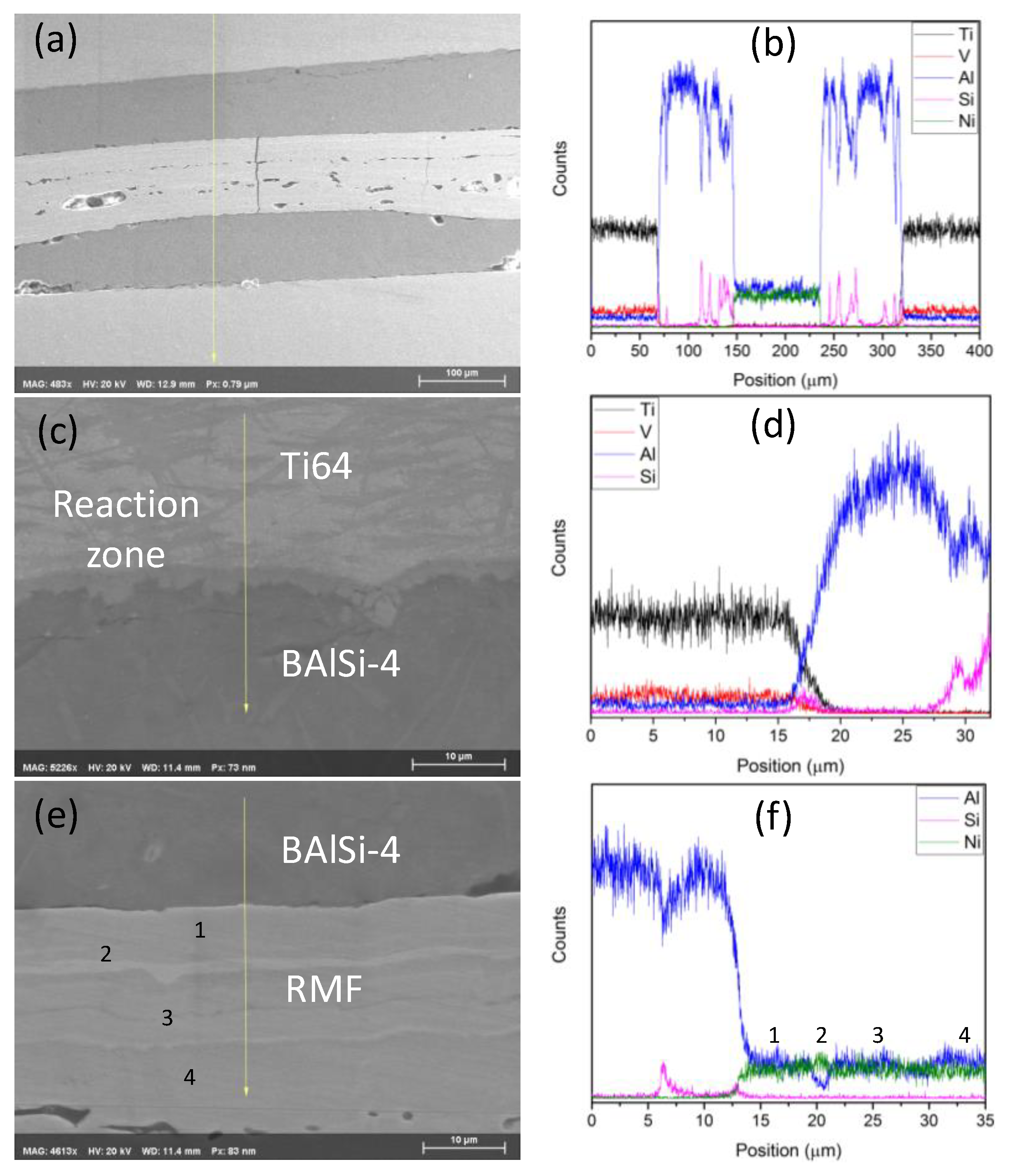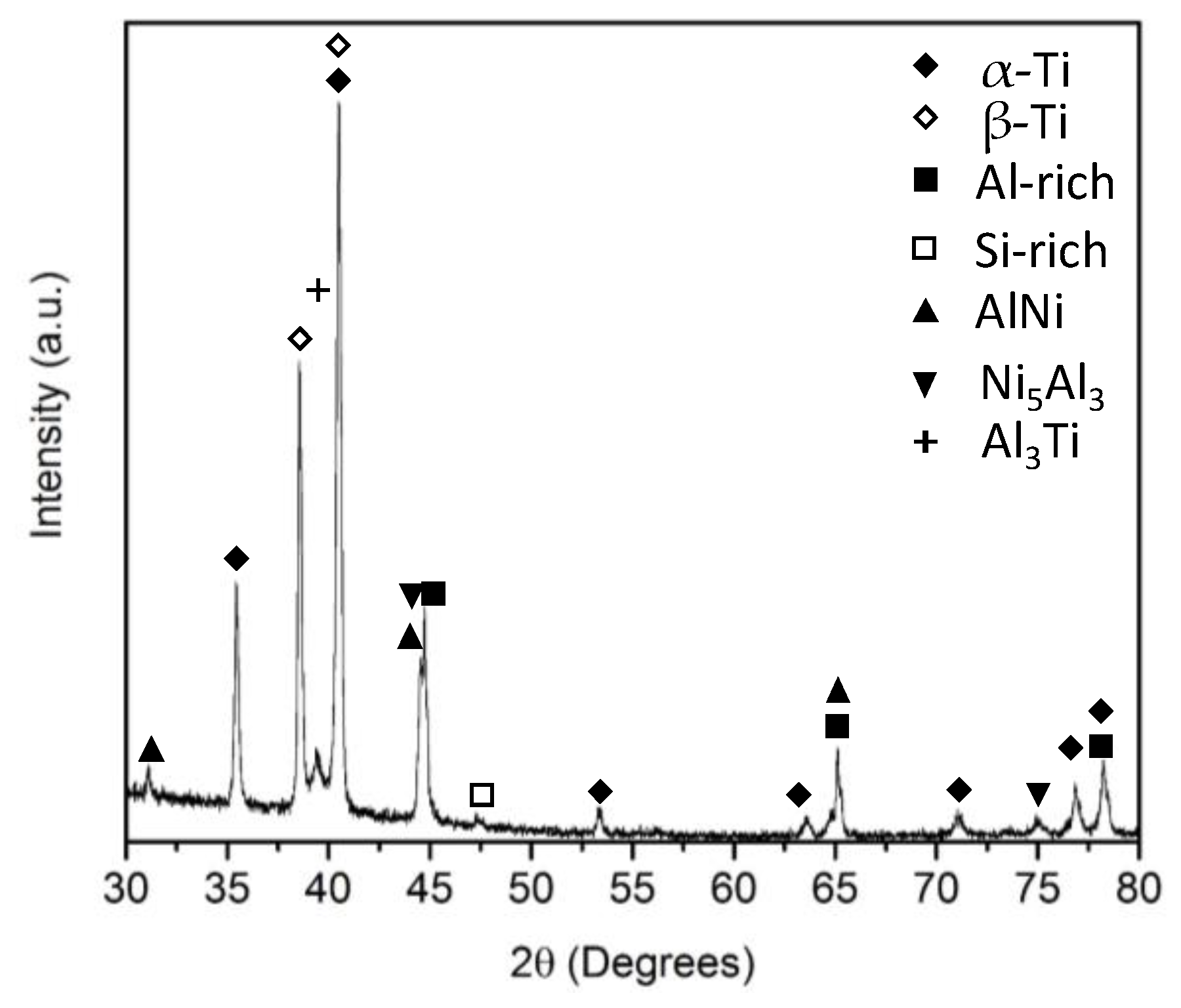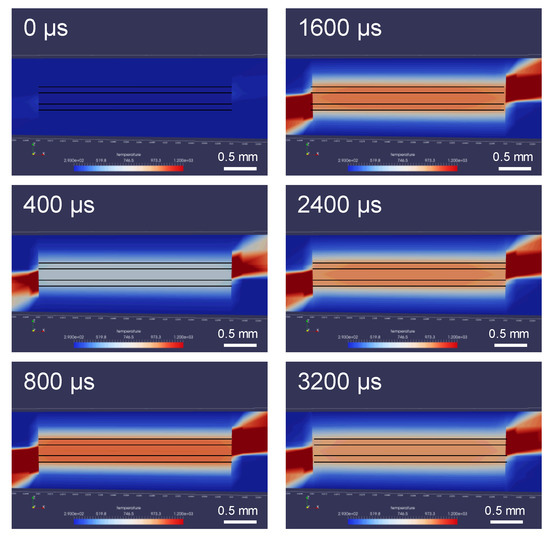 Figure 8. Snapshots of the LAMPS© simulation, showing the temperature evolution and distribution in the brazed joint at various time steps.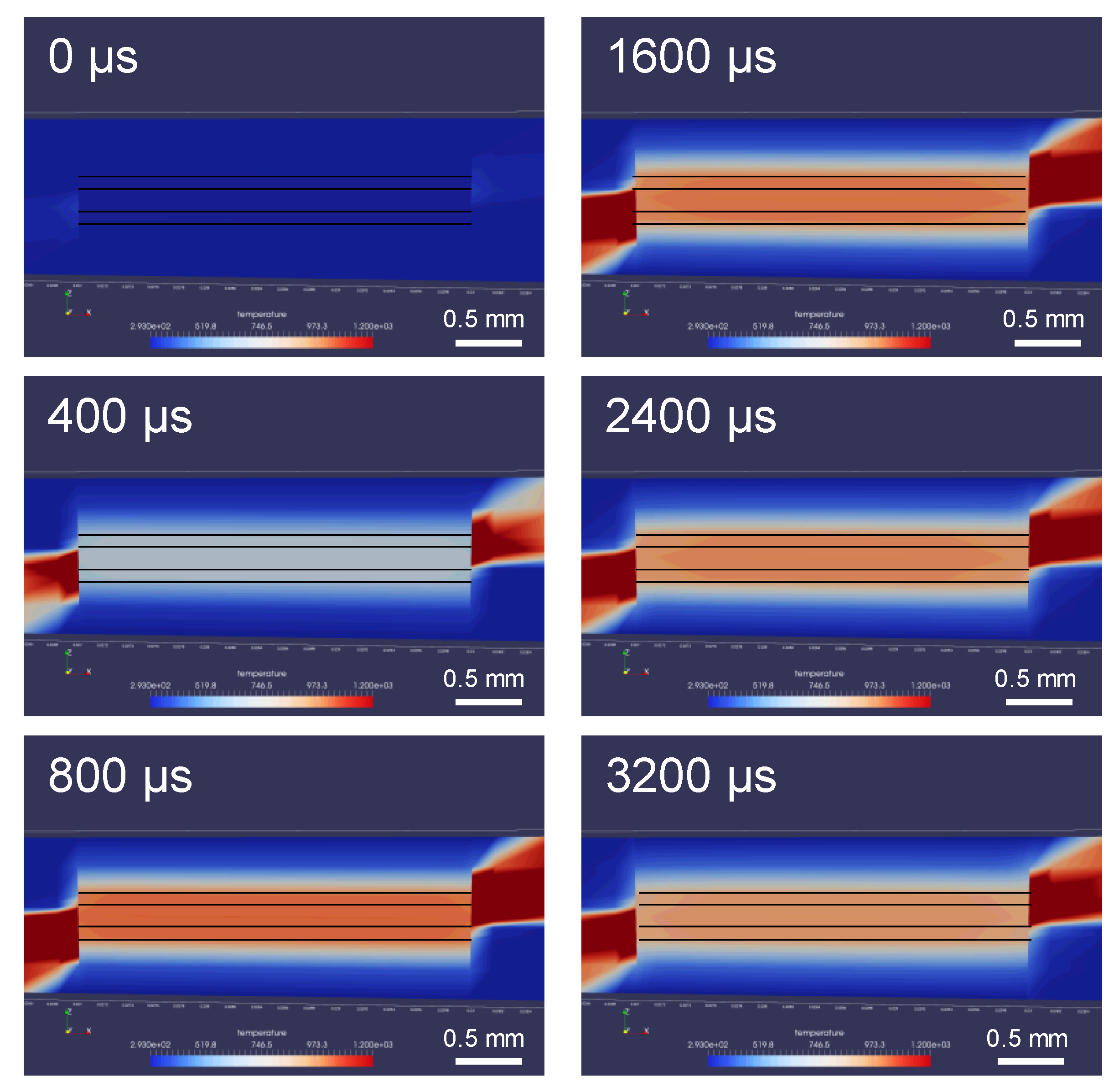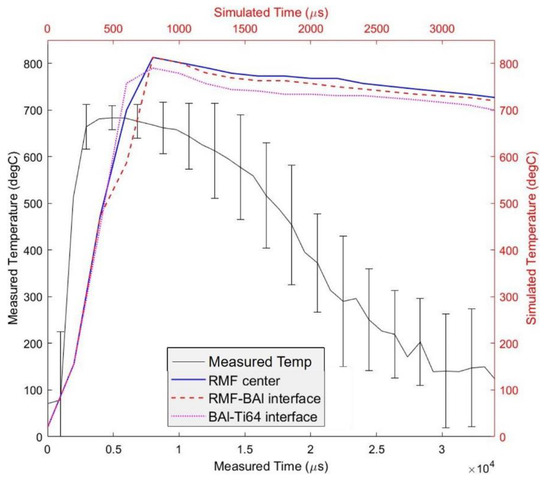 Figure 9. Temperature as a function of time simulated by LAMPS© (red, blue, and magenta lines) and measured using the highspeed camera (black solid line).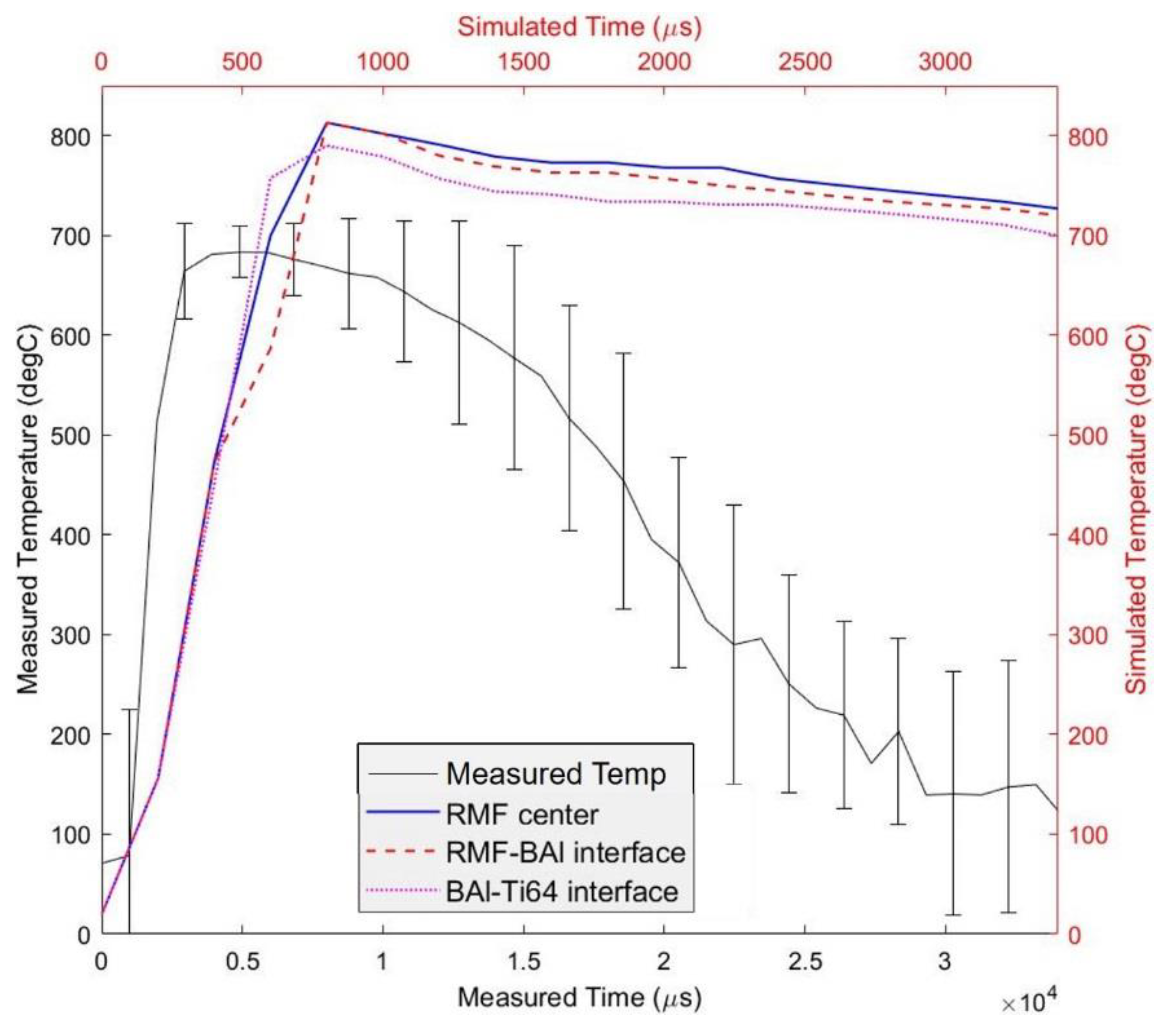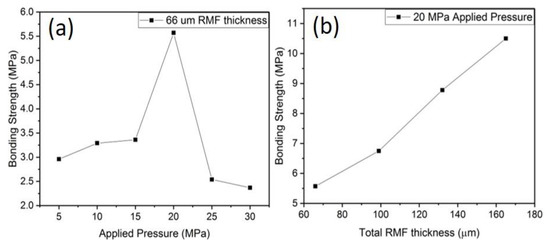 Figure 10. (a) Bonding strength as a function of applied pressure (RMF thickness kept constant at 66 μm). (b) Bonding strength as a function of total RMF thickness (Applied pressure = 20 MPa).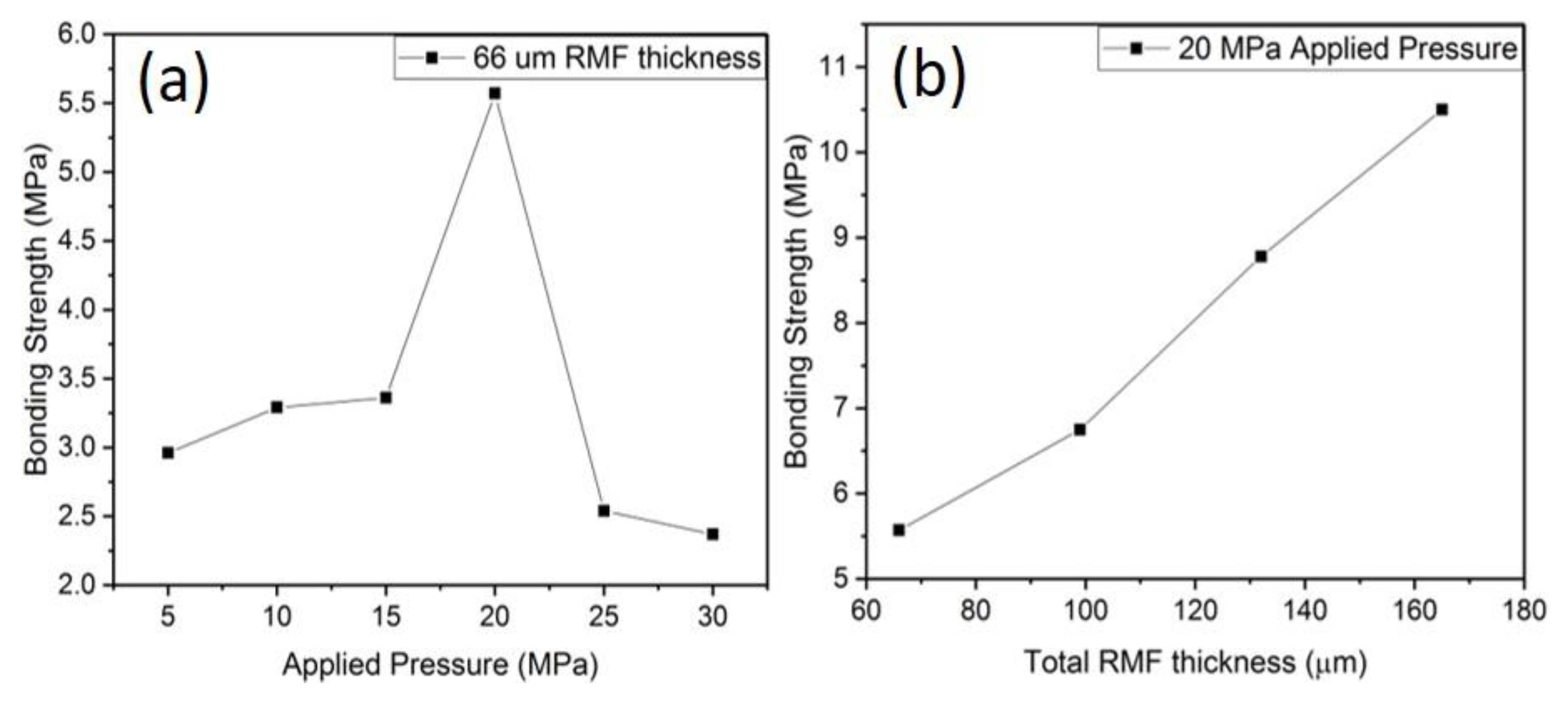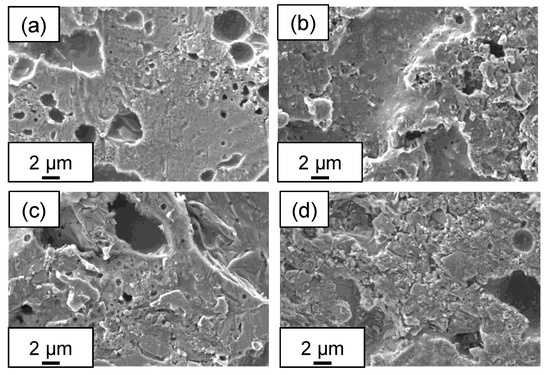 Figure 11. Fracture surfaces of RMF-brazed joints, with an RMF thickness of (a) 66 μm, (b) 99 μm, (c) 132 μm, and (d) 165 μm.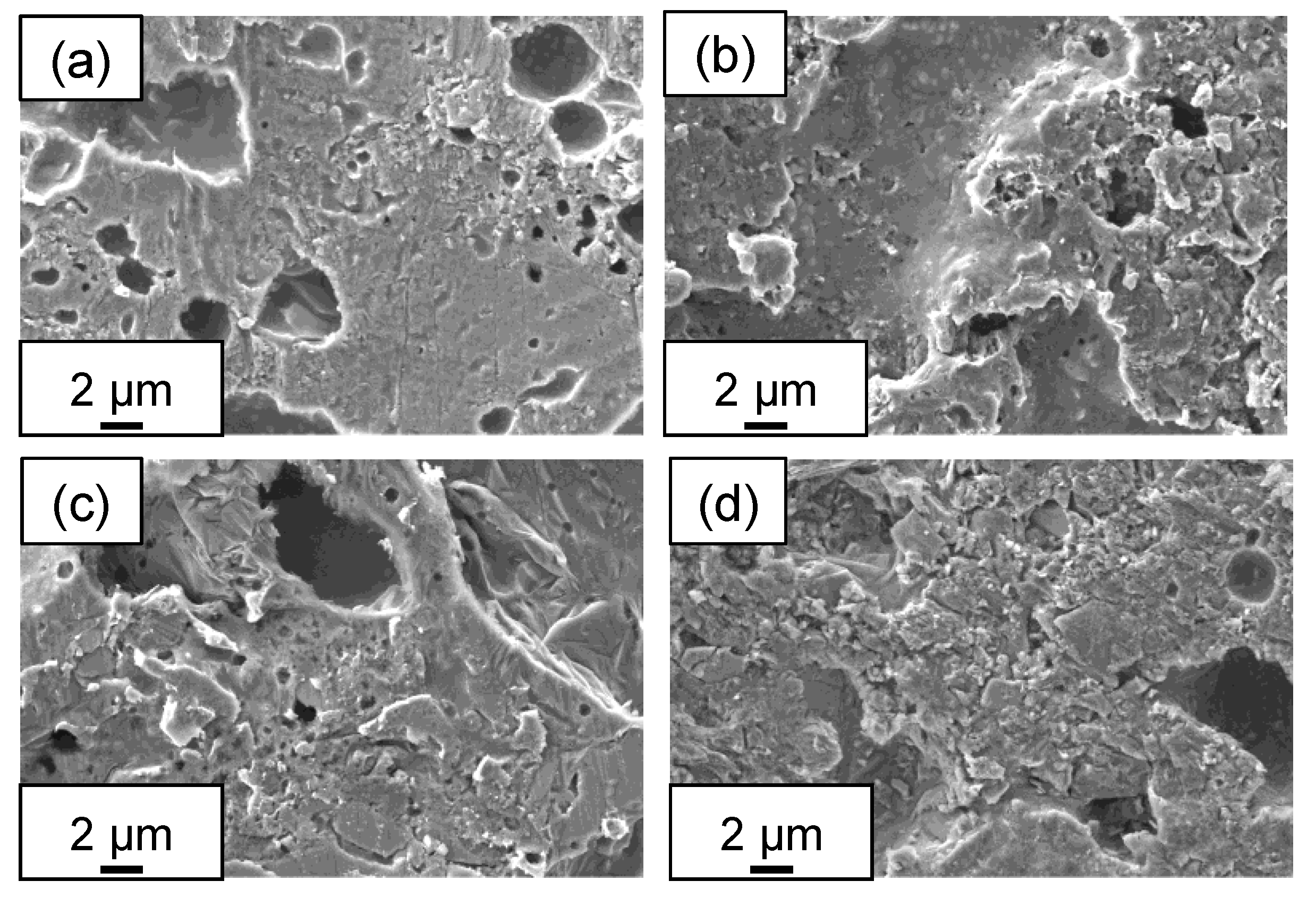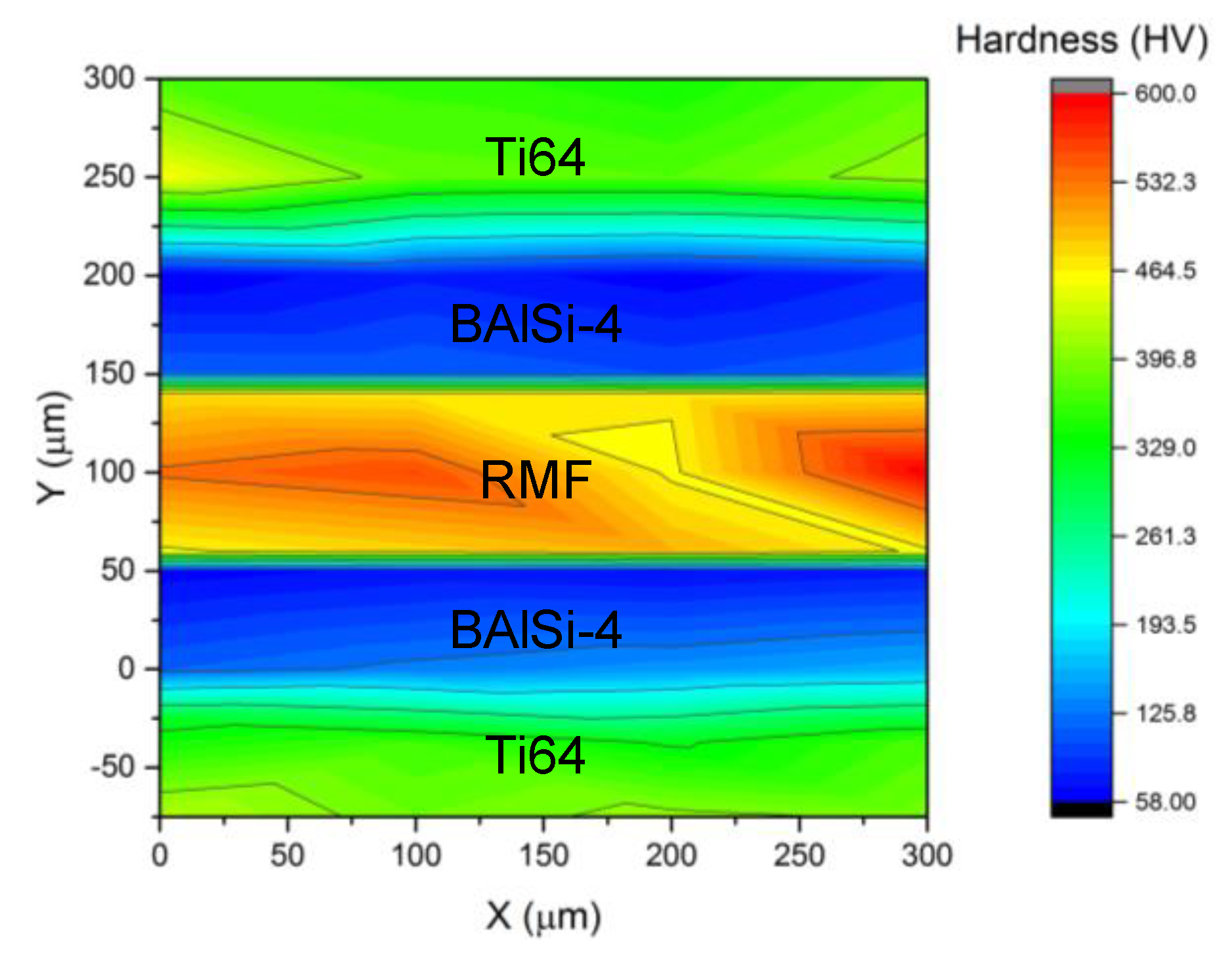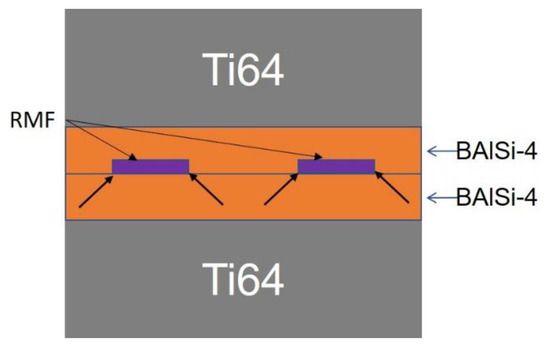 Figure 13. Suggested "embedded RMF joining" schematic; arrows indicate where the adjacent BAlSi-4 surfaces would fuse together.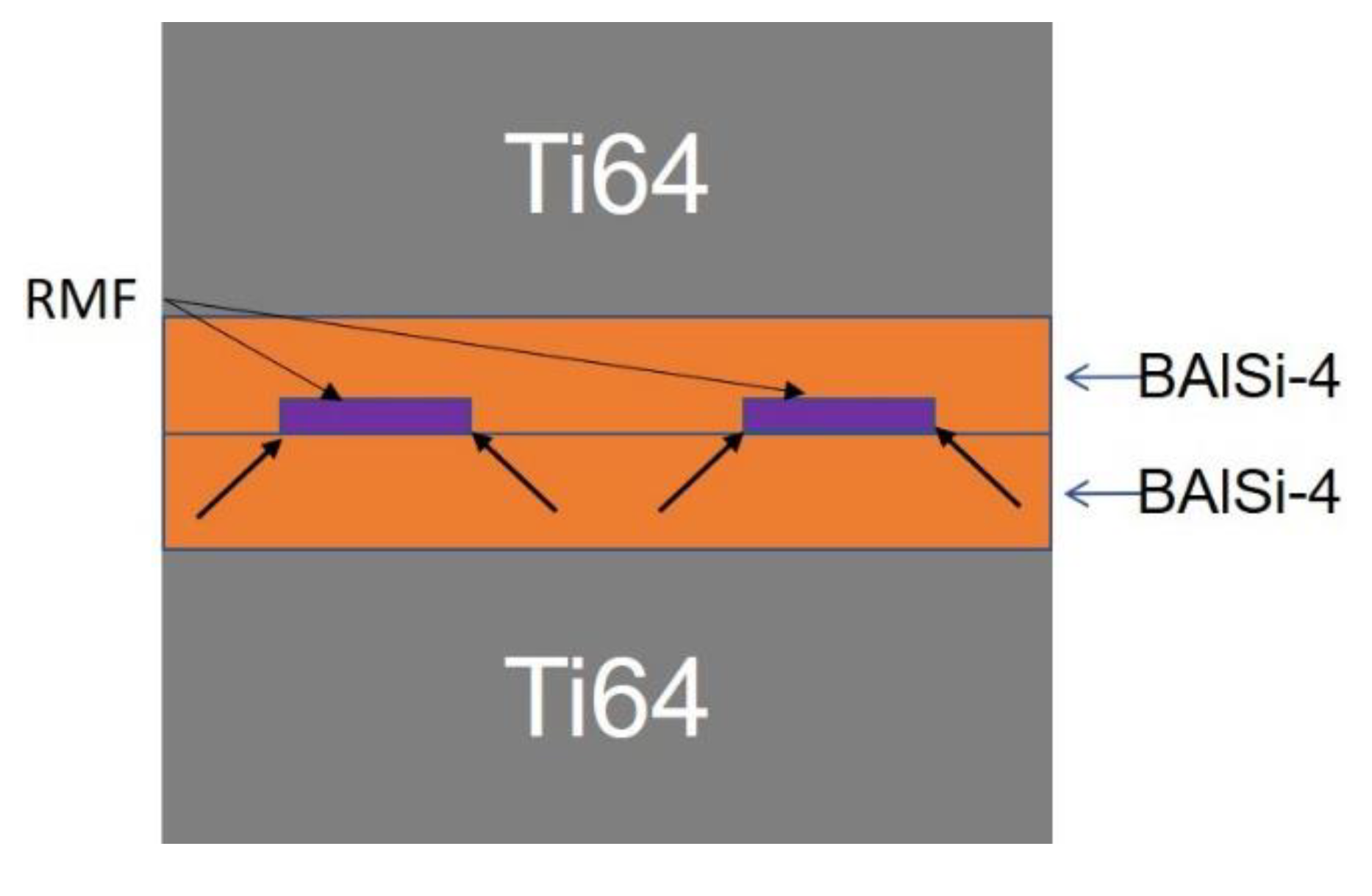 Material
Element Composition (at%)
Ti
Al
V
Ti64
90
6
4
Al
Si
Cu
Fe
Mg
Mn
Zn
BAlSi-4
86.45
12.0
0.3
0.8
0.1
0.15
0.2

Table 2. Layer-wise Additive Manufacturing Predictions and Simulations (LAMPS©) simulation parameters.
| Material | Length (mm) | Width (mm) | Thickness (mm) | Thermal Conductivity (W/m-K) | Density (g/cm3) | CTE (10−6 K−1) | Heat Capacity (J/g-K) |
| --- | --- | --- | --- | --- | --- | --- | --- |
| Ti-6Al-4V | 30 | 3 | 0.44 | 6.7 | 4.43 | 8.6 | 0.526 |
| BAlSi-4 | 3 | 3 | 0.1 | 205 | 2.66 | 21 | 0.9 |
| RMF | 3 | 3 | 0.135 | 76 | 4.91 | 12.5 | 0.536 |

© 2018 by the authors. Licensee MDPI, Basel, Switzerland. This article is an open access article distributed under the terms and conditions of the Creative Commons Attribution (CC BY) license (http://creativecommons.org/licenses/by/4.0/).