Open Access This article is
freely available
re-usable
Article
Artificial Neural Networks as Metamodels for the Multiobjective Optimization of Biobutanol Production
Department of Chemical and Biological Engineering, University of Ottawa, 161 Louis Pasteur, Ottawa, ON K1N 6N5, Canada
*
Author to whom correspondence should be addressed.
Received: 29 March 2018 / Accepted: 1 June 2018 / Published: 12 June 2018
Abstract
:
Process optimization using a physical process or its comprehensive model often requires a significant amount of time. To remedy this problem, metamodels, or surrogate models, can be used. In this investigation, a methodology for optimizing the biobutanol production process via the integrated acetone–butanol–ethanol (ABE) fermentation–membrane pervaporation process is proposed. In this investigation, artificial neural networks (ANNs) were used as metamodels in an attempt to reduce the time needed to circumscribe the Pareto domain and identify the best optimal operating conditions. Two different metamodels were derived from a small set of operating conditions obtained from a uniform experimental design. The first series of metamodels were derived to entirely replace the phenomenological model of the butanol fermentation process by representing the relationship that exists between five operating conditions and four performance criteria. The second series of metamodels were derived to estimate the initial concentrations under steady-state conditions for the eight chemical species within the fermenter in order to expedite convergence of the process simulator. The first series of metamodels led to an accurate Pareto domain and reduced the computation time to circumscribe the Pareto domain by a factor of 2500. The second series of metamodels led to only a small reduction of computation time (a factor of approximately 2) because of the inherently slow convergence of the overall fermentation process.
Keywords:
artificial neural network; multiobjective optimization; ABE fermentation
1. Introduction
Because of globalization and environmental regulations, chemical process industries are constantly examining all aspects of their processes in an effort to improve their operations to ensure that they remain competitive. In particular, process optimization has been at the forefront of this undertaking. Optimizing process operations in chemical plants involves developing a sufficiently accurate phenomenological, or empirical, model to assist in finding the optimal operating points. In recent years, multiobjective optimization, instead of the minimization of an aggregate objective function used in traditional optimization, has increased in popularity. Indeed, traditional optimization techniques have resolved multiple objectives by combining them into a single objective comprising the weighted sum of the individual objectives, or by considering one objective while treating the others as constraints. Even though single objective optimization is sufficient in many situations, multiobjective optimization provides additional information on the underlying relationships between various objectives.
In multiobjective optimization, all objectives are initially considered equally important and the concept of domination serves to circumscribe the Pareto domain using a representative process model. Most often, some of the objective functions conflict such that one objective cannot be improved without deteriorating another. The Pareto domain, comprising nondominated solutions, is obtained without any bias with respect to all objectives and is commonly approximated with a large number of solutions. When the Pareto domain has been obtained, all nondominated solutions are ranked using some preferences expressed by an expert or decision-maker, and the optimal solution is identified. The optimal solution, which is obtained using process models, is then validated on the actual process.
Often the solution of the process or plant models used to circumscribe the Pareto domain is computationally expensive, such that determining a sufficiently large number of Pareto-optimal solutions may require an impractically long time. For example, optimization of an ethanol batch fermentation process integrated with a continuous vacuum separation unit performed by combining a Visual Basic for Applications (VBA) code with a Honeywell UniSim
®
Design R430 process flowsheet took a few days to obtain one Pareto domain [
1
]. One alternative is to use a metamodel, or a surrogate model, where complete or partial operation of the chemical process is modelled with a representative model, often empirical, for which the computational cost would be significantly reduced. One such model is an artificial neural network (ANN), which is a computational network that attempts to mimic the functionality of neurons within the biological central nervous system. In an ANN, adaptable nodes store experiential knowledge acquired via learning algorithms, allowing the network to recognize and predict patterns with no knowledge of the underlying governing equations. This allows ANNs to be used as black-box tools where no prior knowledge about the system is required, thereby achieving high accuracy in multifactorial and nonlinear analysis of complex processes such as fermentation. However, training a neural network requires a good number of representative solutions, which may counteract efforts to reduce the computation time. Strategies to develop effective neural network models for smaller sets of data using a combination of experimental design and stacked neural networks have been previously proposed [
2
,
3
]. In an effort to maximize process information given a small set of data, it is possible to use experimental design. Numerous optimization problems could benefit from such a strategy.
In this paper, metamodels are used in the multiobjective optimization of a continuous biobutanol production process where the fermentation system is integrated with a membrane pervaporation unit to selectively remove solvents from the fermentation broth to enhance the productivity and overall effluent concentration of butanol. This paper is divided as follows. The process to be optimized is first described. Next, the strategy used to develop the ANN metamodels to assist in the computationally effective determination of the Pareto domain is discussed. Finally, results are presented and discussed, prior to presenting the concluding remarks.
2. Description of the Integrated ABE Fermentation–Membrane Pervaporation Process
The process considered in this investigation is the biochemical production of butanol via acetone–butanol–ethanol (ABE) fermentation. ABE fermentation is a biphasic biological production involving acidogenesis and solventogenesis. Acidic metabolites accumulate during the former phase and are subsequently assimilated into industrial relevant solvents such as butanol. Butanol is an important chemical precursor and is currently being produced commercially via the hydroformylation of propylene. ABE fermentation can potentially be used for commercial production of butanol instead of the aforementioned petrochemical-based process. This interest in the development of bio-based processing alternatives is motivated by the enviable characteristic of biobutanol as a renewable liquid fuel.
3. Methodology
3.1. Multiobjective Process Optimization
3.2. Uniform Design of Experiment
Design of experiment (DOE) is the sampling plan within the design variable domain whereby experimental design levels are set for each of the contributing factors, and the objective is to obtain a limited number of simulations (due to computational expense) covering the entire design region. Factorial experimental design is commonly used to select experimental points within the design variables domain, thereby allowing for the determination of the relationship between the inputs of a process and its responses, which is encapsulated in regression models. When the relationship between the inputs and the responses of the process is nonlinear or the experimental domain is large, a two-level fractional design does not provide sufficient information to develop a representative model, because most of the information is obtained at the periphery of the experimental domain. To circumvent this limitation, uniform design (UD) can be used, where the design runs are uniformly and optimally scattered within the experimental domain using a small set of design points [
19
]. UD attempts to choose design points that cover the design region uniformly with limited experimental runs. A website published by Hong Kong Baptist University tabulates the design points for a uniform design, U
n
(q
s
), given the number of runs (n), factors (s), and levels (q) [
20
]. Each table provides the desired number of design points; each design point contains the number of factors (or decision variables) and their respective level, which can be used to determine the actual values of the decision variables using their allowable ranges. These design points (decision variables) are then used to generate the respective objective functions. In this investigation, uniform design U
30
(5
5
) and U
10
(5
5
) were used to generate the learning and validation datasets for the artificial neural network (ANN), respectively.
3.3. Artificial Neural Network Metamodels
4. Results and Discussion
5. Conclusions
In this investigation, in order to reduce the computation time for the optimization of continuous microbial butanol production, ANNs were used as metamodels of a phenomenological ABE fermentation process integrated with a membrane pervaporation unit. The proposed methodology for using ANNs as metamodels for optimization consists of (1) selecting a small set of experimental runs using uniform design; (2) using these experimental points in the phenomenological model to calculate the steady-state concentrations and performance criteria; (3) deriving eight individual ANNs to estimate the steady-state species concentrations and four ANNs to predict performance criteria from the set of decision variables; (4) using these ANNs as metamodels to circumscribe the Pareto domain in a multiobjective optimization genetic algorithm; (5) ranking all Pareto-optimal solutions to identify the optimal operating conditions; and (6) validating the optimal solution using the phenomenological process simulator or real process. In this investigation, this procedure was repeated with a reduced range of decision variables based on a Pareto domain that was obtained with a larger range, whereby a significant improvement in the prediction of the metamodels was observed.
Results show that the ANN metamodels representing the relationships between the decision variables and the objectives allowed for obtaining a relatively accurate Pareto domain and an optimal solution that was very close to the optimal solution as identified by the phenomenological process simulator. The time required to obtain the Pareto domain and the number of actual process simulations were orders of magnitude smaller. The proposed methodology is therefore deemed to be successful. On the other hand, using ANN metamodels to estimate initial species concentrations in the phenomenological process simulator did not lead to the expected reduction in computation time to achieve steady state because of the slow convergence, and sometimes oscillating behavior, of species concentrations.
Author Contributions
A.E., P.M. and J.T. collectively defined the methodology used to develop metamodels for the optimization of the integrated biobutanol process; A.E. tested the different dynamic models for the biochemical reactions in order to choose the most appropriate model; A.E. and J.T. selected the most suitable experimental uniform design to develop the most appropriate ANNs; J.T. performed the simulations to determine the Pareto domains and their rankings; A.E., P.M. and J.T. analyzed the data and wrote the paper.
Funding
The authors gratefully acknowledge financial support for this project provided by the Natural Science and Engineering Research Council of Canada.
Conflicts of Interest
The authors declare no conflict of interest.

Figure 1. Schematic diagram of the butanol fermentation system integrated with a membrane pervaporation separation unit. Numbers correspond to process streams.


Figure 2. Decision variables and objective functions defining the optimization process of the integrated biobutanol production process.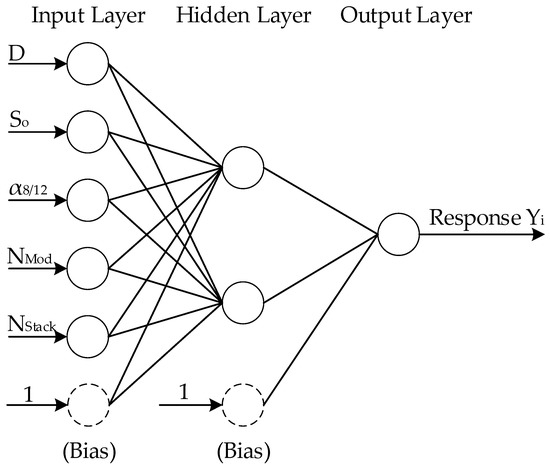 Figure 3. Architecture of the artificial neural network (ANN) used for the modelling of the four objectives and eight initial species concentrations of the integrated fermentation–membrane pervaporation system.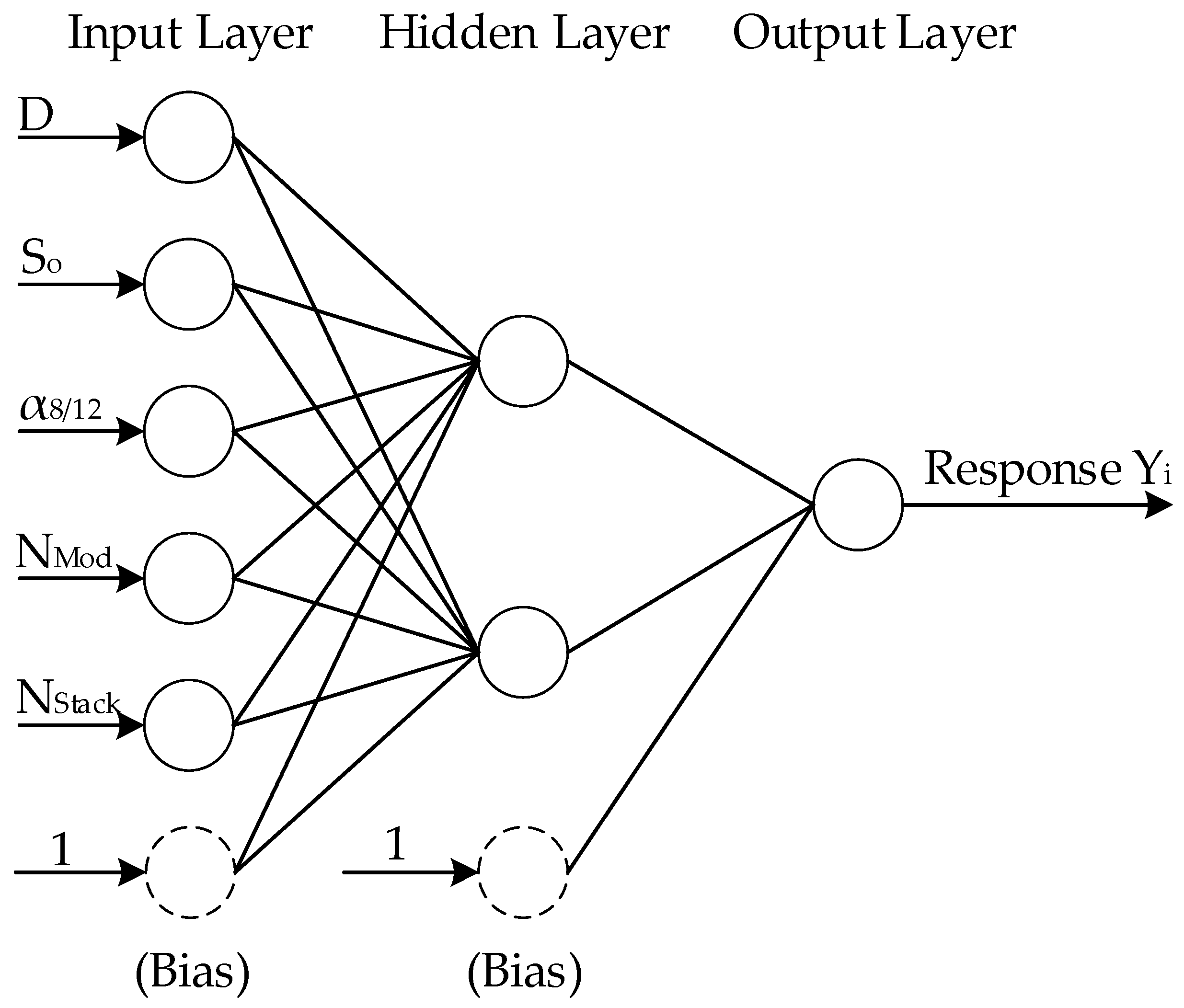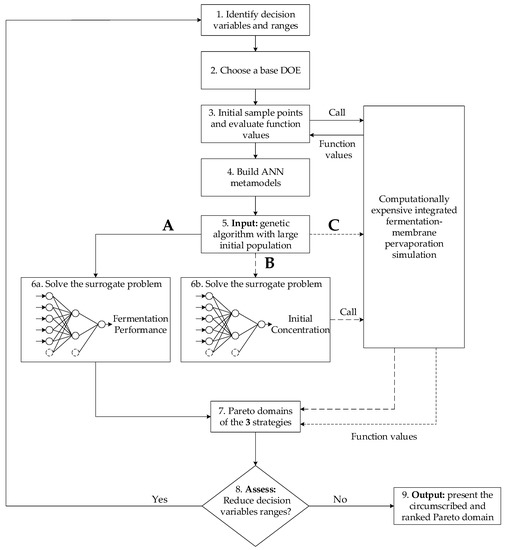 Figure 4. Multiobjective optimization and analysis of the integrated fermentation–membrane pervaporation system flowchart: (A) ANN metamodels of the four objective functions; (B) process simulator with ANN metamodels providing the eight initial species concentrations; and (C) process simulator with arbitrary initial concentrations.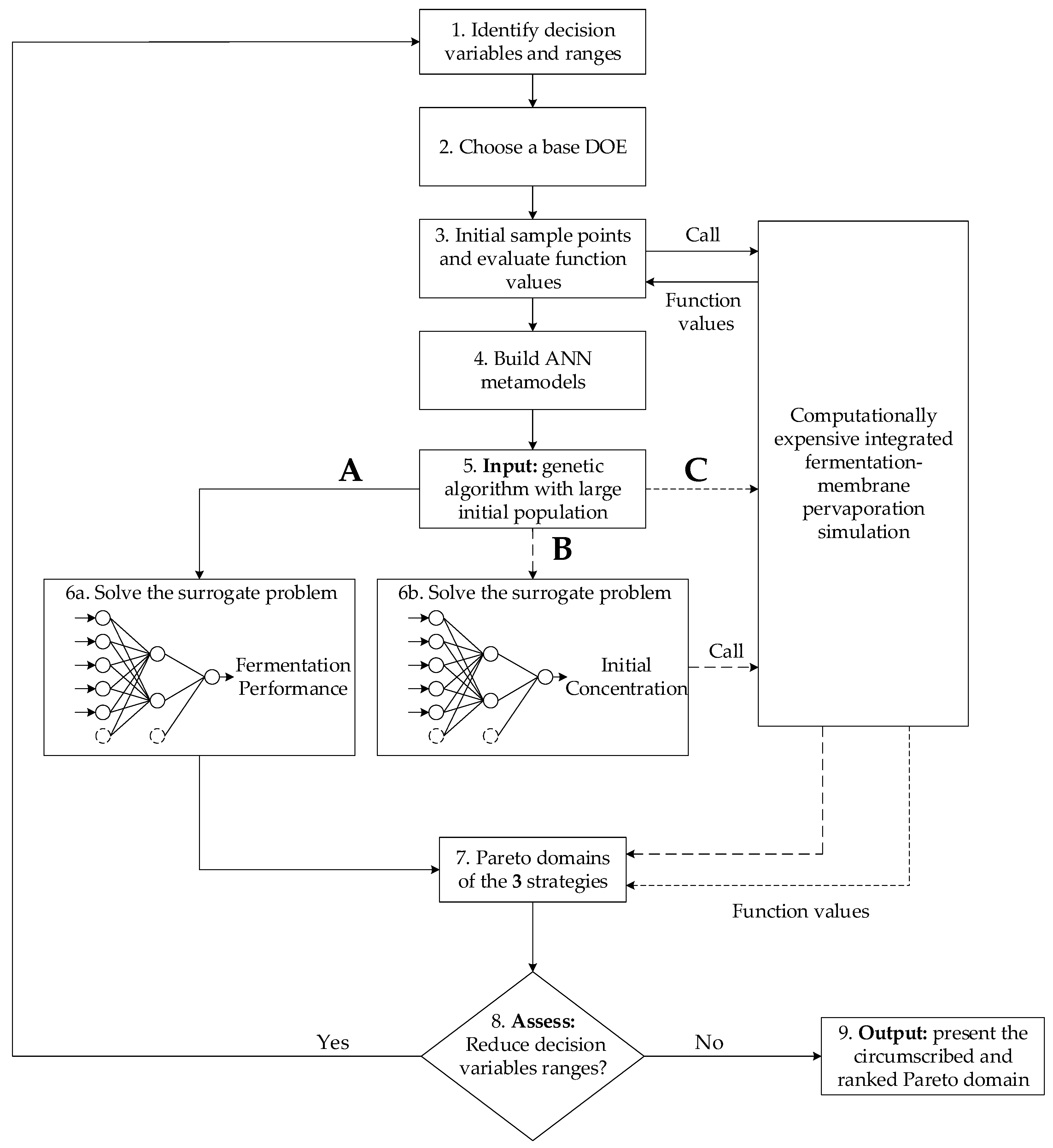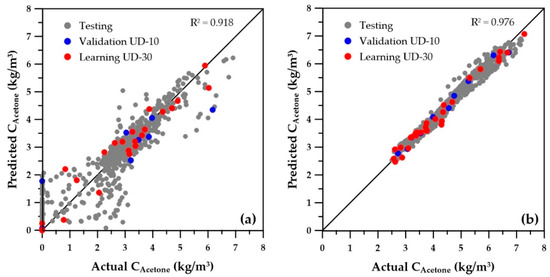 Figure 5. Predicted versus actual butanol concentration within the fermenter under steady state for (a) initial ranges and (b) reduced ranges of the five decision variables.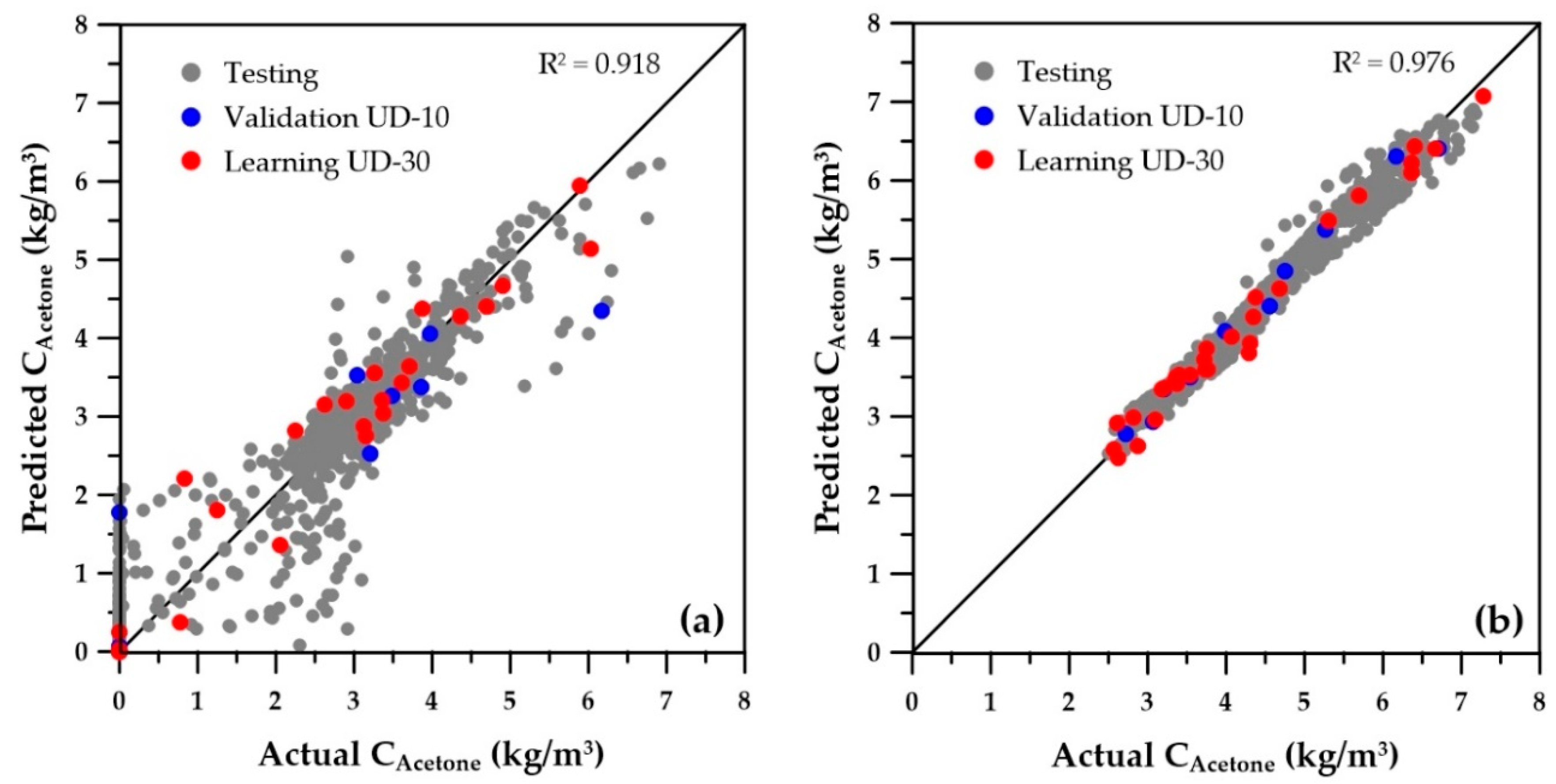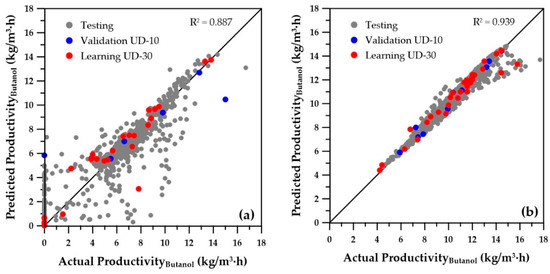 Figure 6. Predicted versus actual butanol productivity for (a) initial ranges and (b) reduced ranges of the five decision variables.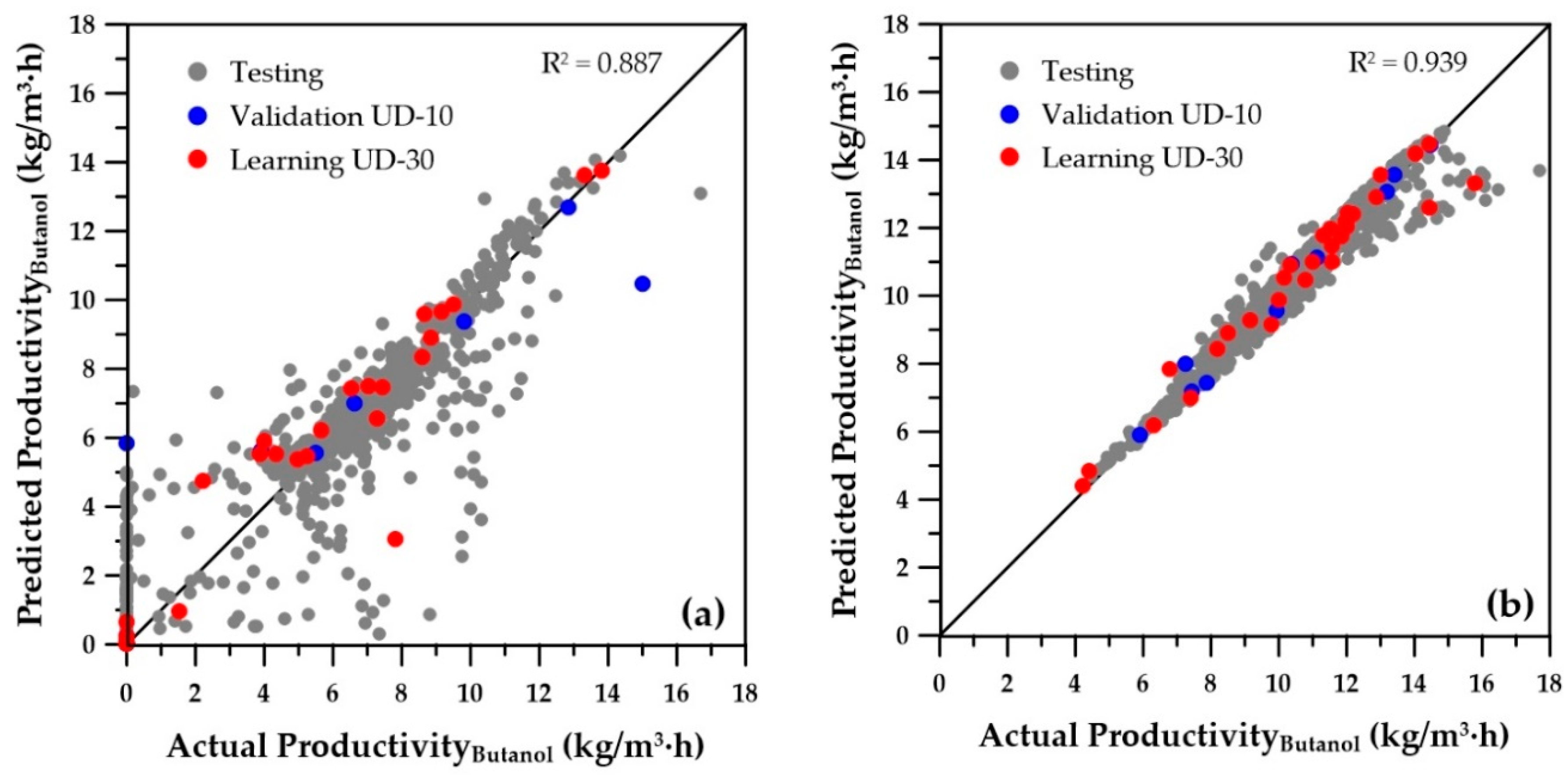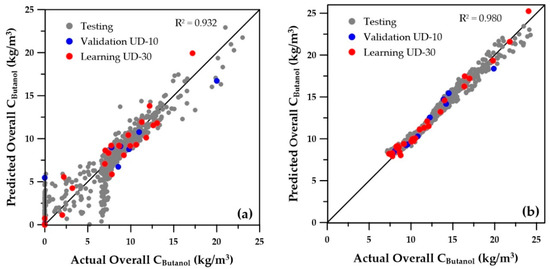 Figure 7. Predicted versus actual overall process butanol concentration for (a) initial ranges and (b) reduced ranges of the five decision variables.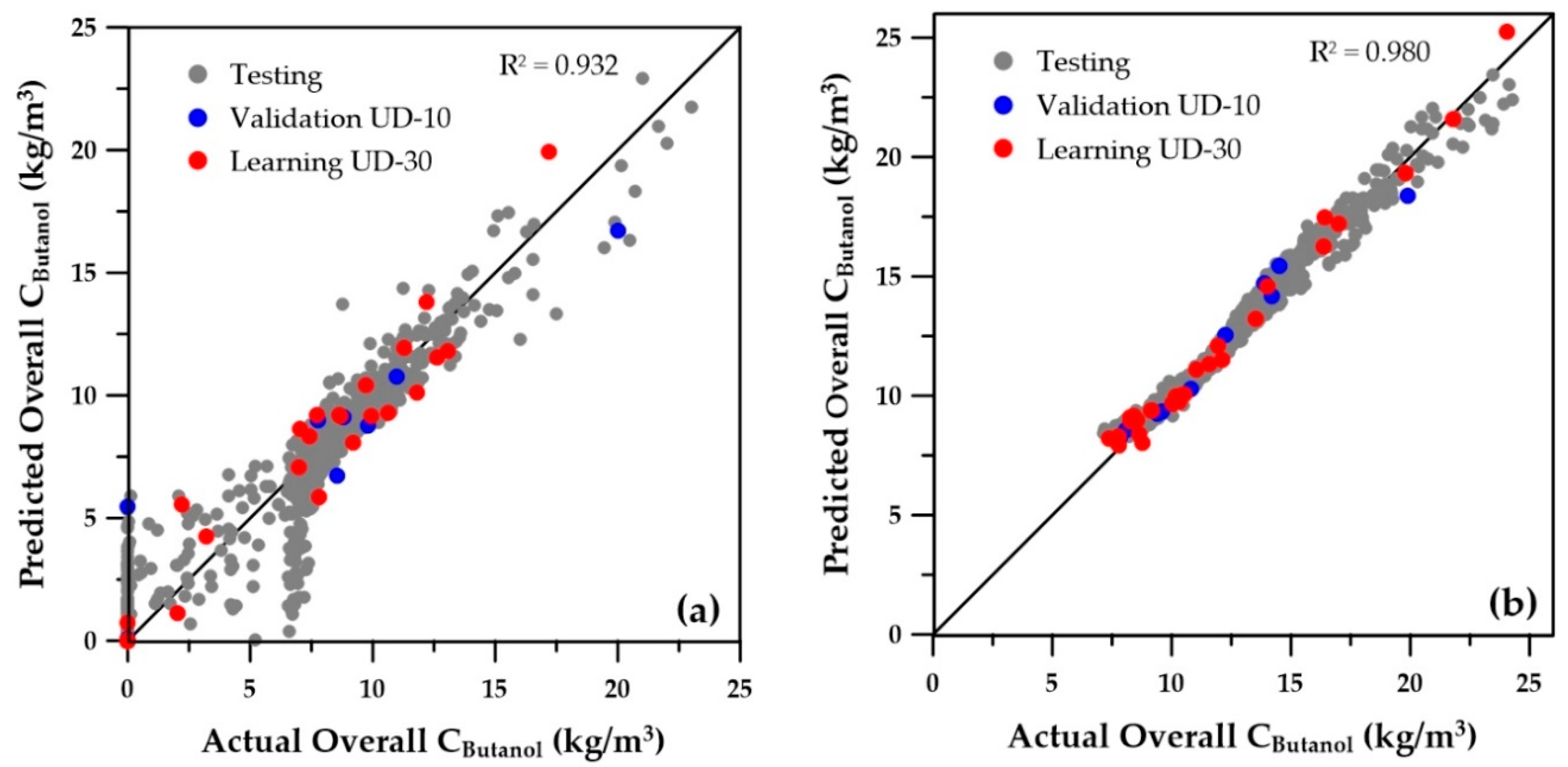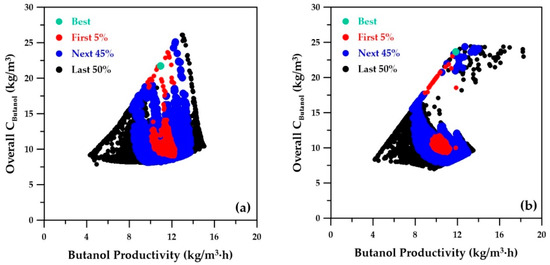 Figure 8. Plots of the Pareto-optimal overall butanol concentration versus butanol productivity for the integrated fermentation–membrane pervaporation system: (a) ANN metamodels; (b) actual integrated acetone–butanol–ethanol (ABE) fermentation simulation.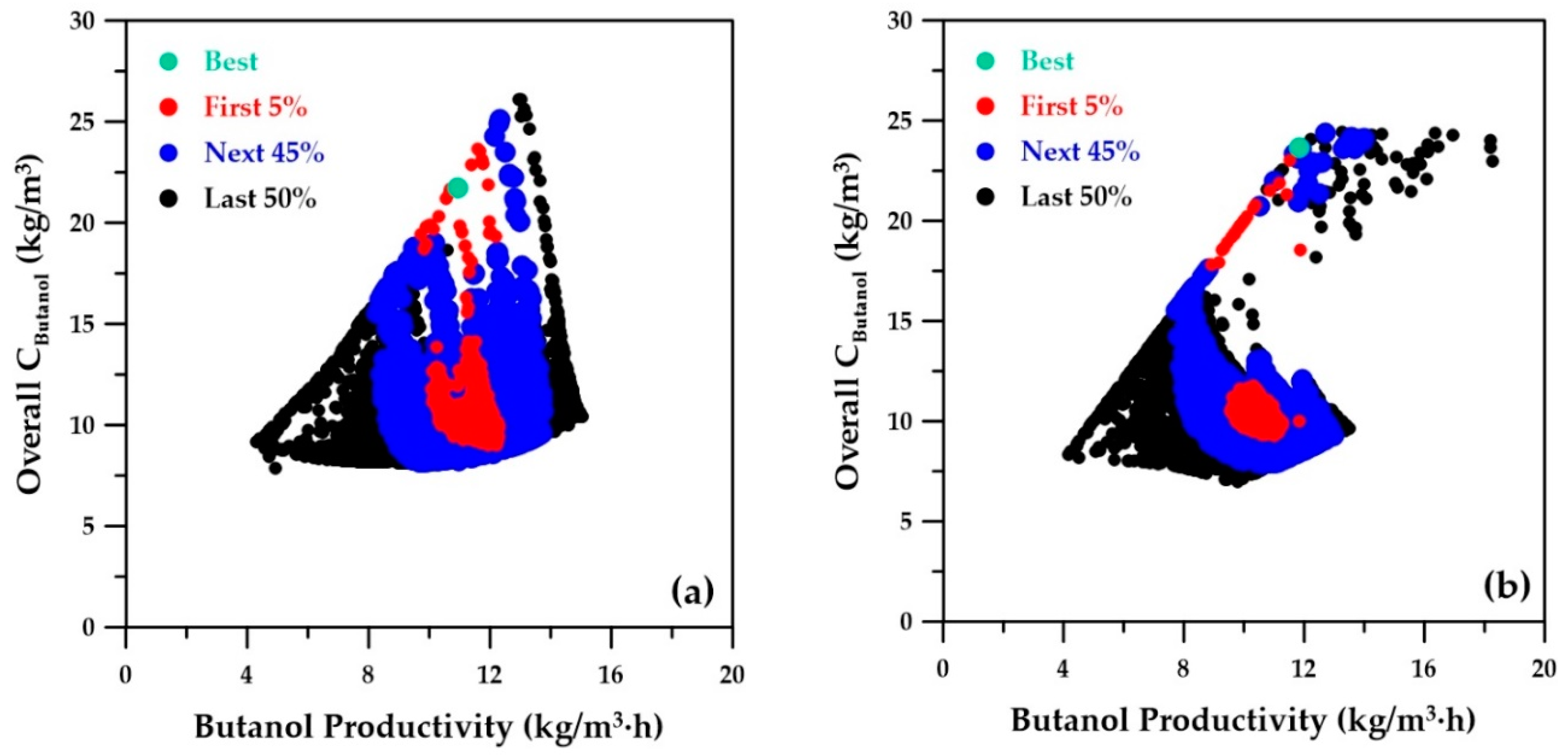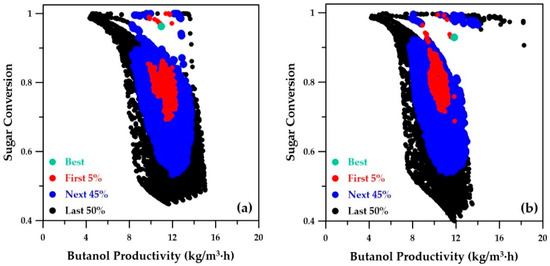 Figure 9. Plots of sugar conversion versus butanol productivity for the integrated fermentation–membrane pervaporation system: (a) ANN metamodels; (b) actual integrated system simulation.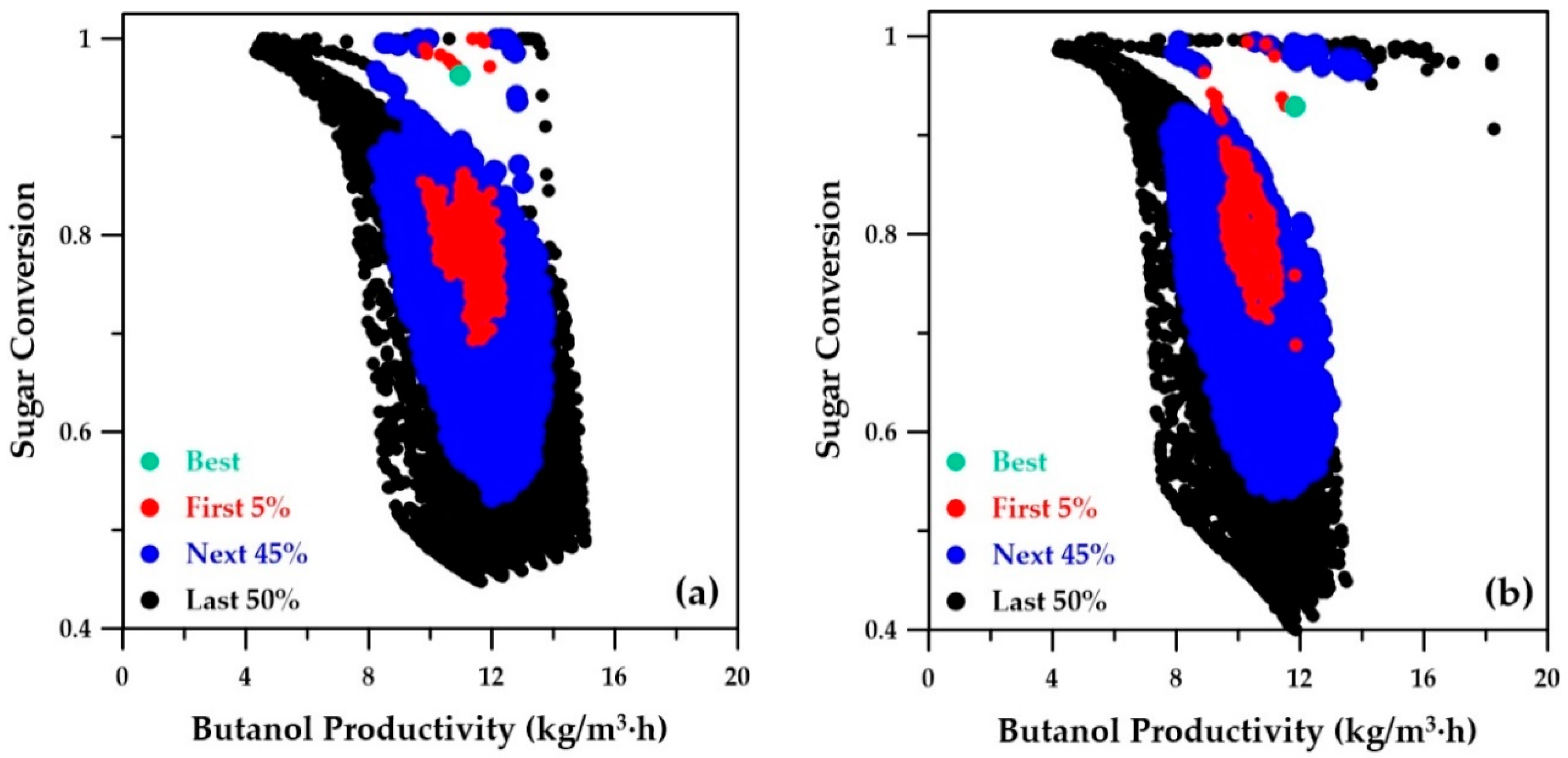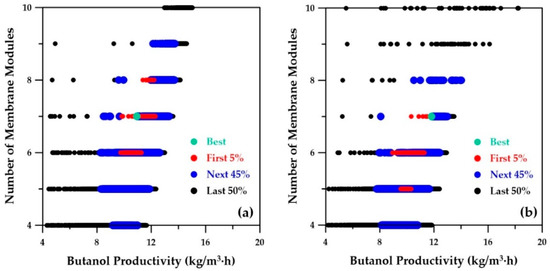 Figure 10. Plots of the numbers of membrane modules versus butanol productivity for the integrated fermentation–membrane pervaporation system: (a) ANN metamodels; (b) actual integrated system simulation.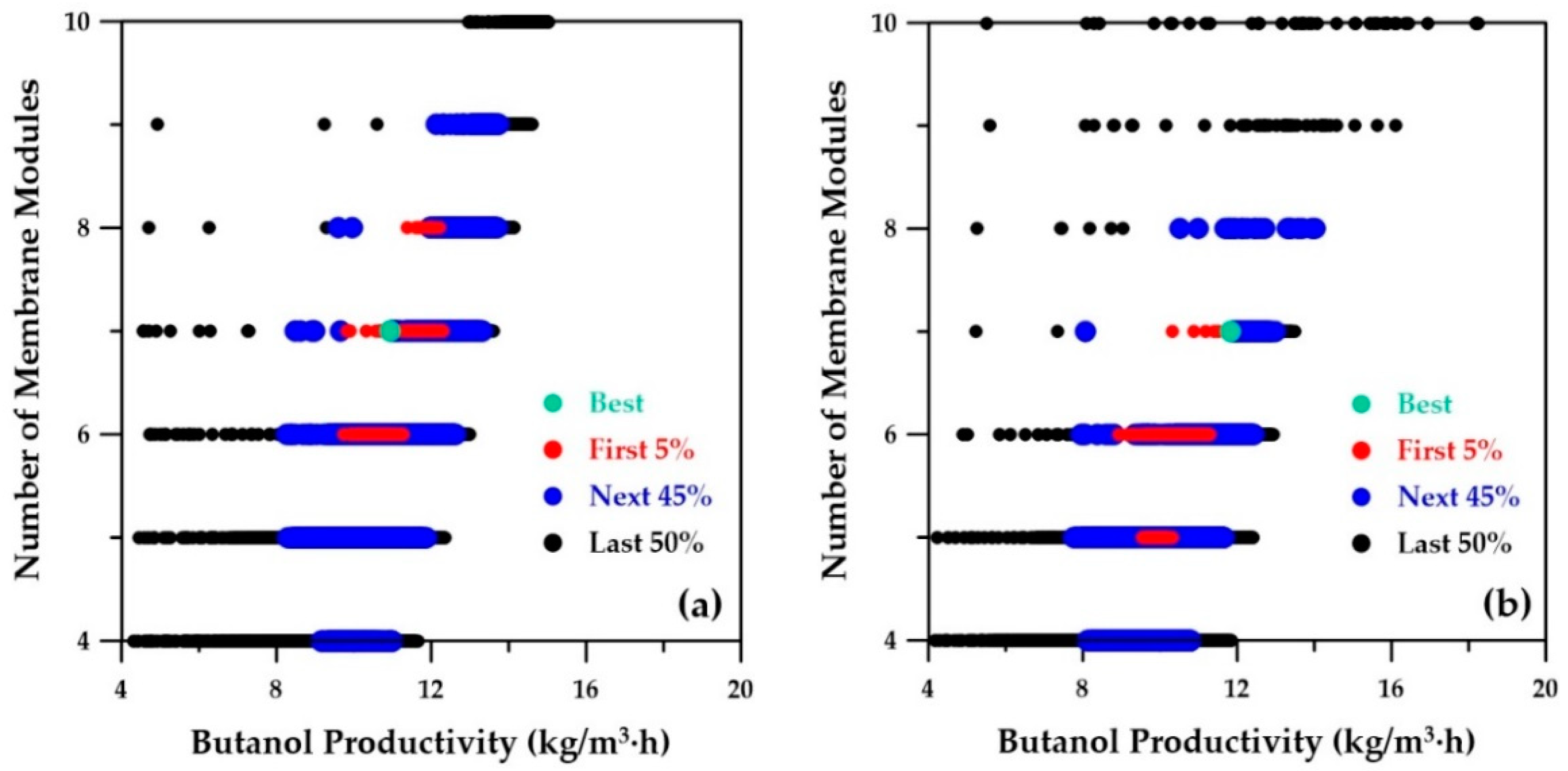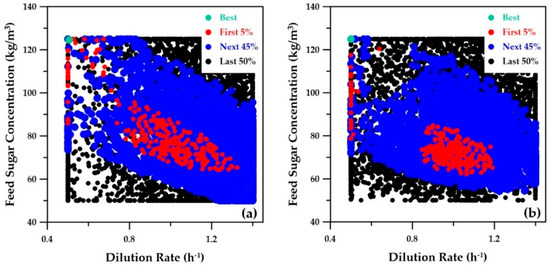 Figure 11. Plots of feed sugar concentration versus dilution rate for the integrated fermentation–membrane pervaporation system: (a) ANN metamodels; (b) actual integrated system simulation.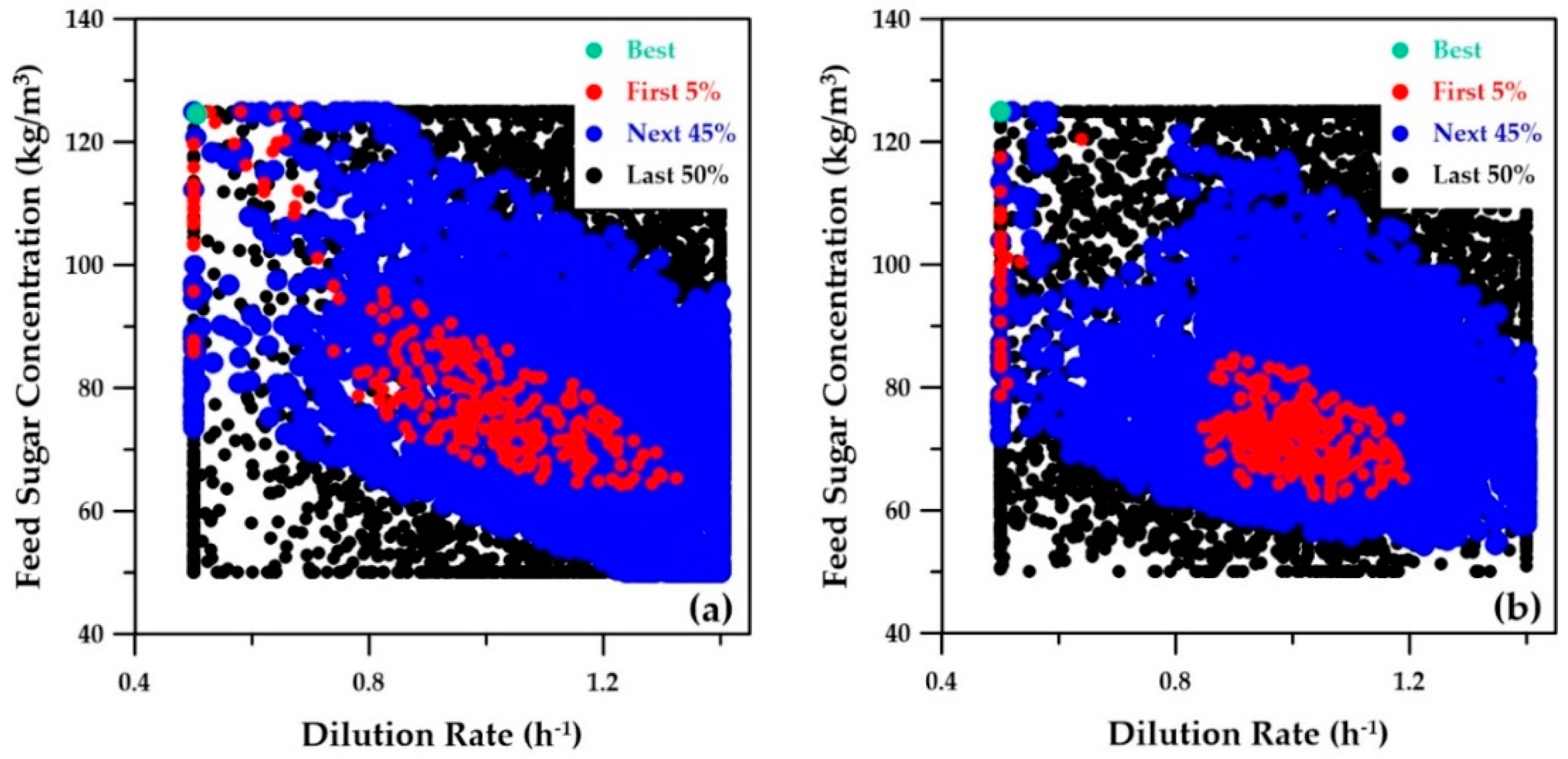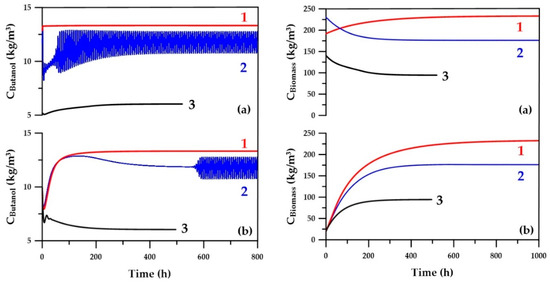 Figure 12. Butanol and biomass concentration as a function of time with (a) initial concentrations predicted by ANNs and (b) arbitrary initial concentrations. (1) Best ranked solution; (2) medium-ranked solution; (3) lowest-ranked solution.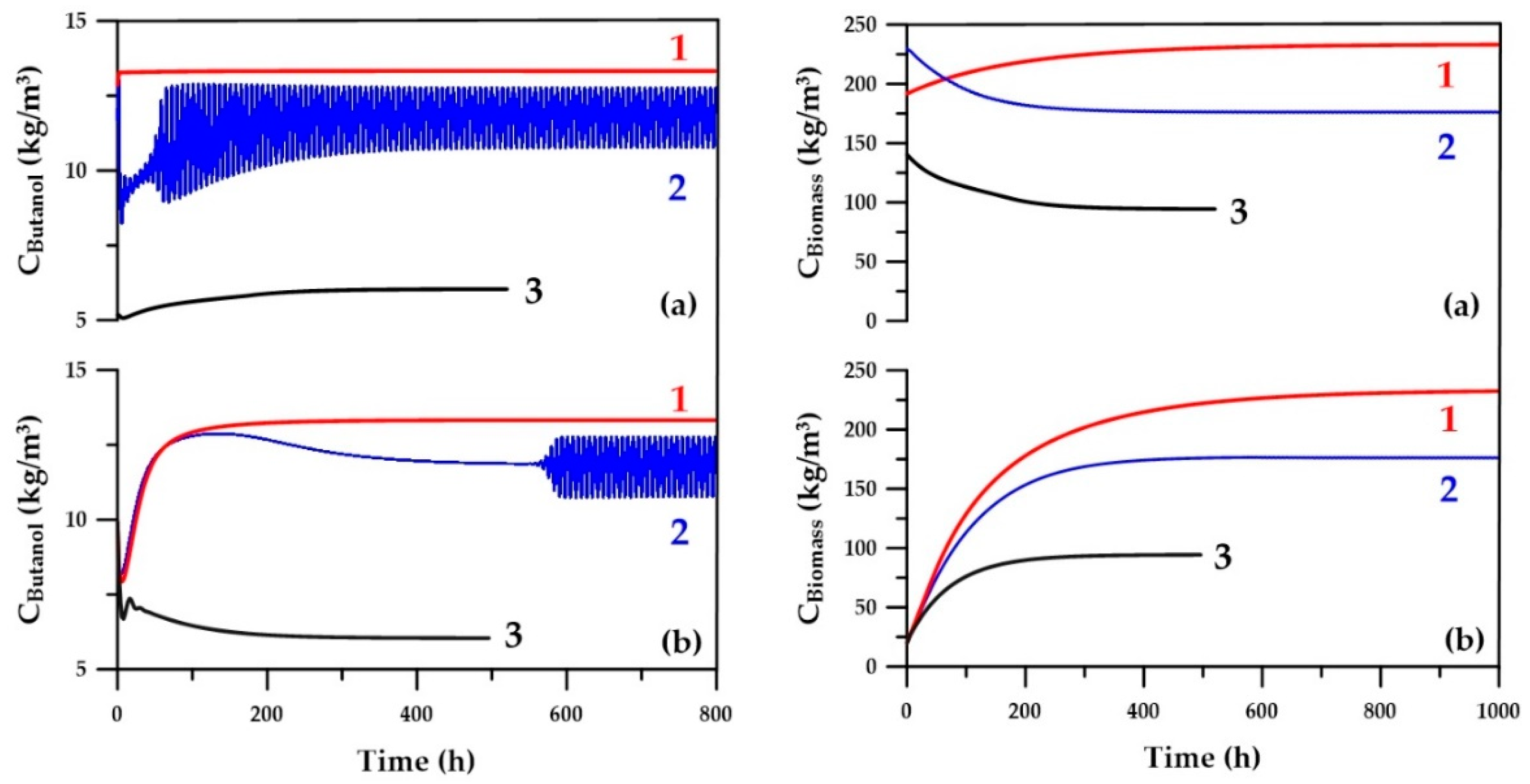 | Range | D (h−1) | So (kg/m3) | α8/12 | Nmod | NStack |
| --- | --- | --- | --- | --- | --- |
| Initial | 0.5–1.5 | 50–150 | 0.1–0.3 | 2–10 | 1000–2500 |
| Reduced | 0.5–1.4 | 50–125 | 0.1 | 4–10 | 2000–2500 |
Objective
Relative Weight
Thresholds
Indifference
Preference
Veto
Butanol productivity
0.35
0.75
1.50
3.00
Butanol concentration
0.35
0.75
1.50
3.00
Sugar conversion
0.25
0.04
0.08
0.16
Number of membrane modules
0.05
1.00
2.00
4.00

Table 3.
Decision variables and objectives of best solutions of Pareto domains with a population of 5000 individuals obtained with strategies A, B and C (see
Figure 4
).
Decision Variable/Objective
Strategy
A
B
C
Dilution rate D (h−1)
0.51
0.51
0.50
Feed sugar concentration S0 (kg/m3)
125
122
125
Cell retention factor α8/12
0.1
0.1
0.1
Number of membrane modules NMod
7
7
7
Number of membrane stacks NStack
2500
2480
2389
Butanol productivity (kg/m3∙h)
10.95 1
12.14 2
12.10
11.83
Butanol concentration (kg/m3)
21.74 1
24.04 2
23.68
23.65
Sugar conversion
0.96 1
0.96 2
0.95
0.93
Computation time (s)
5.6
8353
14052
Number of actual model evaluations
81
21573
21347
1 Values determined by the genetic algorithm using the ANN metamodels. 2 Values determined by the phenomenological simulator for validation using decision variables of Column A.

© 2018 by the authors. Licensee MDPI, Basel, Switzerland. This article is an open access article distributed under the terms and conditions of the Creative Commons Attribution (CC BY) license (http://creativecommons.org/licenses/by/4.0/).