A Review of the Developed New Model Biodiesels and Their Effects on Engine Combustion and Emissions
1
School of Energy and Power Engineering, Xi'an Jiaotong University, Xi'an 710049, China
2
Xi'an Research Institute of High Technology, 603 PO Box, Xi'an 710025, China
*
Author to whom correspondence should be addressed.
Received: 13 October 2018 / Revised: 15 November 2018 / Accepted: 15 November 2018 / Published: 19 November 2018
Abstract
Biodiesel is regarded to be a renewable, CO
2
neutral and thus sustainable biological alternative diesel fuel. With attention to the reduction of petroleum import, PM 2.5 aerosol particles and the greenhouse effect gas CO
2
, biodiesel has drawn great research interests and efforts in the past decade in China. Generally, biodiesel refers to fatty acid methyl ether (FAME) which has a proved effect in reducing diesel emission, particularly PM. However, FAME has a limited cetane number and oxygen content, to study the effects of elevated cetane number and oxygen content on fuel properties, engine combustion and emissions, ethylene glycol monomethyl ether is used to produce a series of new models of biodiesels by transesterification method. The feedstocks are rapeseed oil, soybean oil, peanut oil, palm oil and cottonseed oil. Ether group alcohols used in this study include ethylene glycol monomethyl ether, ethylene glycol monoethyl ether, ethylene glycol monopropyl ether, propylene glycol monomethyl ether, diethylene glycol monomethyl ether, triethylene glycol monomethyl ether. The molecular structure was proved by FT-IR and NMR analyses. Fuel properties were measured based on the corresponding standards. The developed new model biodiesels have cetane number (CN) over 70 and oxygen content over 17% by mass, which are higher than FAME (50 CN and 11% oxygen). They have the same level of lower heating value as FAME, but have a higher density, which helps to compensate the decrease of engine power. Meanwhile, the engine tests were carried out to investigate the effects of ether ester group on engine combustion and emissions. The test results show that FAME reduced smoke 30% to 50%, while the new model biodiesel fuels reduced engine smoke as high as 80% and have the potential to decrease engine HC, CO and NO
x
emissions 50% or more.
View Full-Text
►

▼

Figures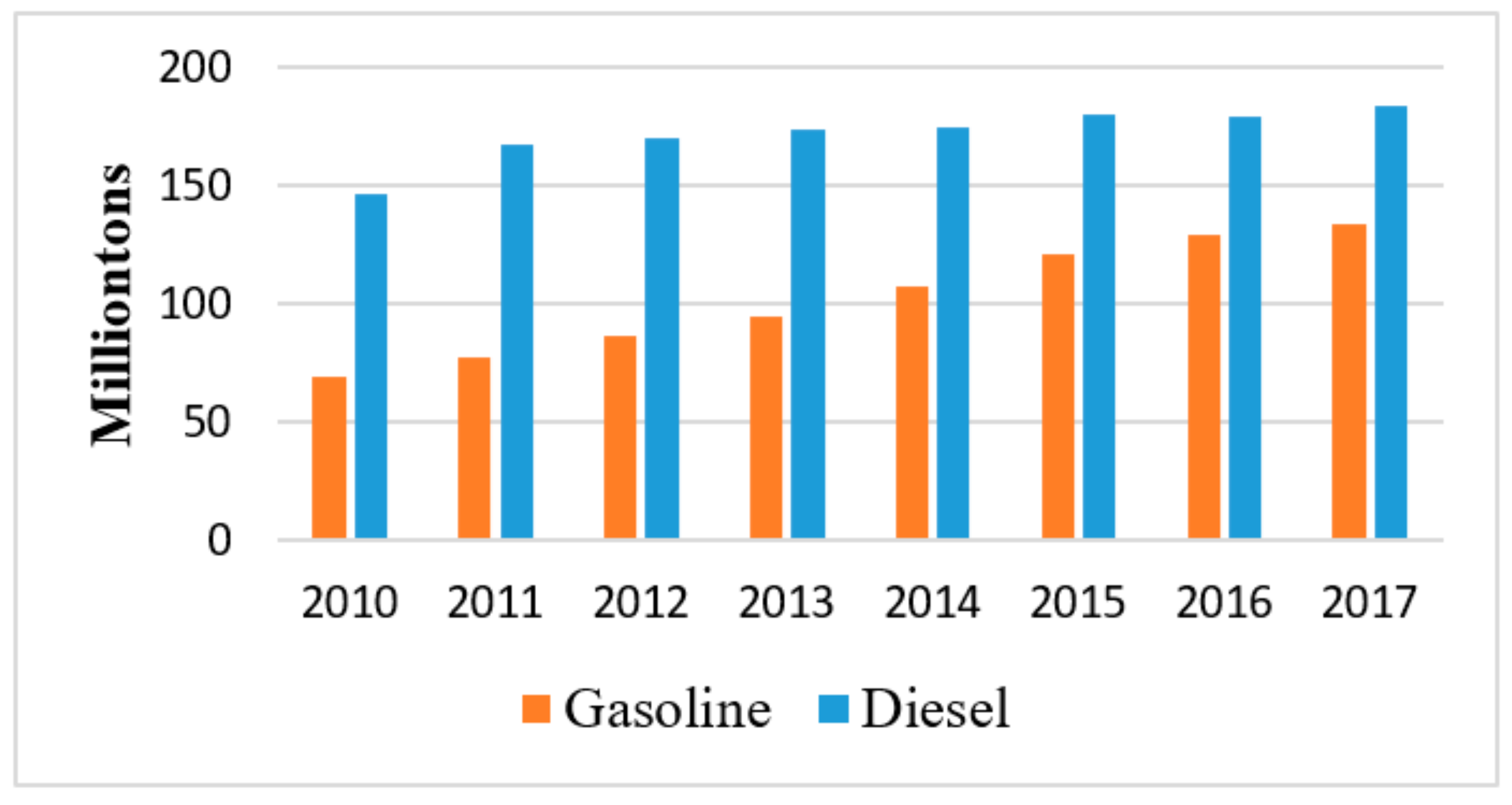 Figure 1
This is an open access article distributed under the
Creative Commons Attribution License
which permits unrestricted use, distribution, and reproduction in any medium, provided the original work is properly cited (CC BY 4.0).

Share & Cite This Article
MDPI and ACS Style
Liu, S.; Chen, W.; Zhu, Z.; Jiang, S.; Ren, T.; Guo, H. A Review of the Developed New Model Biodiesels and Their Effects on Engine Combustion and Emissions. Appl. Sci. 2018, 8, 2303.
Note that from the first issue of 2016, MDPI journals use article numbers instead of page numbers. See further details here.
Related Articles
Comments
[Return to top]