Transbulbar B-Mode Sonography for Clinical Phenotyping Multiple Sclerosis
1
Laboratory of Neuroproteomics, Multiple Sclerosis Centre, "F. Ferrari" Hospital, 73042 Casarano, Italy
2
Multiple Sclerosis Centre, "F. Ferrari" Hospital, 73042 Casarano, Italy
3
Complex Operative Unit of Neurology, "F. Ferrari" Hospital, 73042 Casarano, Italy
4
Laboratory of Hygiene, Department of Biological and Environmental Sciences and Technologies, University of the Salento, 73100 Lecce, Italy
5
Division of Neuroradiology, "F. Ferrari" Hospital, 73042 Casarano, Italy
*
Author to whom correspondence should be addressed.
Received: 21 September 2018 / Revised: 19 October 2018 / Accepted: 2 November 2018 / Published: 7 November 2018
Abstract
The aim of this study was to assess putative differences in optic nerve sheath diameter (ONSD) and associated clinical/paraclinical variables between relapsing remitting (RR) and secondary progressive (SP) multiple sclerosis (MS) patients. We examined 60 relapse-free MS patients and 35 healthy controls by means of transbulbar B-mode sonography (TBS). Expanded disability status scale (EDSS) values were from 3 to 4 indicated patients with a transitional RR to SP phenotype. Mean ONSD was significantly lower in MS patients. Mean ONSD measured at 5 mm from the eyeball (ONSD5) was significantly lower in SP than in RR patients, while ONSD measured at 3 mm from the eyeball (ONSD3) was statistically higher in RR than in the transitional group. The myelination index (MI), i.e., the ratio of ONSD3 to ONSD5, was used to assess the relative myelination of the optic nerve (ON). Higher ONSD5 and MI (0.90) corresponded to patients with the RR phenotype having a mean EDSS of 2.0; lower MI (0.84) clustered the transitional patients having a mean EDSS of 3.7. Finally, lower MI with low ONSD3 identified the SP phenotype having a mean EDSS ≥ 4.0. The TBS in MS highlights chronic optic neuropathy, caused by early subclinical axonal loss and demyelination.
View Full-Text
►

▼

Figures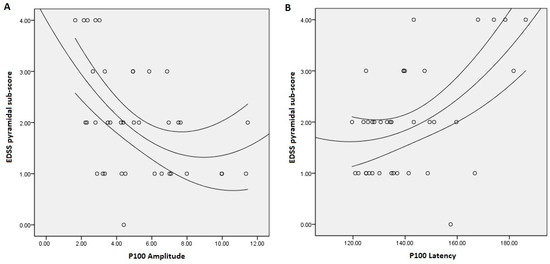 Figure 1
This is an open access article distributed under the
Creative Commons Attribution License
which permits unrestricted use, distribution, and reproduction in any medium, provided the original work is properly cited (CC BY 4.0).

Share & Cite This Article
MDPI and ACS Style
De Masi, R.; Orlando, S.; Conte, A.; Pasca, S.; Scarpello, R.; Spagnolo, P.; De Donno, A. Transbulbar B-Mode Sonography for Clinical Phenotyping Multiple Sclerosis. Appl. Sci. 2018, 8, 2177.
Note that from the first issue of 2016, MDPI journals use article numbers instead of page numbers. See further details here.
Related Articles
Comments
[Return to top]