Challenges of the Usual Graphical Methods Used to Characterize Phase Change Materials by Differential Scanning Calorimetry
University Pau & Pays de l'Adour, Laboratoire de Thermique, Énergétique et Procédés - IPRA, EA 1932, Bât. d'Alembert, rue Jules Ferry, BP 7511, F-64075 Pau, France
*
Author to whom correspondence should be addressed.
Received: 21 November 2017 / Revised: 19 December 2017 / Accepted: 20 December 2017 / Published: 9 January 2018
Abstract
Modeling the thermal behavior of a plant or devices using Phase Change Materials (PCM) requires to know their thermophysical properties. The Differential Scanning Calorimetry (DSC) is a technic largely used to investigate them. However, under the pretext to experiment with small samples, some authors consider the DSC curves as directly representing the properties of the materials without realizing that this interpretation is very often incompatible with the thermodynamics laws: as an example, although a pure substance melts at a fixed temperature
, it is proposed a melting through a temperature range higher than
and depending on the experiments (heating rates, sample masses...), for solutions the suggested characteristic temperatures are incompatible with the phase diagram, and also a hysteresis phenomenon is invented... In this paper, we demonstrate by a model coupling thermodynamics and conduction heat transfers, that the DSC curves are exactly compatible with the thermodynamics of phase changes (melting at fixed temperature for pure substances, in conformity with phase diagrams for solutions...). The cases of pure substances, saline solutions, substances with impurities or solid solutions are detailed. We indicate which information can, however, be given by the curves. We also propose a more sophisticated method by inverse calculations to determine the specific enthalpy whose all the thermodynamical properties can be deduced. Finally, we give some indications to understand and use the results indicating supercooling.
View Full-Text
►

▼

Figures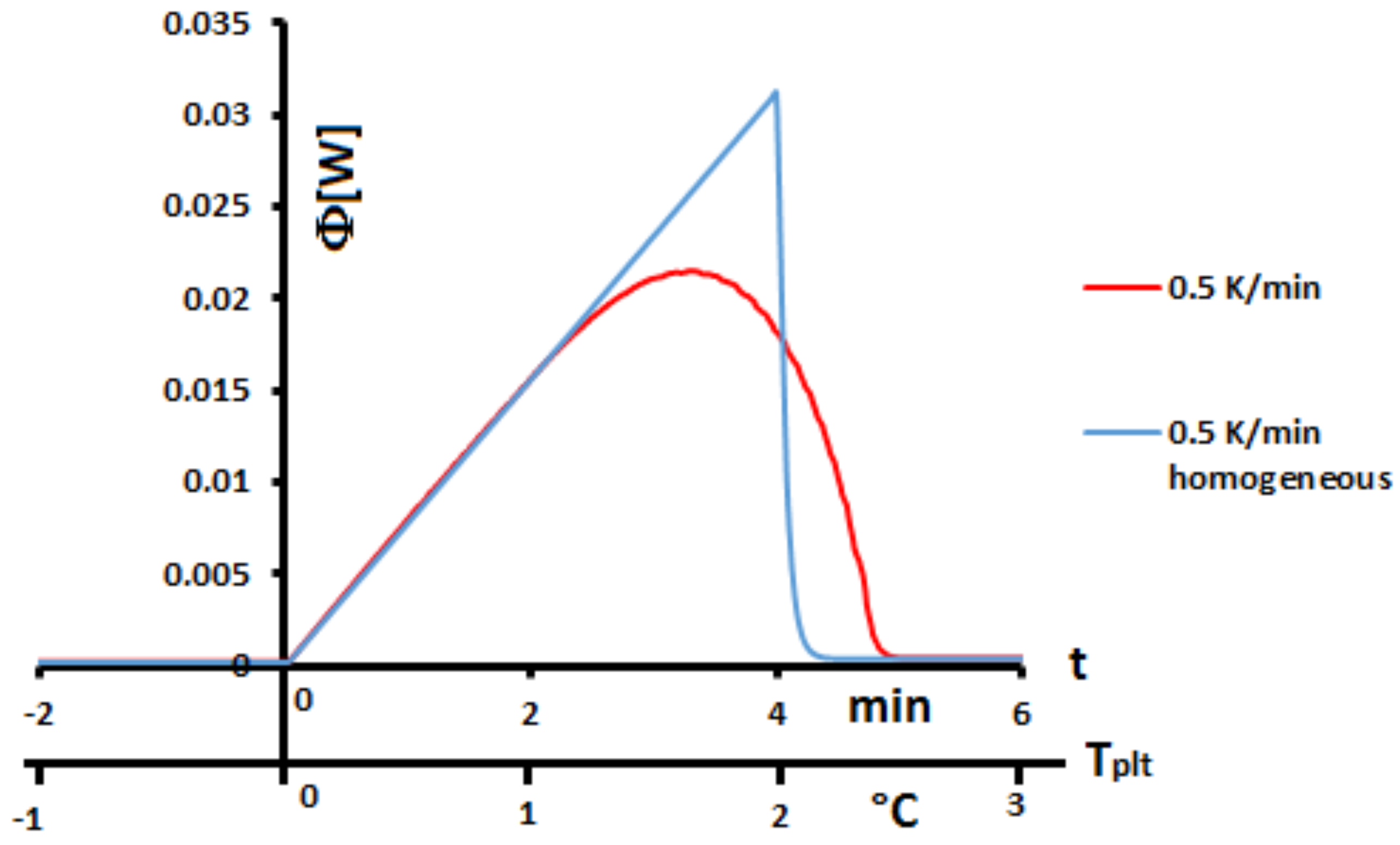 Figure 1
This is an open access article distributed under the
Creative Commons Attribution License
which permits unrestricted use, distribution, and reproduction in any medium, provided the original work is properly cited (CC BY 4.0).

Share & Cite This Article
MDPI and ACS Style
Gibout, S.; Franquet, E.; Haillot, D.; Bédécarrats, J.-P.; Dumas, J.-P. Challenges of the Usual Graphical Methods Used to Characterize Phase Change Materials by Differential Scanning Calorimetry. Appl. Sci. 2018, 8, 66.
Note that from the first issue of 2016, MDPI journals use article numbers instead of page numbers. See further details here.
Related Articles
Comments
[Return to top]