Open Access This article is
freely available
re-usable
Article
Thickness Dependence of Switching Behavior in Ferroelectric BiFeO3 Thin Films: A Phase-Field Simulation
Department of Physics, University of Science and Technology Beijing, Beijing 100083, China
*
Author to whom correspondence should be addressed.
Received: 26 September 2017 / Accepted: 6 November 2017 / Published: 13 November 2017
Abstract
:
A phase-field approach to the analysis of the thickness effects in electric-field-induced domain switching in BiFeO
3
thin films has been formulated. Time evolutions of domain switching percentage for films with different thicknesses were explored to reveal the primary switching path and its dependence on film thickness. In addition, hysteresis loop for these films were calculated to obtain their coercive fields. Results show a nonlinear thickness dependence of coercive field for ultrathin films. A parametric study of the interactions between film thickness, coercive field, current-voltage (
I-V
) response, and polarization switching behavior is herein discussed, which could provide physical insights into materials engineering.
Keywords:
phase-field method; bismuth ferrite; polarization switching; thickness effect
2. The Phase-Field Model
The present phase-field model describes ferroelectric domain configuration and evolution by polarization distributions . According to the Landau–Ginzburg–Devonshire theory, total free energy density for a ferroelectric single crystal is given by [
14
,
32
,
33
]
in which represent Landau energy, gradient energy, elastic energy, and electrostatic energy, respectively.
Landau energy is expanded as a 4th order polynomial of the polarization components :
in which are Landau coefficients, and only is assumed to be temperature-dependent. Gradient energy, which represents the energy arising from the polarization gradient across domain walls, here is written as
in which is gradient energy coefficient, and is the
i
th component of the Cartesian coordinate system. Elastic energy, which is related to elastic strains originating from phase transitions or lattice accommodations, is written as
in which is the elastic stiffness tensor. is the elastic strain, where is total strain, and is stress-free strain, induced by spontaneous polarization via the electrostrictive effect:
where is the electrostrictive coefficient. Electrostatic energy is obtained from
in which is electric field, and is the background dielectric constant.
Temporal evolution of the polarization distribution is governed by the time-dependent Ginzburg–Landau equation:
in which is the kinetic coefficient related to the domain-wall mobility. In the model setting, we consider an epitaxial grown BFO film on a rigid substrate in the direction, as shown in
Figure 1
. Dimensions of the film are set as , in which is the grid number for the film thickness, and is the grid size in the simulation. In the present work, is set as 1 nm. A periodical boundary condition is applied along the and axes. A thin film mechanical boundary condition is adopted in this simulation [
33
]. As for the electric boundary condition of the film, a short circuit condition is applied in this model [
34
]. The top and bottom electrodes used in this model are shown in
Figure 1
. It is believed that electrode materials also have effects on the properties of films, because of their differences in chemical and thermal stabilities, especially the Schottky barrier height, which has an influence on leakage current [
35
,
36
,
37
]. However, in this work, with the purpose of generally studying the thickness effect in electric-field-induced multi-domain switching, we did not take the effect of electrodes as the primary concern of this study.
On the film-substrate surface, we have
and on the top surface, we have
3. Results and Discussion
The difference in the performance of domain switching between films with distinct thicknesses can be attributed to the influence of the coercive field. To study the relationship between film thickness and coercive field, ferroelectric hysteresis loops for films with different thicknesses——were calculated. Selected corresponding domain configurations were presented as well.
4. Conclusions
The effects of film thickness on polarization switching paths were investigated using phase-field modeling. Results indicate that 71 degree switching plays the most important role in the polarization switching process. Analysis of time-dependent switching percentages in different films shows that polarization switching time increases as film thickness decreases. Calculations of the hysteresis loop for films with different film thicknesses reveal the dependence of a ferroelectric coercive field on film thickness, as , in ultrathin BFO films, which could potentially provide guidance in future theoretical research and material design and discovery.
Acknowledgments
This work is supported by the National Science Foundation of China (No. 11504020 and No. 11174030) and the Fundamental Research Funds for the Central Universities (FRF-TP-16-064A1).
Author Contributions
Xingqiao Ma and Guoping Cao conceived and designed the simulation; Guoping Cao performed the calculation; Houbing Huang and Guoping Cao analyzed the data; Guoping Cao wrote the paper.
Conflicts of Interest
The authors declare no conflict of interest.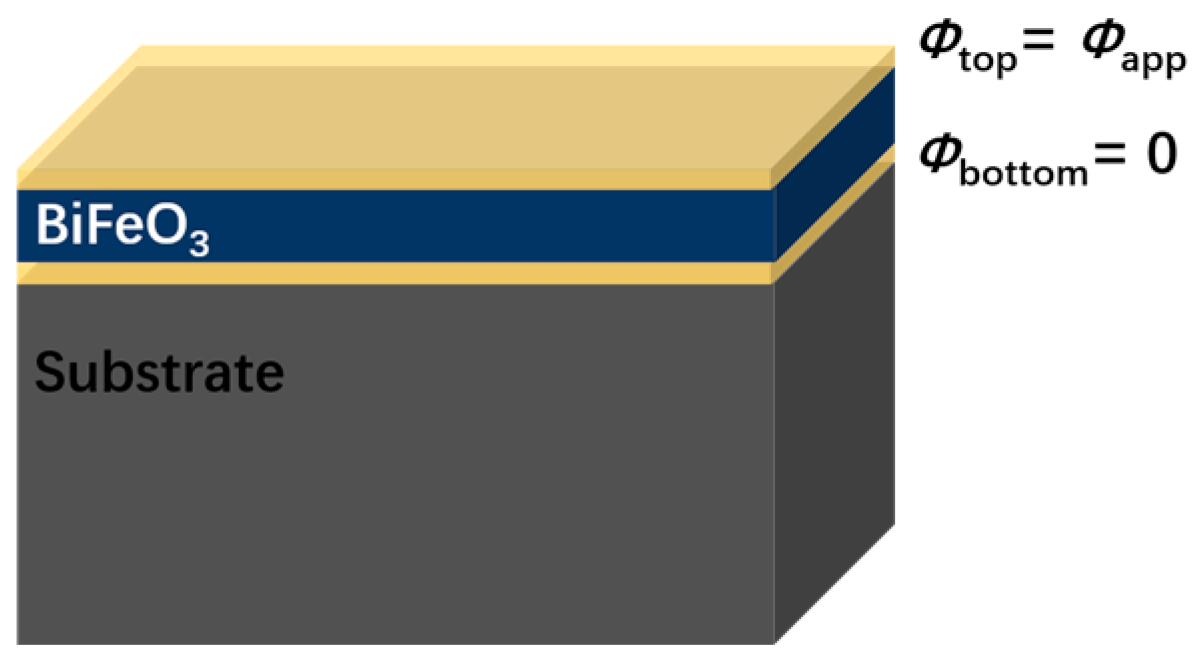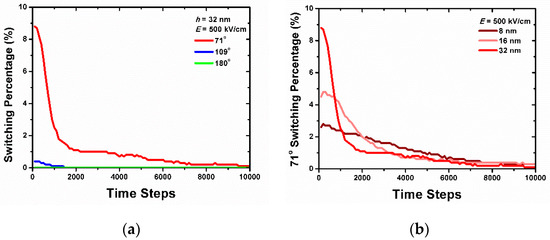 Figure 2. Analysis of domain switching behavior for different film thicknesses using an identical electric field: . (a) Switching percentage of different switching paths as a function of time in the film. (b) Percentage for 71 degree switching over time, with different film thicknesses indicated with different colors.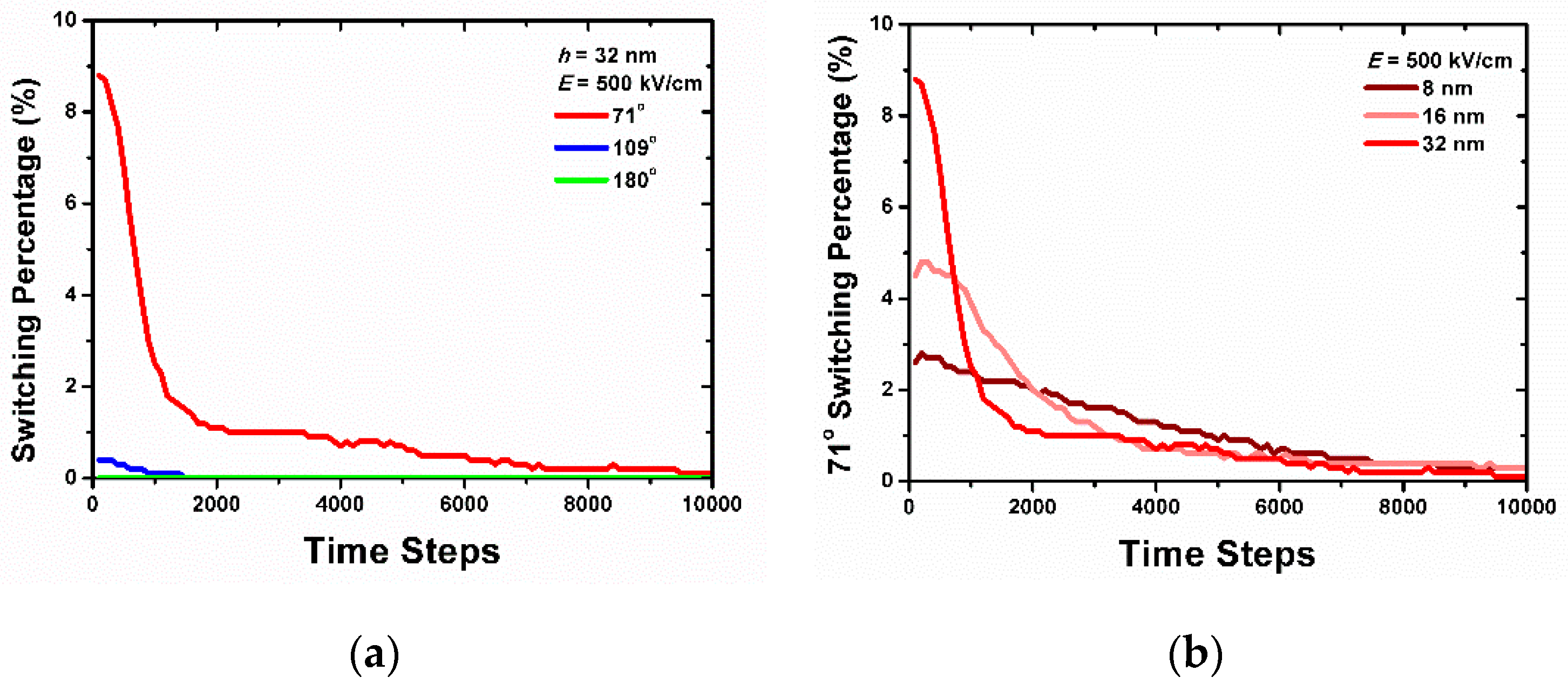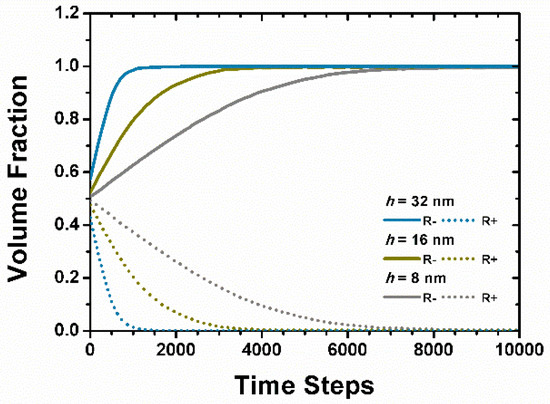 Figure 3. Time evolution of volume fractions for downward (R- with solid line) and upward (R+ with dot line) variants. Films with different thicknesses (32, 16, and 8 nm) are indicated with different colors.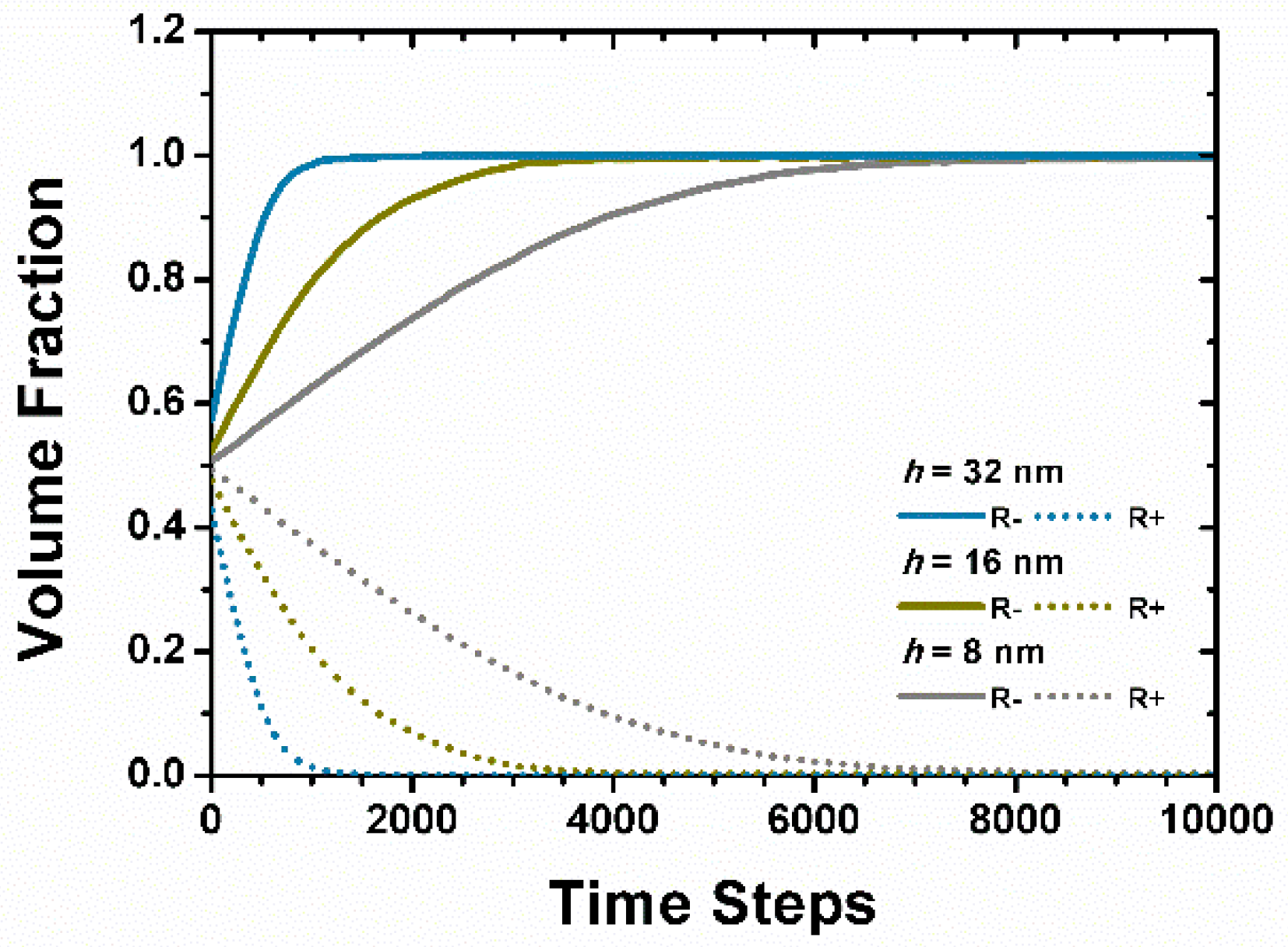 Figure 4.
Hysteresis loops (
P-E
loops) for thin films with different film thicknesses: (
a
) 32 nm, (
b
) 16 nm, (
c
) 8 nm, and (
d
) 4 nm. Domain patterns for specific points are provided alongside the
P-E
loop. (
e
) Representative colors for eight rhombohedral variants in domain patterns.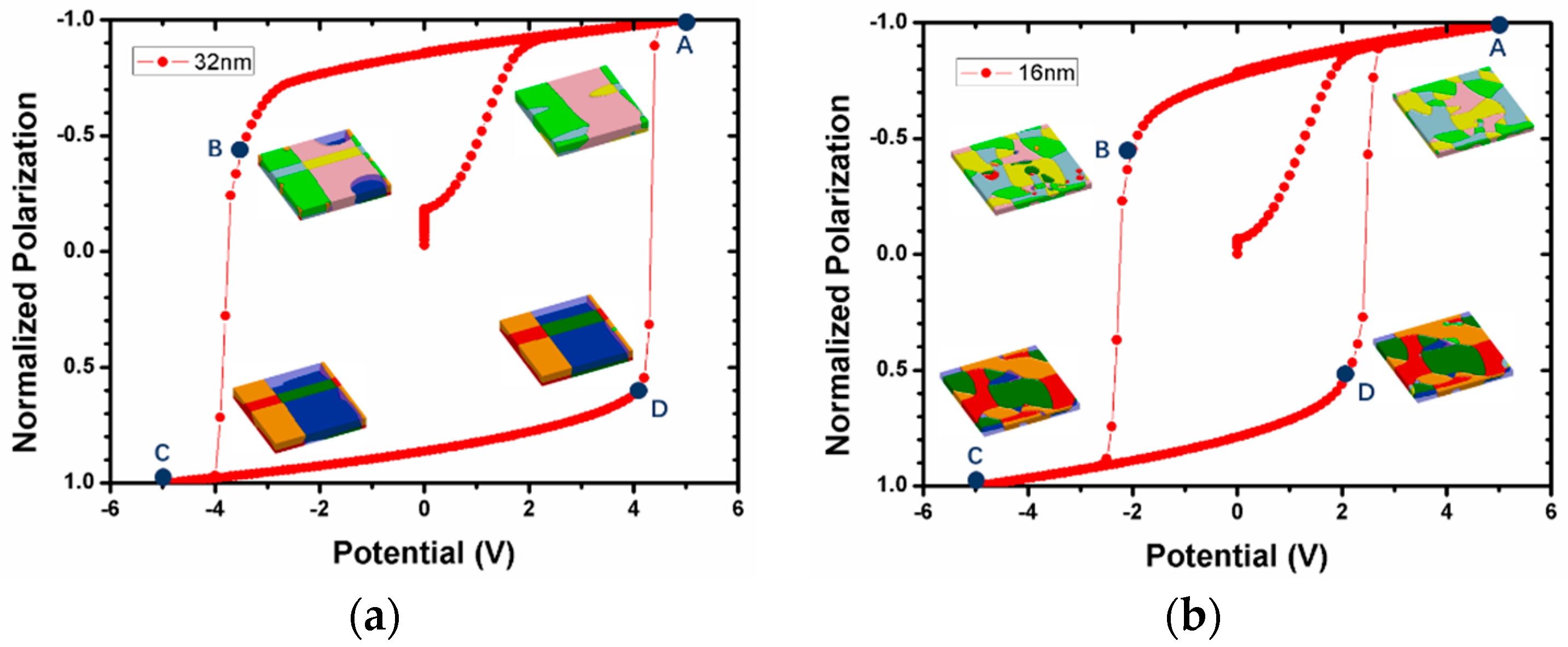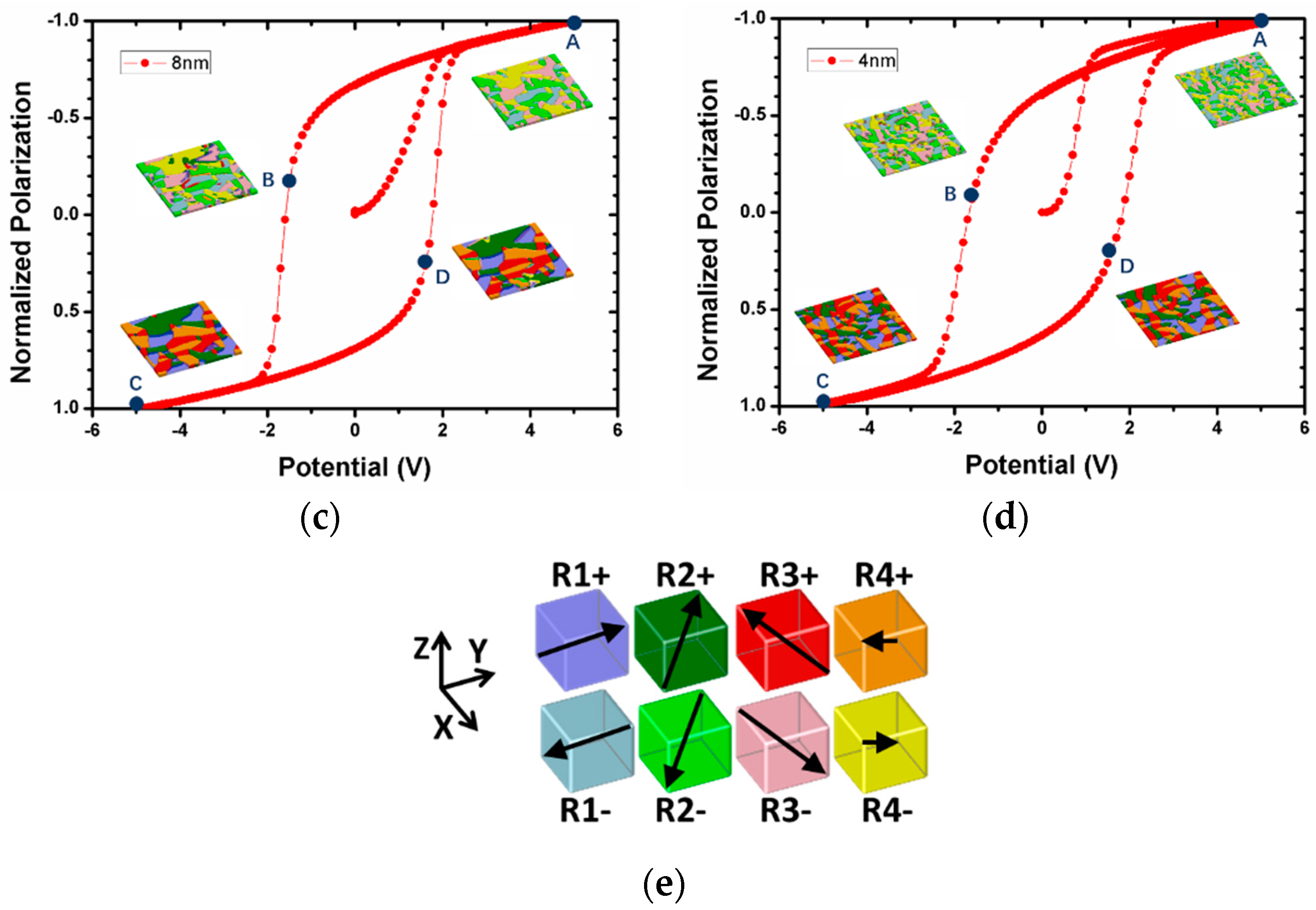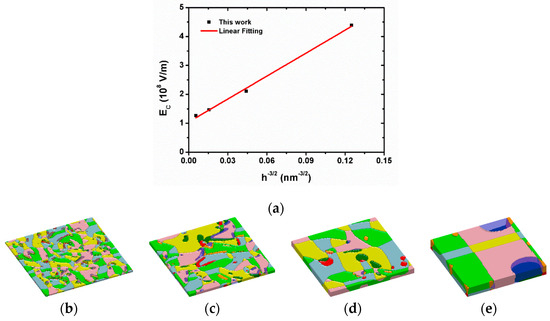 Figure 5. (a) Calculated coercive field plotted against film thickness . Calculated domain configurations near the value of coercive field for films of (b) 4 nm, (c) 8 nm, (d) 16 nm, and (e) 32 nm.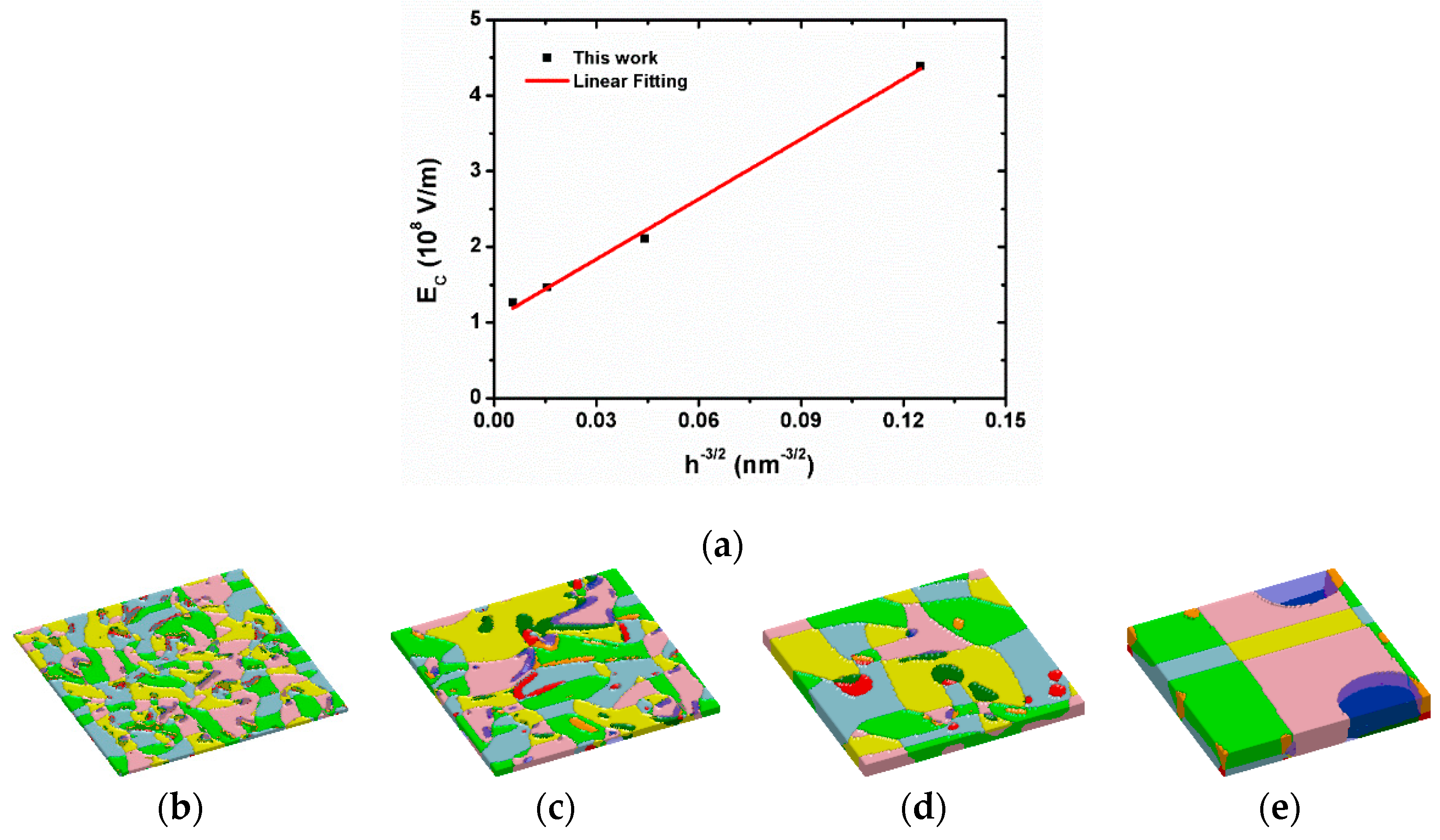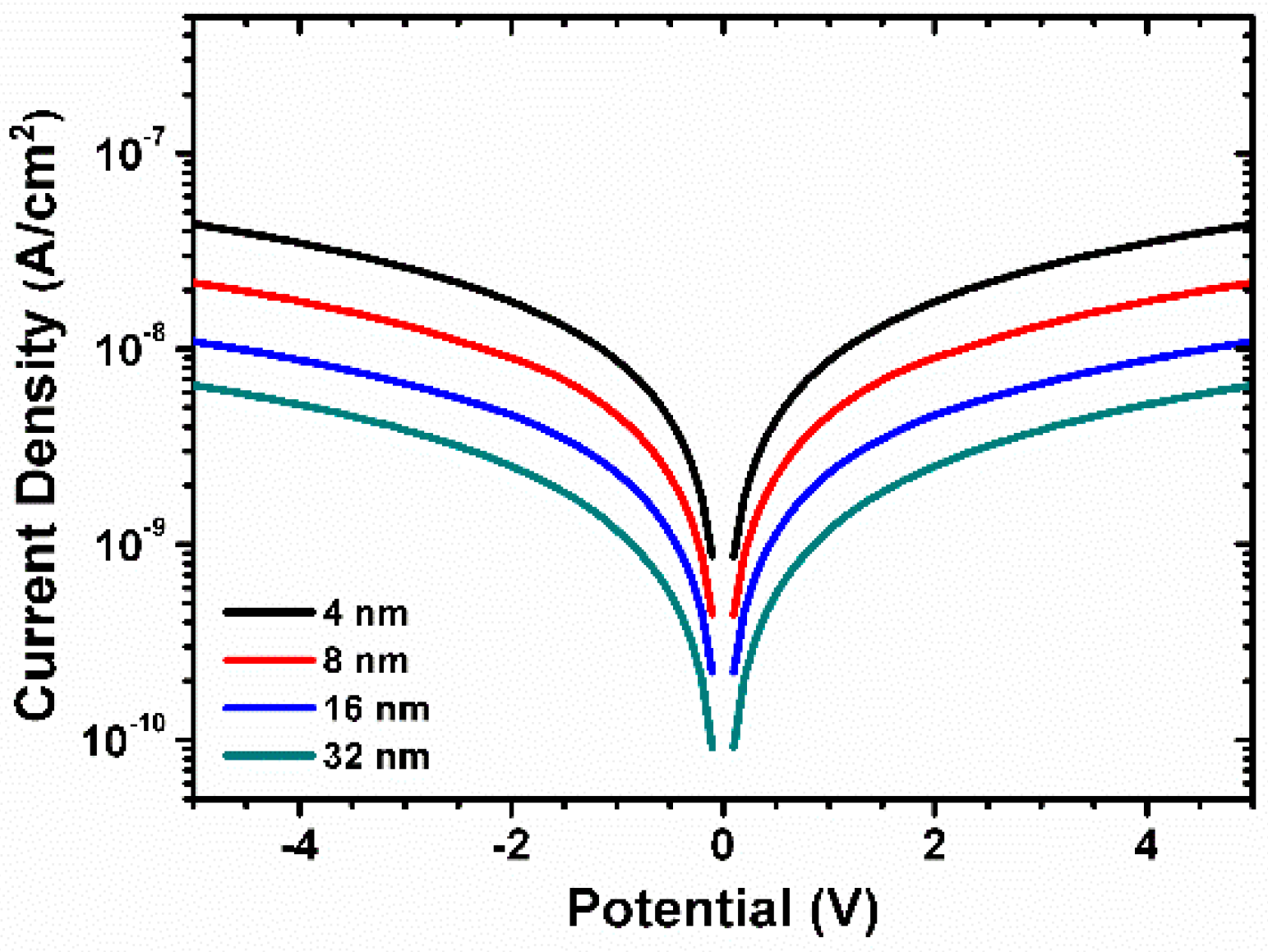 © 2017 by the authors. Licensee MDPI, Basel, Switzerland. This article is an open access article distributed under the terms and conditions of the Creative Commons Attribution (CC BY) license (http://creativecommons.org/licenses/by/4.0/).