Open Access This article is
freely available
re-usable
Article
Investigation of Effective Modification Treatments for Titanium Membranes
Department of Advanced Prosthodontics, Hiroshima University Graduate School of Biomedical and Health Sciences; 1‐2‐3, Kasumi, Minami‐ku, Hiroshima 734‐8553, Japan
*
Author to whom correspondence should be addressed.
Received: 4 September 2017 / Accepted: 2 October 2017 / Published: 4 October 2017
Abstract
:
Titanium membranes are used for guided bone regeneration in implant therapy. However, as a bioinert material, titanium does not have the ability to accelerate bone formation. Various titanium surface treatments to confer bioactivity have been demonstrated; however, there are concerns about the influence of chemical treatments for thin titanium membranes. This study investigated the influence of surface modifications on the structure of titanium membranes. Titanium membranes of 20 μm thickness were treated with acid or alkali solutions, and we evaluated their surface structure, wettability, thickness, and mechanical strength compared to non-treated membranes. Alkali-treated titanium membranes displayed the formation of nanoscale pore structures on their surfaces, enhanced hydrophilicity, and almost same thickness compared with acid-treated membranes. Furthermore, the tensile strength of alkali-treated membranes was comparable to non-treated membranes. These results suggest that alkali treatment is an appropriate surface modification method for titanium membranes.
Keywords:
titanium membrane; surface modification; alkali treatment
2. Methods
2.1. Sample Preparation
Titanium membranes are manufactured through the extension of a titanium metal mass by applying pressure through the gap between two rollers, until the targeted thickness is achieved. Titanium membranes (thickness of 20 μm, 10 × 10 mm square) were used for surface modification in this study (
Figure 1
).
The membranes were washed in an ultrasonic cleaner with acetone and distilled water for 60 min each and dried in a 37 °C oven. Then, membranes were divided into three groups: acid, alkali, and control. For the acid group, membranes were soaked in a 1:1 (
w
/
w
) solution of 66.3% H
2
SO
4
(
w
/
w
) (NACALAI TESQUE, Inc., Kyoto, Japan) and 10.6% HCl (
w
/
w
) (NACALAI TESQUE, Inc., Kyoto, Japan) at 60 °C for 60 min, with gentle shaking. The volume of the solution was 20 mL/membrane. After incubation, the membranes were washed with distilled water and dried in a 37 °C oven. For the alkali group, membranes were soaked in 5 N NaOH solution (NACALAI TESQUE, Inc., Kyoto, Japan) and incubated as above for 24 h, then washed and dried. For the control group, membranes were washed with distilled water and dried in a 37 °C oven.
2.2. Scanning Electron Microscopy (SEM)
For surface structure assessment, a square sample from each group was attached to a sample stage with carbonate adhesive tape and imaged by scanning electron microscope (SEM, JSM-6010PLUS/LA, Nihon Denshi Oyo Co., Ltd. Tokyo, Japan) at an accelerating voltage of 15 kV, working distance of 9–10 mm, and spot size of 40 and 60. Samples were evaluated by measuring the central thickness of the samples.
2.3. Thickness
Each membrane thickness was measured by digital micro meter instrument (MDH-25M, Mitutoyo Co., Ltd. Kanagawa, Japan) (
Figure 2
). The value of thickness was compared before and after treatment.
2.4. Tensile Strength
Mechanical strength evaluation used a rectangular membrane from each group. Both the top and bottom sides of each membrane were fixed to the testing machine (AUTO GRAPH AGS-X, Shimadzu), and the samples were pulled at a constant speed (5 mm/min) until their breaking points were reached. The maximum tensile stress value was used to represent the mechanical strength of the membrane.
2.5. Evaluation of Wettability
First, each square membrane sample was divided into four 10 μm squares, which were fixed to the stage. Then, a 10-μL drop of pure water was gently applied to each sample. Ten seconds after the water and the membrane touched, an image was taken with an S-image device. Then, the contact angles of the dropped water were measured using ImageJ (National Institutes of Health, Bethesda, Maryland, USA). These were obtained using a half-angle method, by measuring the angle of the straight line connecting the end point and the vertex of the droplet, and then doubling this value.
2.6. Statistical Analyses
All data were analyzed at the 5% significance level using one-way analysis of variance followed by Tukey's test, and are expressed as the mean ± standard deviation (SD).
4. Discussion
To regenerate large sections of bone, the GBR membrane needs to be malleable enough to easily conform to bone morphology, and have adequate mechanical strength to maintain its form until the new bone has formed. There is a correlation between mechanical strength and thickness—thicker membranes have higher strength [
23
]. However, thick membranes are less flexible and formable, creating sharp edges when cutting, trimming, and bending them along the defect site. Thick membranes show less tissue adhesion, which permits penetration of soft tissue from the gap, preventing new bone formation. Thin membranes follow the bone morphology and do not create air pockets, which is advantageous for bone formation. However, with decreased mechanical strength, membranes can collapse into the defect cavity, decreasing the bone formation space and consequently the volume of new bone formed. There are reports that membranes of 100 to 200 μm thickness are suitable for healing large-scale bone defects [
24
]. However, the lack of flexibility of membranes of this thickness gives them poor operability. An advantage of titanium membranes is that they maintain their mechanical strength even when thin. A thickness of 20 μm is most suitable for GBR treatment, and accordingly, commercially available and clinically applied titanium membranes are 20 μm thick. Our experiments were conducted with membranes of this thickness as well. As mentioned above in the methods section, titanium membranes were manufactured through the extension of a titanium metal mass by applying pressure through the gap between two rollers. Consequently, the surface topography of non-treated membranes had a roughened structure. In the study, we used acid and alkali treatments for surface modification. Titanium exerts corrosion resistance by forming an oxide layer on the surface; however, it is corroded by non-oxidizing acid solutions such as H
2
SO
4
and HCl [
25
]. Van Gestel et al. [
26
] reported that corrosion is mainly due to dissolution of the membrane material—especially in acid solutions with a pH < 3. This corrosion is considered to change the surface structure and thickness of the titanium membrane. The surface of the acid treatment showed a regularly rough surface with micro scale pore structures. Although a rough surface was created on the titanium surface, the irregular rough surface and grooves which were observed in the non-treated sample were not detected. This is attributed to the fact that corrosion by strong acid slightly changed and smoothed the topography rather than providing the irregularly roughed non-treatment membrane. The effect of acid treatment was also reflected in membrane thickness. Thickness and mechanical tensile strength of acid treatment were significantly decreased compared with non-treated membrane and alkali membrane. Also, the SEM image appeared different surface topography, according to the results of thickness and tensile strength measurements.
Several studies have reported that acid treatment modifies the wettability of titanium surfaces [
12
,
22
]. In wettability test, the contact angle of acid treatment was significantly higher than non-treated and alkali treatment. Currently, we have no clear explanation for this discrepancy. However, these past studies were performed using finely polished, smoothly surfaced titanium disks as control samples. In our study, the control membrane had an irregular rough surface caused by the manufacturing process. Thus, acid treatment seems to have altered the titanium membrane from a rough surface to a smooth surface, and the acid membrane showed a high contact angle. These results indicated that acid treatment slightly changed the rough surface and reduced the mechanical strength of the titanium membrane.
Conversely, the surface of alkali-treated membranes created uniformly nanoscale pore structures on the rough surface, and this structure was consistent with that of previous reports [
21
,
27
]. The alkali-treated membranes displayed enhanced hydrophilicity, which may be attributed to the nanoscale pore structure. Increased hydrophilicity promotes cell adhesion and nutrient supply, and is advantageous for bone regeneration [
28
]. Previous studies have compared alkali-and acid-treated implants, and found that implants treated with alkali displayed enhanced mineralization of the implant surface [
29
]. These results indicate that alkali treatment produces a hydrophilic topography with a nanoscale pore network. Additionally, titanium exerts corrosion resistance for alkali solution because of an oxygen layer on the surface. For these reasons, the influence of alkali treatment on the strength and thickness of titanium membranes was only slight.
5. Conclusions
The acid treatment reduced the thickness and mechanical strength of the titanium membrane, and did not modify the surface to hydrophilic. On the other hand, the alkali treatment did not affect the thickness and mechanical strength, and improved the surface to super hydrophilic. Our results suggest that alkali treatment is an appropriate titanium membrane surface modification method for the development of bioactive titanium membranes.
Author Contributions
Conceived and designed experiments: Kazuya Doi, Reiko Kobatake. Performed experiments: Kazuya Doi, Reiko Kobatake, Yoshifumi Oki. Analyzed the data: Hanako Umehara, Hiromichi Kawano. Contributed reagents/materials/analysis tools: Kazuya Doi, Reiko Kobatake, Takayasu Kubo. Wrote the paper: Kazuya Doi, Reiko Kobatake, Kazuhiro Tsuga.
Conflicts of Interest
The authors declare no conflict of interest.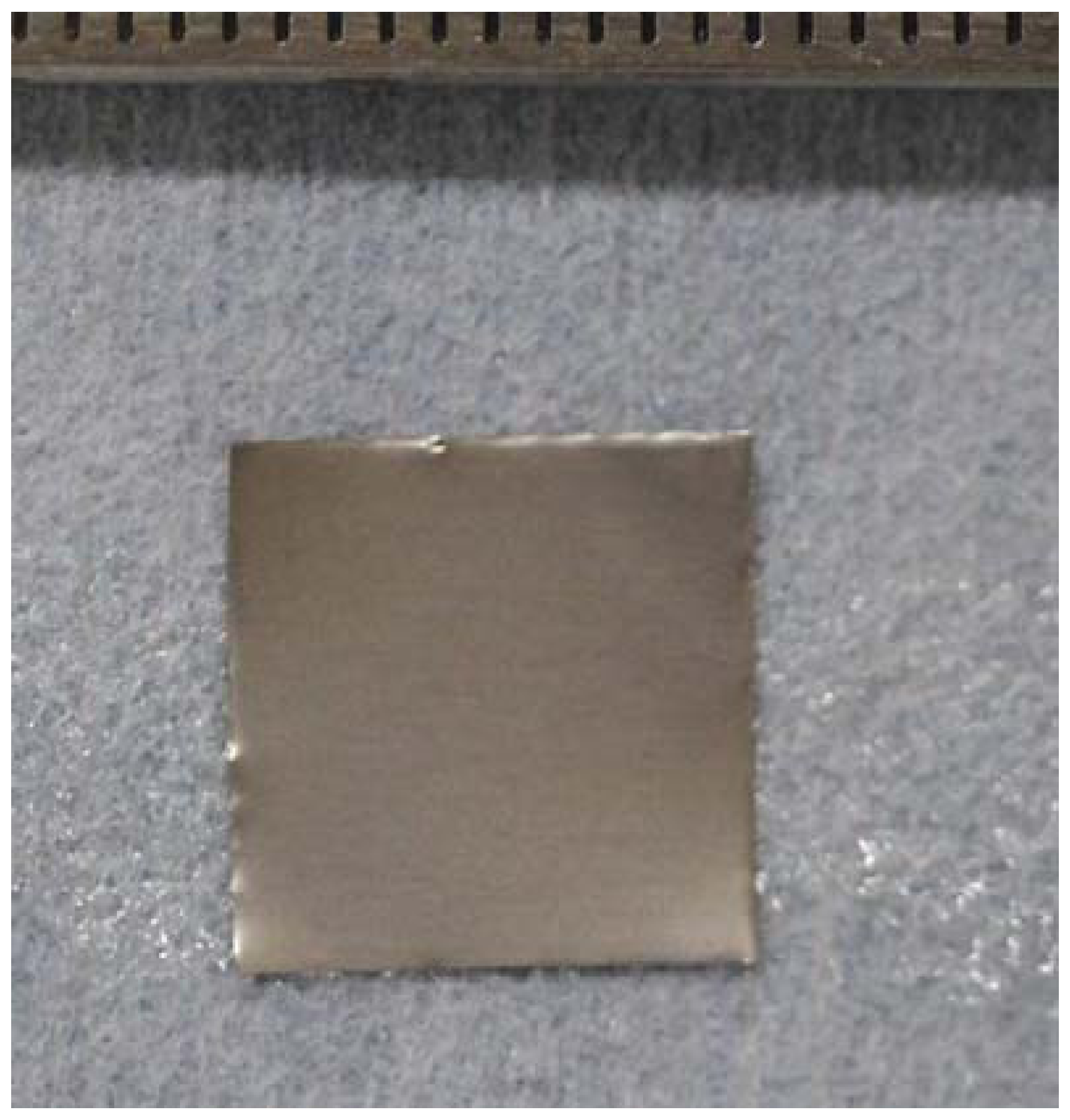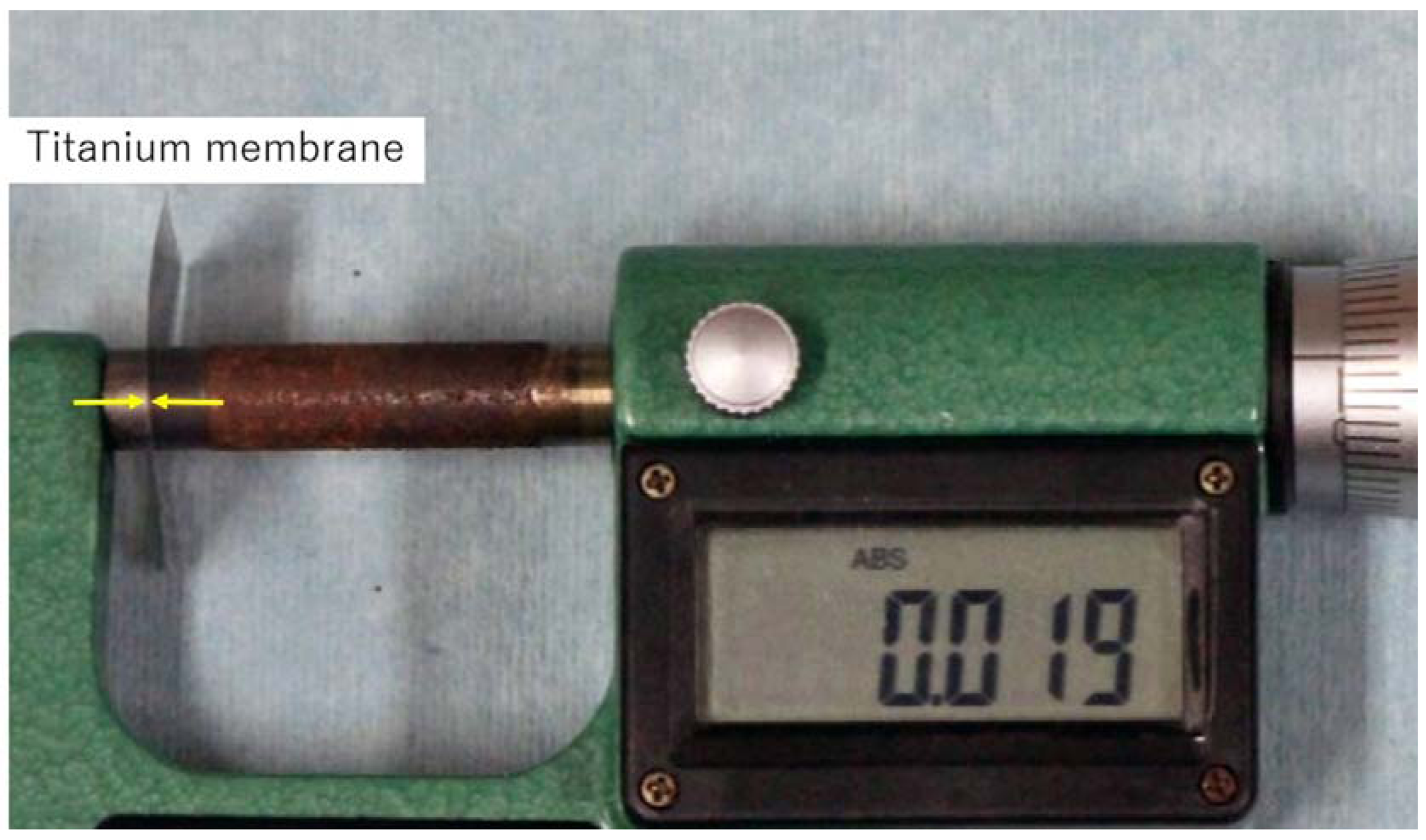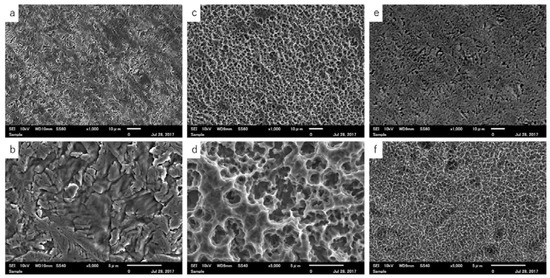 Figure 3. SEM images of each sample. Control group: (a) 1000× displayed a non-uniform, rough surface; (b) 5000× had grooves and indentations, but no pore structures. Acid group: (c) 1000× displayed a uniform, rough surface; (d) 5000× contained microscale pore structures. Alkali group: (e) 1000× had a similar structure to the control group, with grooves and indentations; (f) 5000× had nanoscale pore structures.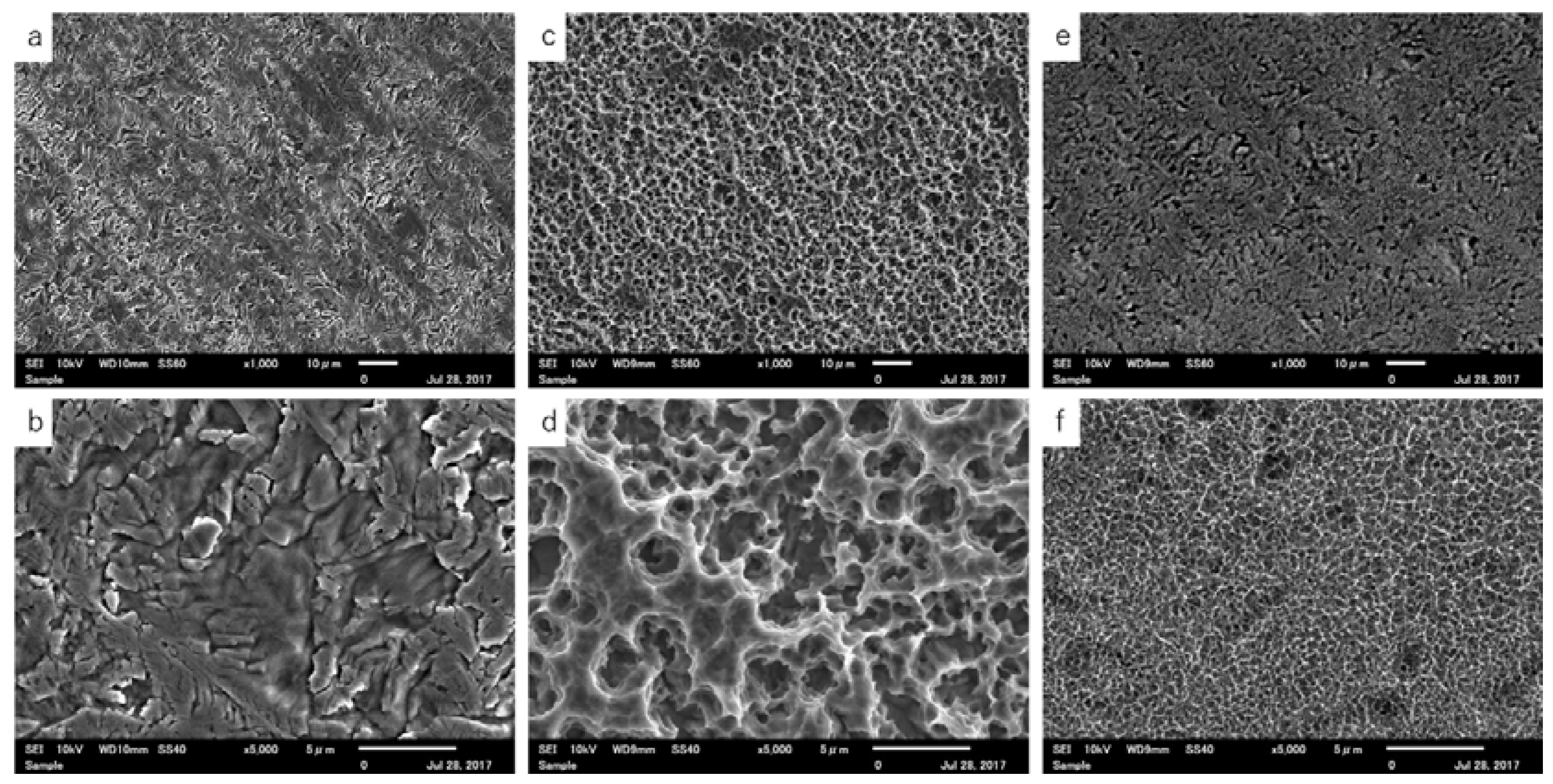 Figure 4. The shapes of the water drops applied to each sample. (a) Control; (b) Acid; (c) Alkali group.

| Surface Treatment | Thickness (μm) (SD) |
| --- | --- |
| control (non-treated) | 20.0 ± 0.75 |
| acid | 15.1 ± 0.64 * |
| alkali | 19.7 ± 0.46 |
SD: standard deviation; *

p

< 0.001 vs. other groups.
| Surface Treatment | Maximum Tensile Strength (N) (SD) |
| --- | --- |
| control (non-treated) | 309.5 ± 29.3 |
| acid | 158.4 ± 20.2 * |
| alkali | 295.0 ± 48.3 |
SD: standard deviation; *

p

< 0.001 vs. other groups.
| Surface Treatment | Contact Angle (°) (SD) |
| --- | --- |
| control (non-treated) | 71.1 ± 1.63 * |
| acid | 103.1 ± 3.81 |
| alkali | not determined |
SD: standard deviation; * significant differences in each group respectively;

p

< 0.001.

© 2017 by the authors. Licensee MDPI, Basel, Switzerland. This article is an open access article distributed under the terms and conditions of the Creative Commons Attribution (CC BY) license (http://creativecommons.org/licenses/by/4.0/).