High Electrocatalytic Performance of [email protected] Modified Glassy Carbon Electrode towards Methanol Oxidation in Alkaline Medium
1
Materials Science and Technology Program, College of Arts and Science, Qatar University, Doha 2713, Qatar
2
Chemistry Department, Faculty of Science, Cairo University, Giza 12613, Egypt
3
Center for Advanced Materials, Qatar University, Doha 2713, Qatar
*
Authors to whom correspondence should be addressed.
Academic Editor: Jiazhao Wang
Received: 4 November 2016 / Revised: 26 December 2016 / Accepted: 4 January 2017 / Published: 10 January 2017
Abstract
A novel non-precious multiwalled carbon nanotubes (CNTs)—supported metal oxide electrocatalyst was developed for methanol electrooxidation in alkaline medium. The catalyst was fabricated by simultaneous electrodeposition of copper-cobalt-nickel ternary nanostructures (CuCoNi) on a glassy carbon electrode (GCE) modified with CNTs. The proposed electrode was characterized using X-ray diffraction (XRD), energy dispersive X-ray (EDX), and scanning electron microscopy (SEM). The electrochemical behavior and the electrocatalytic performance of the suggested electrode towards the oxidation of methanol were evaluated by cyclic voltammetry (CV), linear sweep voltammetry (LSV), and chronoamperometry (CA) in alkaline medium. Several parameters were investigated, e.g., deposition time, potential scan rate, etc. Compared to Cu, Co, or Ni mono electrocatalysts, the electrode based on ternary-metals exhibited superior electrocatalytic activity and stability towards methanol electrooxidation. For instance,
[email protected]
/GCE has shown at least 2.5 times electrocatalytic activity and stability compared to the mono eletrocatalysts. Moreover, the present study found that the optimized loading level is 1500 s of simultaneous electrodeposition. At this loading level, it was found that the relation between the
I
p
/ν
1/2
function and scan rate gives the characteristic features of a catalytic process. The enhanced activity and stability of
[email protected]
/GCE was attributed to (i) a synergism between three metal oxides coexisting in the same structure; (ii) the presence of CNTs as a support for the metal oxides, that offers high surface area for the deposited tertiary alloy and suppresses the aggregation and sintering of the metals oxide with time; as well as (iii) the increase of the conductivity of the deposited semiconducting metal oxides.
View Full-Text
►

▼

Figures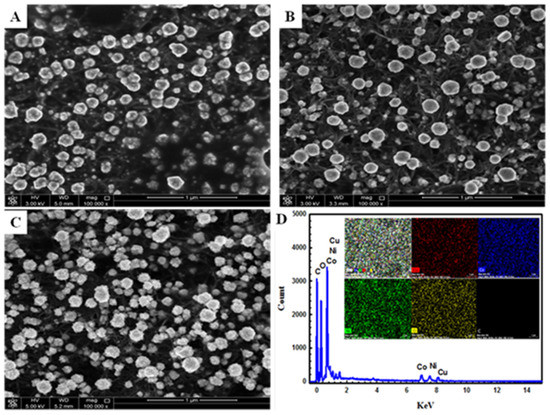 Figure 1
This is an open access article distributed under the
Creative Commons Attribution License
which permits unrestricted use, distribution, and reproduction in any medium, provided the original work is properly cited (CC BY 4.0).

Share & Cite This Article
MDPI and ACS Style
Hamza, A.A.; El-Refaei, S.M.; Elzatahry, A.A.; Abdullah, A.M. High Electrocatalytic Performance of [email protected] Modified Glassy Carbon Electrode towards Methanol Oxidation in Alkaline Medium. Appl. Sci. 2017, 7, 64.
Note that from the first issue of 2016, MDPI journals use article numbers instead of page numbers. See further details here.
Related Articles
Comments
[Return to top]