Open Access This article is
freely available
re-usable
Review
Origins and Impact of Psychological Traits in Polycystic Ovary Syndrome
1
Department of Physiology and Pharmacology, Karolinska Institutet, 171 77 Stockholm, Sweden
2
Centre for Translational Microbiome Research (CTMR), Department of Microbiology, Tumor and Cell biology, Karolinska Institutet, 171 77 Stockholm Sweden
3
Department of Physiology, Sahlgrenska Academy, University of Gothenburg, 405 30 Gothenburg, Sweden
4
School of Health and Education, University of Skövde, 541 28 Skövde, Sweden
*
Author to whom correspondence should be addressed.
Received: 3 June 2019 / Accepted: 31 July 2019 / Published: 5 August 2019
Abstract
:
Women with polycystic ovary syndrome (PCOS) exhibit compromised psychiatric health. Independent of obesity, women with PCOS are more susceptible to have anxiety and depression diagnoses and other neuropsychiatric disorders. During pregnancy women with PCOS display high circulating androgen levels that may cause prenatal androgen exposure affecting the growing fetus and increasing the risk of mood disorders in offspring. Increasing evidence supports a non-genetic, maternal contribution to the development of PCOS and anxiety disorders in the next generation. Prenatal androgenized rodent models reflecting the anxiety-like phenotype of PCOS in the offspring, found evidence for the altered placenta and androgen receptor function in the amygdala, together with changes in the expression of genes associated with emotional regulation and steroid receptors in the amygdala and hippocampus. These findings defined a previously unknown mechanism that may be critical in understanding how maternal androgen excess can increase the risk of developing anxiety disorders in daughters and partly in sons of PCOS mothers. Maternal obesity is another common feature of PCOS causing an unfavorable intrauterine environment which may contribute to psychiatric problems in the offspring. Whether environmental factors such as prenatal androgen exposure and obesity increase the offspring's susceptibility to develop psychiatric ill-health will be discussed.
Keywords:
PCOS; developmental origin; prenatal androgen exposure; behavior; anxiety; obesity
1. Introduction
Polycystic Ovary Syndrome (PCOS) is a heterogeneous endocrine and metabolic disorder characterized by excessive androgen secretion and abnormal insulin action and affects up to 17% of women worldwide [
1
]. Women with PCOS are at increased risk of developing symptoms of anxiety and depression and in fact over 60% of women with PCOS are diagnosed with at least one psychiatric disorder [
2
,
3
]. Despite the detrimental impact on women's health, the mechanisms underlying the development of PCOS and anxiety and depression disorders are poorly understood [
4
]. Although a genetic basis for PCOS has been suggested, the intrauterine milieu might also affect the fetal neurodevelopment and consequently the psychiatric function of a child born to a PCOS mother in a manner that is independent of genetic inheritance or sex. Thus it has been proposed that PCOS and neuropsychiatric disorders originate during fetal development and that this might be, in part, a result of maternal androgen excess causing placental dysfunction and prenatal androgen (PNA) exposure [
5
]. However, the molecular carriers remain unidentified. This mini-review will discuss the potential impact of PNA exposure and maternal obesity on the development of psychiatric dysfunction and possible mechanisms of action in women with PCOS and in their offspring. The main focus will be on female offspring, but when possible male offspring of PNA mice will also be discussed as it has been shown that sons of women with PCOS are at increased risk for metabolic disturbances [
6
].
2. Anxiety and Depression in Women with Polycystic Ovary Syndrome
The most recent systematic review and meta-analysis shows that women with PCOS have over five times the odds of moderate and severe symptoms of anxiety and over three times the odds of symptoms of depression [
2
,
7
]. When controlling for confounding factors such as obesity, the increased risk remains, even if those with symptoms of depression had higher body mass index (BMI) and homeostatic model assessment for insulin resistance (HOMA-IR) [
2
].
In the recommendations from the international evidence-based guideline for PCOS and in the Androgen Excess and PCOS Society position statement it is stated that health care professionals should be aware of the high prevalence of anxiety and depressive symptoms and that there is strong evidence that these symptoms should be routinely screened in all adolescents and adult women with PCOS at diagnosis [
3
,
8
].
We performed a new screening of the literature with the search strategy adapted from the Cooney et al. publication [
2
] and found 31 additional publications related to anxiety and depression in women with PCOS [
9
,
10
,
11
,
12
,
13
,
14
,
15
,
16
,
17
,
18
,
19
,
20
,
21
,
22
,
23
,
24
,
25
,
26
,
27
,
28
,
29
,
30
,
31
,
32
,
33
,
34
,
35
,
36
,
37
,
38
,
39
,
40
].
3. Genetics in Polycystic Ovary Syndrome
Even though PCOS is the most common endocrine and metabolic disorder among women in reproductive age, and is closely linked to anxiety and depressive disorders, the underlying cause of the disorder and related psychiatric ill-health is not known. It is well known that PCOS is a highly familial and heritable disorder and that hyperandrogenism is the most heritable trait in women with PCOS [
41
]. A recent meta-analysis of genome-wide association studies (GWAS) identified 19 PCOS associated loci and demonstrated that the genetic architecture does not vary across diagnostic criteria used for PCOS [
42
]. The GWAS meta-analyses also provide the first genetic evidence for a male phenotype for PCOS as well as a causal link to depression. However, the links between PCOS and psychiatric disorders are complicated by BMI and other metabolic variables as these pathways are causal in both PCOS and depression. Furthermore, the proportion of heritability accounted for by the PCOS loci identified so far by GWAS studies is less than 10% [
43
]. Therefore, other factors increasing susceptibility to psychological traits in this complex disorder remain to be elucidated, including environmental and epigenetic mechanisms.
4. Epigenetics in Polycystic Ovary Syndrome
There are limited human studies that have profiled the epigenome in women with PCOS, although with the new emerging techniques being developed, new data is being generated constantly. One of the first implications of epigenetic involvement in development of PCOS came from studies performed in the PNA exposed rhesus monkey model which found epigenetic changes in adipose tissue of female offspring that could explain the development of a PCOS-like phenotype [
44
,
45
]. We and others have later identified specific DNA methylation pathways in ovarian and adipose tissue and in skeletal muscle in women with PCOS that are relevant for development of the disease [
44
,
46
,
47
,
48
]. However, the latter are cross-sectional observations and do not guide us to whether observed epigenetic changes are due to an altered in utero environment or related to genetic factors. Associations between epigenetic changes and mental complications in PCOS have not yet been explored.
5. In Utero Androgen Exposure and Anxiety-Like Behavior in Polycystic Ovary Syndrome Offspring
Taken together, emerging evidence suggests that PCOS originates, at least in part, during fetal life and that elevated maternal androgens play a pivotal role and cause placental dysfunction, placing the growing fetus at an increased risk for life-long psychiatric disorders. Whether PNA exposure increases offspring susceptibility to develop anxiety-like behavior in subsequent generations remains to be investigated.
Funding
This work was funded by the Swedish Medical Research Council (Project No. 2018-02435); the Novo Nordisk Foundation (NNF18OC0033992); the Strategic Research Program (SRP) in Diabetes at Karolinska Institutet, Sweden.
Acknowledgments
We thank Carl Gornitzki, librarian at the Karolinska Institutet University Library, Sweden, for developing the search strategy and performing the search. The search identified 33 additional publications related to anxiety and depression in women with PCOS [
9
,
10
,
11
,
12
,
13
,
14
,
15
,
16
,
17
,
18
,
19
,
20
,
21
,
22
,
23
,
24
,
25
,
26
,
27
,
28
,
29
,
30
,
31
,
32
,
33
,
34
,
35
,
36
,
37
,
38
,
39
,
40
].
Conflicts of Interest
The authors declare no conflict of interest.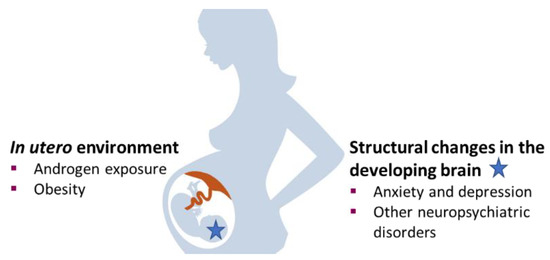 Figure 1. Hypothetical model of prenatal androgen exposure and obesity and the development of psychiatric disorder in the offspring.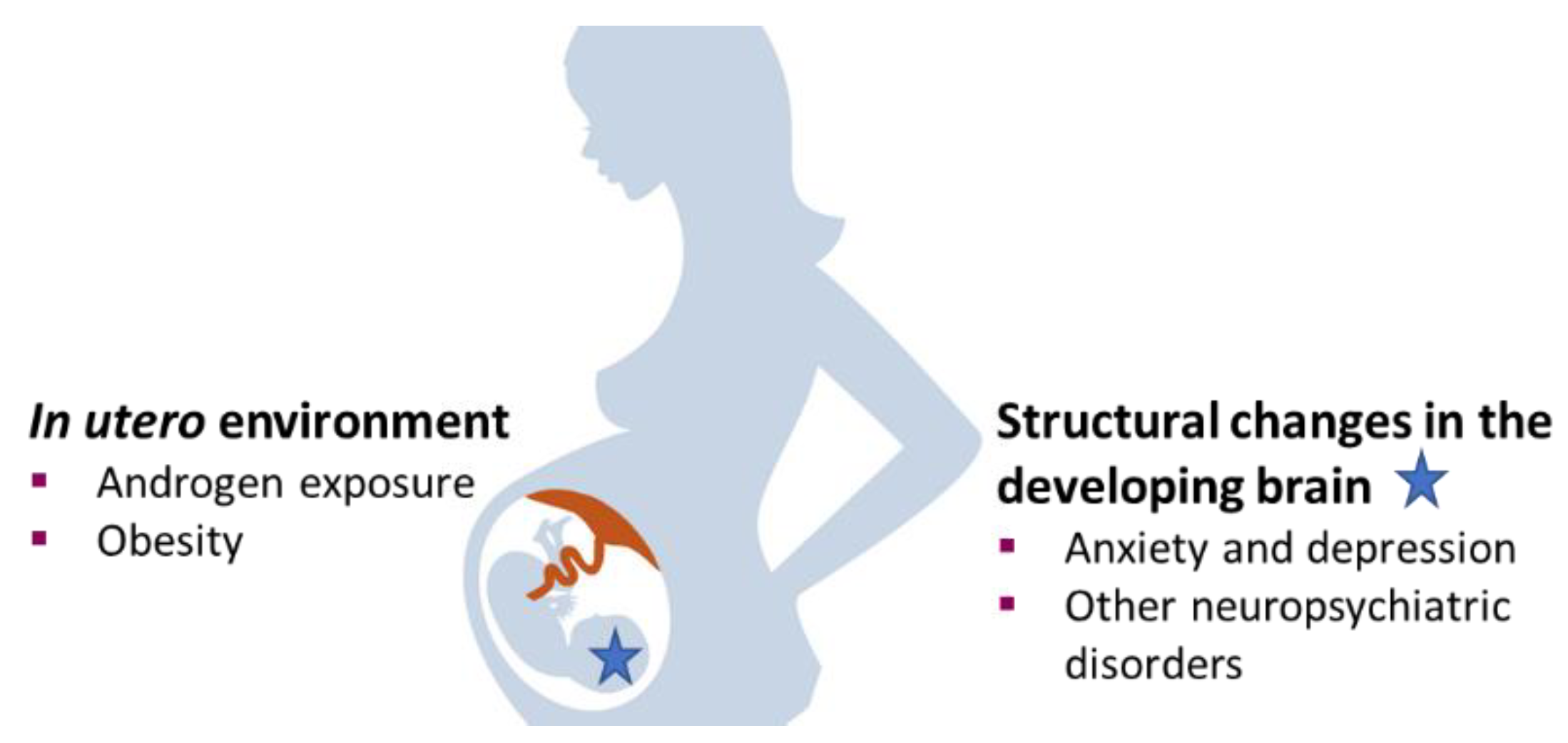 © 2019 by the authors. Licensee MDPI, Basel, Switzerland. This article is an open access article distributed under the terms and conditions of the Creative Commons Attribution (CC BY) license (http://creativecommons.org/licenses/by/4.0/).