Open Access This article is
freely available
re-usable
Review
The Gut Microbiome in Multiple Sclerosis: A Potential Therapeutic Avenue
Department of Biology, Eastern Washington University, 258 Science Building, Cheney, WA 99004, USA
*
Author to whom correspondence should be addressed.
Received: 14 June 2018 / Accepted: 22 August 2018 / Published: 24 August 2018
Abstract
:
Recently, there has been a substantial increase in the number of studies focused upon connecting the gut microbiome with cases of central nervous system (CNS) autoimmunity. Multiple sclerosis (MS) is a neurodegenerative autoimmune disorder of the CNS. Recent experimental and clinical evidence suggests the presence of microbial imbalances in the gut of MS sufferers. The gut microbiome is defined as the summation of all the microbial entities as well as their genes, proteins, and metabolic products in a given space and time. Studies show the MS gut microbiome as having general alterations in specific taxa, some associated with the promotion of inflammatory cytokines and overall inflammation. In conjunction with these findings, experimental models of the disease have reported that T regulatory (Treg) cells have deficits in their function as a result of the aberrant gut microbiota composition. The findings suggest that the interactions between the host and the microbiota are reciprocal, although more extensive work is required to confirm this. Moreover, evidence indicates that changes in microbiota composition may result in imbalances that could result in disease, with the gut as a potential novel therapeutic avenue. By understanding the biological effects of aberrant gut microbiome composition, it is possible to contemplate current therapeutic options and their efficacy. Ultimately, more research is necessary in this field, but targeting the gut microbiota may lead to the development of novel therapeutic strategies.
Keywords:
multiple sclerosis; microbiome; therapeutics; experimental autoimmune encephalomyelitis (EAE); animal models
Funding
This research received no external funding.
Acknowledgments
We thank the staff and faculty of the Department of Biology at Eastern Washington University (EWU) for their support during the completion of this work. We also thank EWU's Graduate School for their support.
Conflicts of Interest
Authors have nothing to disclose.
Figure 1. The bidirectional nature of the gut/brain axis, and the potential of the gut microbiome as a therapeutic route. (A) Proposed model of the gut microbiota as an amplifier of immune/inflammatory response. The exact genetic and environmental impacts on gut microbial composition is yet to be fully understood. Furthermore, the cellular and or soluble mechanisms of the reciprocal interactions between the microbiome and the host are still needed to be elucidated. Recent findings show significant alterations in microbial taxa of the gut microbiome and potential associations with pro-inflammatory pathways that can lead to or amplify disease. An effective therapeutic intervention targeting the microbiota might have to counteract dysbiosis, leaky gut that promotes microbial translocation and subsequent inflammation, thus modulating disease pathology. (B) Animal models suggest that autoimmune diseases including MS could be associated with gut dysbiosis, increased intestinal permeability, microbial translocation, and local and systemic inflammation. Inflammatory mediators, such as TNF-α, are known to reduce the expression of tight junction proteins thereby increasing the intestinal barrier permeability. (C) Experimental evidence obtained in animal models also suggest that interventions shifting the immune responses towards immunoregulatory pathways based on regulatory cells producing anti-inflammatory cytokines such as IL-10, TGF-β or IL-35 can restore immune homeostasis and protect against CNS inflammatory demyelination. Reduced inflammatory mediators as well as the direct production of metabolites such as SCFA by the balanced microbiome would facilitate increasing the compromised epithelial integrity. CSFA: short-chain fatty acids; CNS: central nervous system; MS: multiple sclerosis; EAE: experimental autoimmune encephalomyelitis; CD: cluster of differentiation; Th: T helper; IL: interleukin; TNF: tumor necrosis factor; TGF: transforming growth factor.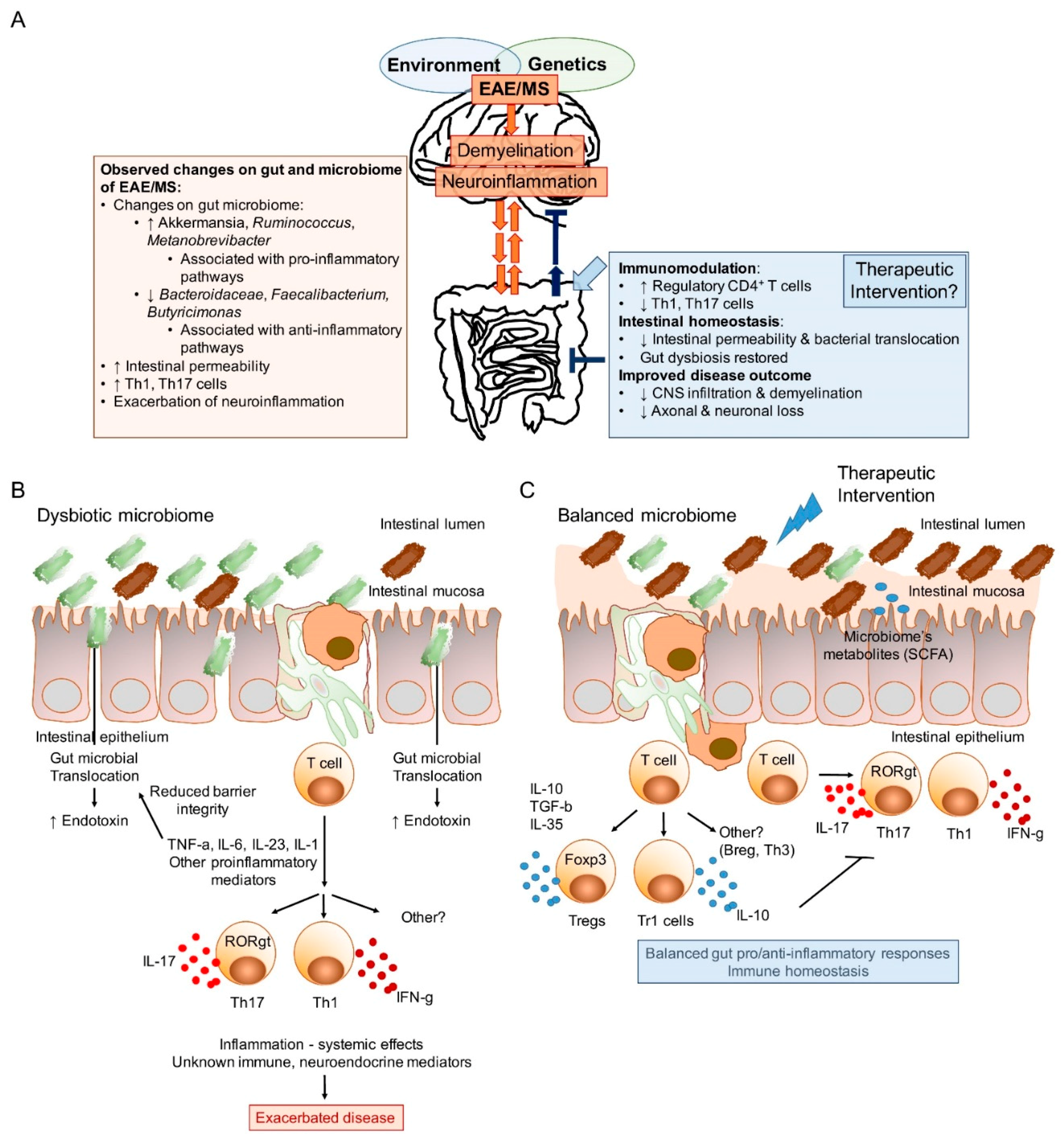 Table 1. Experimental interventions of the gut microbiota that modulate CNS inflammatory demyelination.
Microbial Intervention
Model
Experimental Outcome
Proposed Mechanism of Action
Refs
Colonization studies in germ-free (GF) animals or mice treated with antibiotics
Monocolonization of GF with segmented filamentous bacteria (SFB)
Mouse, EAE
Disease susceptibility restored
GF mice: Reduced peripheral Th17 cell and increased Treg frequencies and anti-inflammatory cytokines. Reconstitution with SFB-induced Th17 cells.
[51]
Monocolonization of GF with specific pathogen-free microbiota
Mouse (MOG-specific TCR Tg), EAE
Disease susceptibility restored
GF mice: Deficit in Th17 cell in lamina propria and Peyer's patches. Lack of autoimmune T cells and B cell recruitment and autoantibody production reduced. SPF microbiota restores susceptibility
[50]
Antibiotics + PSA-producing

Bacteroides fragilis

Mouse, EAE
Disease severity restored (PSA-production dependent)
Antibiotics treated: disease reduction [38,39]. PSA-deficient, but not PSA-producing

B.

fragilis

restores EAE susceptibility by promoting IL-17-producing and interferon-gamma proinflammatory cells
[113]
Colonization of GF mice with gut microbiota of MS patients
Mouse, EAE
Restores disease susceptibility
MS gut microbiota reduces proportions and function of IL-10+ Tregs
[70]
Colonization of GF mice with gut microbiota of MS patients
Mouse (MOG-specific TCR Tg), EAE
Restores disease susceptibility
MS gut microbiota promotes Treg dysfunction and reduces immunoregulation by IL-10
[69]
Colonization studies in conventionally housed animals
Colonization with

Lactococcus

spp.
Mouse, EAE
Reduced severity
Induction of IL-10-producing Tregs
[108]
Colonization with

Bifidobacterium animalis

Lewis rats, EAE
Reduces EAE severity
Proposed changes in Th1/Th2 balances
[107]
Colonization with

Pediococcus acidilactici

R037
Mouse, EAE
Reduces EAE severity
Induction of IL-10-producing Tr1 cells
[110]
Colonization with

Lactococcus lactis

Hsp65
Mouse, EAE
Reduces the severity of EAE
Induction of Tregs cells and LAP+ CD4+ Tregs
[109]
Colonization with

Prevotella histicola

HLA class II Tg mouse, EAE
Reduces the severity of EAE
Induction of Tregs, reduction of Th1 and Th17 cells function
[111]
Treatment with purified symbiont factor isolated from gut microbiota
Oral treatment with purified PSA produced by

B. fragilis

Mouse, EAE
Reduces the severity of EAE
Prophylactic and therapeutic protection by IL-10-producing CD39+ and Tregs
[113,114,115]
GF: germ-free; Tg: transgenic. MOG-specific TCR Tg: transgenic myelin oligodendrocyte glycoprotein (MOG)-specific T cell receptor. IL: interleukin; HLA: human leukocyte antigen. PSA: polysaccharide A.

© 2018 by the authors. Licensee MDPI, Basel, Switzerland. This article is an open access article distributed under the terms and conditions of the Creative Commons Attribution (CC BY) license (http://creativecommons.org/licenses/by/4.0/).