Open Access This article is
freely available
re-usable
Review
The Role of Gut Microbiota in Obesity and Type 2 and Type 1 Diabetes Mellitus: New Insights into "Old" Diseases
1
Division of Endocrinology and Metabolism, Thuringia Clinic Saalfeld "Georgius Agricola", Department of Internal Medicine II, Teaching Hospital of the University of Jena, Rainweg 68, D-07318 Saalfeld/Saale, Germany
2
Division of Gastroenterology, Thuringia Clinic Saalfeld "Georgius Agricola", Department of Internal Medicine II, Teaching Hospital of the University of Jena, Rainweg 68, D-07318 Saalfeld/Saale, Germany
*
Author to whom correspondence should be addressed.
Received: 12 March 2018 / Accepted: 10 April 2018 / Published: 17 April 2018
Abstract
:
The investigation of the human microbiome is the most rapidly expanding field in biomedicine. Early studies were undertaken to better understand the role of microbiota in carbohydrate digestion and utilization. These processes include polysaccharide degradation, glycan transport, glycolysis, and short-chain fatty acid production. Recent research has demonstrated that the intricate axis between gut microbiota and the host metabolism is much more complex. Gut microbiota—depending on their composition—have disease-promoting effects but can also possess protective properties. This review focuses on disorders of metabolic syndrome, with special regard to obesity as a prequel to type 2 diabetes, type 2 diabetes itself, and type 1 diabetes. In all these conditions, differences in the composition of the gut microbiota in comparison to healthy people have been reported. Mechanisms of the interaction between microbiota and host that have been characterized thus far include an increase in energy harvest, modulation of free fatty acids—especially butyrate—of bile acids, lipopolysaccharides, gamma-aminobutyric acid (GABA), an impact on toll-like receptors, the endocannabinoid system and "metabolic endotoxinemia" as well as "metabolic infection." This review will also address the influence of already established therapies for metabolic syndrome and diabetes on the microbiota and the present state of attempts to alter the gut microbiota as a therapeutic strategy.
Keywords:
gut microbiome; obesity; metabolic syndrome; type 2 diabetes mellitus; type 1 diabetes mellitus; butyrate; probiotics; lipopolysaccharides; faecal microbiota transfer; metformin
Acknowledgments
The authors thank R. Harsch (BA Translation) for language editing and A. Ortloff and R. Harsch for the help with the presentation.
Conflicts of Interest
The authors declare that there is no conflict of interest regarding the publication of this paper.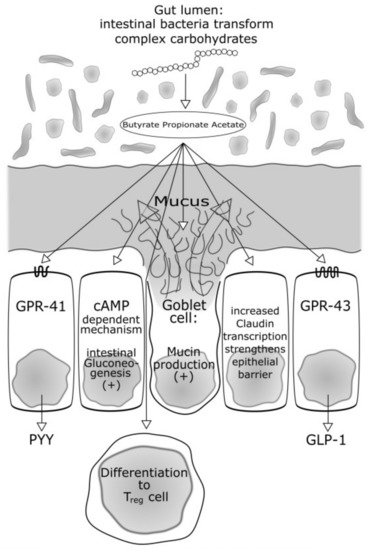 Figure 1.
Some of the yet studied effects of short-chain fatty acids (SCFAs): (1) Peptide YY is expressed after SCFA-dependent activation via the G-Protein coupled 41 receptor (GPR-41); (2) Glucagon-like Peptide 1 (GPR-1) is expressed after SCFA-dependent activation via the G-Protein coupled 43 receptor (GPR-43). Glucagon-like Peptide 1 (GLP-1) and PYY inhibit gut motility, reduce appetite and reduce energy harvest; (3) Propionate and Butyrate activate the intestinal gluconeogenesis (IGN) via complementary mechanisms. Butyrate activates an IGN gene expression through a cAMP-dependent mechanism. Propionate, itself a substrate of IGN, activates IGN gene expression via a gut-brain neural circuit involving the fatty acid receptor FFAR3; (4) SCFA promote the formation of peripheral regulatory T cells from naive CD 4+ Cells. It is speculated that SCFAs, especially Butyrate, are inhibitors of some histone deacetylases. An acetylation of Histone 3 promotes the expression of the T regulatory (reg) specific transcription factor Fox P3; (5) Intestinal mucin synthesis. In cultures of human goblet cell-like LS174T cells, Butyrate, as well as propionate, induce an increase in
MUC2
mRNA levels; (6) Protective effects of butyrate for the endothelial barrier. Butyrate decreases the molecular permeability of the intestinal barrier. Butyrate acts through increasing Claudin-1 transcription by facilitating the association between SP1 (transcription factor) and the Claudin-1 promoter.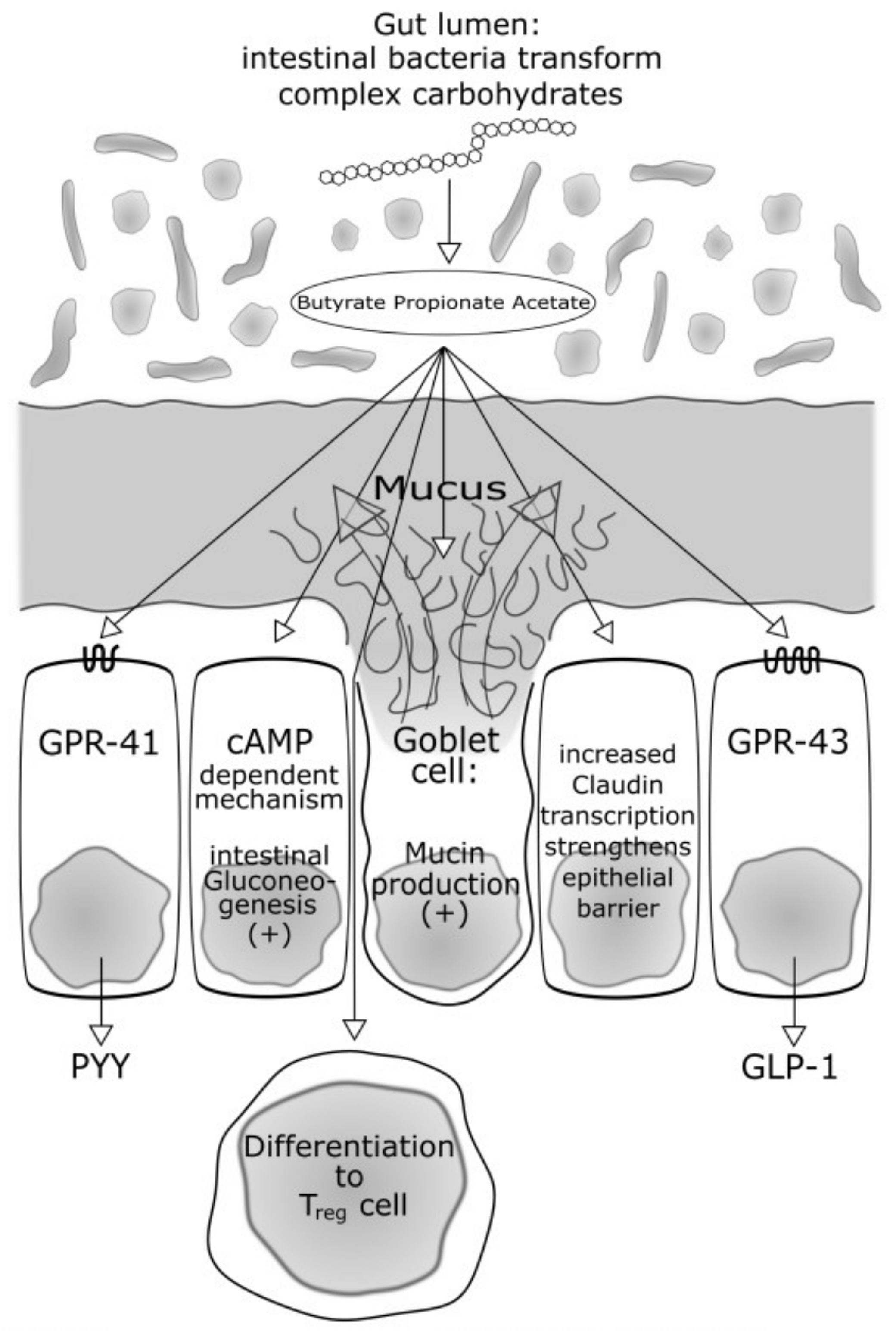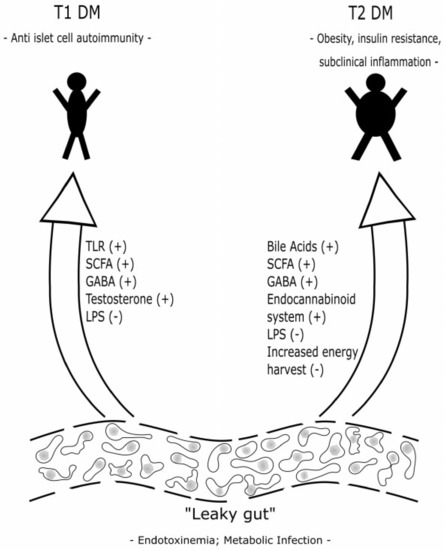 Figure 2. Putative factors in the interaction between gut microbiota and their impact on diabetes mellitus (+: positive; −: negative). Please note that most mechanisms have not been demonstrated in animal models yet. Abbreviations: SCFA: Short-chain fatty acids; GABA: Gamma-aminobutyric acid; TLR: Toll-like receptors; LPS: Lipopolysaccharides.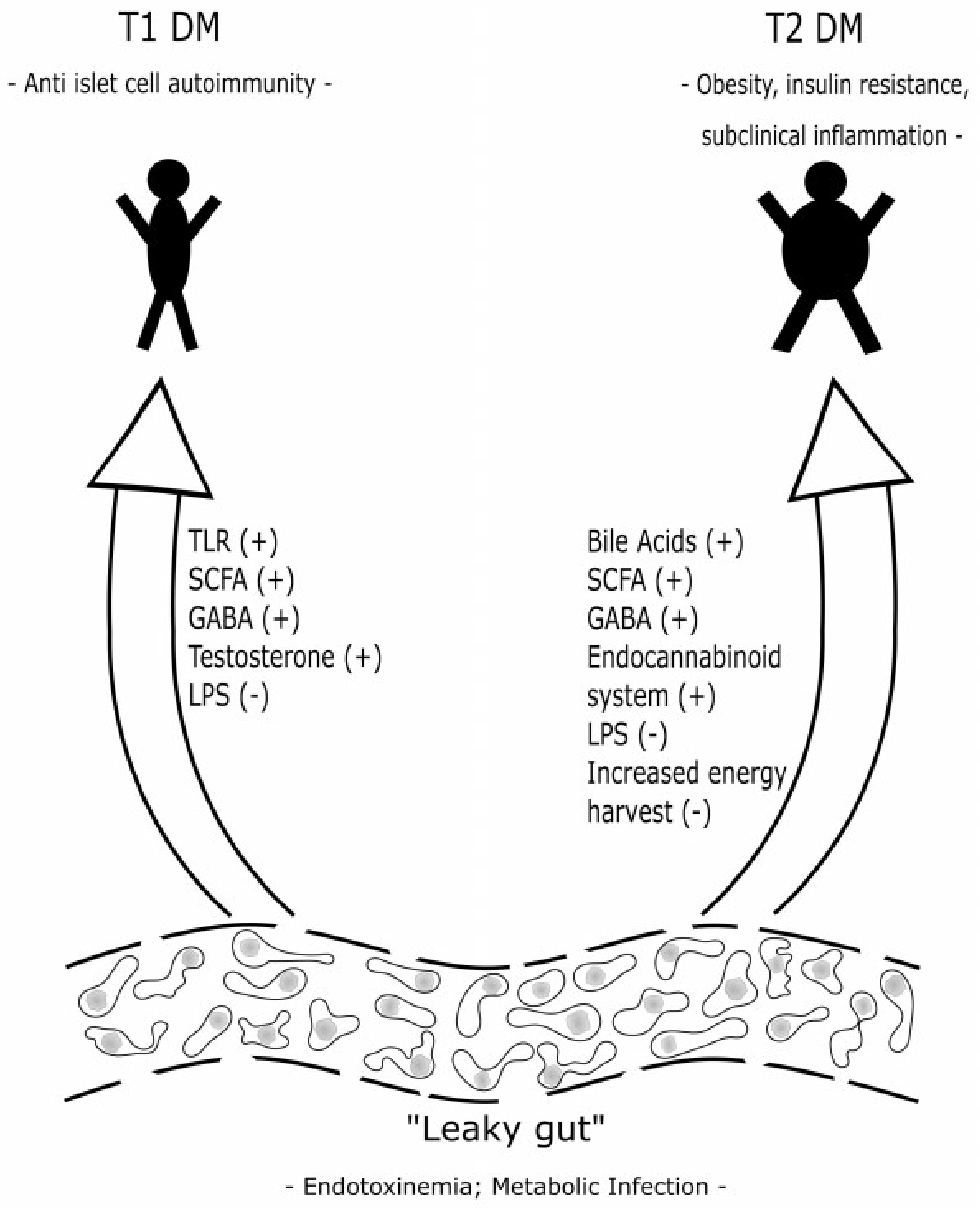 © 2018 by the authors. Licensee MDPI, Basel, Switzerland. This article is an open access article distributed under the terms and conditions of the Creative Commons Attribution (CC BY) license (http://creativecommons.org/licenses/by/4.0/).