Back to the Future: Using Long-Term Observational and Paleo-Proxy Reconstructions to Improve Model Projections of Antarctic Climate
1
British Antarctic Survey, Cambridge CB3 0ET, UK
2
Istituto Nazionale di Oceanografia e Geofisica Sperimentale, 34010 Sgonico (TS), Italy
3
Research School of Earth Sciences and ARC Centre of Excellence for Climate Extremes, Australian National University, Canberra ACT 2601, Australia
4
Antarctic Research Centre, Victoria University of Wellington, Wellington 6140, New Zealand
5
Climate Change Institute, University of Maine, Orono, ME 04469, USA
6
Applied Physics and Applied Mathematics Department, Columbia University, New York, NY 10027, USA
7
Centre national de la Recherche Scientifique, Univ. Grenoble Alpes, Institut des Géosciences de l'Environnement (IGE), 38000 Grenoble, France
8
School of Geography, Geology and the Environment, Keele University, Staffordshire ST5 5BG, UK
9
Canadian Centre for Climate Modelling and Analysis, Environment and Climate Change Canada, Victoria, BC V8W 2Y2, Canada
10
Marine Climate Risk Group, Department of Environmental Sciences, 12 Wallys Walk, Macquarie University, Sydney NSW 2109, Australia
11
Earth and Life Institute, Université Catholique de Louvain, 1348 Louvain-la-Neuve, Belgium
12
Antarctic Climate and Ecosystems Cooperative Research Centre (ACE CRC), University of Tasmania, Tasmania 7001, Australia
13
Department of Geography, University of Sheffield, Sheffield S10 2TN, UK
14
GNS Science, 30 Gracefield Rd, Gracefield 5010, PO Box 31-312, Lower Hutt 5040, New Zealand
15
Department of Environmental Sciences, Western Washington University, Bellingham, WA 98225, USA
16
Institute for Marine and Antarctic Studies, University of Tasmania, Hobart TAS 7001, Australia
17
Department of Geography, UCLA, Los Angeles, CA 90095, USA
18
Department of Geosciences, University of Arizona, Tucson, AZ 85721, USA
19
Institute for Marine and Atmospheric Research, Utrecht University, 3584 CC Utrecht, The Netherlands
20
Oceanography Institute, University of São Paulo, São Paulo 05508-120, Brazil
*
Author to whom correspondence should be addressed.
Received: 15 May 2019 / Revised: 31 May 2019 / Accepted: 4 June 2019 / Published: 7 June 2019
Abstract
Quantitative estimates of future Antarctic climate change are derived from numerical global climate models. Evaluation of the reliability of climate model projections involves many lines of evidence on past performance combined with knowledge of the processes that need to be represented. Routine model evaluation is mainly based on the modern observational period, which started with the establishment of a network of Antarctic weather stations in 1957/58. This period is too short to evaluate many fundamental aspects of the Antarctic and Southern Ocean climate system, such as decadal-to-century time-scale climate variability and trends. To help address this gap, we present a new evaluation of potential ways in which long-term observational and paleo-proxy reconstructions may be used, with a particular focus on improving projections. A wide range of data sources and time periods is included, ranging from ship observations of the early 20
th
century to ice core records spanning hundreds to hundreds of thousands of years to sediment records dating back 34 million years. We conclude that paleo-proxy records and long-term observational datasets are an underused resource in terms of strategies for improving Antarctic climate projections for the 21
st
century and beyond. We identify priorities and suggest next steps to addressing this.
View Full-Text
►

▼

Figures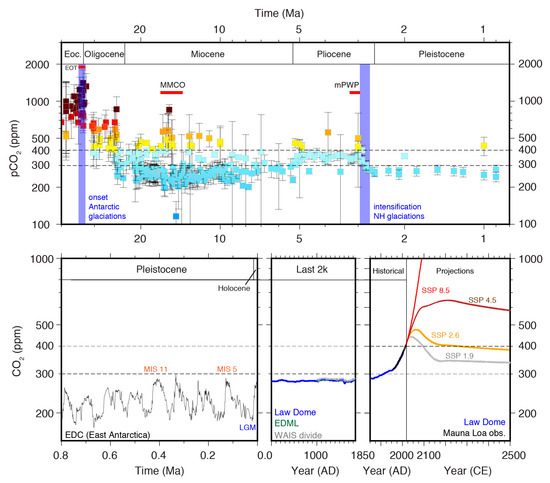 Figure 1
This is an open access article distributed under the
Creative Commons Attribution License
which permits unrestricted use, distribution, and reproduction in any medium, provided the original work is properly cited (CC BY 4.0).

Share & Cite This Article
MDPI and ACS Style
Bracegirdle, T.J.; Colleoni, F.; Abram, N.J.; Bertler, N.A.N.; Dixon, D.A.; England, M.; Favier, V.; Fogwill, C.J.; Fyfe, J.C.; Goodwin, I.; Goosse, H.; Hobbs, W.; Jones, J.M.; Keller, E.D.; Khan, A.L.; Phipps, S.J.; Raphael, M.N.; Russell, J.; Sime, L.; Thomas, E.R.; van den Broeke, M.R.; Wainer, I. Back to the Future: Using Long-Term Observational and Paleo-Proxy Reconstructions to Improve Model Projections of Antarctic Climate. Geosciences 2019, 9, 255.
Note that from the first issue of 2016, MDPI journals use article numbers instead of page numbers. See further details here.
Related Articles
Comments
[Return to top]