Investigation of Trace and Critical Elements (Including Actinides) in Flotation Sulphide Concentrates of Kassandra Mines (Chalkidiki, Greece)
1
Department of Geology and Geoenvironment, National and Kapodistrian University of Athens, Zografou Campus, 15784 Athens, Greece
2
Hellas GOLD S.A., V. Sofias 23A Av., 10674 Athens & 63082 Stratoni, Chalkidiki, Greece
3
Department of Earth Sciences, Università degli Studi di Milano, via Botticelli n.23, 20133 Milano, Italy
4
Department of Physics, Aristotle University of Thessaloniki, University Campus, 54124 Thessaloniki, Greece
*
Author to whom correspondence should be addressed.
Received: 10 January 2019 / Revised: 2 April 2019 / Accepted: 3 April 2019 / Published: 9 April 2019
Abstract
Pyrite/arsenopyrite (Py-AsPy), galena (PbS), and sphalerite (ZnS) concentrates from the flotation plants of Olympias and Stratoni (Kassandra mines, Chalkidiki, N. Greece) were investigated for their major, trace, minor, and critical element contents, including actinides associated to natural radioactivity. It is revealed that in addition to the Pb, Zn, Ag, and Au being exploited by Hellas Gold S.A., there are also significant concentrations of Sb and Ga (Sb: >0.2 wt.% in PbS concentrate; Ga:25 ppm in ZnS concentrate), but no considerable contents of Bi, Co, V, or REE. Concerning other elements, As was found in elevated concentrations (>1 wt.% in Py-(As)Py-AsPy Olympias concentrate and almost 1 wt.% in Stratoni PbS and ZnS concentrates) together with Cd (specifically in ZnS concentrate). However, actinides occurred in very low concentrations (U < 2 ppm and Th < 0.5 ppm in all examined concentrates), limiting the possibility of natural radioactivity in the Hellas Gold S.A. products. The concentrations of the natural radionuclides (
238
U,
232
Th, and
40
K) are much lower than those of commercial granitic rocks, and thus the associated radioactive dose is insignificant.
View Full-Text
►

▼

Figures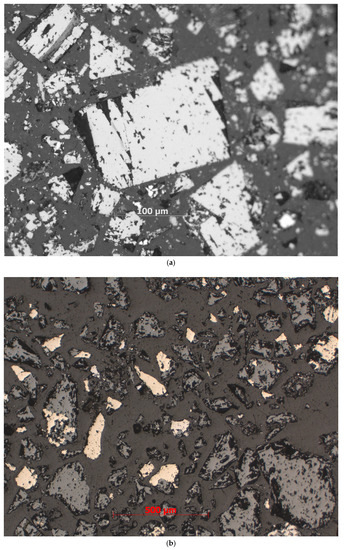 Figure 1
This is an open access article distributed under the
Creative Commons Attribution License
which permits unrestricted use, distribution, and reproduction in any medium, provided the original work is properly cited (CC BY 4.0).

Share & Cite This Article
MDPI and ACS Style
Tzamos, E.; Papadopoulos, A.; Grieco, G.; Stoulos, S.; Bussolesi, M.; Daftsis, E.; Vagli, E.; Dimitriadis, D.; Godelitsas, A. Investigation of Trace and Critical Elements (Including Actinides) in Flotation Sulphide Concentrates of Kassandra Mines (Chalkidiki, Greece). Geosciences 2019, 9, 164.
Note that from the first issue of 2016, MDPI journals use article numbers instead of page numbers. See further details here.
Related Articles
Comments
[Return to top]