Open Access This article is
freely available
re-usable
Article
Endolithic Microbial Habitats Hosted in Carbonate Nodules Currently Forming within Sediment at a High Methane Flux Site in the Sea of Japan
1
Department of Life and Environment Engineering, Faculty of Environmental Engineering, The University of Kitakyushu, Kitakyushu 808-0135, Japan
2
Department of Earth and Planetary Systems Science, Graduate School of Science, Hiroshima University, Higashi-Hiroshima 739-8526, Japan
3
Department of Biological Functions Engineering, Graduate School of Life Sciences and Systems Engineering, Kyushu Institute of Technology, Kitakyushu 808-0196, Japan
4
School of Marine Resources and Environment, Tokyo University of Marine Science and Technology, Minato-ku, Tokyo 108-8477, Japan
5
Department of Earth Sciences, Graduate School of Science, Chiba University, Chiba 263-8522, Japan
6
Gas Hydrate Laboratory, Organization for the Strategic Coordination of Research and Intellectual Properties, Meiji University, Chiyoda-ku, Tokyo 101-8301, Japan
7
Department of Earth and Planetary Science, Graduate School of Science, University of Tokyo, Bunkyo-ku, Tokyo, 113-0033, Japan
*
Author to whom correspondence should be addressed.
Received: 3 October 2019 / Accepted: 28 October 2019 / Published: 30 October 2019
Abstract
:
Concretionary carbonates in deep-sea methane seep fields are formed as a result of microbial methane degradation, called anaerobic oxidation of methane (AOM). Recently, active microorganisms, including anaerobic methanotrophic archaea, were discovered from methane seep-associated carbonate outcroppings on the seafloor. However sedimentary buried carbonate nodules are a hitherto unknown microbial habitat. In this study, we investigated the microbial community structures in two carbonate nodules collected from a high methane flux site in a gas hydrate field off the Oki islands in the Sea of Japan. The nodules were formed around sulfate-methane interfaces (SMI) corresponding to 0.7 and 2.2 m below the seafloor. Based on a geochemical analysis, light carbon isotopic values ranging from −54.91‰ to −37.32‰ were found from the nodules collected at the shallow SMI depth, which were attributed to the high contributions of AOM-induced carbonate precipitation. Signatures of methanotrophic archaeal populations within the sedimentary buried nodule were detected based on microbial community composition analyses and quantitative real-time PCR targeted 16S rRNA, and functional genes for AOM. These results suggest that the buried carbonate nodule currently develops AOM-related microbial communities, and grows depending on the continued AOM under high methane flux conditions.
Keywords:
carbonate nodule; endolithic microbial community; methane
1. Introduction
A variety of sizes of authigenic carbonates are found in sedimentary environments around deep-sea methane seeps. Among them, loosely-consolidated materials of millimeter- to centimeter-scale carbonates are called nodules [
1
,
2
,
3
,
4
]. Carbonate nodule formation is caused by elevated supersaturation for carbonate minerals archived by the shift of chemical equilibrium in dissolved inorganic carbon species. In a methane seep-associated environment, carbonate precipitation is primarily sustained by microbial chemosynthetic reactions, named the anaerobic oxidation of methane coupled with sulfate reduction (AOM) [
5
]. This microbial reaction produces bicarbonate, increases alkalinity, and eventually causes the precipitation of authigenic carbonates under the anoxic conditions as in the following overall reaction: CH
4
+ SO
4
2−
→ HCO
3
−
+ HS
−
+ H
2
O [
6
,
7
].
Any microbial strains responsible for AOM have not yet been isolated, despite many intensive studies having been undertaken over many years. Based on culture-independent molecular ecological approaches in various marine settings, including methane seeps, mud volcanoes, and hydrothermal sediments, two primary microbial constituents responsible for the net AOM reaction have been determined over the last two decades, i.e., anaerobic methanotrophic archaea (ANME) and deltaproteobacterial sulfate-reducing bacteria (SRB) or sulfur disproportionating bacteria, which often construct prokaryotic consortia [
8
,
9
,
10
,
11
,
12
,
13
]. Phylogenetic analyses of the members of the ANME lineages and their syntrophic bacterial partners based on 16S rRNA genes or key functional genes of AOM encoding methyl coenzyme M reductase alpha subunit (
mcrA
) revealed the involvement of several distinct phylogenetic groups, i.e., ANME-1, -2, and -3. The ANME-1 group is divided into two lineages: ANME-1a and -1b [
14
,
15
,
16
]. They are microscopically detected as single cells, monospecific aggregates, or consortia with SRB [
17
,
18
,
19
]. The ANME-2 lineages are composed of ANME-2a, -2b, -2c, and -2d subgroups [
20
,
21
,
22
,
23
], all of which are related to culturable Methanosarcinales members. They are known to form aggregates with the SEEP-SRB1 group in Desulfosarcina/Desulfococcus [
21
,
24
,
25
] or Desulfobulbaceae [
26
], and non-SRB groups in Betaproteobacteria [
26
] and Verrucomicrobia [
27
]. The ANME-3 lineages are often reported from active methane seeps and mud volcanoes. They are related to Methanococcoides and are found in association with Desulfobulbaceae [
9
].
Several studies on authigenic carbonates in methane-rich seafloor environments have detected microbial biosignatures such as lipid biomarkers [
5
,
28
,
29
,
30
,
31
,
32
], 16S rRNA genes [
30
,
33
,
34
], and carbon isotopic compositions reflective of AOM processes [
35
,
36
]. With regards to the organic geochemistry-based study on methane seep carbonate, obtained data, such as biomarker characterization, has mostly been interpreted as a time-integrated sign about historical methanotrophy and past physicochemical conditions related with ancient carbonate precipitation [
37
]. These pilot studies did not focus on contemporary methanotrophy within the carbonates. In contrast, recent molecular diversity surveys and metabolic activity measurements have demonstrated that the pore spaces in the authigenic seafloor carbonates at methane seep sites were inhabited by active microbial populations including methanotrophic communities [
33
,
38
,
39
]. The active methane consumption by substantial amounts of viable ANME/SRB consortia was sustained in the carbonate matrix at the seafloor in the methane seep site. However, fundamental questions regarding this rocky habitat for microorganisms remain unclear, such as how deep carbonate-hosted microbial communities exist. So far, geomicrobiological analyses of the carbonate-hosted AOM have exclusively focused on surface sedimentary environments at a depth of up to 0.15 m below the seafloor (mbsf). Therefore, carbonate nodules buried deeper than that depth are a hitherto unknown microbial habitat. Given the influence of AOM to carbon and sulfur cycling in sedimentary environments, endolithic AOM-performing communities within the sedimentary buried carbonate nodule and the extent to which the community differs according to magnitude of methane flux should be evaluated. In this study, we examined two methane-related authigenic carbonate nodules, both of which were collected at the AOM zone offshore of Oki islands in the Sea of Japan. Based on an integrated approach, including carbonate mineralogy, pore water geochemistry, microbial cell abundance quantification, and molecular ecological survey targeting 16S rRNA and
mcrA
genes, we demonstrated differences of methanotrophic community distributions and the geochemical composition of the deeply-buried nodules associated with methane seep habitats.
2. Materials and Methods
2.1. Sampling Sites and Sample Collection
After the initial discovery of a massive gas hydrate outcropping on the seafloor in the Umitaka Spur [
40
,
41
], the eastern margin of the Sea of Japan has been intensively investigated from the perspectives of geology, geochemistry, geomicrobiology, and as a future energy resource [
42
,
43
,
44
,
45
,
46
,
47
,
48
,
49
]. The study site is located southwest of the Oki Trough in the Sea of Japan (
Figure 1
), and has recently been confirmed as a gas hydrate accumulation area [
45
]. Carbonate nodule-bearing sediments were retrieved using a piston corer during the UM14-06 expedition with the R/V
Umitaka-maru
in July 2014. The piston cores were located at high methane flux sites PC1406 (36°33.7016 E, 134°08.8291 E) and PC1407 (36°17.1827 N, 134°12.2157 E) at water depths of 1034 and 1349 m, respectively (
Figure 1
). The centimeter-scale nodules buried in the hemipelagic mud were collected from the split core liner at 2.2 and 0.7 mbsf of PC1406 and PC1407, respectively. Sediments surrounding the nodules were also collected using a sterilized spatula. These were stored at −80 °C in a deep freezer until further processing. Before the following experiments, the nodule samples were divided into two groups: outside and inside. The inside samples were repeatedly washed with 6N HCl to strip off the peripheral parts to prevent contamination of the outside parts. Thereafter, the innermost section of the nodule was retrieved using a rock chisel and/or razor blade.
2.2. Pore Water Geochemistry
Pore water was extracted from sediment samples using a hydraulic squeezer with a 0.2 μm disposal disc filter [
50
]. The concentration of sulfate dissolved in the pore water was measured using an ion chromatograph (ICA-2000, DKK-TOA, Tokyo, Japan) with a PCI230 anion exchange column and electrolytic conductivity detector, as described previously [
51
]. The concentration of the dissolved methane was determined via the head-space gas method using a gas chromatograph equipped with a flame ionization detector (GC-4000Plus, GL Sciences, Tokyo, Japan). Total alkalinity (TA) was determined onboard using a spectrophotometer (PD303-S, APEL) [
52
].
2.3. Mineral and Stable Isotopic Composition of Carbonate Nodules
The mineral composition of the carbonate nodules was examined from a portion of powdered carbonate nodules by X-ray diffraction analysis (XRD; Rint-2100V, Rigaku Corp., Tokyo, Japan). Carbon and oxygen isotopic compositions of the carbonate nodules were measured using a mass spectrometer (Finnigan MAT Delta Plus) accompanied by a Gas Bench [
45
]. The isotopic values were expressed against VPDB.
2.4. Cell Count
Approximately 0.2 g of the innermost section of the nodule subsamples were fixed with 2% formaldehyde in artificial seawater. After fixation, the samples were washed and replaced with 1 mM EDTA (pH 8.0) to decalcify overnight. The microbial cells collected by centrifuge were concentrated on 0.2 µm pore sized polycarbonate filters (Merck) and enumerated using SYBR Green I, as previously described [
53
].
2.5. DNA Extraction
Prokaryotic DNA was extracted from approximately 0.2 g of dried and ground nodule subsamples and sediment using the DNeasy PowerSoil Kit (Qiagen) according to the manufacturer's instructions. Microbial cells were mechanically disrupted for 10 min with a µT-01 bead crusher (TAITEC, Koshigaya, Japan). The extracted DNA was stored at −80 °C until the polymerase chain reaction (PCR) analyses.
2.6. Quantitative Real-time PCR (Q-PCR)
Total prokaryotic 16S rRNA gene numbers were determined by Q-PCR using a universal primer-probe set, an archaea-specific primer-probe set [
54
], and an innuMIX qPCR MasterMix Probe (Analytik Jena AG, Germany). The amplification conditions were 50 cycles of denaturation at 98 °C for 10 s, annealing at 50 °C (universal 16S rRNA gene) or 52 °C (archaeal 16S rRNA gene) for 45 s, and an extension at 72 °C for 30 s. For Q-PCR analyses, the targeted
mcrA
gene, specific primer set [
55
], and MightyAmp for Real-Time (TaKaRa Bio, Inc., Otsu, Japan) were used under the amplification conditions of 40 cycles of denaturation for 40 s at 94 °C, annealing at 52 °C for 30 s, and extension at 68 °C for 60 s. Thermal cycling for Q-PCR was performed with a real-time PCR system qTOWER
3
G touch (Analytik Jena AG, Germany). All Q-PCR assays were performed in triplicate. Non-specific amplification of the
mcrA
gene was confirmed by melting curve analysis and gel electrophoresis of the PCR product.
2.7. McrA Gene Clone Library Analysis
The
mcrA
gene fragments were amplified by PCR using MightyAmp DNA Polymerase Ver.3 (TaKaRa Bio, Inc., Otsu, Japan) and the specific primers [
55
]. Amplification was performed using the following procedure: 40 cycles of denaturation at 94 °C for 40 s, annealing at 52 °C for 30 s, and extension at 68 °C for 60 s. After gel purification, the amplified PCR products were inserted into the pMD20-T vector (TaKaRa Bio, Inc., Otsu, Japan) and transformed into
Escherichia coli
DH5α competent cells (TaKaRa Bio, Inc., Otsu, Japan). The inserted DNA of the positive colony was PCR-amplified with M13M4-M13RV primers and sequenced with the M13RV primer. The obtained
mcrA
gene sequence with more than 95% sequence identity was assigned as the same phylotype. Representative sequences were aligned using the CLUSTALW program, and the ambiguous nucleotide positions were refined manually. Phylogenetic trees were constructed by the neighbor-joining method in the ARB software [
56
]. Bootstrap analysis was performed with 1000 replicates. The
mcrA
gene sequences obtained in this study were deposited in the DDBJ/EMBL/GenBank databases under accession numbers LC504638–LC504661.
2.8. 16S rRNA Gene Phylotype Composition Analysis
The hypervariable V4 region of the prokaryotic 16S rRNA gene was amplified by PCR using universal primers, 515F/806R [
57
]. PCR amplification with MightyAmp DNA Polymerase was performed using Biometra TAdvanced 96 SG (Biometra, Göttingen, Germany). The PCR amplification conditions were as follows: initial denaturation at 98 °C for 5 min, 35 cycles of denaturation at 98 °C for 30 s, annealing at 55 °C for 30 s, extension at 68 °C for 30 s, and a final extension at 68 °C for 5 min. PCR amplification of the negative control for DNA extraction was used to check potential experimental contamination. The PCR products were purified and processed using Agencourt AMPure XP beads (Beckman Coulter) and a Nextera XT Index Kit (Illumina), respectively. Sequencing was performed using the Illumina MiSeq platform at the Kyushu Institute of Technology. Phylotype composition analyses, including quality assessment, paired-end joining, quality trimming, chimera detection, OTU clustering (97% cut-off), and phylogenetic analyses, were processed using QIIME2 [
58
]. Representative sequences were assigned at different taxonomic levels using the SILVA 128 database. Raw sequences are available in the Sequence Read Archive under accession numbers DRA009078.
3. Results and Discussion
3.1. Geochemical Characteristics of the Nodule-Bearing Sediment
Pore water sulfate concentrations decreased to below the limit of detection of 0.1 mM with increased sediment depth, whereas methane concentrations increased with an increasing depth of marine sediment, which went deeper than the sulfate-depleted depth (
Figure 2
). This vertical profile of geochemistry shows a clear transition zone, which is known as the sulfate-methane interface (SMI) or sulfate methane transition zone (SMTZ) [
59
]. Based on the linear regression slopes of the sulfate concentrations in this study, the depth of SMI likely appeared at approximately 2.2 mbsf and 0.7 mbsf of PC1406 and 1407, respectively. However, the PC1406 core might fail to retain surface sediment due to degassing during retrieval. Given the seawater sulfate value, extrapolation from the linear regression analysis suggested that the SMI existed at >3 mbsf of PC1406. A previous study proposed that the SMI zone reflects the magnitude of upwelling methane flux from the subsurface [
60
]. Correspondingly, it seems likely that the PC1407 core is under the control of relatively high methane flux. Total alkalinities at PC1406 and PC1407 were higher than those from non-seep sites in the Sea of Japan [
43
] (
Figure 2
), suggesting that carbonate precipitation may occur due to high concentrations of dissolved inorganic carbon provided via an AOM reaction. The existence of a carbonate nodule within the sediment supported this idea. The nodules existed at 2.2 and 0.7 mbsf of PC1406 and PC1407, respectively. The depths of the nodules mostly corresponded to the SMI depth, where the AOM reaction is the most energetically favorable. This indicates that the carbonate nodules are currently forming within the sediments due to an ongoing AOM process around the SMI depth.
Mineralogical analysis using XRD identified that both nodules were high magnesian calcite containing quartz. Quartz accounted for up to 28% and 19% (wt) of the nodules PC1406 and PC1407, respectively. These minerals are known as the basic components of marine carbonates around methane seep environments [
32
,
38
]. The chemical composition in the pore water, particularly sulfate and magnesium, is considered to control carbonate mineralogy during precipitation [
5
]. The carbonate nodules in this study are illustrated by the hypothesis that calcite is created in deeper sediment under low sulfate conditions [
61
].
Carbon isotopic values of the nodules PC 1406 and PC1407 ranged from −38.05‰ to −37.32‰, and from −54.91‰ to −52.97‰, respectively (
Table 1
). There was no statistically significant difference between the inside and outside of the nodules. The more negative carbon isotopic values of the PC1407 nodule indicates that a significant portion of the carbonate carbon originates from methane [
61
,
62
]. As the microbial AOM reaction produces
13
C-depleted bicarbonate around the SMI depth, the characteristic
13
C-depleted carbonate minerals are regarded as products generated by AOM. The nodules were enriched in
18
O compared to the expected values for calcite precipitation from pore water in the study site [
45
]. This is possibly due to the decomposition of gas hydrates.
These geochemical differences relating to the mineralogy and pore water chemistry were useful for understanding the physical and chemical conditions at the study site during precipitation. It seems likely that high methane flux, expected from shallow SMI depths, increases the AOM rate, and precedes nodule formation within the sediment. Therefore, the buried nodules are probably composed of carbonate derived from ongoing AOM.
3.2. Microbial Abundance in the Nodule
Microscopic observations showed that microbial abundance ranged from 0.85 × 10
7
to 1.75 × 10
7
cells per g of the inside and outside of the nodule (
Table 1
). Most cells were not observed as cell aggregates, but instead as single cells. The cell numbers in the nodule were comparable to those in the adjacent sediment collected at the same depth. Similar microbial abundances were also confirmed by Q-PCR analysis targeting prokaryotic 16S rRNA genes (
Figure 3
). The whole prokaryotic 16S rRNA gene numbers ranged from 1.1 × 10
7
to 8.6 × 10
7
genes per g of the sample (nodule or sediment). Archaeal 16S rRNA gene abundances were one to two orders of magnitude lower than those of the prokaryotes in the nodule samples, and ranged from 4.3 × 10
5
to 2.6 × 10
7
genes per g of the sample.
The abundances of
mcrA
, which are key functional genes for methane-metabolizing archaea [
14
,
15
,
16
,
17
,
18
,
19
,
20
], were also examined using Q-PCR. They were detected only from the nodule PC1407, and were an order of magnitude lower than the archaeal 16S rRNA genes (
Figure 3
). The
mcrA
gene numbers in the nodule PC1406 were below the limit of detection of 5.0 × 10
4
genes per g of the sample. The
mcrA
gene abundance in the nodule PC1407 was the same in the adjacent sediment sample collected at the same depth. These results imply that the occurrence of ANME in the nodule is affected by environmental parameters, as represented by the physical and chemical characteristics of the nodule and the surrounding conditions, such as SMI depth.
3.3. McrA Phylotype Composition in the Nodule Habitat
Phylogenetic diversity of the
mcrA
gene was determined based on the sequence of the obtained
mcrA
clones (
Figure 4
). The phylogenetic positions of the
mcrA
genes are divided into several groups, a, b, c, d, e, and f, all of which are distinct from known methanogens. Our results show that the most frequently-obtained sequence in both sediment and nodules at sites PC1406 and PC1407 was related to
mcrA
groups a–b (
Figure 4
). The a–b groups detected in this study constituted at least 75% of the
mcrA
gene amplicons from the nodule and sediment samples. The
mcrA
a−b groups are possibly hosted by ANME-1 lineages [
63
]. The
mcrA
gene sequences of groups c−d and e were found as a minority. Because the groups c−d and group e are phylogenetically-congruent with ANME-2c and ANME-2a, respectively [
63
], ANME-2 archaea were not the dominant archaeal methanotrophs in the study site.
3.4. Nodule-Hosted Microbial Community Compositions
3.5. AOM-Responsible Microbial Life within the Nodules at the High Methane Flux Site
4. Conclusions
This study reports the quantitative and qualitative microbial community compositions in the sedimentary buried nodule associated with the gas hydrate at the subseafloor of the Oki Trough in the Sea of Japan. AOM-related microbial populations, such as ANME-1b and SEEP-SRB1, were pervasive, even in the nodule growing below the seafloor at the high methane flux area. The incidence of these microbial populations is most likely controlled by the supply of AOM substrate into the inside of the nodule. The distribution of the methane-consuming community within the nodule interior probably represents the uncharacterized methane sink that should be taken into consideration for global budgets of methane.
Author Contributions
Conceptualization, K.Y.; methodology, K.Y., F.S., Y.T., T.M., N.A.M., S.O., and A.K.; data Curation, K.Y., F.S., Y.T., T.M., N.A.M., S.O., and H.T.; writing – original draft preparation, K.Y.; writing – review & editing, K.Y.; project administration, K.Y., R.M., and A.K.; funding acquisition, K.Y., F.S., T.M., R.M., and A.K.
Funding
This research was funded by the Challenging Research (17K18808, to K.Y.), Grant-in-Aid for Young Scientists (15H05335, to K.Y.), and Grants-in-Aid for Scientific Research (25800280 and 16H06022, to F.S.) from the Japan Society for the Promotion of Science (JSPS).
Acknowledgments
We thank the shipboard science party of the UM14-06 cruise and the captain and crews of the R/V
Umitaka-maru
for their help in sample collection.
Conflicts of Interest
The authors declare no conflict of interest.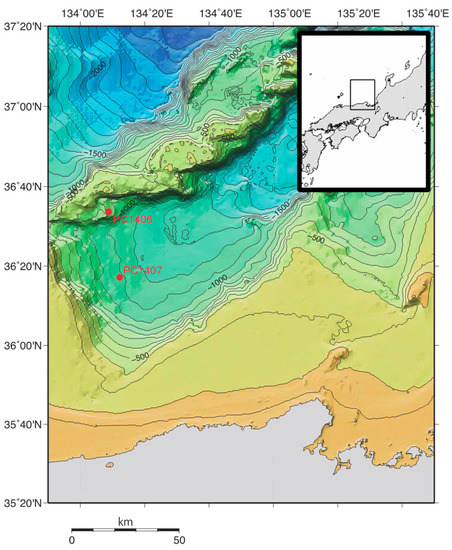 Figure 1. Location of the research area in the eastern margin of the Sea of Japan. Red dots show the location of piston core sampling sites PC1406 and PC1407 during the UM14-06 cruise.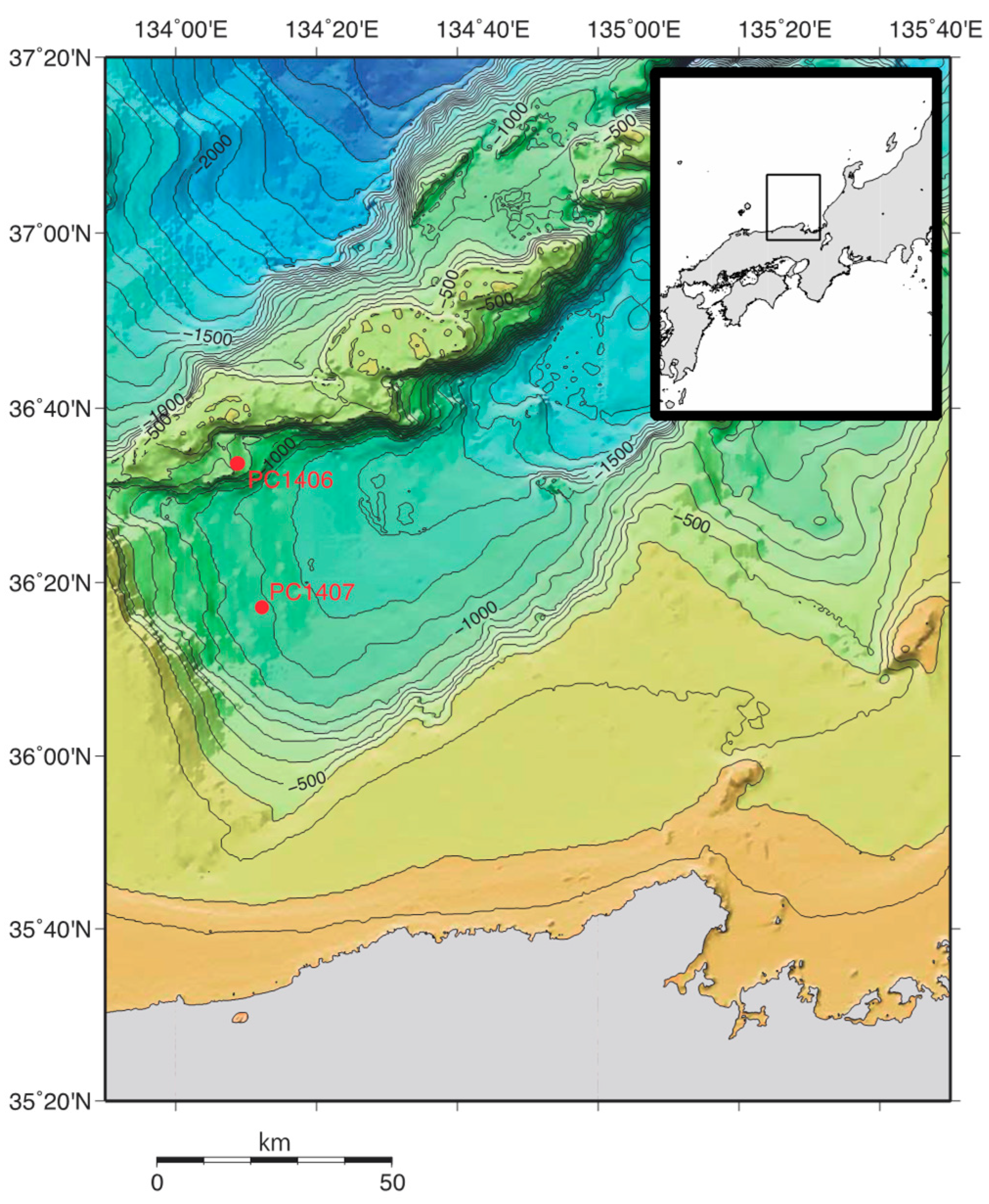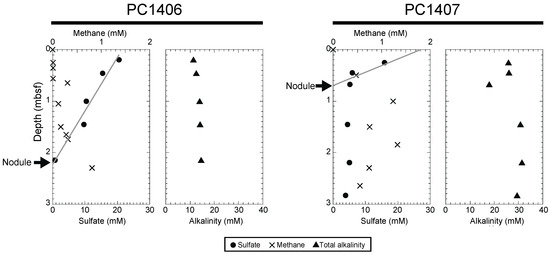 Figure 2. Depth profiles of pore water sulfate, methane, and total alkalinity in the PC1406 and PC1407 cores. Circles, sulfate; crosses, methane; triangles, total alkalinity. Nodules PC1406 and 1407 were collected at the same depth as sulfate-depletion, which was defined by the linear regressions of sulfate.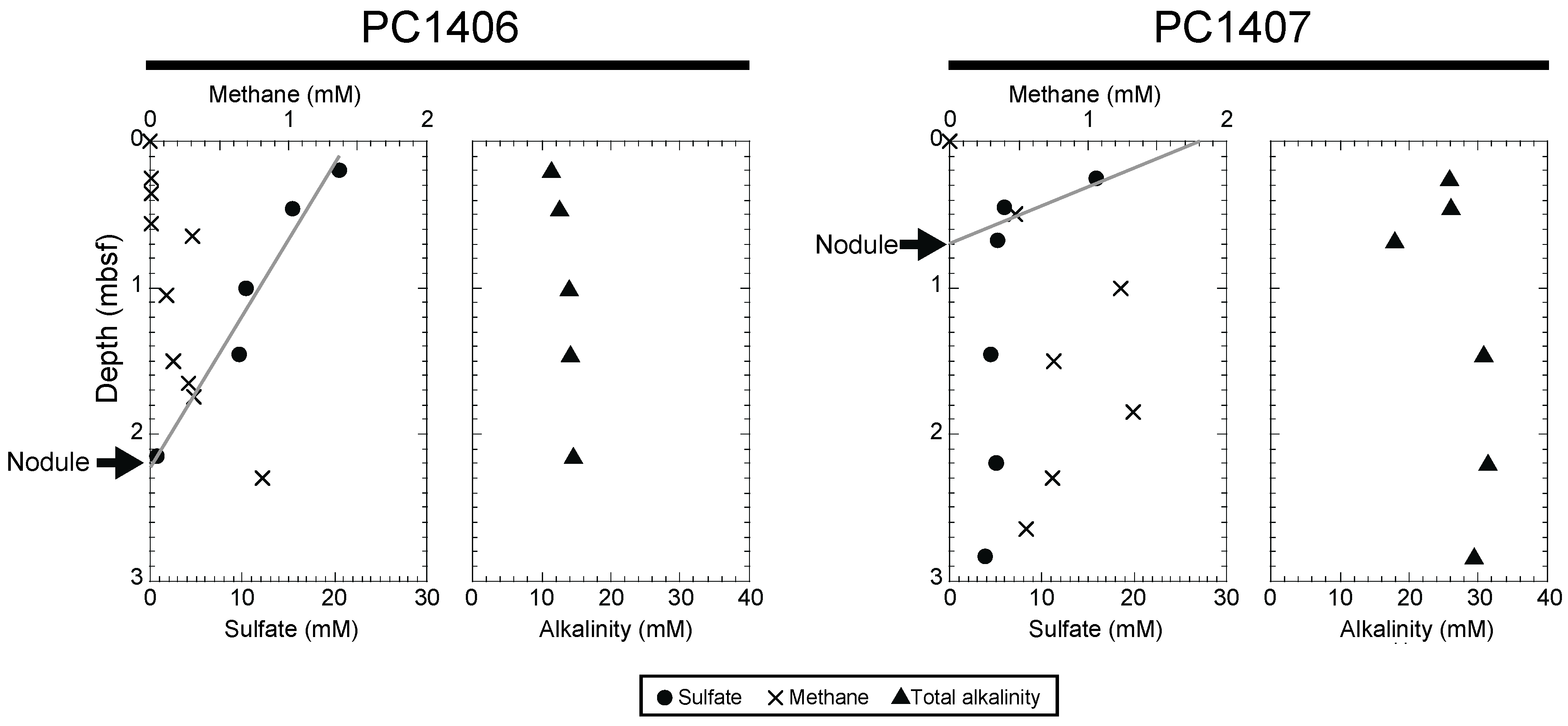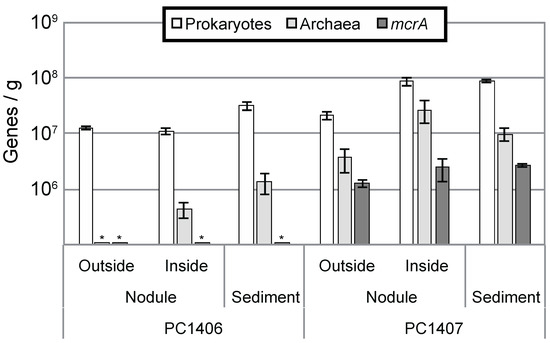 Figure 3.
Numbers of 16S rRNA and
mcrA
genes in the nodule and adjacent sediment samples quantified by Q-PCR. An asterisk indicates below the limit of detection.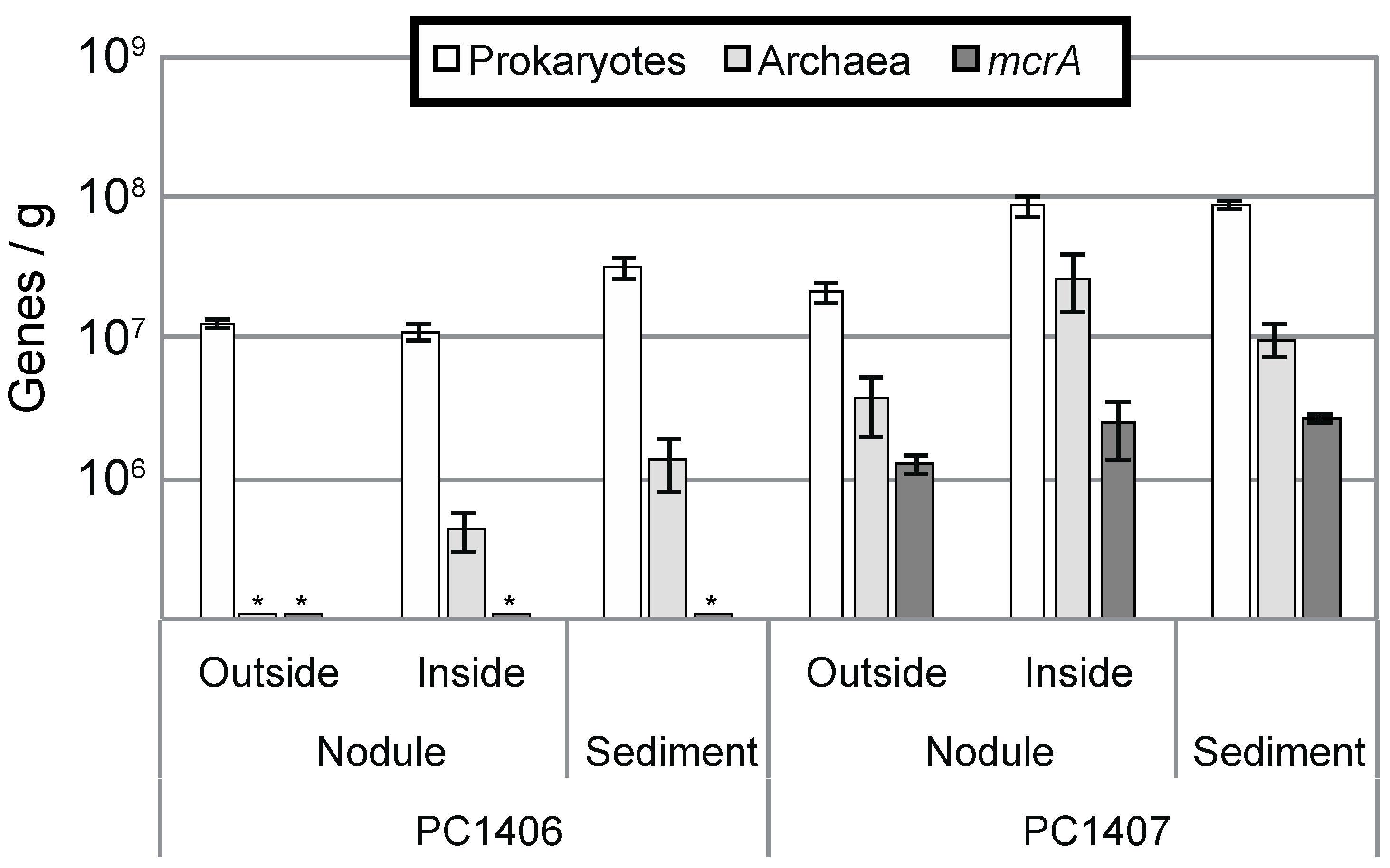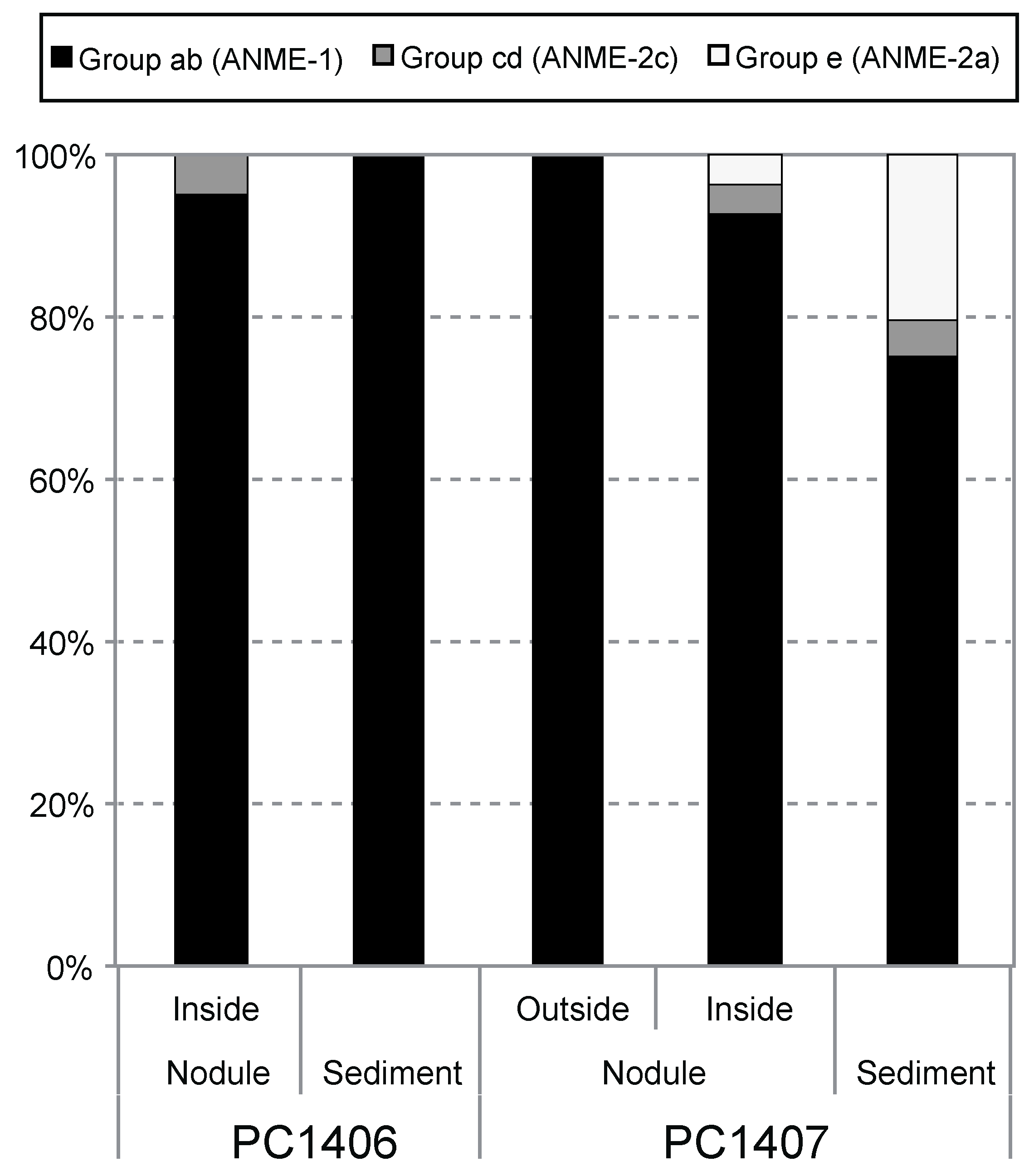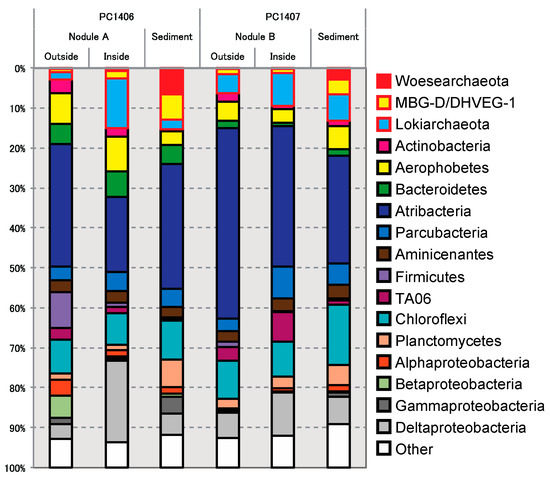 Figure 5. Phylum/class-level phylogenetic affiliations of prokaryotic 16S rRNA gene sequences amplified from the nodule and adjacent sediment samples.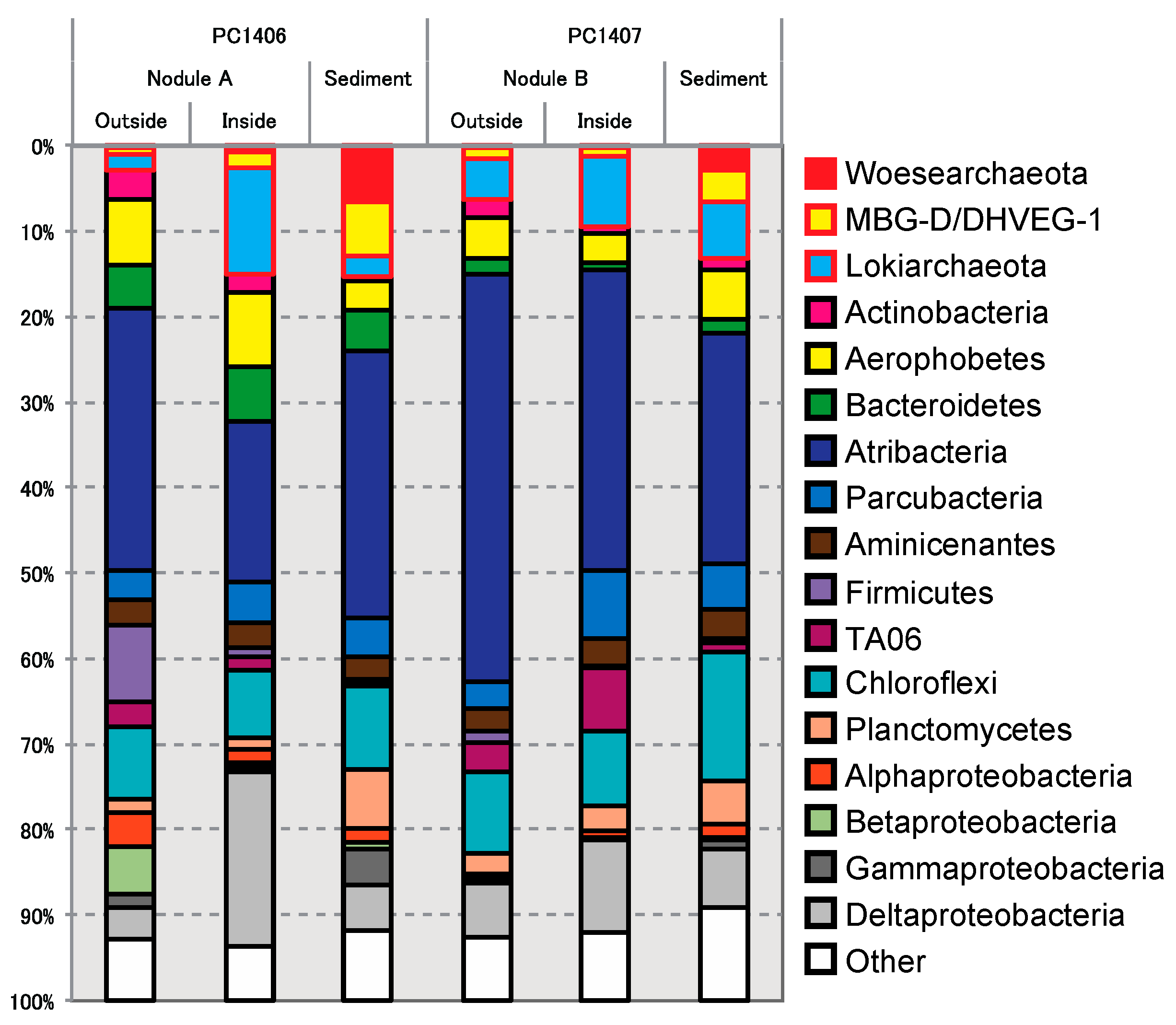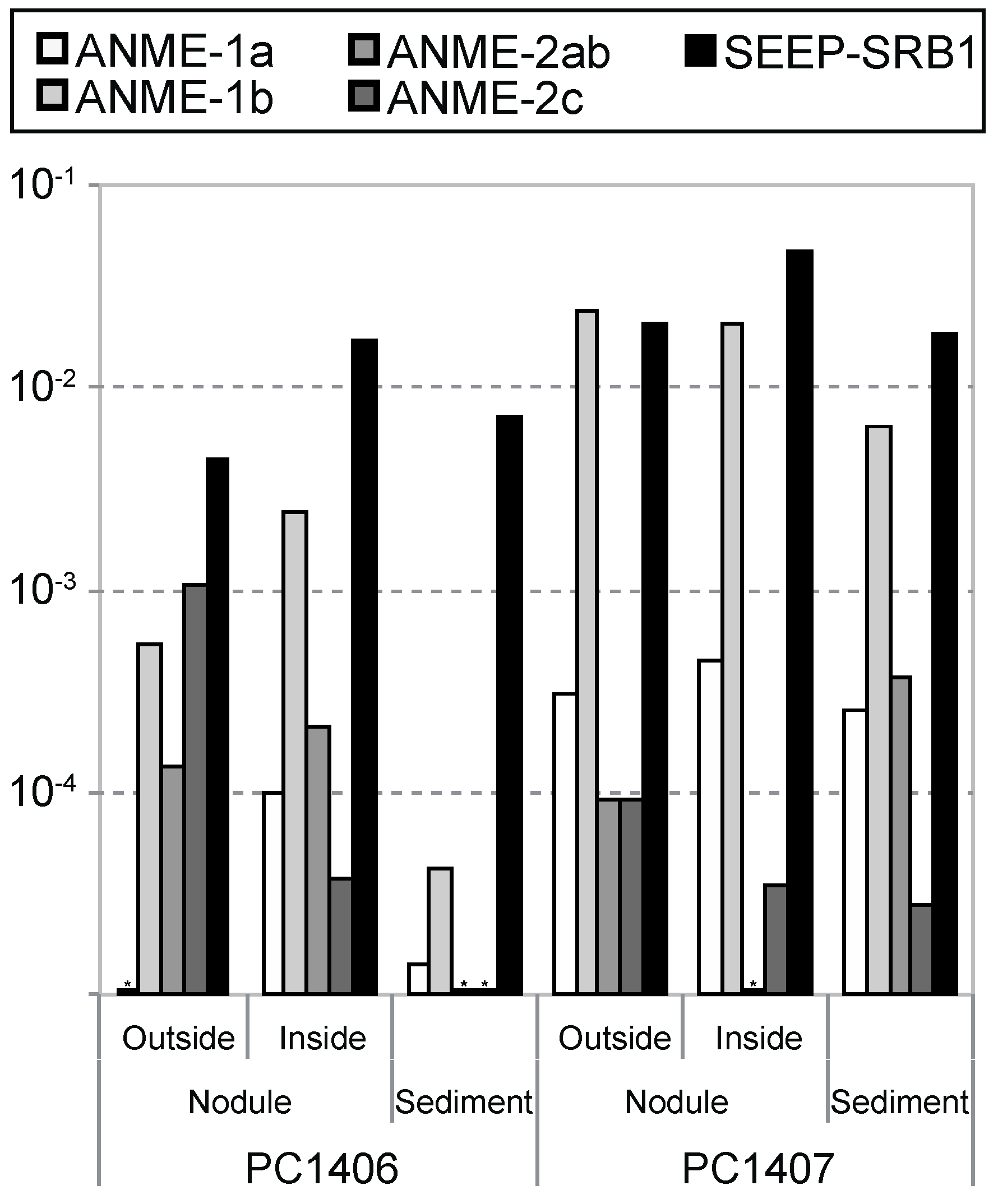 Table 1. Carbon and oxygen isotopic compositions and microbial cell abundance of carbonate nodules collected from piston cores.
| Core | Depth (mbsf) | Sample | δ13C (‰) | δ18O (‰) | Cell Count (cells/g) |
| --- | --- | --- | --- | --- | --- |
| PC1406 | 2.2 | Nodule outside | −37.32 | +4.56 | 1.75 × 107 (± 0.37 × 107) |
| | | Nodule inside | −38.05 | +4.50 | 0.99 × 107 (± 0.23 × 107) |
| | | Sediment | — | — | 2.30 × 107 (± 0.11 × 107) |
| PC1407 | 0.7 | Nodule outside | −54.91 | +5.12 | 1.45 × 107 (± 0.33 × 107) |
| | | Nodule inside | −52.97 | +5.31 | 0.85 × 107 (± 0.14 × 107) |
| | | Sediment | — | — | 1.08 × 107 (± 0.23 × 107) |

© 2019 by the authors. Licensee MDPI, Basel, Switzerland. This article is an open access article distributed under the terms and conditions of the Creative Commons Attribution (CC BY) license (http://creativecommons.org/licenses/by/4.0/).