Open Access This article is
freely available
re-usable
Article
Selective Aggregation Experiments on Planetesimal Formation and Mercury-Like Planets
Faculty of Physics, University of Duisburg-Essen, Lotharstr. 1, D-47057 Duisburg, Germany
Received: 21 June 2018 / Accepted: 18 August 2018 / Published: 21 August 2018
Abstract
:
Much of a planet's composition could be determined right at the onset of formation. Laboratory experiments can constrain these early steps. This includes static tensile strength measurements or collisions carried out under Earth's gravity and on various microgravity platforms. Among the variety of extrasolar planets which eventually form are (Exo)-Mercury, terrestrial planets with high density. If they form in inner protoplanetary disks, high temperature experiments are mandatory but they are still rare. Beyond the initial process of hit-and-stick collisions, some additional selective processing might be needed to explain Mercury. In analogy to icy worlds, such planets might, e.g., form in environments which are enriched in iron. This requires methods to separate iron and silicate at early stages. Photophoresis might be one viable way. Mercury and Mercury-like planets might also form due to the ferromagnetic properties of iron and mechanisms like magnetic aggregation in disk magnetic fields might become important. This review highlights some of the mechanisms with the potential to trigger Mercury formation.
Keywords:
mercury; planet formation; protoplanetary disk; iron-silicate separation; extrasolar planets
1. Planet Formation
The problem of planet formation has not been solved. There have been many reviews and books on planet formation over previous years though to highlight the state-of-the-art knowns and unknowns [
1
,
2
,
3
,
4
,
5
,
6
,
7
,
8
,
9
]. Some of these have focused more on theoretical aspects or numerical modeling. A few have approached the problem from the meteoritical side. Also, some have focused on earlier times of protoplanetary disks while others focused more on the later stages of planetary system evolution.
This review is also biased. Here, we highlight processes that would be in favor of the formation of a planet like Mercury. In particular, we put the focus on laboratory experiments simulating the early phases of planet formation. The rough structure of the review is as follows. First, a sketch of what is generally known about planet formation is laid out as the fundamental basis. Then, a laboratory technique is introduced which, in previous years, has proved to be highly useful for studying the interaction of many particle systems of dust grains and aggregates thereof. This might be very specific, but it is not widely known. In particular, the underlying physics that it is based upon is itself important in protoplanetary disks of low pressure. This becomes important again later on. These experiments lead to the bouncing barrier and ways how it might be overcome. This is then the entry point for introducing the special nature of Mercury-like planets. Naturally, the influence of temperature is discussed next, as Mercury is the innermost planet of the solar system that is closest to the sun. To explain the metal-rich planet photophoresis and thermoluminescent erosion are introduced as metal-selective. Finally, the effects of magnetic selection due to the ferromagnetic nature of iron are discussed based on novel experiments, and the review is closed with a short conclusion.
The Red Lines of Planet Formation
2. Experiments with Levitated Grains
Evolution beyond Bouncing
How can pre-planetary evolution proceed if, due to bouncing, collisional growth no longer works for sand size particles? There are two options which can both kind of get started with the question: What if we just assume for a moment that not sand but larger pebble or boulder size bodies were present in the disk for some unknown reason?
Also here, as first option, collisions have been considered. The results of collisions change strongly with a larger body present. Larger bodies get more sensitive to turbulence and radial drift velocities increase. Taken together they move with higher velocity through the disk [
51
,
52
,
53
]. If they collide among themselves they tend to get destroyed easily as has also been seen in experiments [
54
,
55
,
56
]. This fragmentation is generally considered an obstacle for further growth [
57
,
58
]. However, if these big aggregates collide with smaller particles, i.e., the sand-sized population stuck at the bouncing barrier, they can still grow [
55
,
59
,
60
,
61
]. An example is shown in
Figure 4
.
The small collision partner (projectile) does fragment but some part sticks to the larger body (target). This is sometimes called mass transfer collision. This way growth of planetesimals is possible in principle as larger bodies feed upon the smaller grains [
62
,
63
]. It is also interesting that the bouncing barrier is actually beneficial for producing ever larger bodies. If all grains could grow in all collisions there would be many large objects eventually, only to be destroyed again while colliding among themselves. This is prevented if most mass is left within the smaller grains. This process is rather slow though and 100 m bodies would only grow at 3 AU on timescales of a million years [
62
]. Work in this field continues. In any case, mass transfer works and it will be an important process in the detailed evolution of solids in protoplanetary disks even if it should turn out not to be the initial process to set off the first wave of planetesimal formation.
As alternatives, mechanisms have been worked out to concentrate the solids to a level that self-gravity takes over and leads to a direct formation of planetesimal. Most prominent after some initial increase in dust to gas density "one way or the other" is the streaming instability [
64
,
65
]. As indicated above, the streaming is also based on the assumption that larger particles would already be present in large quantities, e.g., by drifting inward [
58
]. The streaming instability especially in the inner regions of protoplanetary disks would need grains of cm-size, or "pebbles", rather than sub-mm sized "sand" [
6
]. There are many active works on the streaming instability. It has to be noted though that they are all of theoretical or numerical nature and are not the focus here. Nevertheless, first attempts to verify the concept in laboratory experiments are currently underway and indeed streaming like, collective motions in a cloud of grains has been observed [
66
].
The connection between collisional and non-collisional formation path is still not very tight if overlapping at all. It is curious that grains so small as sand are already problematic in the making of planets of thousands of km. So the question of how to proceed after the bouncing barrier is still not settled. What further options are there?
3. Mercury-Like Planets
At this stage, we leave the common ground of planet formation and focus on Mercury-like planets. In the solar system, there is a general trend for denser terrestrial planets to be found further inward. For example, regarding the uncompressed density , Mercury is very dense at 5.3 , Earth is somewhat less dense at 4.4 , and Mars even lighter at 3.8 [
67
]. The high density of Mercury is attributed to its large iron core. In agreement with the radial trend in density attributed to iron, meteorites, originating mostly from the asteroid belt, have much lower iron contents [
68
]. There are, by now, a number of extrasolar planets that have a high density, also indicating that they have large iron cores [
69
,
70
,
71
,
72
]. How do these high density planets fit into the scheme of planet formation? We do not discuss late stage processing, like giant impacts or evaporation, which would both strip off the mantle of lower density planets [
73
,
74
]. Somehow, results from the MESSENGER probe seem incompatible with such very high temperature events [
75
]. Even though the data are still sparse, Mercury-like planets might form far inside of 1 AU, and the process might favour iron. Therefore, processes that preferentially form these planets might be sensitive to thermal conductivity, assuming iron to be in a metal phase. Growth processes might also be selective for increasing the temperature, or the ferromagnetic nature of iron might be important. We erode these possibilities a bit more in the following sections.
4. Conclusions
Laboratory experiments are a valuable tool for testing and quantifying different mechanisms that might be important for planet formation. With a focus on Mercury, processes that act better at small distances to the star and that distinguish between iron and silicates are of special interest. Increasing temperatures are one aspect, and clearly, collisions depend on the temperature—its history as well as the actual temperature during collisions. No concluding remark can be given yet, except that growth changes. More work is needed in this field beyond the handful of experiments carried out.
For the application of photophoresis, light, or at least temperature fluctuation, is a prerequisite. So, in a sense, this mechanism always has to fight for light. However, if any directed or fluctuating radiation field is present, at least ranging from visible to IR, its effect is huge, and it cannot be neglected. It has the advantage of combining two aspects: it is, in principle, stronger closer to the star and it can separate iron from silicates, both supporting the radial metal gradient and Mercury's iron nature.
Last but not least, aggregation in magnetic fields also fulfills both requirements. Magnetic fields are stronger closer to the star, and aggregation is favoured for metallic iron dominated grains (below 1040 K).
Laboratory experiments are limited to small size scales. So, these mechanisms can only trigger formation processes. How this is inherited by proceeding formation phases is a different story. At this point, it is unclear if this all regularly leads to the formation of Mercury planets or if Mercury is rather exceptional. However, there are some promising candidate mechanisms supported by laboratory experiments to explain the high density of Mercury and the making of Exo-Mercury planets.
Funding
This research received no external funding.
Acknowledgments
Many thanks to the three unknown reviewers.
Conflicts of Interest
The authors declare no conflict of interest.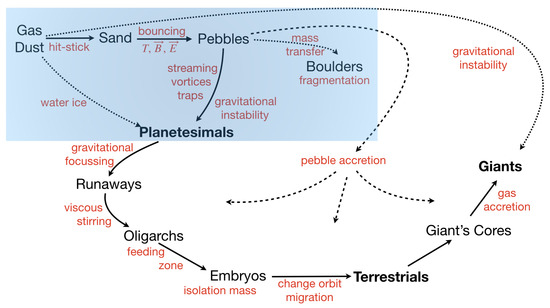 Figure 1. Some standard ideas on planet formation. The top left, blue shaded region concerns the processing of small grains and is, in part, accessible to laboratory experiments. Sand, pebble, and boulder are used for particles of different size ranges. Solid lines indicate standard ways to proceed in size. Dotted lines are alternatives or still under discussion. Dashed ways refer to the influence of pebbles (cm-sized objects), currently studied for a number of different phases of planet formation. Red: some dominating processes in certain phases; bold: most important milestones.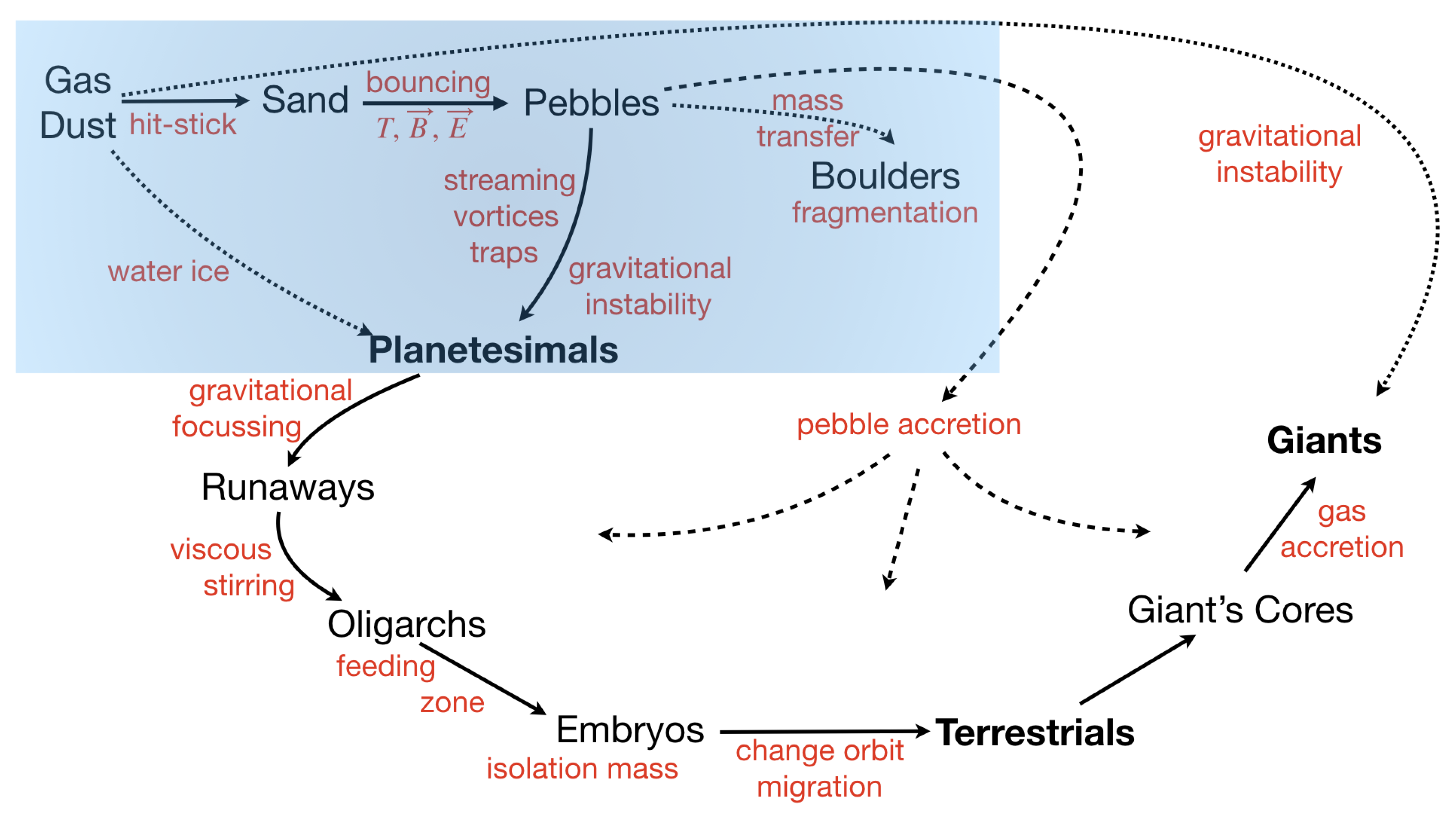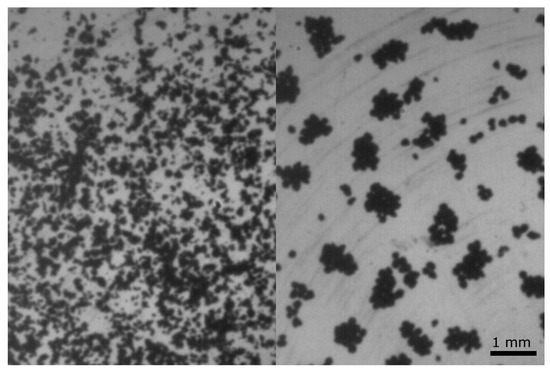 Figure 2.
Initial and final ensemble in a laboratory experiment where dust aggregates are levitated at low ambient pressure on a hot surface by a self-generated Knudsen compressor. Starting with 100 micrometer dust aggregates, mm-aggregatges grow at speeds of mm/s to cm/s. (from Demirci et al. [
27
]).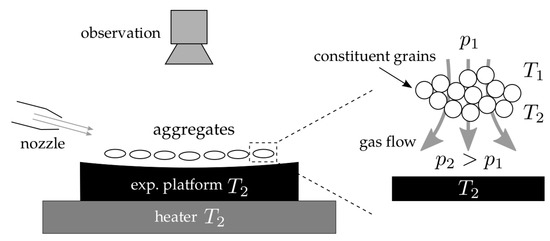 Figure 3.
At low ambient pressures, thermal creep through dust aggregates generates an air cushion for the aggregates to levitate upon (from Kelling et al. [
30
]).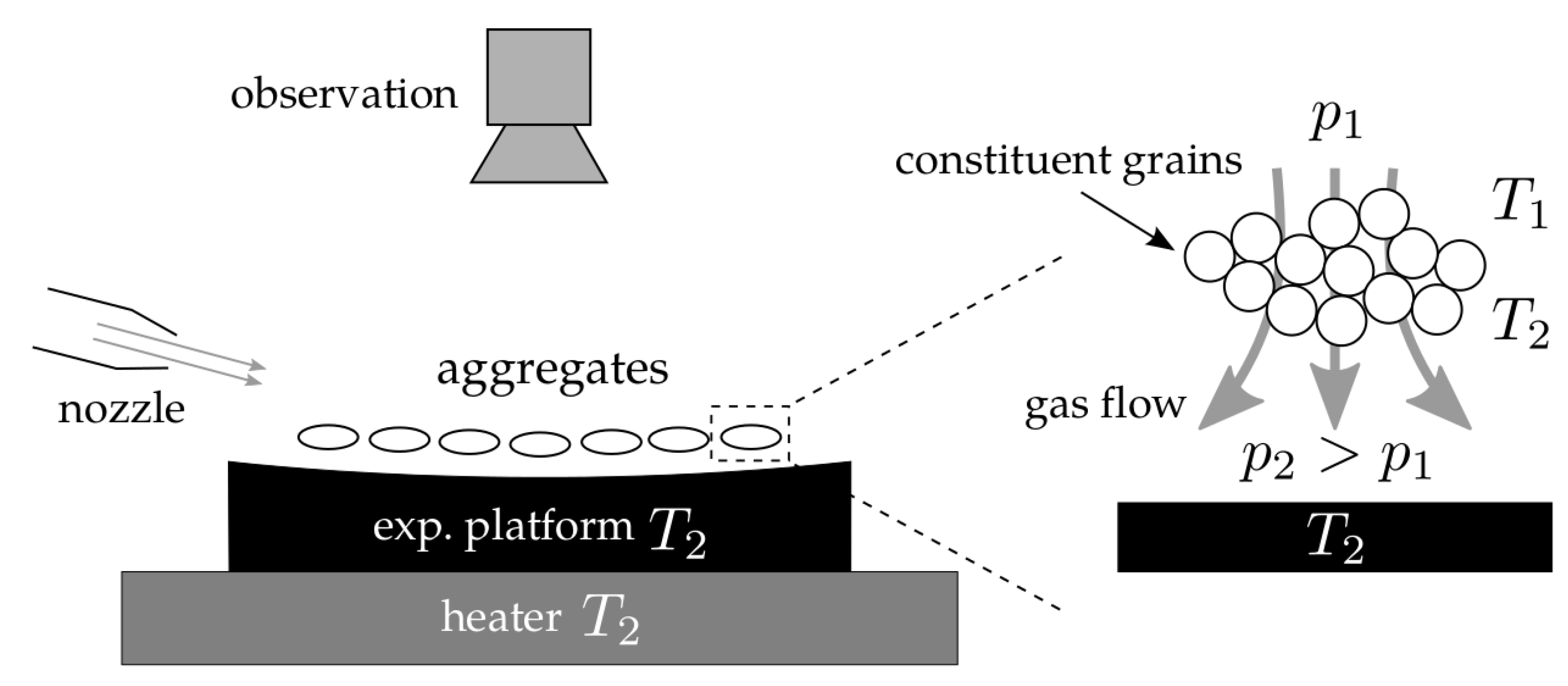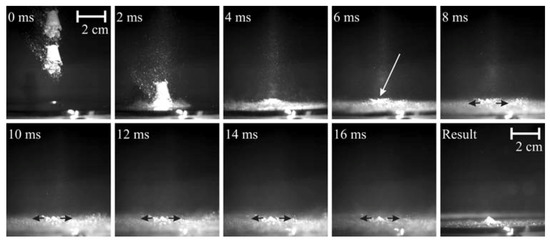 Figure 4.
If small aggregates collide with larger ones the small fragmenting projectile leaves some mass on the larger target (from Teiser and Wurm [
60
]).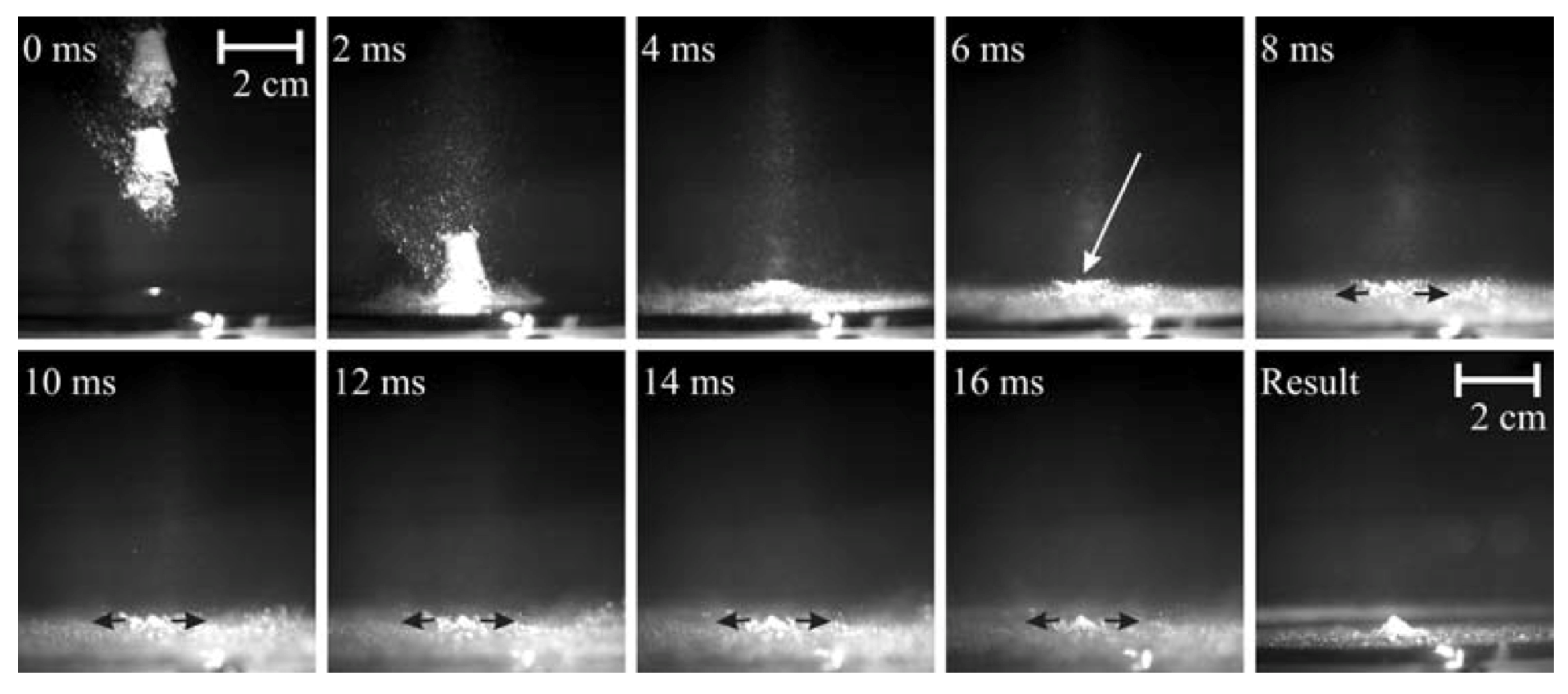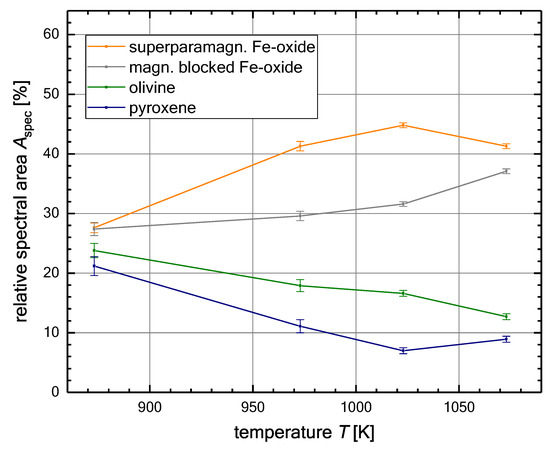 Figure 5.
Changes in mineral content measured by Moessbauer spectroscopy for a basalt sample heated in air at different temperatures (from Demirci et al. [
27
]).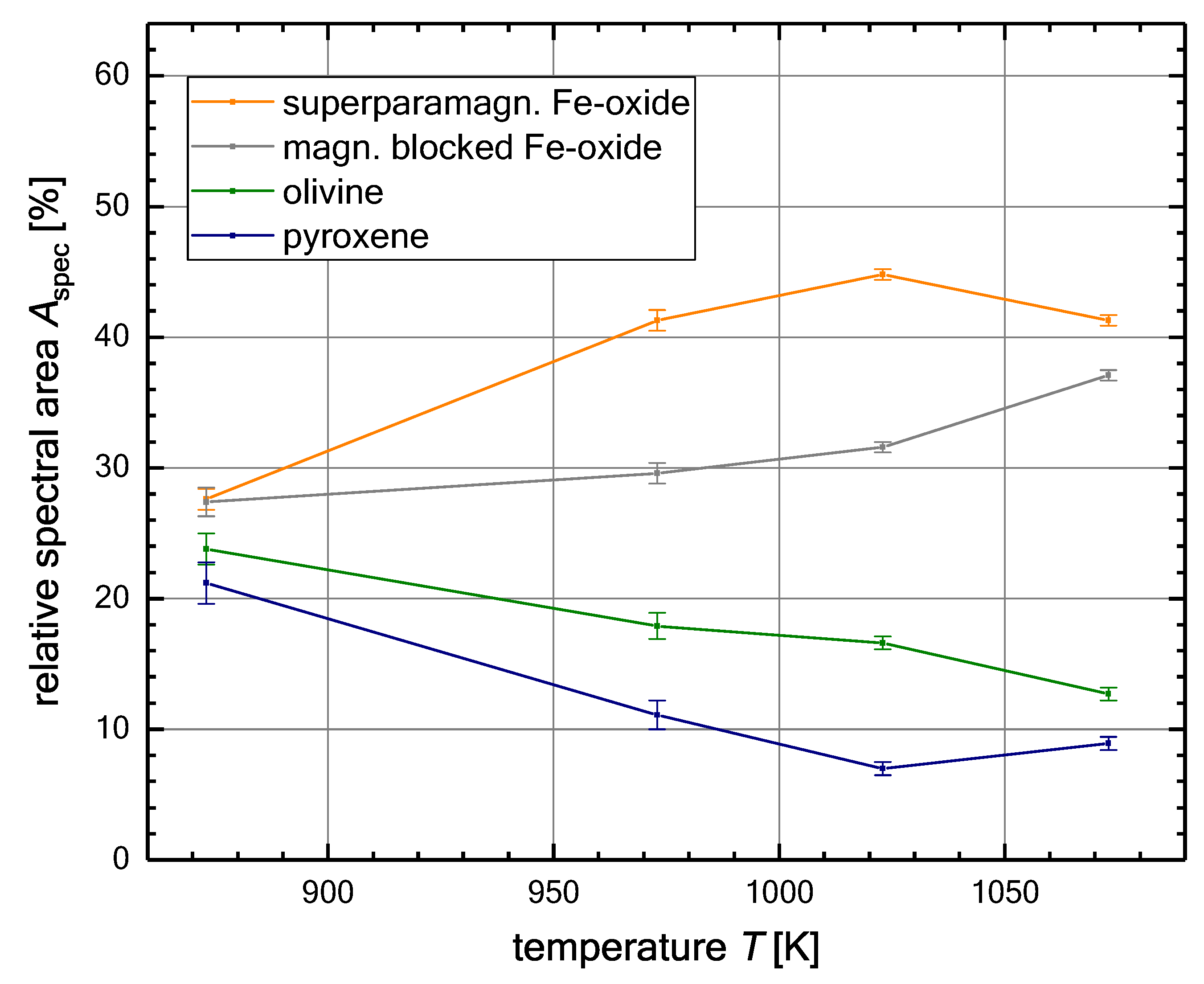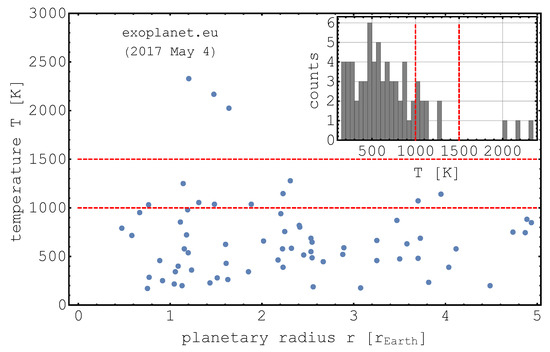 Figure 6.
The occurence of small extrasolar planets depending on orbit temperature. The lines mark the sticking transition observed in experiments at 1000 K and the limit of sublimation. The inset shows the same data as a histogram over temperature (from Demirci et al. [
27
]).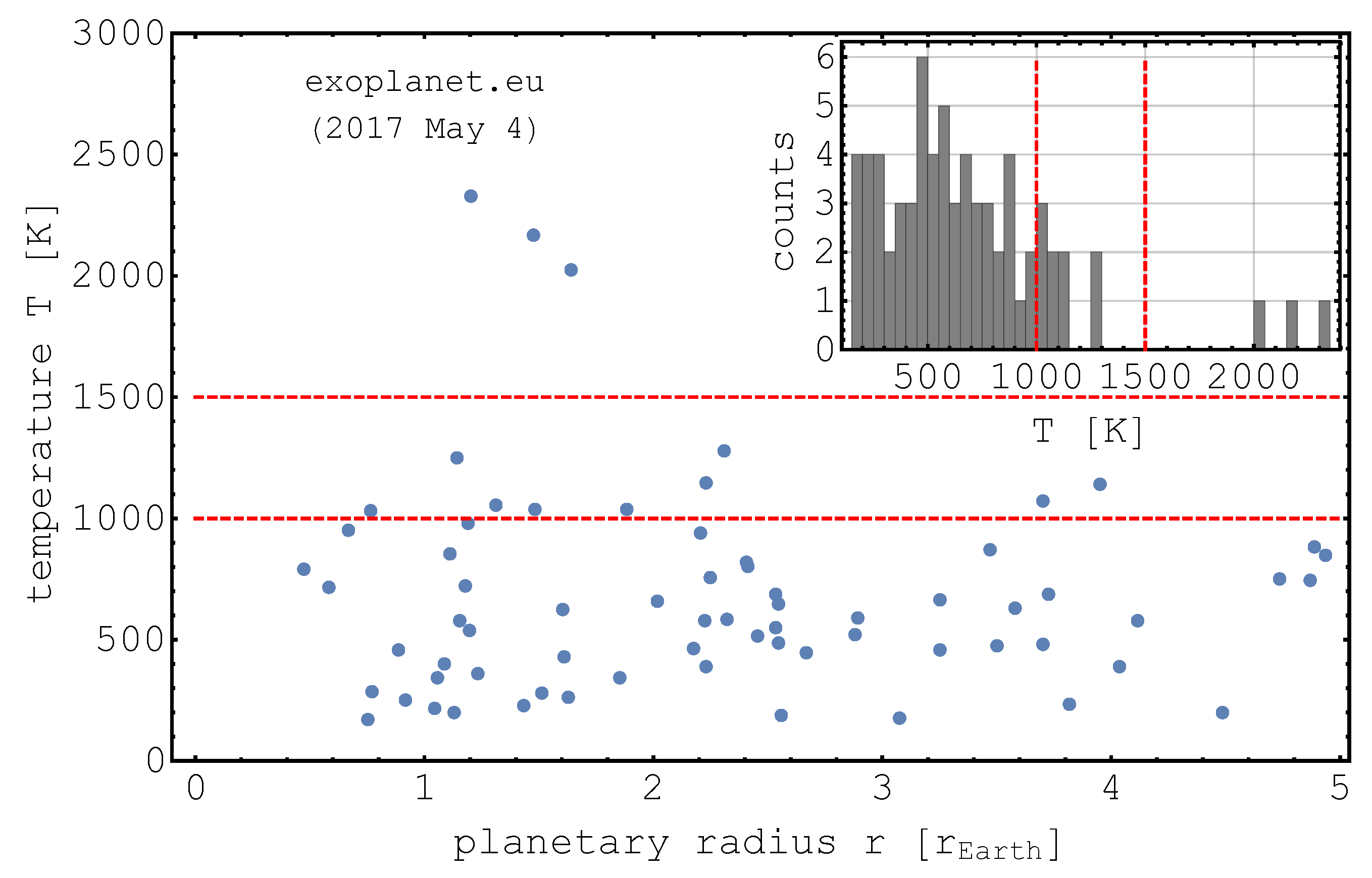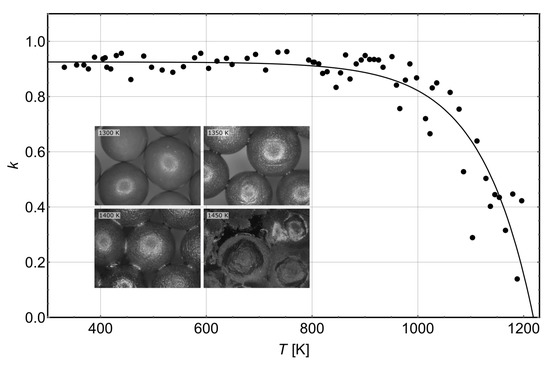 Figure 7.
Coefficient of restitution (
k
) for collisions between a hot mm basalt sphere and a cold glass target on the ground. The collision velocity was about 1 m/s. The inset shows the onset of sintering and strong melting if heated for 24 h at higher temperatures (from Bodgan et al. [
91
]).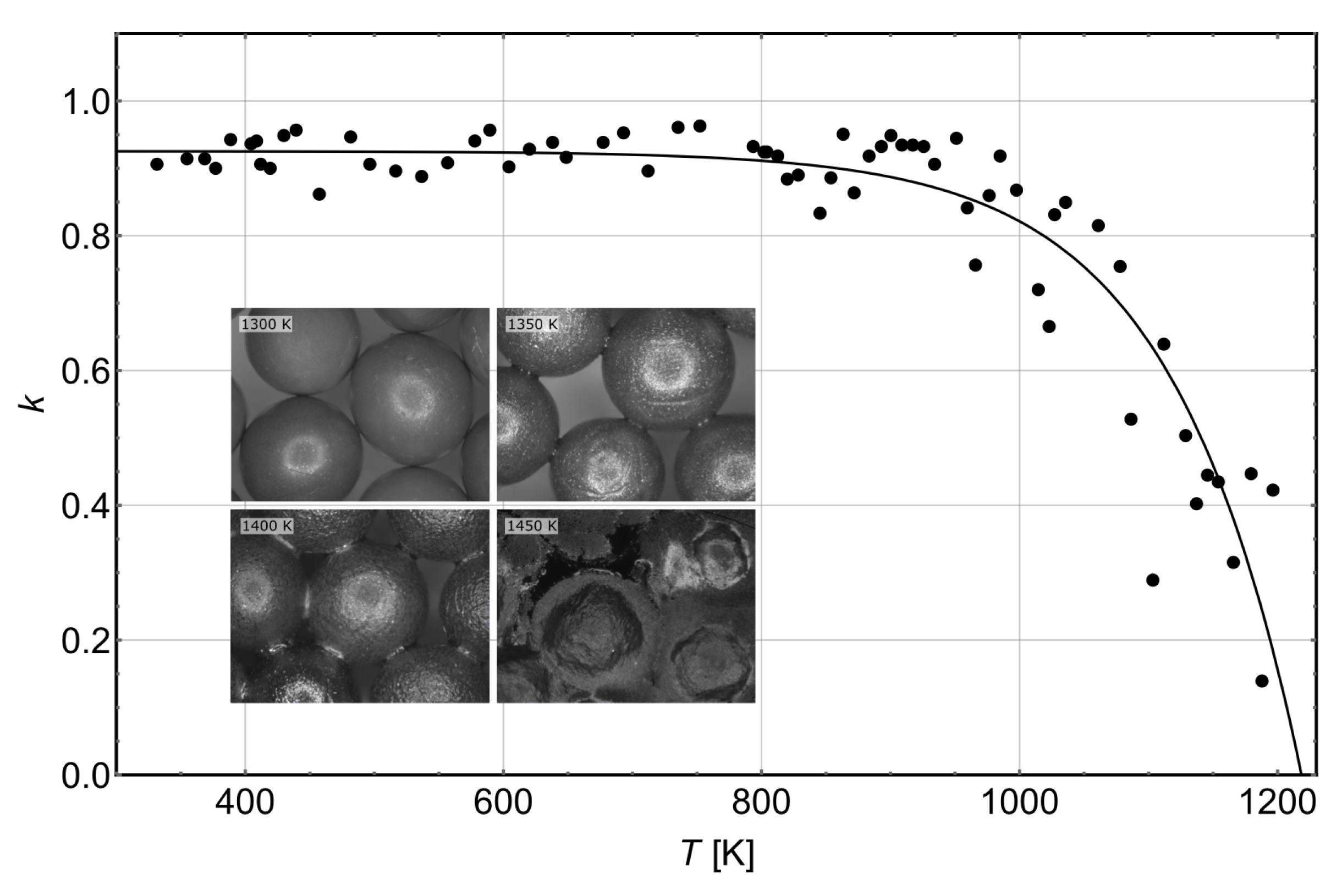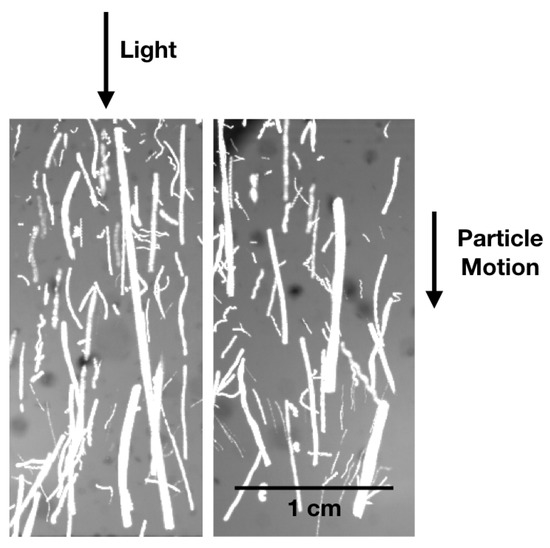 Figure 8.
Photophoresis on JSC Mars 1a grains in a drop tower experiment. Two images with superpositions of 200 frames each from a movie sequence (duration = 0.4 s). The illumination is from the top with a laser beam with 20 kW/. The particle velocities depend on the size (smaller grains are generally slower) which is visible in the different track lengths. Larger grains still speed up though, as the gas–grain coupling time is in the order of the elapsed experiment time (see Kuepper et al. [
113
] for details of the setup).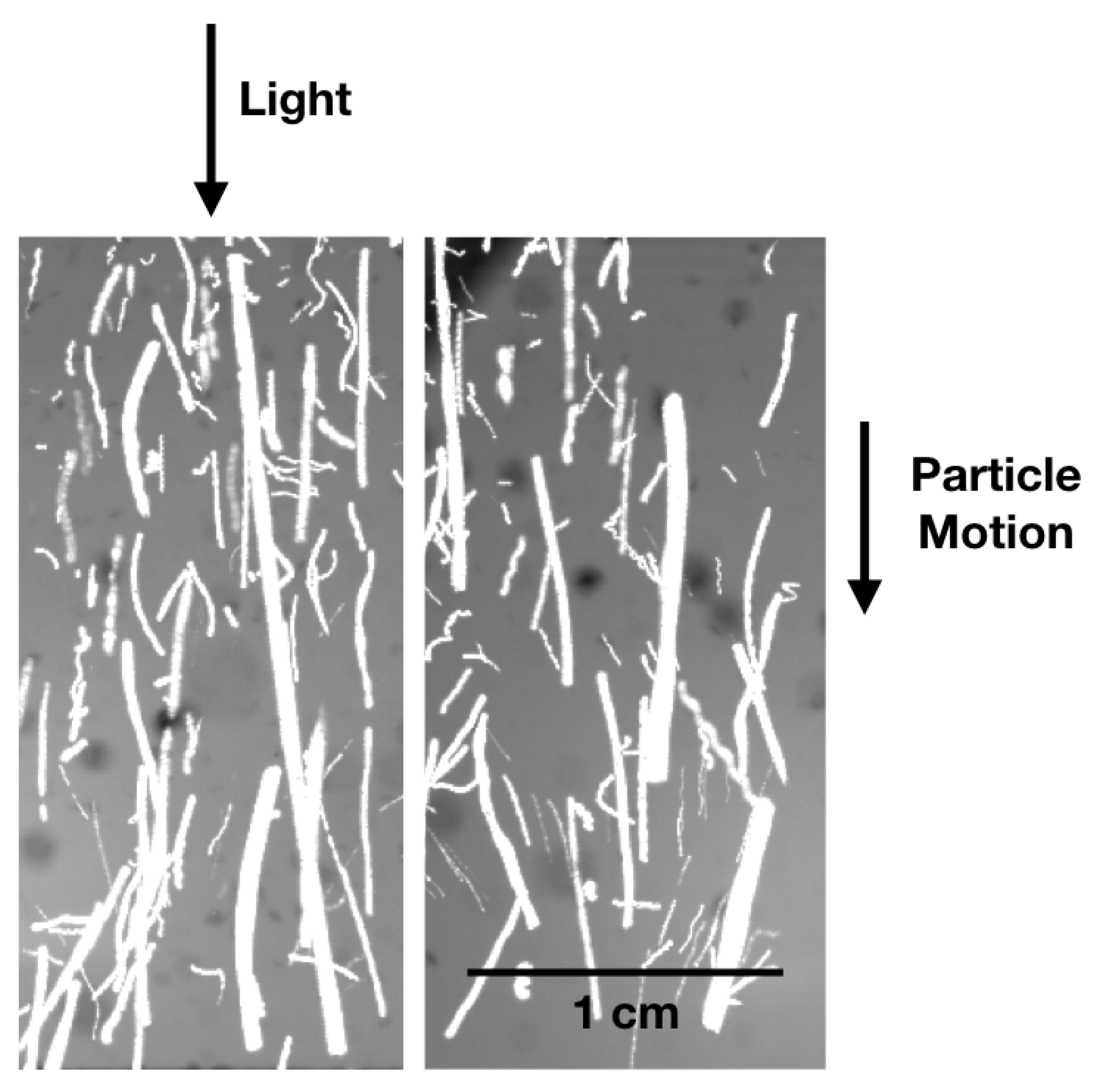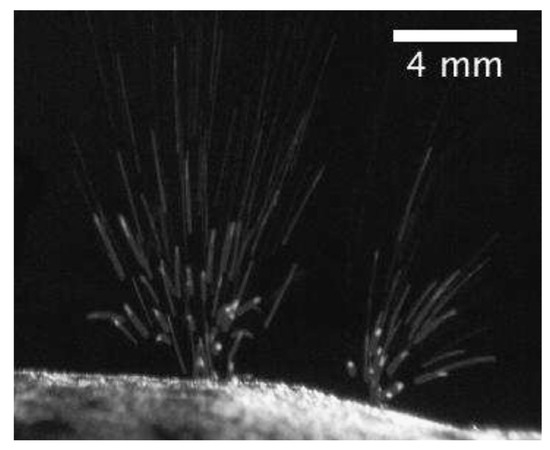 Figure 9.
Grains that were eruptively ejected from an illuminated surface at a low ambient pressure (from Kelling and Wurm [
127
]).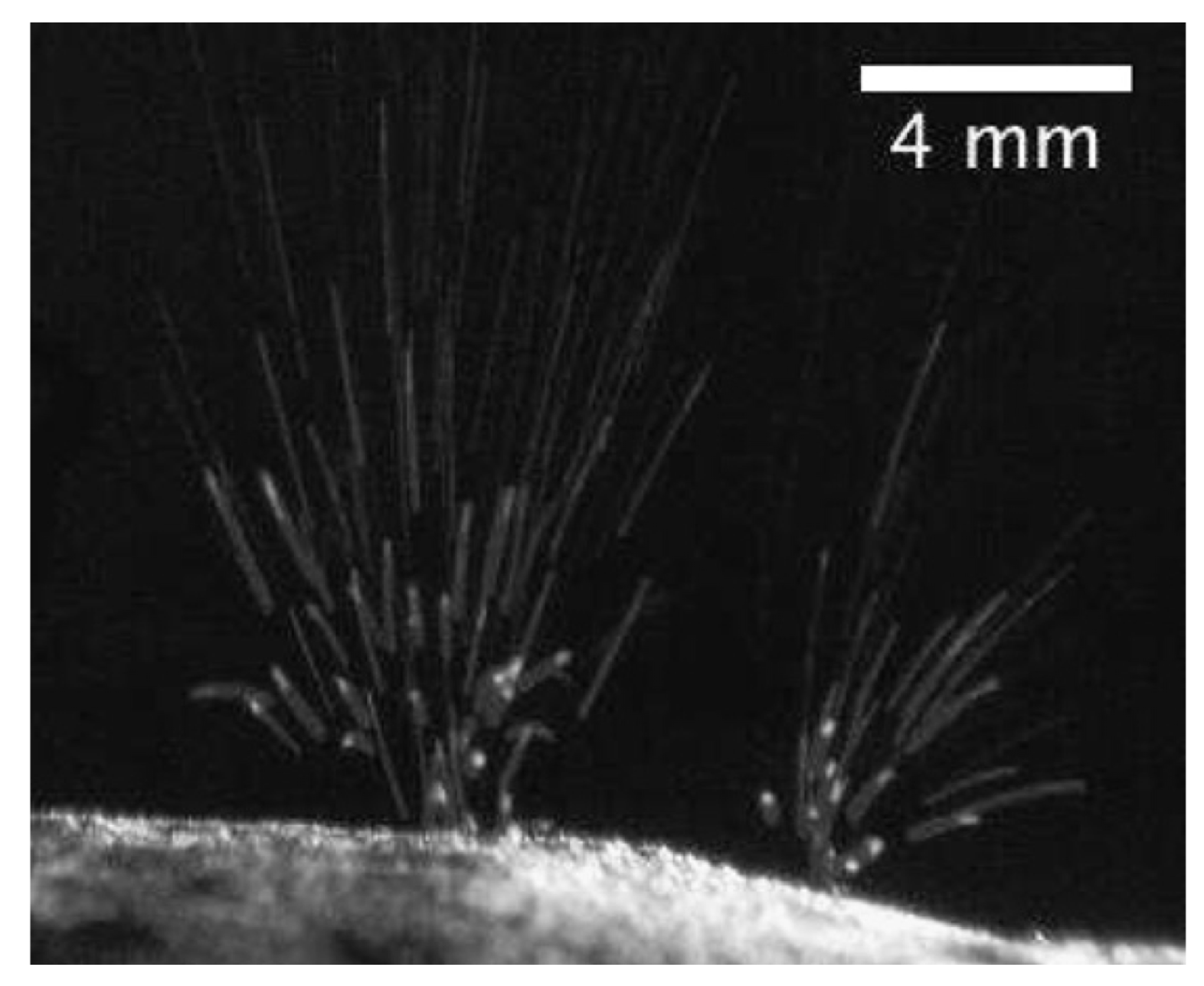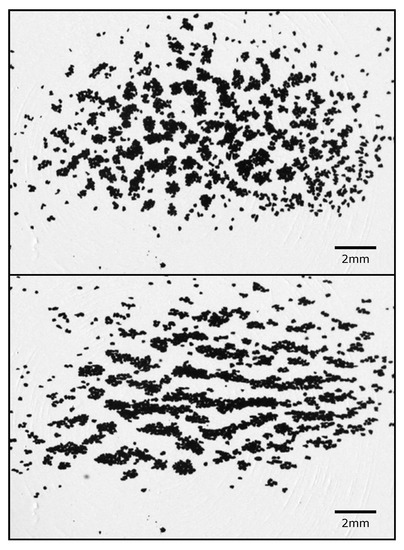 Figure 10.
Formation of an elongated cluster of aggregates after applying a magnetic field of 7 mT (from Kruss and Wurm [
138
]).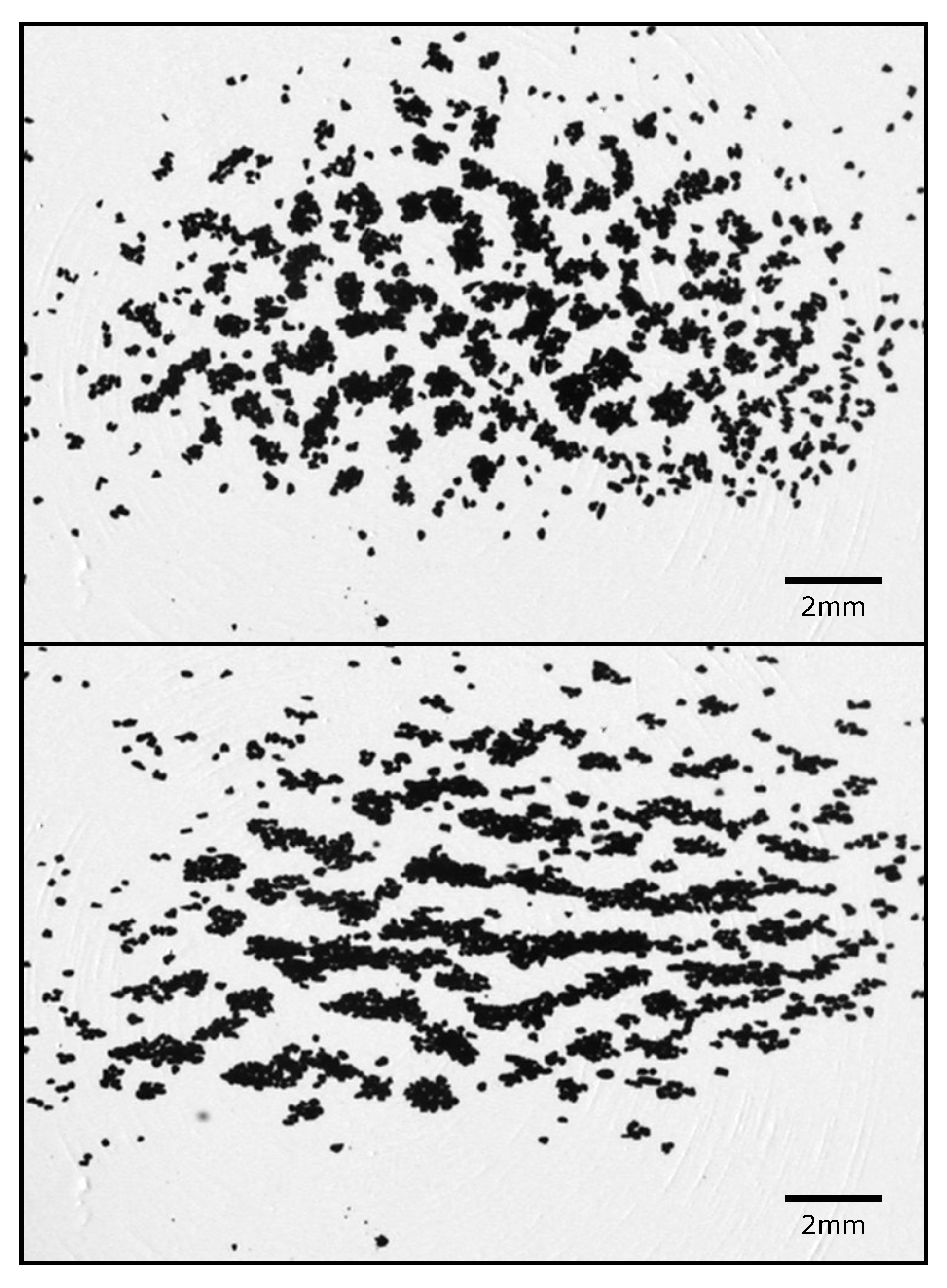 © 2018 by the author. Licensee MDPI, Basel, Switzerland. This article is an open access article distributed under the terms and conditions of the Creative Commons Attribution (CC BY) license (http://creativecommons.org/licenses/by/4.0/).