Role of Aeolian Dust in Shaping Landscapes and Soils of Arid and Semi-Arid South Africa
Desert Botanical Garden, Department of Research, Conservation and Collections, Phoenix, AZ 85008, USA 2 Department of Earth and Planetary Sciences, University of New Mexico, Albuquerque, NM 87131, USA
*
Author to whom correspondence should be addressed.
Received: 1 April 2018 / Revised: 5 May 2018 / Accepted: 7 May 2018 / Published: 10 May 2018
Abstract
The deposition of fine aeolian sediment profoundly influences the morphology of several different landscapes of the arid and semi-arid western portion of South Africa. Such landscapes and features include: (1) regularly-spaced mounds known as
heuweltjies
of the succulent Karoo region, (2) barren stone pavements in the more arid regions, and (3) hillslopes with smooth, curvilinear slope profiles that are mantled with coarse, stony colluvium. Investigations of each of these are presented, together with comparisons of similar features found within arid and semi-arid portions of Western North America. Recent findings suggest that the formation of the distinct, regularly-spaced
heuweltjies
involves a linked set of biological and physical processes. These include nutrient accumulation by termites and the production of dense vegetation patches, which, in turn, serve as a trap for aeolian sediments. Dust deposition is also responsible for the formation of stone pavements as demonstrated by research conducted principally in the Mojave Desert region of the United States. Mineralogical and geochronological studies have demonstrated that the stone clasts remain on the surface as fine aeolian sediments are translocated downward beneath the clasts resulting in a silt-rich soil horizon directly beneath the clasts. Pavements examined in South Africa have the same morphological features that can only be explained by the same process. The formation of soils on hillslopes mantled with stony colluvium are commonly viewed as having formed through the in-situ weathering of the stony colluvium. However, like pavements, mantles of coarse, stony colluvium are effective dust traps that provide the long-term stability required for advanced development of thick, fine-grained soils. This process contributes to the evolution of smooth, vegetated, curvilinear slope profiles. In each of these examples, the accumulation of dust has a profound influence, not only in soil formation, but also on the development of dominant landform characteristics. A greater awareness of these processes will contribute considerably to the growth of knowledge about soils and landscape development in the drylands of South Africa.
View Full-Text
►

▼

Figures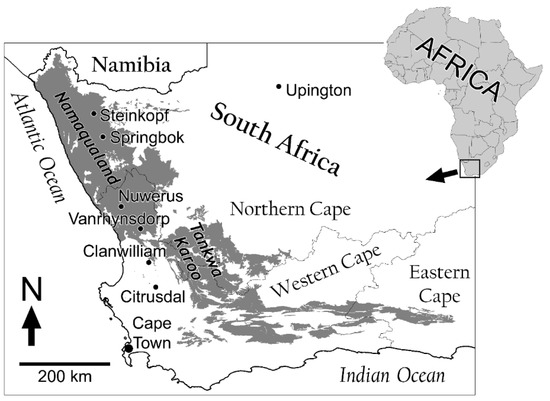 Figure 1
This is an open access article distributed under the
Creative Commons Attribution License
which permits unrestricted use, distribution, and reproduction in any medium, provided the original work is properly cited (CC BY 4.0).

Share & Cite This Article
MDPI and ACS Style
McAuliffe, J.R.; McFadden, L.D.; Hoffman, M.T. Role of Aeolian Dust in Shaping Landscapes and Soils of Arid and Semi-Arid South Africa. Geosciences 2018, 8, 171.
Note that from the first issue of 2016, MDPI journals use article numbers instead of page numbers. See further details here.
Related Articles
Comments
[Return to top]