Open Access This article is
freely available
re-usable
Review
Geoheritage, Geotourism and the Cultural Landscape: Enhancing the Visitor Experience and Promoting Geoconservation
School of Geography and Sustainable Development, University of St Andrews, St Andrews KY16 9AL Scotland, UK
Received: 5 March 2018 / Accepted: 3 April 2018 / Published: 16 April 2018
Abstract
:
Geotourism spans a range of visitor interests, from the specialist geotourist to the more general visitor. As well as supporting geoconservation outcomes, it provides economic, cultural, relational and social benefits for both visitors and host communities. The interconnections between geoheritage and the cultural components of the landscape have antecedents in concepts of landscape aesthetics in different cultures. These interconnections provide a range of opportunities for enhancing the geotourist experience and promoting geoconservation and geoeducation by means of activities that involve aesthetic and emotional experiences and interpretation through different cultural filters that encourage the rediscovery of a sense of wonder both about the geological stories in the landscape and the human interactions. A cultural ecosystem services framework provides a holistic approach for informing conservation policy, management and planning for geotourism, enabling assessment of multiple benefits and trade-offs for visitors and communities based on the values of the geoheritage assets. Geotourism studies could also benefit from integration of existing theory, conceptual analysis and practice from broader heritage and nature-based tourism and closer collaboration with relevant social sciences. Adhering to sound geoethical practice is an essential part of geotourism, which can also play a role in the promotion of geoethics among the public and professionals.
Keywords:
cultural ecosystem services; landscape aesthetics; geoheritage interpretation; geoparks; geoethics
"....landscape is the work of the mind. Its scenery is built up as much from strata of memory as from layers of rock".

(Simon Schama, 1995, p. 7) [

1

]
1. Introduction
Much of the focus in geoconservation over the last few decades, particularly in Europe, has centered on the protection of geosites primarily for scientific and educational reasons [
2
]. At the same time there has been growing recognition of the cultural and aesthetic values of geoheritage especially in relation to the development of geotourism [
3
,
4
,
5
,
6
,
7
,
8
] and UNESCO (United Nations Educational, Scientific and Cultural Organization) Global Geoparks which are required to deliver a range of educational, economic, cultural and social benefits as well as geoconservation [
9
,
10
]. Geotourism emerged in the 1990s [
11
,
12
] to promote wider awareness of geoheritage and its values beyond the geoscience community as a means to gain support for geoconservation at a time when sustainable development and eco- or nature-based tourism were attracting increasing attention. As a precursor to modern geotourism, tourism based on the aesthetic appreciation of the physical landscape and natural geological "wonders" is not a recent phenomenon. In various forms, it extends back over more than two centuries in Western Europe [
13
] and much longer in Asia [
7
].
Geotourism today is essentially a cultural response to the physical landscape. More specifically, it combines geologically based tourism in suitable locations with interpretation, education and awareness raising to foster geoconservation and sustainable economic benefits for local communities based on their geoheritage. Notwithstanding the different definitions proposed [
12
,
13
,
14
,
15
,
16
,
17
,
18
,
19
,
20
], geotourism may be considered to span a spectrum of interests and opportunities appealing to a range of visitors from "dedicated" geotourists to "casual" visitors [
11
,
12
,
14
,
21
,
22
]. The former are actively seeking to learn about geology and geomorphology as their prime motive for visiting an area; the latter, to appreciate scenery, enhance their experience of natural wonders in the landscape through cultural and aesthetic interests, and enjoy outdoor recreation, or simply to "be there". Although, like ecotourism [
23
], geotourism may be viewed as originally a Western concept, it is now global in its reach [
7
,
11
,
24
,
25
]. As a cultural phenomenon, geotourism is part of a spectrum of activities embraced by natural area tourism and a microniche within niche tourism but with a distinctive focus on geoheritage [
26
,
27
]. The scope of geotourism includes a wide range and scale of geological and geomorphological features, from mountains and coasts to small rock exposures and the built environment [
24
]. These may occur in a variety of locations from natural areas to urban environments and include both geoparks and geosites, as well as buildings and monuments with geological associations.
As a contribution to progressing geotourism discourse beyond much of the current, and necessary, focus on the inventory of potential sites and case studies of geotourism activities, this paper reviews how the links between geoheritage and cultural heritage can be developed to enhance the visitor experience and advance geoeducation and geoconservation. The paper first outlines the range of connections between geoheritage and cultural heritage within an ecosystem services framework which is now widely adopted within the environmental science and policy communities; second, considers the changing cultural values, both historical and modern, placed on the physical landscape and geological features, and the lessons they provide for geotourism; and third, evaluates how the interpretation of cultural links can enhance the visitor experience and at the same time promote sound geoethical values. The full range of the visitor interest spectrum is addressed since geotourism in a broad sense has a vital role to play in raising awareness of geoheritage and the need for its conservation among a wider public. The term "nature" is used to include both the biotic and abiotic aspects of the natural world.
2. Geoheritage and the Cultural Landscape
Throughout history, people have placed different cultural values on nature, including its abiotic components. In modern times in Western thinking, these range from a Romantic view of the physical landscape in the 18th and 19th centuries as an aesthetic experience, to a scientific view of nature in the latter half of the 20th century as a focus for study and conservation in protected areas; and more recently, to a recognition of the need for sustainable use of natural resources that combines both the aesthetic and the scientific viewpoints and provides benefits for people, and embodied now in geoconservation and geotourism activities [
28
]. In contrast, Eastern and indigenous cultures have placed a much stronger emphasis on harmony with nature and landscape appreciation through different cultural filters [
29
]. Consequently, a landscape can be understood and appreciated as a cultural image [
30
], involving all its natural and cultural components existing in a symbiotic, rather than a dichotomous relationship [
3
,
31
,
32
,
33
,
34
,
35
,
36
]. For both the dedicated geotourist and particularly the general visitor who has less specialized interest in geology, the nature-culture symbiosis provides a means to enhance the visitor experience of engaging with geoheritage through different aspects of landscape appreciation.
Cultural heritage comprises tangible and intangible components. The former include movable (e.g., paintings, sculptures, manuscripts and fossils) and immovable (e.g., buildings, townscapes, monuments, archaeological sites and rural landscapes) constituents; the latter, oral traditions, performing arts, rituals, cuisine, traditional skills and technologies, religious ceremonies and storytelling. As noted by Panizza and Piacente [
31
,
37
], aspects of geoheritage may in themselves be cultural elements of the landscape (e.g., as features celebrated in art, sculpture, music, poetry and literature or that are revered as sacred places), or may provide the essential context in which cultural features (e.g., settlements, castles and archaeological sites) are located. Geology and geomorphology are also a fundamental part of the distinctive character of many rural landscapes and the built environment and contribute to the aesthetic qualities of these landscapes. As described below, there are many connections between geoheritage and cultural heritage that provide a basis for geotourism activities. The value of these connections is now acknowledged within the UNESCO Global Geoparks framework [
9
]. Likewise, many cultural World Heritage Sites benefit from strong supporting geoheritage interests [
38
], while many existing natural properties are also cultural landscapes that have potential for re-inscription as mixed properties, recognizing their cultural and spiritual associations as well as their outstanding geoheritage features, as happened in the case of Tongariro National Park (New Zealand) (1992) and Ulu
r
u-Kata Tju
t
a National Park (Australia) (1994) [
39
].
The World Heritage Committee of UNESCO defined cultural landscapes as representing the "combined works of nature and of man" and "illustrative of the evolution of human society and settlement over time, under the influence of the physical constraints and/or opportunities presented by their natural environment and of successive social, economic and cultural forces, both external and internal" [
40
] (p. 14). Cultural landscapes fall into three main categories, all of which provide possibilities for geotourism: designed and created landscapes (parks and gardens, often with historic and/or religious monuments or buildings); organically evolved landscapes (that have developed their present form through human activities or occupancy interacting with natural environments); and associative cultural landscapes that have religious, artistic or cultural associations arising from the natural elements [
40
]. Cultural landscapes are at the interface between nature and culture and include both tangible and intangible components that are place-specific [
41
,
42
,
43
], but the traditional separation of the natural and cultural worlds in Western thinking makes little sense [
44
]. Apart from some parts of the polar regions, deserts and higher parts of mountain areas, most landscapes, including many so-called "wild" or "wilderness" areas, have been modified by people, and even the former all have strong cultural resonance (e.g., [
45
,
46
,
47
,
48
,
49
,
50
]). Landscape can therefore be perceived as a meeting ground between nature and people, past and present, and tangible and intangible values [
44
], and where there is a continuous interaction between natural processes and human activities that both shape and are shaped by each other [
51
,
52
]. This is reflected in the European Landscape Convention, which recognizes landscapes as the composite result of the action and interaction of both natural processes and/or human activities [
53
]; in effect, the landscape is a palimpsest recording, albeit incompletely, the geological and geomorphological history of the Earth and the interactions with human activities and cultural practices.
3. Geoheritage, Geotourism and Cultural Ecosystem Services
4. Geoheritage, Landscape Aesthetics and Geotourism
4.1. Western Cultural Values and the Roots of Modern Geotourism
4.2. Eastern and Indigenous Cultural Values
The Romantic movement was a product of European culture at a particular time. Elsewhere, people have responded differently to the natural world, reflecting the contention that there is no single nature, but rather multiple natures constructed by different societies [
23
,
29
,
148
,
149
,
150
,
151
]. In Eastern cultures, there is a long tradition of respect, harmony and synergy between humans and nature, embodied in the concept of the cultural landscape (e.g., [
152
]). Geological characteristics are fundamental to perceptions of the scenic quality and natural beauty of this cultural landscape [
7
]. For example, mountains, rivers, waterfalls and other natural features have all been recurring motifs in Chinese painting, poetry and travelers' journals for over two millennia, celebrating the sacred character of nature and the connectedness of humans and nature (e.g., [
7
,
153
,
154
,
155
]). In contrast to the Western tradition of regarding nature and culture as separate elements of the same landscape, and which idealizes nature and wilderness protection free from human intervention, the traditional view of nature deeply rooted in Chinese philosophies is that nature and culture are indivisible and form a cosmological whole [
7
,
43
,
156
].
As people and nature are perceived to be in harmony in Chinese traditions, human intervention and manipulation of nature can enhance landscape appeal. Hence the installation of temples, carvings, inscriptions of poetry in stone, and artificial lakes and gardens in natural environments enhances rather than detracts from appreciation of the natural landscape, compared to Western preferences for the preservation of wild nature [
157
]. Chinese perceptions of landscape are strongly influenced by idealized images portrayed in paintings and poetry [
158
], so that Chinese tourists tend to view natural places in terms of their cultural meanings and significance. Consequently, their experiences of landscapes differ from those of Western tourists [
159
,
160
,
161
] and their motivation is often in the form of a pilgrimage to places that feature in poetry and paintings (e.g., the Guilin karst—
Figure 1
f) or have other cultural associations [
158
,
162
]. They are there to view the beauty of the physical features but gaze at them through cultural filters involving landscape memories and intangible cultural heritage [
162
,
163
]. Li [
160
] termed this distinctive Chinese gaze, the "harmony gaze". In contrast in Western cultures, the aesthetics of nature and art have diverged [
164
].
In Western societies, spiritual attachment to nature declined during the scientific flourishing of the European Enlightenment. For many indigenous peoples, however, natural features remain an integral part of their culture and beliefs (e.g., [
165
]). Indigenous peoples have a strong kinship with nature, based on long connections with place, and take their identities and systems of beliefs from their natural surroundings. This is expressed, for example, in the traditions and philosophy of "Pachamama" ("Mother Earth") in Andean indigenous communities in Latin America. Similarly, for Indigenous Australians, landscape features form part of their spirituality expressed through dreamtime stories and ceremonies, and embodying deep connections with the physical landscape which they experience in different ways and respect through the concept of "caring for country". Hence geoheritage features such as Ulu
r
u, Kata Tju
t
a and the Bungle Bungle Range (
Figure 1
c) have special spiritual significance. In contrast in Western cultures, Ellison [
166
] described how the "suffocating embrace of romantically-infused notions of landscape has cut humans off from nature and from the world" (p. 87) and advocated that landscape artists, ecologists and environmentalists need to re-engage with the concept of humans as part of the natural world—that nature is not something "out there".
5. Discussion
5.1. Enhancing the Visitor Experience
5.2. Geotourism: Bridging the Nature–Culture Divide
5.3. Geotourism and Geoethics
Geotourism has a cultural role in the developing field of geoethics. According to Peppoloni and Di Capua [
230
], geoethics through the development of geotourism and UNESCO Global Geoparks promotes geoeducation, aiming to develop awareness, values and responsibility for geoheritage, especially among young people. By creating awareness of the value of a region's geological heritage, "geological culture and geoethics can strengthen the links between people and their land, between the places of their origins and their own memories" [
231
] (p. 339). Education can also highlight messages about environmental issues and sustainable use of natural resources, including the consequences of ignoring the loss of geoheritage [
232
]. Importantly, an ethical approach is not restricted to the economic sustainability of natural resources, but must include the life-enhancing value of nature as a subject of sensual, contemplative, spiritual, religious and aesthetic experience to be passed on to future generations [
57
,
233
,
234
]. The contention that nature has intrinsic value that should be protected for its own sake is often based on spiritual or metaphysical beliefs, but it also arises from moral considerations and the responsibilities of human beings towards the natural world and to maintain the diversity of the world's natural and culture heritage [
221
,
235
,
236
].
Adhering to good geoethical practice is an essential part of geotourism both among providers and participants. In addition, geotourism should help to promote and enhance awareness of geoethics among the public [
237
]. There are several aspects to this. First, geotourism activities and infrastructure must be sustainable and incorporated, where appropriate, into the aesthetics of the site, and they should enable geoconservation without damaging the features of interest or causing other environmental impacts [
24
,
27
]. Second, they should be sensitive to the values and cultures of local communities, recognizing that the latter may hold different norms, values and interpretations of the landscape, as well as incorporating local knowledge fundamental to sustainable management of the geotourism assets. Commodification of geoheritage as a resource for geotourism may not align with local cultural values [
23
], but sensitive community participation should help to encourage a wider sense of ownership [
238
,
239
,
240
]. This may include management zoning or employment of local guides in sensitive areas to present indigenous interpretations of the landscape [
41
]. Such cross-cultural collaboration involving local and indigenous people can help to maintain traditional knowledge and culture, while delivering geoconservation [
239
,
241
]. Third, geotourism should be guided by ethical principles to ensure that commercialisation does not destroy harmony with nature [
242
] and that the geotourism experience combines enjoyment of the aesthetic features of geoheritage with gaining knowledge about their interest and value, while minimizing management or infrastructure footprints that impact on the aesthetic experience. Part of this includes reconciling contrasting expectations and demands of tourists from different cultures and with different backgrounds [
242
]. Fourth, risk assessment of hazards must be fully taken into account in evaluating the potential use of geosites for tourism and in their subsequent management. Large numbers of visitors to inherently dynamic sites may expose visitors to hazards with risk of injuries or death [
75
,
243
,
244
], but geotourism also has an important role in educating visitors about natural hazards [
245
]. Fifth, geotourism can help to promote sustainable use of natural resources that recognizes the value of local knowledge and the spiritual connections between people and the land [
246
,
247
]. Sixth, geotourism interpretation and education also provide opportunities to raise awareness and discuss broader geoethical issues. This includes encouraging a positive attitude to the values of geoconservation and promoting sustainable environmental management based on better appreciation of geology and geomorphological processes and the implementation of geoconservation principles such as "working with natural processes" [
66
,
248
]. In turn, this should enable better public understanding and more informed debate about natural hazards and global changes in the geosphere. Finally, geotourism has a part to play in educating geoscientists about geoconservation and good practice such as responsible rock coring [
249
,
250
].
6. Conclusions
Progressing geoconservation depends on better public awareness, understanding and support. Geotourism has a vital contribution to make in achieving these goals. Strong geological stories that appeal to the imagination are essential, but the visitor experience for both dedicated and casual geotourists can be enhanced through explorations of the connections between geoheritage and the cultural landscape. Interpretation that involves aesthetic and emotional experiences and encourages the rediscovery of a sense of wonder and a more holistic appreciation of nature, people and landscape is likely to have wide appeal and be most effective.
To be sustainable, geotourism must promote and strengthen geoconservation [
251
], not conflict with it for commercial gain, and geoconservation must work for both people and the land in a harmonious relationship [
252
]. Geotourism needs to be integrated with best practice management to preserve and enhance the visitor experience and protect the resource [
253
]. For many, aesthetics are a significant part of the destination experience, if not a primary factor [
162
,
254
], so that a challenge for the management of geotourism is to provide access to places of scenic beauty and natural wonders in a way that not only avoids development which detracts from the aesthetic experience [
120
,
207
,
252
], but also accommodates divergent cultural perspectives and ensures the well-being of local communities and visitors, as well as maintaining the full range of ecosystem goods and services upon which they, and geotourism, depend.
While the cultural landscape offers rich potential to engage a wider audience, there remains a need to evaluate the cross-cultural expectations of visitors [
200
,
255
] and the kinds of desired activities and meaningful and memorable experiences that will best connect people to geoheritage in a way that will influence their attitudes and increase support for geoconservation [
113
,
198
,
254
]. Visitor demand for, and success of different approaches to interpretation merit further investigation linked with the broader heritage and nature-based tourism research agenda and detailed analysis of: (1) what geotourists actually want [
161
,
162
,
256
]; (2) destination image and reality [
257
]; and (3) management options and the effectiveness of geotourism in raising visitors' awareness of geoheritage and changing their behavior [
258
]. There are important historical lessons about rediscovering a sense of wonder through aesthetic and emotional experiences, although the role of emotional content in destination experiences for geotourists remains to be evaluated [
183
]. However, rather than re-engagement in a romantic way, there should be a focus on people as part of nature. Linked to this is a need for a stronger academic foundation for geotourism which could benefit from existing theory, conceptual analysis and best practice from other forms of heritage and nature-based tourism [
259
]. This will require closer collaboration with relevant social sciences to develop multidisciplinary approaches with a range of stakeholders. A cultural ecosystem services framework should be valuable in this respect, and particularly relevant in the case of UNESCO Global Geoparks, which are required to deliver both geoconservation and a range of benefits for people. Specifically, a cultural ecosystem services framework can highlight multiple benefits, as well as trade-offs, and support integrated resource and environmental management that includes links to human well-being and delivery of different services [
260
,
261
]. Further analysis is also required to develop new insights into how cultural ecosystem services and benefits influence visitor motivations, expectations, behaviors and levels of satisfaction and how these might be carried through into planning and management practice [
260
].
The assessment of geoheritage assets, values and benefits within a cultural ecosystem services framework can enable a more holistic approach to geotourism, recognizing the connections between people, geoheritage and the landscape. In addition to geoconservation outcomes and economic returns for communities, wider relational benefits for participants include improved health and well-being through aesthetic and spiritual enrichment, possibilities for recreation, physical activity, inspiration, reflection, acquiring scientific knowledge and reaffirming cultural identity. In view of the growing importance of the ecosystem approach in environmental policy, management and decision making, active engagement by the geoscience community is required to ensure that geotourism is fully factored into wider assessments of ecosystem services and nature's contributions to people (e.g., [
262
]). Promoting the values of geotourism and the benefits to society has an essential part to play in gaining wider recognition for geoheritage and support for geoconservation.
Acknowledgments
I thank the three reviewers for their helpful comments on the manuscript.
Conflicts of Interest
The author declares no conflicts of interest.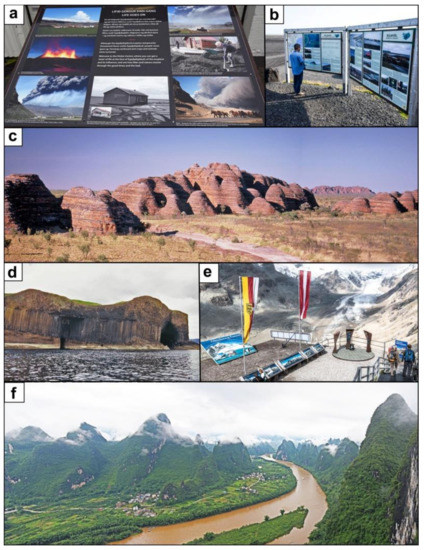 Figure 1. (a) Interpretation board at Eyafjallajökull Visitor Centre, Iceland, explains that "life goes on" after the volcanic eruption of April 2011. (b) Interpretation board at Múlakvísl, Iceland, explains the effects of the jökulhlaup in 2011, which destroyed a major bridge on the island's main ring road. (c) The Bungle Bungle Range in Purnulu National Park and World Heritage Site, Australia, is becoming an increasingly popular tourist destination. It is an outstanding example of cone karst in Devonian sandstone, supports a diverse range of habitats, from deep, sheltered gorges to semi-arid plains, and has special spiritual and cultural significance for local Aboriginal clan groups. (d) The Palaeogene volcanic features at Fingal's Cave, Staffa, Scotland, have been a tourist destination since the late 18th century and a source of inspiration for poetry music and art. (e) The retreat of the Pasterze Glacier, the largest glacier in Austria and the Eastern Alps, in the Hohe Tauern National Park, has increased in response to warmer summer temperatures and lower snowfall. A major tourist attraction, the Kaiser-Franz-Josefs-Höhe Visitor Centre offers panoramic views over the glacier and the Grossglockner massif, Austria's highest mountain. Information boards and an educational glacier trail explain the glacial processes and history of retreat. (f) The spectacular karst landscape of Guilin and the River Li, China, is a World Heritage Site celebrated in poetry and painting for many centuries. Photos: John Gordon.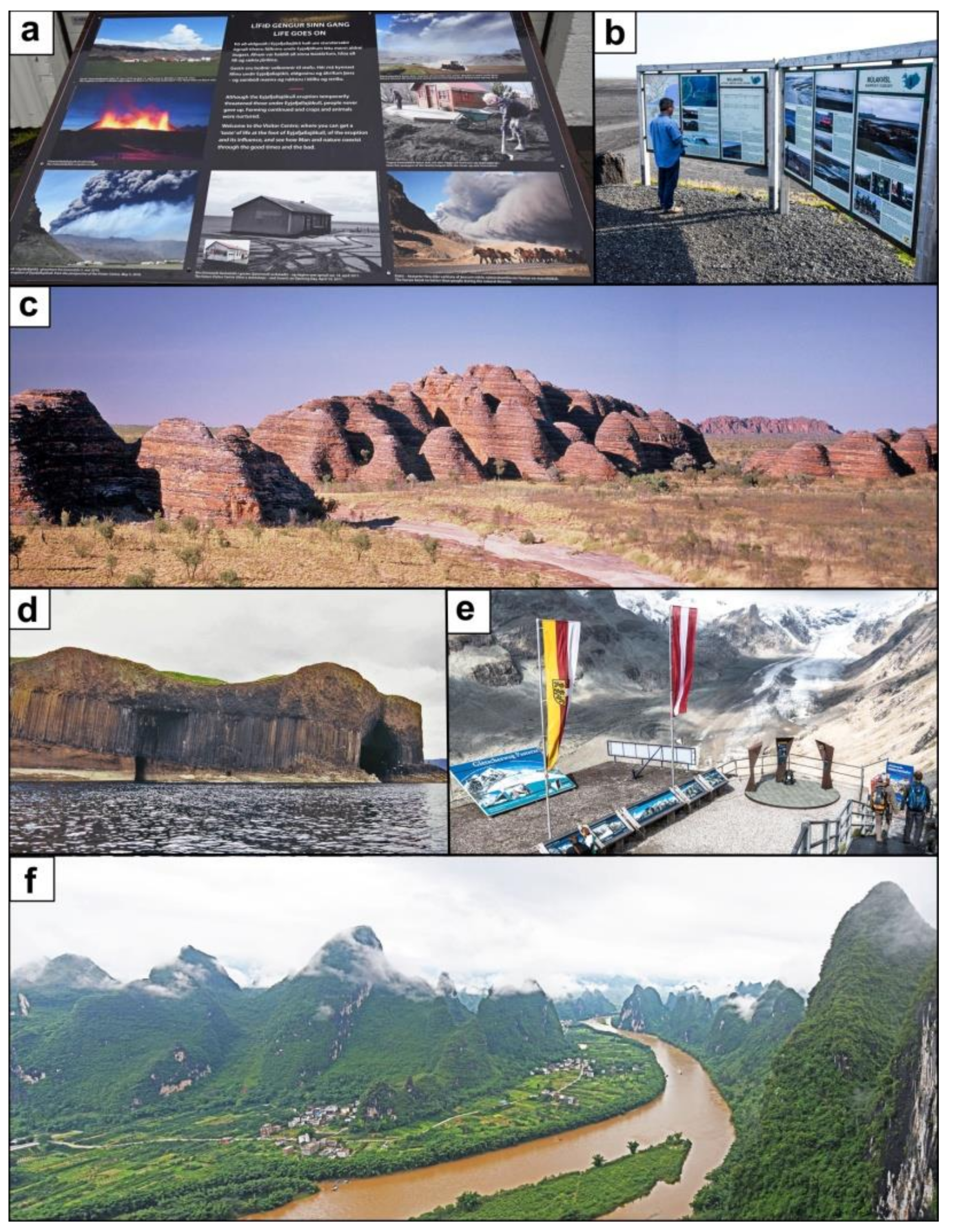 | Cultural Ecosystem Service Category/Benefits | Description |
| --- | --- |
| Cultural diversity | The diversity of the physical environment is one factor influencing the diversity of cultures and cultural identity. |
| Spiritual and religious values and cultural meanings | Natural rock formations and landforms often have associated religious or spiritual values. They also feature in local folklore and legends. |
| Knowledge systems | Society benefits from knowledge of the Earth's physical properties, materials, processes and history in many ways (e.g., through applied, engineering and environmental geology, medical geology and geoforensics). Records of past climate and environmental changes preserved in a variety of archives (e.g., ice cores, ocean sediments, landforms and lake sediments) enable a longer-term perspective on Earth system processes and ecosystem dynamics, trends and human interactions. They provide baselines for environmental monitoring and forecasting, and can indicate possible ecosystem responses to future changes in climate and other factors. |
| Education | Geodiversity provides the basis for both formal and non-formal education for people of all ages, through desk-based learning and outdoor learning opportunities. |
| Artistic inspiration | Geodiversity provides a rich source of inspiration for art, literature, poetry, music, sculpture, national symbols, architecture and built heritage and gardens. |
| Aesthetics | Many people find natural beauty and aesthetic value in various aspects of the natural environment, scenery and scenic views, interesting/beautiful/dramatic landscapes and silence/tranquillity/peacefulness. |
| Social relations | Changes in ecosystem services (e.g., availability of fresh water, flood regulation or erosion regulation) can affect social relations, particularly in cultures that have retained strong connections to their local environments. Volunteering through Local Geoconservation Groups can also provide opportunities for social interaction. |
| Sense of place | Many people value the sense of place that is associated with recognized features of their environment, such as natural rock formations and landscapes, and the perceived "feeling of security" and character created by those features. |
| Cultural heritage and geoheritage | Geosites associated with major developments in geoscience are part of the cultural value of geoheritage. Other geosites are significant for their historical, literary or artistic associations or other cultural meanings. Geodiversity underpins landscape and seascape character and different types of cultural landscape. The use of local or traditional stone and other geological materials within the built environment and the conservation of cultural landscapes contribute to the cultural heritage of an area and its landscape character. Cultural memories are often expressed through natural features such as mountains, waterfalls and rock formations. |
| Environmental quality | Geodiversity and geoheritage contribute to environmental quality which supports people's health and well-being. |
| Recreation and nature-based tourism | People often choose where to spend their leisure time based on the characteristics of the natural or cultural features in a particular area. Physical features (geodiversity) underpin landscape character, valued habitats and ecosystems, and the aesthetic and other cultural qualities of an area. They provide opportunities for outdoor recreation (e.g., walking, rock climbing, caving, skiing and outdoor adventure) and leisure, or a peaceful haven in which to relax and reflect, and contribute to people's health and well-being. They also support geotourism, which in turn provides a source of employment (e.g., in geoparks) and a range of relational and other benefits described above that contribute to people's health and well-being and educational and life-long personal development. |

© 2018 by the author. Licensee MDPI, Basel, Switzerland. This article is an open access article distributed under the terms and conditions of the Creative Commons Attribution (CC BY) license (http://creativecommons.org/licenses/by/4.0/).