Open Access This article is
freely available
re-usable
Article
Shape and Size Complexity of Deep Seafloor Mounds on the Canary Basin (West to Canary Islands, Eastern Atlantic): A DEM-Based Geomorphometric Analysis of Domes and Volcanoes
1
Spanish Institute of Oceanography (IEO), Oceanographic Center of Málaga, Puerto Pesquero, S/N, 29640 Málaga, Spain
2
Spanish Institute of Oceanography (IEO), Oceanographic Center of Cádiz, Muelle de Levante, S/N, 11006 Cádiz, Spain
3
Geological Survey of Spain (IGME), Ríos Rosas 23, 28003 Madrid, Spain
*
Author to whom correspondence should be addressed.
Received: 20 November 2017 / Accepted: 17 January 2018 / Published: 23 January 2018
Abstract
:
Derived digital elevation models (DEMs) are high-resolution acoustic technology that has proven to be a crucial morphometric data source for research into submarine environments. We present a morphometric analysis of forty deep seafloor edifices located to the west of Canary Islands, using a 150 m resolution bathymetric DEM. These seafloor structures are characterized as hydrothermal domes and volcanic edifices, based on a previous study, and they are also morphostructurally categorized into five types of edifice following an earlier classification. Edifice outline contours were manually delineated and the morphometric variables quantifying slope, size and shape of the edifices were then calculated using ArcGIS Analyst tools. In addition, we performed a principal component analysis (PCA) where ten morphometric variables explain 84% of the total variance in edifice morphology. Most variables show a large spread and some overlap, with clear separations between the types of mounds. Based on these analyses, a morphometric growth model is proposed for both the hydrothermal domes and volcanic edifices. The model takes into account both the size and shape complexity of these seafloor structures. Grow occurs via two distinct pathways: the volcanoes predominantly grow upwards, becoming large cones, while the domes preferentially increase in volume through enlargement of the basal area.
Keywords:
seafloor geomorphometry; domes; volcanoes; digital elevation models (DEMs); Canary Basin; Atlantic Ocean
2. Study Area
The study area is situated in the central Canary Basin, approximately 500 km west of the volcanic archipelago of the Canary Islands (
Figure 1
). The Canary Basin is located in an intraplate setting over Jurassic to present oceanic crust [
43
]. This basin has been characterized as having a heterogeneous distribution of various volcanic elevations including seamounts, hills, and seafloor mounds [
42
,
44
]. Nevertheless, in the central area of this basin, known as the Subvent Area, these seafloor mounds are hydrothermal domes and scattered volcanoes related to Quaternary intrusive activity that gave rise to a huge magmatic sill complex together with volcanic activity [
41
]. Indeed, different morphostructural types (MT) of seafloor mounds have been differentiated according to the height, slope and basal area of these seafloor elevations [
42
] in agreement with various linked sill intrusions and volcanoes, as reported by [
41
].
The different genetic processes occurring in the Subvent Area have resulted in a striking seabed landscape including: hydrothermal domes formed above inclined but mainly saucer-shaped intrusions (MT1 and MT2); a huge bulge with a central depression associated with inclined sills at the top of a buried seamount (MT3); volcanic mounds developed at the top of basement highs and hydrothermal volcanic complexes associated with stratified sills (MT4 and MT5) [
41
,
42
] (
Figure 1
B). The classification according to size and slope variables has proved successful in discriminating hydrothermal domes from volcanic edifices, and just a few mismatches in the classification have been identified (i.e., M04, M06, M30, and M33) [
42
]. M06, M30 and M33 were morphostructurally classified as hydrothermal domes (MT2) despite the fact they have been confirmed as volcanic edifices, whereas M04 was regarded as volcanic mounds (MT4) even though it had been characterized as a peripheral dome of a volcanic/sill complex [
41
]. All the mounds have been labeled in accordance with the aforementioned classification, but the highlighted mounds are reclassified in regard to their confirmed origin (
Figure 1
B).
3. Method
Geomorphometric methods are commonly implemented in several steps, beginning with the acquisition, processing, and analyses of the bathymetric data, followed by Geographic Information System (GIS) applications (
Figure 2
). The methodological approach to computing features extracted from the DEM is based on multibeam data and its subsequent analysis using the ArcGIS © desktop v. 10.4.1 software packages. This contains various applications for the nearly automated extraction of variables from DEMs and further analyses based on these.
3.1. Dataset Sampling and Processing
To record seafloor depth, four oceanographic cruises (GAROÉ-2010, GAIRE-2011, AMULEY-ZEEE-2012 and MAEC-SUBVENT-2013) were undertaken, from 2010 to 2013, by the Spanish R/V
Hespérides
and R/V
Sarmiento de Gamboa
. The datasets obtained cover the lower and middle continental slope offshore the Canary Islands up to 5400 m below sea level (mbsl) (
Figure 1
). Full coverage and high-resolution bathymetric datasets were acquired using Kongsberg-Simrad EM-120 and Atlas Hydrosweep DS-3 multibeam echosounder systems (MBES). The sonar frequency of the Simrad EM-120 deep system was 13 kHz, with an angular coverage sector of up to 150 degrees and 191 beams. The transducer opening was as narrow as 1 degree. The achievable swath width was normally up to 3.5 times the water depth. The angular coverage sector and beam pointing angles were set to vary automatically with depth according to achievable coverage. The beam spacing was normally equidistant with available equiangle. Atlas Hydrosweep DS system was operated at a frequency of 14 to 16 kHz with a maximum of 345 beams spread over 140 degrees. The bathymetric across-track coverage was 3.5 times the water depth. The acoustic footprints were arranged in either an "equal-angle" or "equal-distant" pattern. In the Subvent Area (5000 m water depth), the vertical resolution and was 10 m and the footprint range was between approximately 50 and 90 m. Obtaining the DEMs required the sampled depths to be processed using CARIS HIPS and SIPS © software (i.e., sound velocity correction, noise filtering, cleaning of the data, interpolation, and choice of optimal spatial scale) in order to generate a corrected surface model yielding a DEM with 150 m of spatial resolution (
Figure 1
B). This resolution was chosen following the full homogenization of the data by hydrographers from the Spanish Navy's Hydrographic Institute.
3.2. DEM Analyses: Delimiting the Contour and Morphometric Variables
From the corrected DEM, we undertook topographic modeling based on the aforementioned method [
36
], which blends both primary and secondary DEM-derived products; slope and profile curvature; into a single boundary delimitation layer (BDL), using ArcGIS Analysis tools (
Figure 2
). This final product was used for the next step where each edifice analyzed was spatially delimited based on concave breaks in slope around it. All outlined edifices had distinct positive topographies, with a relief of more than 10 m, basal diameters of greater than 1 km, and areas not smaller than 2 km
2
(i.e., 90 pixels) according to the available spatial resolution. Based on these criteria, we analyzed forty mounds consisting of topographically recognized shapes.
The edifice boundary was used to directly compute the following size variables: Perimeter (P), which is the outlining edifice contour; Basal and summit areas (Ba and Sa), and edifice Height and Volume (H, V) were measured as the absolute difference between the summit and basal relief points or surfaces of the selected edifice outline, respectively, using ArcGIS Analysis tools. Major and minor basal and summit axis (MBax, mBax, MSax and mSax), so called diameters or widths, were manually measured to calculate the aspect ratio of the edifices. Other morphological size ratios were calculated including Flatness (FL = MBax/MSax and Sa/Ba) [
45
,
46
], defined as the ratio of the summit diameter or area to the basal diameter or area; and Sigma Value (SV = 2 × H/(MBax−MSax)), normally inversely proportional to FL (1-FL) [
46
]. Aspect ratios such as Eccentricity (mBax/MBax) and the H/MBax index were also calculated [
47
]. Slope (S) was calculated as the first derivative of the DEM [
48
], also using also ArcGIS Analysis tools. This corresponds to the maximum elevation change over a given distance and is indicated in degrees. The plan shape of the edifices was characterized using the Ellipticity Index (EI = Π × (MBax)
2
/Ba), which quantifies edifice elongation, and the Irregularity Index (II = (P/2 × Ba) × (√Ba/Π)-1), which quantifies edifice complexity (for details see [
36
]). Orientation variables were represented by the azimuth of the MBax (Az), which was calculated from the most northerly to the most southerly point, indicating the edifice elongation orientation.
The morphological variables used in this study should be highly correlated because they derive from a unique source (DEM). All these variables contain relevant information on the geometry of the edifices since they have previously proven to be good indicators for correlating seafloor features with constructive- and destructive-related processes. They are used in correlation and statistical analyses to examine whether these edifices display similar morphometries (i.e., maintaining a uniform H/MBax) as observed in other morphometric analyses [
27
,
45
,
47
].
3.3. Principal Components Analysis
Once all the aforementioned variables and ratios had been calculated for each edifice, we applied a principal components analysis (PCA [
49
]) method to the data using XLSTAT software v.7.5. This is a common statistical procedure used to convert a set of observations into uncorrelated groups of correlated variables (i.e., principal components (PCs) or factors (F)) (e.g., [
16
]). The use of PCA is a standard practice in current exploratory data analysis [
50
], used for extracting the dominant patterns from the datasets in terms of loading plots and reducing the non-relevant information. Each PC explains a percentage of the total variability of the original dataset. The first PC accounts for the highest variance, the second accounts for the next most important variance, and so on. A decision criterion based on the eigenvalues is often used to determine how many PCs are relevant in the analysis [
51
]. In this study, only factors with eigenvalues higher than 1 were considered, following the Kaiser-Harris criterion, because this metric represents the most useful factors. PCAs and their key applications in oceanography can be considered diagnostic tools for multivariate analysis since they enable the simplification of the complex variance patterns found in many physical and geological systems.
4. Results
The forty mounds analyzed comprise a wide spectrum of seafloor forms and sizes. The integrated combination of automatic morphological attributes mapping and feature-based quantitative representation was useful for extracting the relevant morphometric information. We assessed which were the most highly correlated and well-determined variables (
Figure 3
) in the morphometric relationships among the mounds and related variables. These relationships were plotted to evaluate whether there are any natural clusters in the data (
Figure 4
and
Figure 5
), as well as the size and shape growth patterns of the various types of mounds (
Figure 6
and
Figure 7
).
4.1. Main Morphometric Variables
The PCA (
Figure 3
) was conducted using ten of the seventeen variables listed in
Section 3.2
. The variables driving the PCA were height, slope, sigma value, flatness, basal area, volume, diameter, irregularity and ellipticity indexes, and azimuth. These variables display loading of more than ±0.5 and contribute to defining the main factors explaining 84% of the total variance (in geometric variability (size and shape) of the mounds), with eigenvalues larger than one. H, S, and SV are positively loaded in Factor 1, while FL is negatively loaded; together these explain 39% of the variance in these seafloor edifices. This factor has been considered an indicator of the overall vertical growth and inclination of the edifice and we have denominated it Profile Shape Factor (F1). BA, V, and MBax contribute to defining Factor 2, which we have called Size Factor (F2). This explains 27% of the variability in the seafloor edifices. Finally, Factor 3 explains 18% of the variance and is considered the Plan Shape Factor (F3) since it is positively determined by the shape descriptors EI and II, and negatively loaded by the azimuth of the edifices.
The relationships among the edifices and the variables are plotted in the F1 vs. F2 and F3 biplots (
Figure 3
) where each dot represents one of the forty edifices and the ten variables are represented by linear vectors. Axis X (F1) relates to the height and slope measurements, with edifices on the left having both lesser heights and slopes (i.e., M41 and M45), while the edifices on the right have larger values (i.e., M02 and M03). Axis Y (F2) is a measure of the basal size, with most of the edifices on the bottom being small, while edifices on the top are large (i.e., M23) to extreme in size (i.e., M00). Axis Y (F3) is a measure of the shape, with edifices on the bottom being circular (i.e., M07 and M17), while edifices on the top show varied elongation and shape complexity (i.e., M30). Dots that are close together correspond to edifices that have similar values (i.e., M31 and M32, or M15 and M37) (
Figure 3
). Dots that are relatively far apart correspond to edifices that are different to the others, for example: M02, M03, and M17 have high Profile Shape Factor (F1) values, M00 has the highest Size factor (F2) value and M40 has the highest value for the Basal Shape Factor (F3).
4.2. Relationships between the Main Morphometric Variables
In order to investigate the relationships between the different types of mounds and related variables, several XY scatter plots and their linear correlation coefficients (R
2
) are shown among the morphometric variables that have determined morphometric factors F1, F2 and F3. The highest correlations measure the strength of the linear relationship between two of the plotted variables and are determined by the size and slope variables. The data is discriminated by the types of edifices in different color-coded tiles (
Figure 4
A–E).
4.2.1. Profile Shape Factor (F1)
Slope correlates very positively with height, sigma value and height/basal length ratio, having R
2
coefficients of 0.95, 0.88 and 0.91, respectively. They have the strongest linear relationship and a large scatter between the mounds generating gaps in the data. Slopes range from 1.8 to 24°, with a mean of 7.7°, while height ranges from 10 to 245 m, with a mean value of 70.5 m (
Figure 4
A). The sigma value has an inverse relationship with flatness and ranges from 0.005 to 0.16, having a mean value of 0.05 (
Figure 4
B). In this way, high values of SV= 0.1 indicate conical or multipeaked shapes with high height and slope values. Basal lengths range from 1 to 6.5 km with the exception of M00, which is up to 24 km long, and the H/MBax ratio reaches 0.07, with a mean value of 0.021. A gap in the H/MBax ratio exists between 0.04 and 0.07 (
Figure 4
C). The data plotted on these graphs shows some overlaps and gaps in the distribution although an important agglomeration is observed at values of less than 80 m in height, 10° of slope, 0.06 SV, and 0.025 H/MBax ratio. This agglomeration of observations includes all the domes apart from M04, whereas the volcanoes are distributed into in several skewed groups at levels of more than from 75 m high, 12° slope, 0.06 SV, and 0.023 H/MBax ratio, with the exception of M30 and M33 (
Figure 4
A–C). This suggests that processes controlling the size and slope of the domes are not similar to those controlling the volcano building.
4.2.2. Size Factor (F2)
The correlation between basal area and volume is positively proportional and linear, with a high R
2
coefficient of 0.58 (
Figure 4
D). They have a highly linear relationship but there is a large degree of scatter between the mounds and diffuse limits. Basal area range from 2 to 35 km
2
and volumes from 0.005 to 0.7 km
3
, with the exception of M00, which has maximum values of 440 km
2
and 11 km
3
, respectively. The mean values are 20.66 km
2
and 0.5 km
3
. M00 has atypical values in this distribution and is considered an outlier that is 3xIQR (inter-quartile range) above the third quartile and for this reason it has not been included. On this plot, domes and volcanoes are clearly separated into two distinct groups that follow different size increase trends, with the exception of a few edifices (M04, M06, M14 and M30) located on the contrary cluster. This suggests that the smaller volcanoes are morphometrically similar to the domes, and larger domes attain the same size values as volcanoes. Several mounds do not fit the best linear regressions (i.e., M41 in
Figure 4
D) but most plot fairly close to the rest of the mounds.
4.2.3. Basal Shape Factor (F3)
The ellipticity (EI) and irregularity (II) ratios range from 1 to 2.7 and 1.2 to 1.8, respectively (
Figure 4
E), with means of 1.5 and 1.4. They have a positive asymmetric correlation with R
2
= 0.55. The II distribution is more roughly symmetrical, whereas the EI distribution is largely skewed and unevenly spread with a gap between 2 and 2.6 (
Figure 4
E). There are no significant relationships between MTs among these descriptors although three slight groupings can be identified in the data: near circular edifices (low II and EI values), such as M03 and M12; more complex forms (from irregular edifices that are not very elongated (i.e., M05) to elongated edifices that are less irregular (i.e., M14); and elongated complex edifices (high EI and II values) such as M40.
4.2.4. Other Morphometric Relationships
4.3. Geomorphometric Observations on the Morphological Types
A comparison of the variables indicates a clear separation between the five morphostructural types. However, there are certain overlaps in MTs and a diffuse spread, together with gaps in the distribution and mismatches in the different type of edifices. In other words, some edifices classified as domes have H/MBax and slope values that are much higher than expected (i.e., M04) and some volcanoes have lower H/MBax and slopes than expected (i.e., M06, M30 and M33) (
Figure 4
and
Figure 5
). Nevertheless, there is a striking difference between domes and volcanoes of increasing size (BA, V and MBax), decreasing slope and aspect, (S, H/MBax) and complexity (EI, II and summit shape (SV, F).
The five types of edifice morphometry are illustrated in
Figure 6
. MT1has an H/MBax ratio of lower than 0.01 and shows the lowest slope angle of ~2.6°, as well as a high degree of flatness, from 0.1 up to 0.5 (
Figure 6
A,F). The typical profile shape is a small, smooth, wide dome that gently breaks the surrounding seafloor slope, with a maximum width of 6.8 km (
Figure 6
F). MT2 has an intermediate H/MBax ratio of 0.016 (from 0.01 to 0.027), a variable slope angle of >2.75 up to 11°, and a mean flatness of 0.25 (varying significantly from 0.15 to 0.4) (
Figure 6
B,F). This MT has the greatest variety, and ranges from fairly small to intermediate edifices in terms of volume (0.005 to 0.3 km
3
) and basal area (2 to 13 km
2
), according to the great variety of edifice shapes (
Figure 4
,
Figure 5
and
Figure 6
). Its profile ranges from steeply domes to irregular double and crater-topped edifices. MT3 has the lowest H/MBax ratio, 0.003, together with a low slope value of ~3.5° and a low degree of flatness of 0.17 (
Figure 6
C,F). It is represented by a single elevation (M00), which is remarkably different from the others and should be regarded as an exception in the Subvent Area. Its profile shape is quite irregular, with a small summit area of 5 km length compared with its 25 km basal diameter (
Figure 6
C,F). MT4 has a variable intermediate to high H/MBax ratio (from 0.02 to 0.044) with a high slope angle of up to 15°, with flatness varying from low to intermediate, i.e., ~0.06 to 0.15 (
Figure 6
D,F). Some of these edifices have similar elongation azimuths, of between 22.5° and 40° and large profile shapes, up to 6 km in length (
Figure 6
D,F). Finally, MT5 has an H/MBax ratio of ~0.065, including a maximum value of 0.07, and shows the highest slope angle, up to 24°, and the lowest flatness value, ~0.04 (
Figure 6
E,F). Some of these structures have an approximately conical geometry with profile shapes of less than 5 km in length (
Figure 6
F).
5. Discussion
The results of this study illustrate how a morphometric sub-aerial method [
35
,
36
] can be successfully adapted to the submarine environment. This should contribute to further quantitative investigations of the various seafloor elevations. Morphometric relationships based on size, slope and shape variables distinguish volcanic edifices from hydrothermal domes for quantitative purposes. Nonetheless, quantifying the limits between edifice types is difficult due to some mismatching and overlap in form, as identified in several edifices. This morphometric analysis is also used for assessing if there are any evolutionary trends among the different types of edifices analyzed (
Figure 7
).
5.1. Relevance of Morphological Variables in the Geomorphometry of the Mounds
5.2. Morphometry of the Domes
5.3. Morphometry of the Volcanoes
5.4. A Morphometric Evolution Model for the Seafloor Edifices
6. Conclusions and Outlook
The application of a GIS-based method for delimiting sub-aerial edifice boundaries and automatically extracting the morphometry has proven to be effective regardless of edifice type or origin. Correlation and principal component analyses have enabled the identification of ten main variables (accounting for 84% of the total variance) that define edifice profile shape, basal size and basal shape, including flatness, elongation and irregularity. Several threshold limits aid in the identification of domes and volcanoes in the complex Subvent Area. Evolutionary trends between contrasting morphologies are proposed in a new scheme using the concepts of size and shape complexity. We have found that these evolutionary trends can be characterized, for volume and height increases, into two distinct pathways; volcanoes mainly grow upward and become large cones, while domes preferentially increase in volume, enlarging their basal area.
The evolutionary model presented may have implications for other works that rely on the understanding volcanoes and other seafloor edifices through the analysis of bathymetric datasets acquired at this spatial resolutions or great depths. Our morphometric model links morphological trends to tectonic and magmatic (intrusive and extrusive) phenomena, thus providing a framework for future marine morphometric studies integrating geophysical and geochemical data.
Acknowledgments
This work is a contribution to SUBVENT (CGL2012-39524-C02-01), EXPLOSEA (CTM2016-75947-R) and EXARCAN (CTM2010-09496-E) projects (Spanish MINECO) and the Marine and Coastal Geophysical and Geology PAIDI Group (RNM328). Olga Sánchez Guillamón is benefited by a MINECO doctoral grant (BES-867 2013-062657). We thank the crews as well as the technical staff of the UTM and the scientific party of SUBVENT and EXARCAN projects. Thanks are extended to the two anonymous reviewers and academic editors who have provide very helpful and constructive comments that greatly helped to improve the manuscript.
Author Contributions
Olga Sánchez Guillamón and Luis Miguel Fernández Salas conceived the idea of the study and wrote the paper. Juan Tomás Vázquez was the main researcher of the SUBVENT project and Luis Somoza was the main researcher of the EXARCAN project and the coordinator of the work for the Submission of Data and Information on the Limits of the Continental Shelf of Spain to the West of the Canary Islands. Desiree Palomino and Ricardo León were responsible of the bathymetric data processing. Olga Sánchez Guillamón, Juan Tomás Vazquez and Luis Miguel Fernández-Salas interpreted the bathymetric data to carry out the morphometric analyses. Nieves Lopez-Gonzalez performed and interpreted the statistical analyses. Ricardo León, Teresa Medialdea and Luis Somoza had substantively revised the final manuscript. All authors provided guidance for the analysis and assist with the realization of the figures. They all also have collaborated in the data acquisition during the oceanographic cruises.
Conflicts of Interest
All authors have approved the manuscript and they agree with submission to the Special issue in "Marine Geomorphometry" in Geosciences journal. There are no conflicts of interest to declare among authors. The founding sponsors had no role in the design of the study; in the collection, analyses, or interpretation of data; in the writing of the manuscript, and in the decision to publish the results.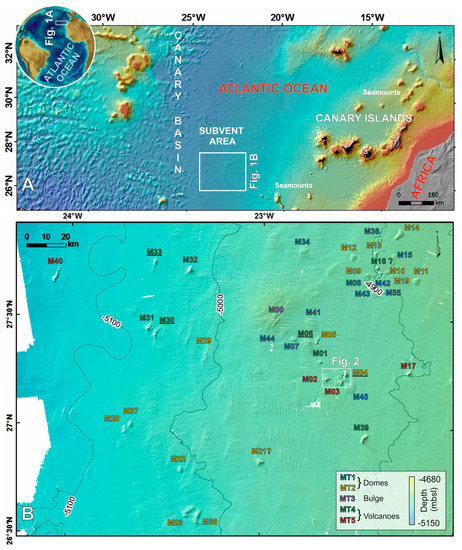 Figure 1.
Location of the study area. (
A
) Overview map of the western Canary lower continental slope and location of the study area in the Canary Basin (Central Eastern Atlantic Ocean); (
B
) Subvent Area bathymetric base map where the forty mounds are morphostructurally classified into five types of edifices [
42
]. The highlighted mounds are categorized according to their origin following [
41
].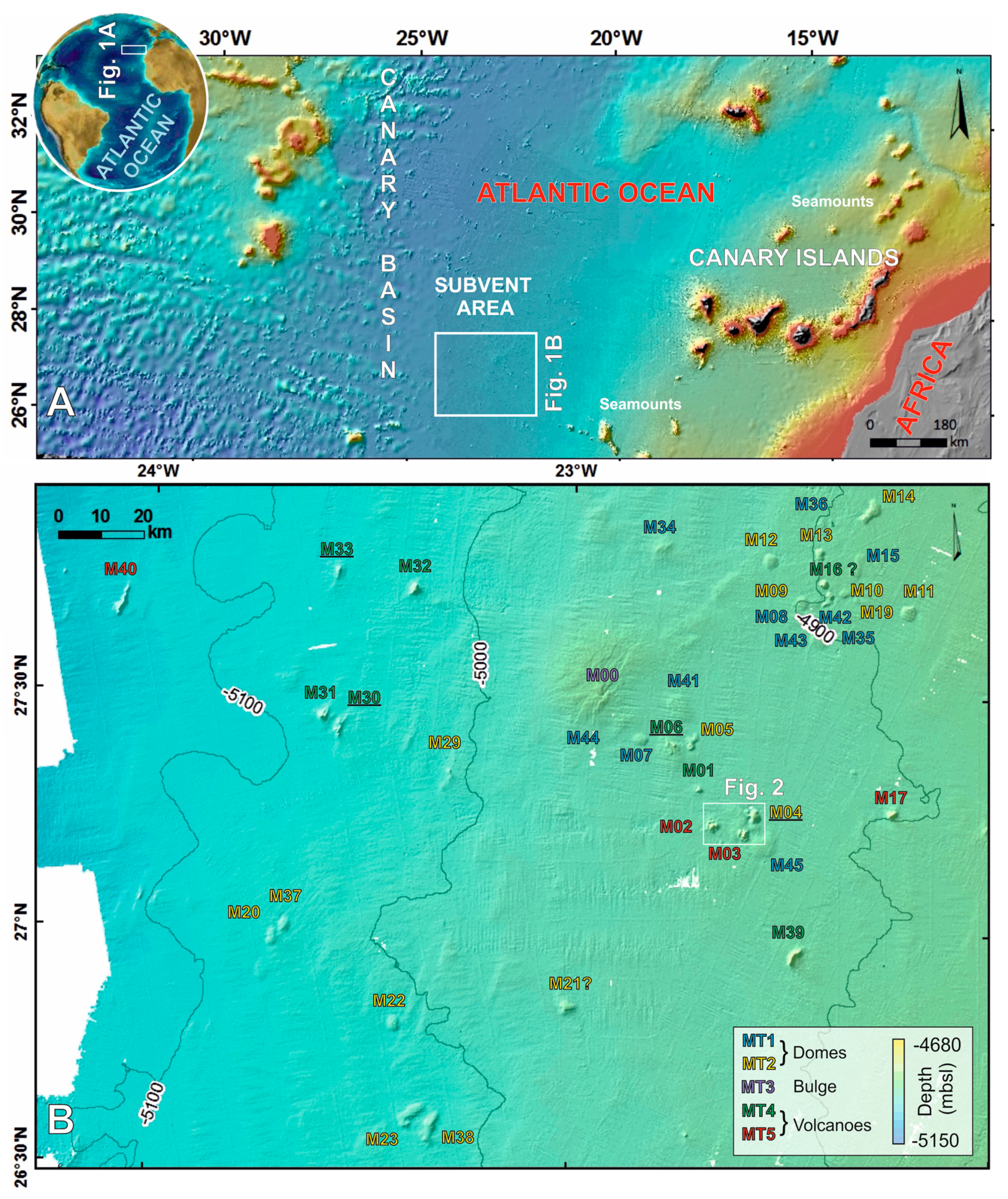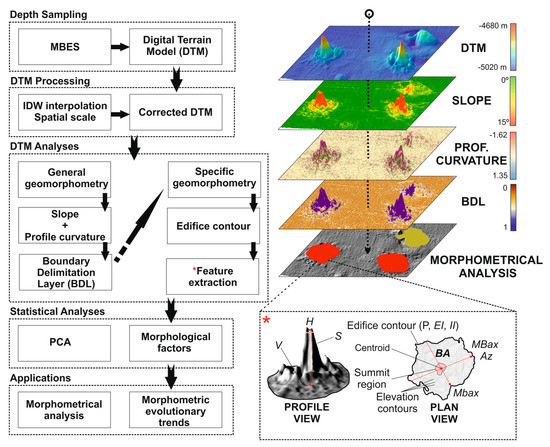 Figure 2. Methodological workflow for the acquisition, processing, analyses, and applications of DEM in this study. The main features extracted are listed as follows: H (m) height; S (degrees) slope; V (km3) volume; BA (km2) basal area; P (km) perimeter; EI—ellipticity index; II—irregularity index; MBax and mBax (km) major and minor basal axes and Az (degrees) azimuth.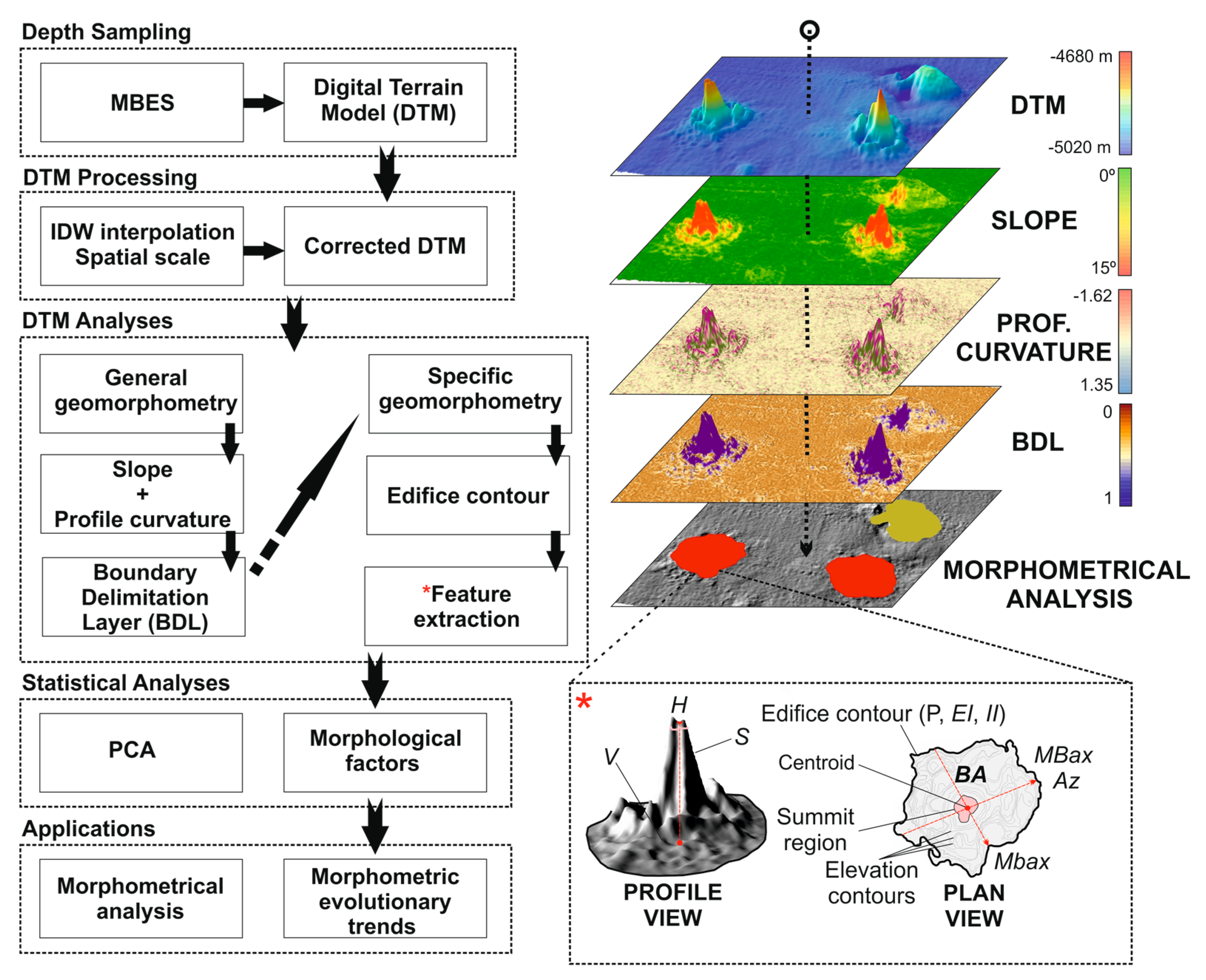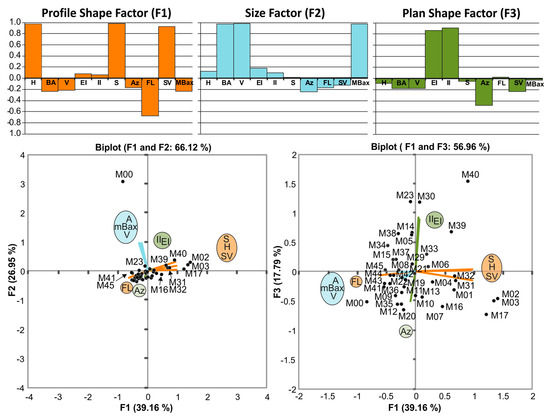 Figure 3. Factor loading plots of the three main principal components that account for 84% of the total variance of the edifices. Factor loads explain the correlations between the PCs and the original variables. Bar plots illustrate which variables are driving the PCs. We have named each factor according to the most significant variables of the analysis. The PCA biplots allow visualization of both the observations (edifices) and the variables among F1-F2 and F1-F3 relationships. Edifices are displayed as points while variables are displayed as linear axes. Standardized values are used to represent the factors.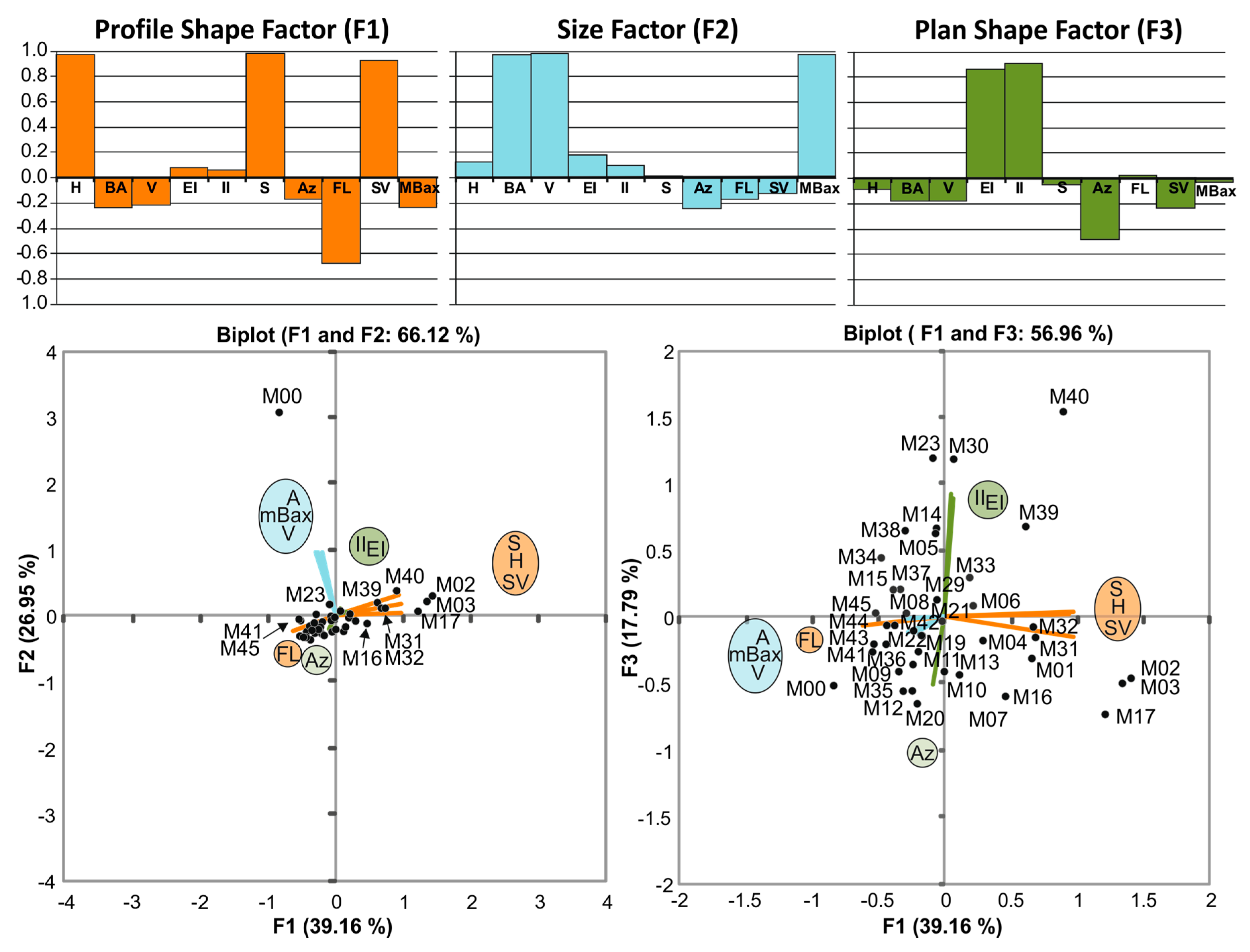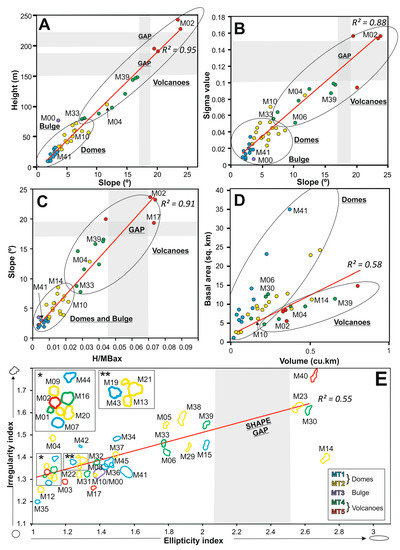 Figure 4. XY scatter plots of correlated variables for the forty mounds (n: 40). (A,B) Slope (X) vs. Height (Y) and Sigma Value, respectively; (C) Height/Basal length (X) vs. Slope (Y); (D) Volume (X) vs. Area (Y) where M00 is excluded being considered an outlier for Size Factor (F2); and (E) Ellipticity index (X) vs. Irregularity index (Y). The basal contour of each of the forty mounds is shown. All the mounds conserve their scale with the exception of M00. The red lines indicate the trend of each correlation and the R2 coefficient is displayed next to them. The ellipses indicate the natural tendency of the edifices types to cluster, and gaps in the distribution are highlighted by shaded regions.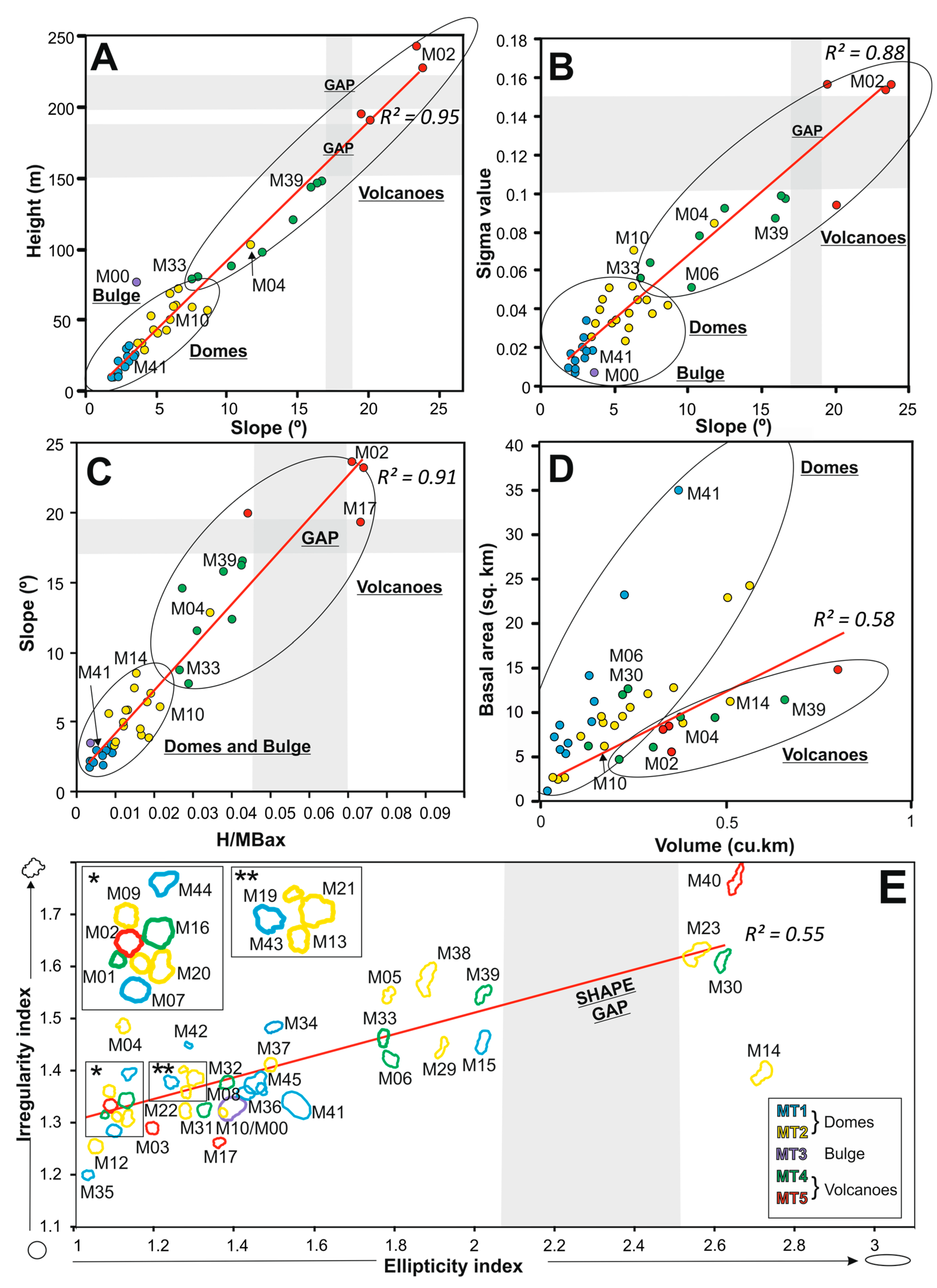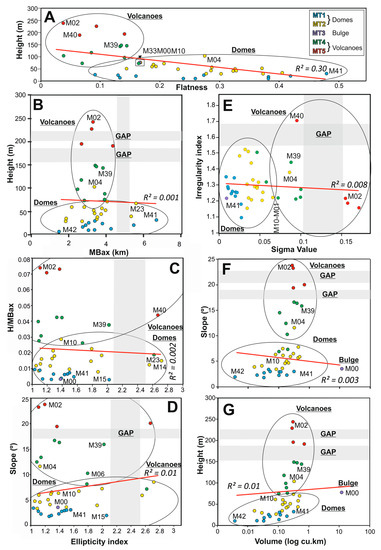 Figure 5. XY scatter plots of the main variables for the forty edifices (n: 40). (A) Flatness (X) vs. Height (Y); (B) Basal length (X) vs. Height (Y) excluding M00 that is considered an outlier; (C and D) Ellipticity index (X) vs. Height/Basal length (Y) and Slope (Y), respectively; (E) Sigma value (X) vs. Irregularity index (Y); and (F and G) Logarithmic (log 10) Volume (X) vs. Slope (Y) Height and (Y), respectively. The five morphometric edifice types are shown and some mismatched edifices are highlighted. The red lines indicate the trend line of each correlation and the R2 coefficient is displayed next to them. The ellipses indicate the natural tendency of the edifice types to cluster, and gaps in the distribution are highlighted by shaded regions.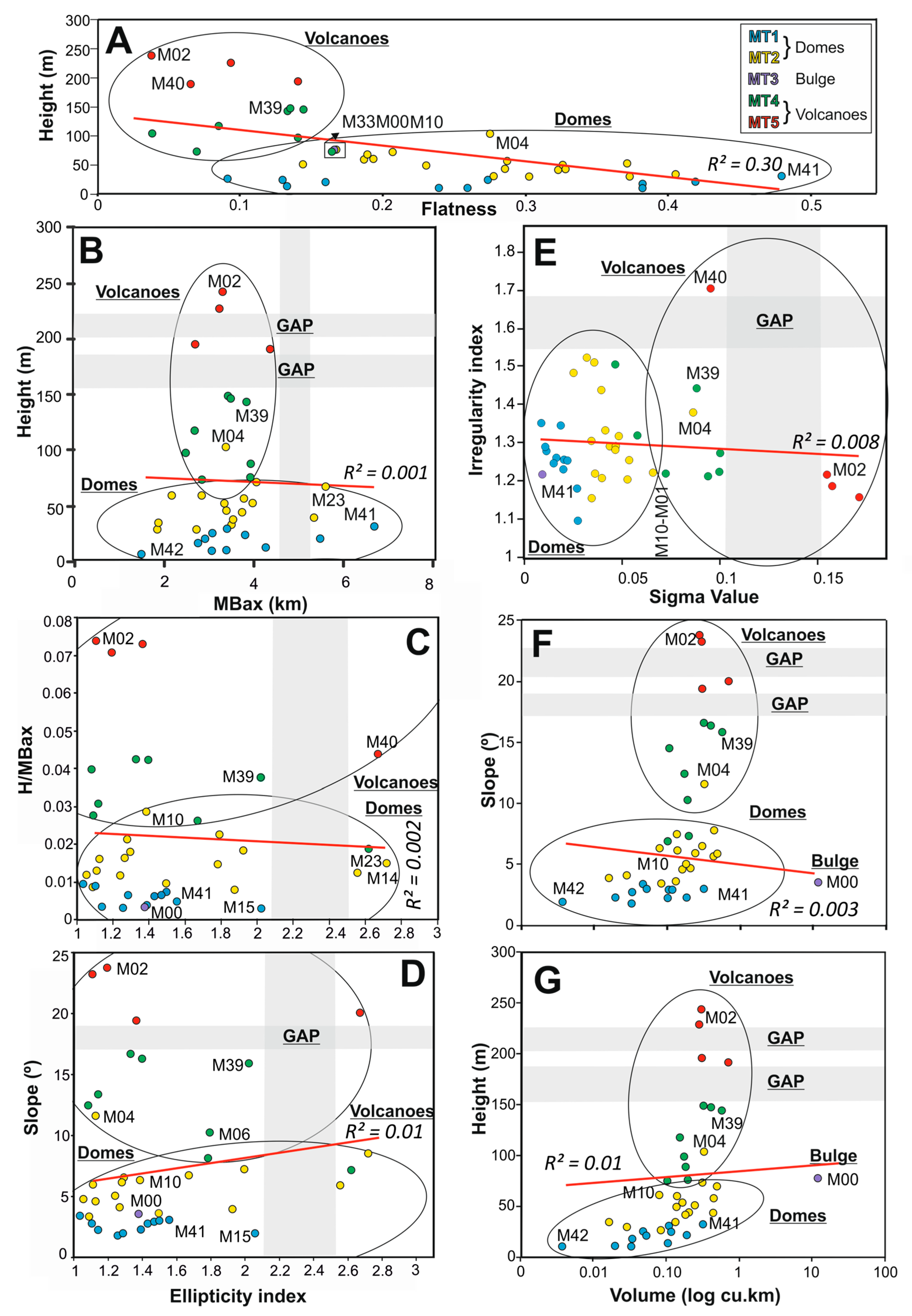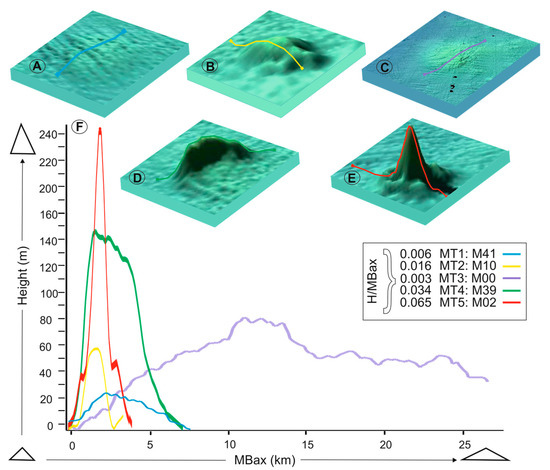 Figure 6. Representative geometry and bathymetric profiles for each type of edifice illustrating the variation in profile shapes. (A) M41 (MT1); (B) M10 (MT2); (C) M00 (MT3); (D) M39 (MT4); (E) M02 (MT5) and (F) Bathymetric profiles of five types of morphometries. The mean aspect H/MBax ratio of each MT indicates that domes are considerably lower than volcanoes.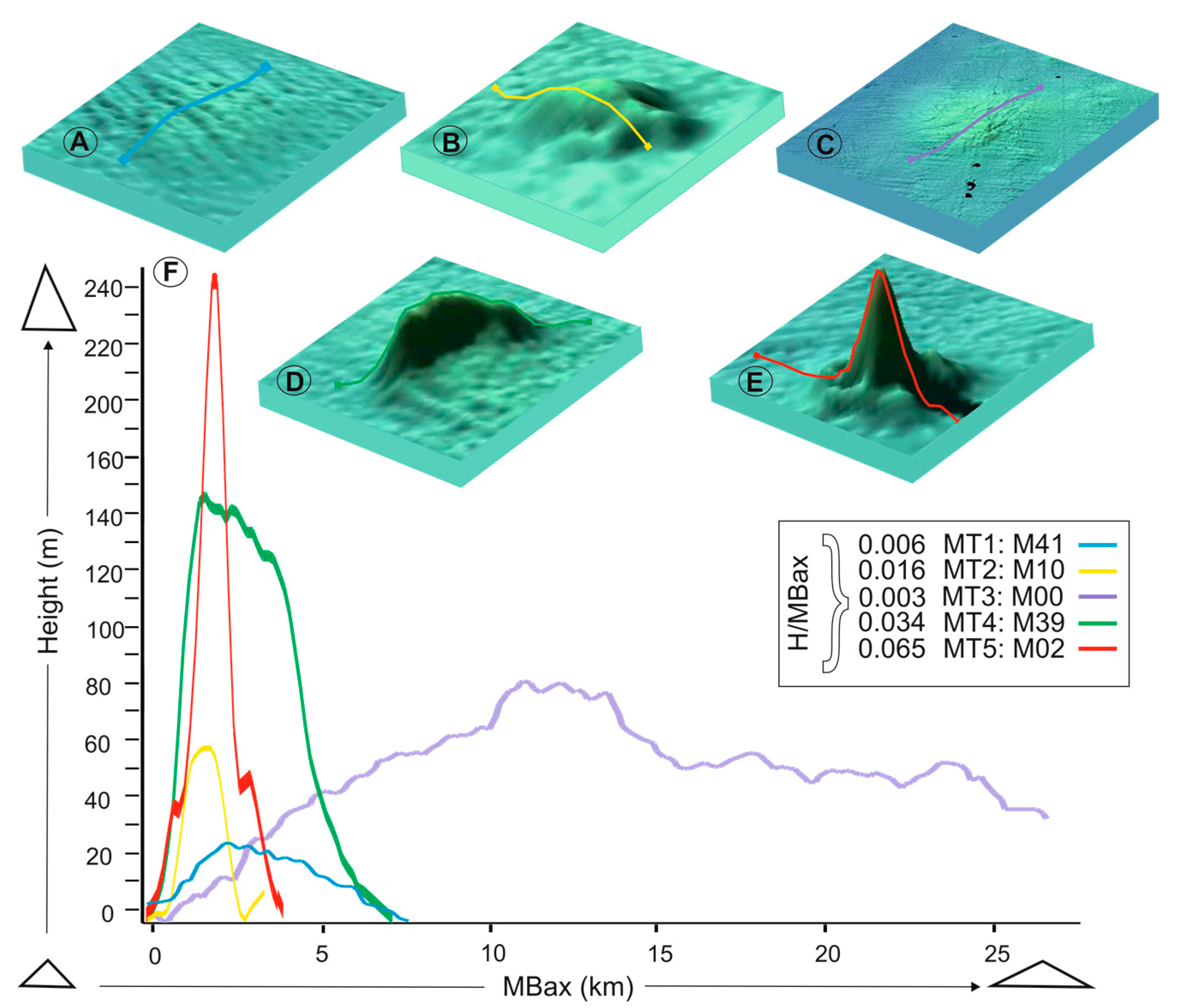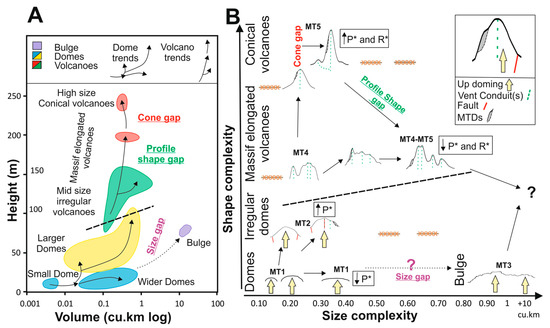 Figure 7.
Morphometric model that incorporates different types of seafloor edifices. (
A
) Height versus volume diagram showing best-fit fields for the five types of seafloor edifice and possible evolutionary trends. The straight dashed line is the threshold used to separate domes from volcanoes; (
B
) Possible evolutionary growth paths of domes and volcanoes are highlighted. P* is pressure balance and R* is resistance balance, according to the model proposed by [
35
]. Arrows represent edifice growth trends and orange crosses represent size and shape morphometries that do not occur in the Subvent Area.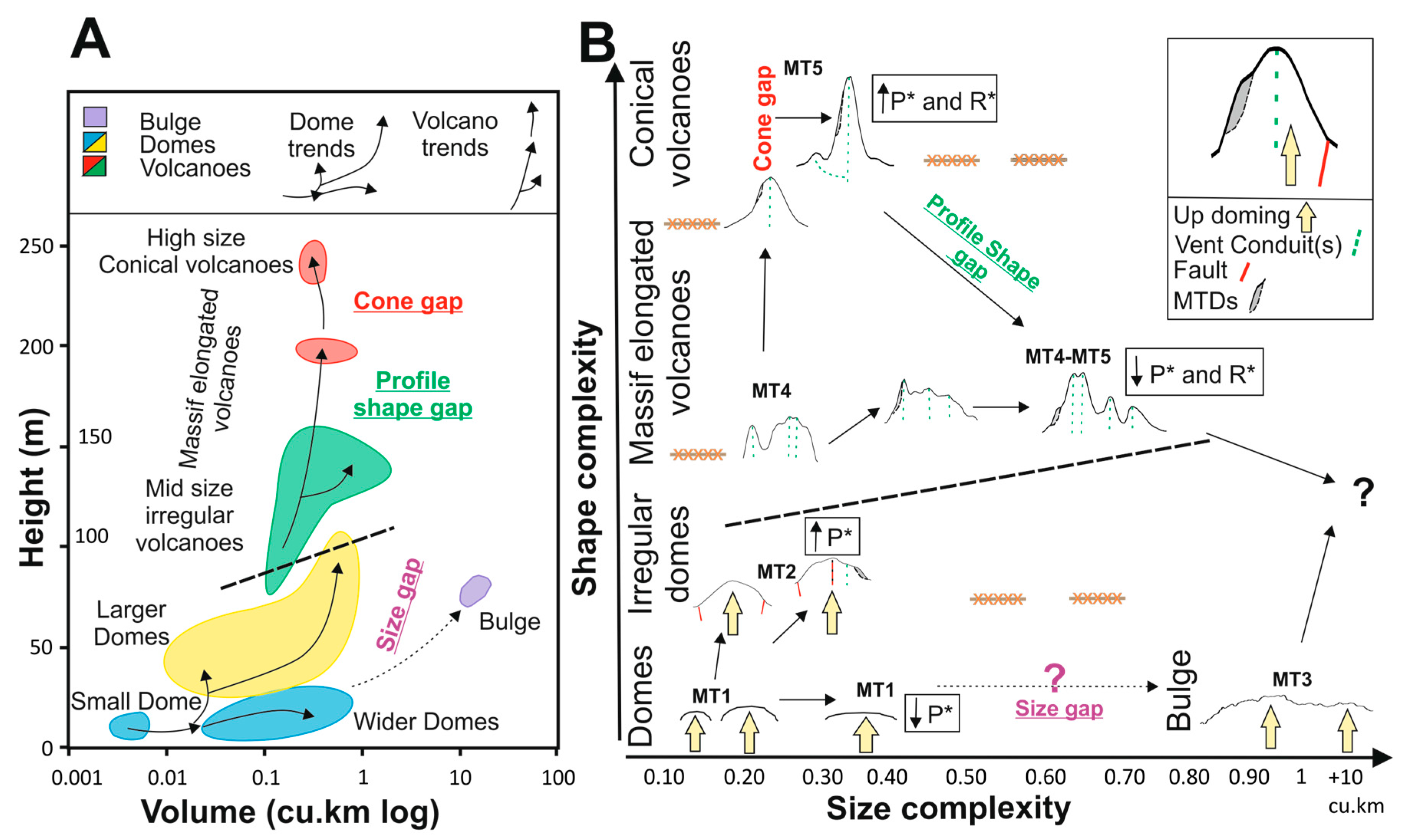 © 2018 by the authors. Licensee MDPI, Basel, Switzerland. This article is an open access article distributed under the terms and conditions of the Creative Commons Attribution (CC BY) license (http://creativecommons.org/licenses/by/4.0/).