Open Access This article is
freely available
re-usable
Article
About the Possibility of Disposal of HLRW in Deep Boreholes in Germany
1
Final Disposal Department, GRS gGmbH, Schwertnergasse 1, 50667 Cologne, Germany
2
RWTH Aachen, Nukleare Entsorgung und Techniktransfer (NET), D-52062 Aachen, Germany
3
Helmholtz Centre Potsdam, GFZ German Research Centre for Geosciences, Telegrafenberg, 14473 Potsdam, Germany
4
KIT Karlsruher Institute of Technology-Technical University Karlsruhe, Institute of Applied Geosciences, Adenauerring 20b, 76131 Karlsruhe, Germany
5
Piewak & Partner, Jean-Paul-Str. 30, 95444 Bayreuth, Germany
*
Author to whom correspondence should be addressed.
Received: 28 April 2017 / Accepted: 10 July 2017 / Published: 18 July 2017
Abstract
:
Using deep boreholes for the final disposal of high-level radioactive waste (HLRW) can take advantage of multiple geologic barriers as safety features and aims for the safe containment of radionuclides by containment-providing rock zones (CPRZ). The great depth efficiently prolongs or hinders radionuclide transport and also impedes proliferation. Finally, there may be a time benefit with regard to technical implementation and costs. Due to the phase-out from nuclear energy in Germany the number of boreholes could be less than 100. A simplified, generic safety concept, and the requirements for the diameter of boreholes and containers are derived in this paper. Furthermore, the operational safety of emplacement, the retrieval of waste and sealing of the boreholes is discussed. It is outlined that boreholes can be sealed quickly and over long distances with proven technologies, for example, using the creep properties of salt rock formations. This concept is assessed for its compliance with the safety requirements of the German Federal Ministry for the Environment, Nature Conservation, Building and Nuclear Safety (BMUB), and the requirements and criteria for site selection defined by the German commission on "Storage of high-level radioactive waste". The retrievability of HLRW is assessed to be technically feasible based on today´s knowledge, but recoverability after closure cannot be guaranteed for long time spans. Further developments in details of the concept of deep borehole disposal (DBD), a demonstration of its technical feasibility and an assessment of operational and long-term safety are still necessary to make DBD an approved option.
Keywords:
high-level radioactive waste; deep boreholes; final disposal; safety analysis
2. Volume of HLRW in Germany
The volume of HLRW is limited in Germany due to the phase-out of nuclear energy in 2022. The waste forms are mainly spent fuel elements from power reactors (approximately 35,000 pieces, approximately 7600 m3 as fuel rods), canisters with vitrified waste from reprocessing (approximately 8000 pieces, approximately 2000 m3) and some spent fuel elements from research reactors (approximately 2000 m3).
3. Generic Concept for Deep Borehole Disposal
A generic concept for deep borehole disposal (DBD) should show the isolation of the high-level radioactive waste from the biosphere (subject of protection) in the long term. Technical feasibility and operational safety should be given and have to be demonstrated.
3.1. Requirements for the Generic Concept for DBD
The great depth which can be reached by boreholes can contribute to a safe containment if overlying sedimentary rocks (such as, e.g., salt, clay rocks, etc.) provide additional geological barriers (multiple barrier concept). The large distance of the disposed-of waste from the surface is also expected to ensure long migration times for radionuclides released from the waste form to human beings and subjects of protection (e.g., groundwater, biosphere). The expected time period for keeping a single borehole open for waste emplacement is considerably shorter than for a mined geological repository, so proliferation risks can be assumed to be much lower.
General requirements for the presented generic concept for DBD were:
The concept should provide multiple barriers.

The appropriate lithology should be available in Germany.

The disposal of canisters with vitrified waste and spent fuel rods should be technically feasible. Other waste is not considered here.

The retrieval of waste should be possible.

The concept should also allow monitoring during the operational and post-closure phases.
3.2. Multiple-Barrier Concept
The multiple, independent geological barriers can be formed by, for example, clay and salt layers of appropriate dimensions. Together with seals they provide the main safety functions of the generic concept. This means that boreholes have to be sealed effectively within these barriers to restore the functionality of the barriers. Furthermore, deep, very slow groundwater movement is required at great depths that ideally restricts radionuclide migration to diffusion alone.
The generalized concept intends disposal in the geological bedrock (most likely crystalline rock as other rock types may not be fully supported by the mineral-framework, and may therefore develop geopressured fluids), which should be overlain by at least two redundant or diverse geological barriers. Ideally, an additional geological feature—such as an underpressured reservoir—can act as gas trap below these barriers.
The minimum depth for DBD is set at 1500 m, with a maximum depth of 3500 m. This depth will facilitate location of sites in Germany with several independent geological barriers, exclude with greater certainty glacial impacts on barriers and waste, and risks involved with proliferation.
Possible geological barriers overlying the disposal zone (designated zone) are:
These barriers should be combined. At least two independent barriers should be available.
3.3. Exploration
Such geological settings occur naturally in Germany and can be found undisturbed in several places. Clearly, geological exploration is necessary to find and characterize a specific site. This can be performed using a number of standard technologies which include geological, geophysical (e.g., seismic), and geochemical exploration, as well as exploration boreholes with logging and coring. Exploration boreholes may be used at later stages for monitoring or can be developed as boreholes for disposal.
3.4. Technology: Container and Casing
Containers have to withstand the geomechanical and geochemical conditions experienced during disposal operations. If the recovery of containers is intended for a certain period of time beyond disposal operations, the container should also be able to withstand conditions in the disposal zone. The latter is a design requirement for the canisters which may be achieved by wall thickness allowance or by material selection.
To assess the technical feasibility of a DBD with the option of retrievability, a Deep Borehole Container-Retrievable (DBC-R) was drafted using austenitic steel (
Figure 2
). The size of the container was derived from the diameter of the canisters with vitrified waste (0.435 m), which are not pressure-resistant due to a head space, and the length of the fuel rods from spent fuel elements (approximately 4.5 m). This assumes that one container should suit all waste types. The length of the DBC-R is about 5.6 m. The DBC-R can take three canisters or an assembly of rods from spent fuel elements. Repacking of the spent fuel elements is anticipated for any disposal concept.
The thickness of the wall of the DBC-R (and therefore the diameter) increases with vertical stacking and disposal depth, but a wall thickness of 4.5 cm could be sufficient for disposal down to 3500 m in depth. The diameter of the DBC-R is at minimum about 55 cm with allowance for temperature and some corrosion.
Based on the diameter of the DBC-R the total resulting outer diameter of the casing is 70 cm considering a wall thickness of the casing of approximately 6 cm (see chapter borehole design) and some play for container within the well. Therefore a borehole diameter of 75 cm including some allowance for uncertainties should be considered for a depth of 3500 m (
Figure 3
).
Further optimization of the canister's design and material is expected. By varying the thickness or material of the wall, corrosion or other degradation mechanisms can be countered.
Using these numbers, 31 boreholes would be sufficient in the best case for disposal of the HLRW from Germany (
Table 1
). This number of boreholes will likely increase for monitoring reasons and not every borehole will be successfully completed.
4. Boreholes and Drilling Technology
Technical feasibility and costs of drilling are important factors for disposal in geological formations [
13
]. Drilling technologies are used at conventional and unconventional oil and gas production, in geothermics and mining. Experience is also available from experimental drilling and research.
The standard diameter of boreholes ranges from cm to m (which is then called shaft sinking in greater depth). In commercial wells, small diameters are usually preferred. As DBD of waste containers requires diameters of 55 cm, the borehole diameter must be larger at the disposal depth (
Table 1
) compared to those used in oil and gas production. Physical constraints have to be considered, as boreholes become wider and deeper.
For what are termed dry boreholes, the pressure difference between outside and inside the boreholes notably increases with depth and the differential stresses can be so high that boreholes may collapse. This differential stress is lowered if the boreholes are filled with a fluid. The hydrostatic pressure of the fluid column within the borehole reduces the pressure difference acting on the walls of the borehole or the casing. In open boreholes it also counteracts inflow from fluid-bearing permeable lithologies during drilling. For this purpose, the density of the drilling fluid is adjusted to ensure that the hydrostatic pressure within the borehole is always slightly higher than in the surrounding rocks. However, in the case of highly permeable lithologies or rocks with a fracture permeability caused by the drilling operation itself, the drilling fluid may flow and be lost into the surrounding lithologies, leading to a local reduction in normal stresses and finally to failure and breakout of the borehole walls. To avoid such flow and loss of the drilling fluid and to reduce the risk of borehole wall failure and breakout, drilling fluids may by loaded with additives like clays (creating a liquid casing), which impedes the flow of the drilling fluid into the rocks. In cased boreholes, the casing precludes flow and loss of borehole fluids into surrounding rocks and the borehole fluids fulfill their mechanical borehole stabilization function.
Thus, geomechanical stability is a limiting factor for the diameter and the depth of boreholes. This is relevant during site selection. The in situ stress field has to be observed when setting the trajectory of the borehole to avoid the failure of the wall of the borehole.
Using drilling fluids (drill mud), boreholes can be drilled safely to great depths as shown by the status of technology and experience from more than 100,000 boreholes for oil and gas in different geological formations. Larger diameters were realized in research drillings (see, e.g., [
14
]) than in the oil and gas industry. Segmental logging of boreholes gives information on lithology, porosity, conductivity, the density of the formation, and rock alterations in the vicinity of the wall of each borehole.
Most drilling technologies use a drilling fluid which stabilizes the borehole during the drilling phase, facilitates drilling and transports the drill cuttings to the surface. In addition to stabilization with drilling fluid, boreholes are completed with several steel casings which prevent wall collapse and inflow, and which separate different hydrological layers. The casings—to a great extent—are cemented between the outside of the casing steel cylinder and the rock or the inner side of the next larger casing cylinder. The composition of this fluid may vary. After well completion, the drilling fluid is usually replaced by a borehole fluid with different characteristics. Cementation of the casing is usually required.
5. Site Selection Criteria and Safety Assessments
5.1. Geo-Scientific Requirements and Criteria for a Mined Repository Applied to Deep Borehole Disposal
The geo-scientific criteria for exclusion (large scale vertical movements, active faults, impact from mining, seismic and volcanic activity, age of groundwater) can be applied directly to the concept of DBD since this is also disposal in a geological formation.
The minimum geo-scientific criteria (permeability of formation, thickness of the CPRZ, depth of CPRZ, disposal area, period for proof) can be applied to the concept of DBD in the same way as for a mined repository, considering that the location of the CPRZ does not need to coincide with the location of the disposed waste.
5.2. Safety Analysis and Assessment
Safety analyses should be done to assess operational safety and the long-term safety of DBD. A recent preliminary safety analysis on a generic concept showed good retention of radionuclides [
26
]. However, [
26
] did not consider all possibly relevant processes (gas flow, groundwater flow through faults, fractures and the excavation damaged zone (EDZ)). Therefore a more detailed operational and long-term safety analysis and assessment of the generic concept of DBD for Germany, as well as for specific sites, has yet to be performed [
9
].
5.3. Retrievability/Recoverability
The general requirement for reversibility in the site selection process was set in [
8
]. On the one hand, this concerns the site selection process itself; on the other, it also has some technical implications which concern retrievability and recoverability of disposed waste.
Retrievability is the planned technical option for removing emplaced radioactive waste containers from the repository facility during its operational phase. This is also required by [
2
]. The containers and the borehole must allow retrieval until sealing and closure of the boreholes. This relates to the decision of whether closure means a single borehole, a borehole field or all boreholes. At this stage, the understanding is that disposal in a borehole can be performed within a few years and the borehole is then sealed and closed. Based on experience in conventional drilling, it was assessed that retrieval of containers should be possible during a timeframe of at least five years after closure.
Recovery is the retrieval of radioactive waste from a final repository as an emergency measure after the operational phase is over. This emergency may happen after the borehole is closed. A time period of 500 years was required for a possibility to recover waste containers [
2
]. The understanding is that the container and the casing should be designed to survive this time period without releasing radioactive contaminants or aerosols. Experience on recovery of lost objects in conventional drilling covers 100 years, but does not include recovery of corroded containers with HLRW.
Whereas, from the experts' perspective, retrievability seems to be manageable once the borehole and casing exists, recoverability from deep boreholes needs some research and development to show if it is feasible.
5.4. Hazards
Hazardous incidents during the operational phase might cause significant releases of radionuclides. Whereas volcanoes, earthquakes and other hazardous geological events should be excluded as far as possible using the site selection criteria, some operational incidents nevertheless need to be assessed.
An incident might be a crack in the wall or break of a single container during disposal and subsequently the spent fuel or glass might get into contact with the borehole fluid. Dissolution of the glass or an instant release or radionuclides from spent fuel would contaminate the borehole fluid. The amount of released radionuclides would depend on the contact time of fluid and waste and on the composition of the waste package. Therefore, measures for retrieval and repair should be provided and comply with radiation protection regulations.
A worst case, which should be unlikely, would be the loss of container within the subject of protection which cannot be retrieved for some reason. A release of radionuclides takes place in the long- or short-term and has to be assessed taking account of the geochemical and hydrological conditions.
The long-term safety analysis should consider that the containers currently proposed for DBD are not corrosion-resistant in the long term with respect to groundwater at disposal depth. Even if corrosion may take place slowly, some hydrogen gas generation and other corrosion processes will occur. This may increase the pressure within the sealed borehole and may impact the transport of released radionuclides. Heat generation and high temperatures in the disposal zone will speed up chemical processes, which cannot be modelled in detail due to a lack of thermodynamic data.
The total mass of fissile radionuclides in a deep borehole will be above the critical mass. Therefore possible critical excursion and safety measures have to be assessed. Although preliminary safety analysis excluded critical excursions due to the low solubility and mobility of U(IV), an assessment and optimization should be performed.
6. Research and Development
Boreholes with diameters of 0.75 m at 3500 m in depth are still beyond today's standard technology, but are considered feasible. Based on this, a concept for disposal of radioactive waste in deep boreholes is drafted. Further development and demonstration of dedicated borehole technology is necessary to demonstrate routine technical feasibility.
The goal of disposal with recoverability also necessitates research and development into the long-term behavior of the container and casing in great depth with elevated temperatures.
The operational phase for disposal of radioactive waste in deep boreholes requires investigations in detail about its safety and radiation protection. There is a need for development, testing and demonstration. This includes the feasibility of retrieval before closure.
If the current proposal of the Commission about recoverability for 500 years remains a prerequisite, it would emphasize the need for research and development on containers and technology.
7. Summary and Conclusions
Using deep boreholes for disposal (DBD) of high-level radioactive waste (HLRW) can have advantages for long-term safety due to an ample distance between the HLRW and the biosphere (subject of protection), and may take advantage of multiple geologic barriers as safety features. The great depth and short duration of disposal operations would also efficiently impede proliferation. Finally, aside from the site selection process, there may be a time-related benefit for technical implementation and for the costs of implementation.
A generic concept for DBD of HLRW has been developed, applying containment-providing rock zones (CPRZ). Although further technical developments are required for HLRW disposal in deep boreholes to address larger than usual borehole diameters and depths, DBD seems to be feasible as an alternative option to geological disposal of radioactive waste. Further research and development with a feasibility demonstration is necessary. Operational and long-term safety analyses and assessments have to be performed.
On the one hand, a major challenge for DBD is the requirement for possible recovery of waste for 500 years after closure. On the other hand, if disposal is intended to be a permanent and the safest solution, recovery might not be the main focus of the decision when highest possible safety is desired. During policy decision-making, if there are clear advantages for long-term safety with DBD, these might outweigh the disadvantage with recovery.
The favorable depth for DBD based on the shown generic concept ranges from 1500 to 3500 m. Based on the current state of knowledge in drilling technology, it was assessed that the required diameter for disposal of high-level radioactive waste at this depth can be operated. A deeper disposal of HLRW may appear better, but the increasing technical challenges may outweigh this.
DBD's advantages in safety, speed, and perhaps in cost were shown and discussed. DBD might be seen as a possibility for geological disposal in Germany. To have this option available as a proven technology during a policy decision, it seems very sensible to follow up the DBD concept with the installation of a real-scale demonstration along with a detailed operational and long-term safety analysis. DBD could then provide technical redundancy—if required—in case the siting or implementation of a mined repository fails or cannot be pursued any longer for some reason. Once DBD is established it could also be used in countries which have low volumes of radioactive waste.
Acknowledgments
The underlying study [
9
] was funded by a contract with the commission on "Storage of high-level radioactive waste" which permitted further publication. The cost to publish in open access was covered by GRS gGmbH.
Author Contributions
Guido Bracke compiled the publication and drafted the section on site selection criteria and safety assessment; The concept was drafted by Frank Schilling and Guido Bracke; Frank Charlier designed the DBC-R and disposal operation; Axel Liebscher and Thomas Röckel contributed to boreholes and drilling technology. All authors discussed the results and commented on the manuscript.
Conflicts of Interest
The authors declare no conflict of interest.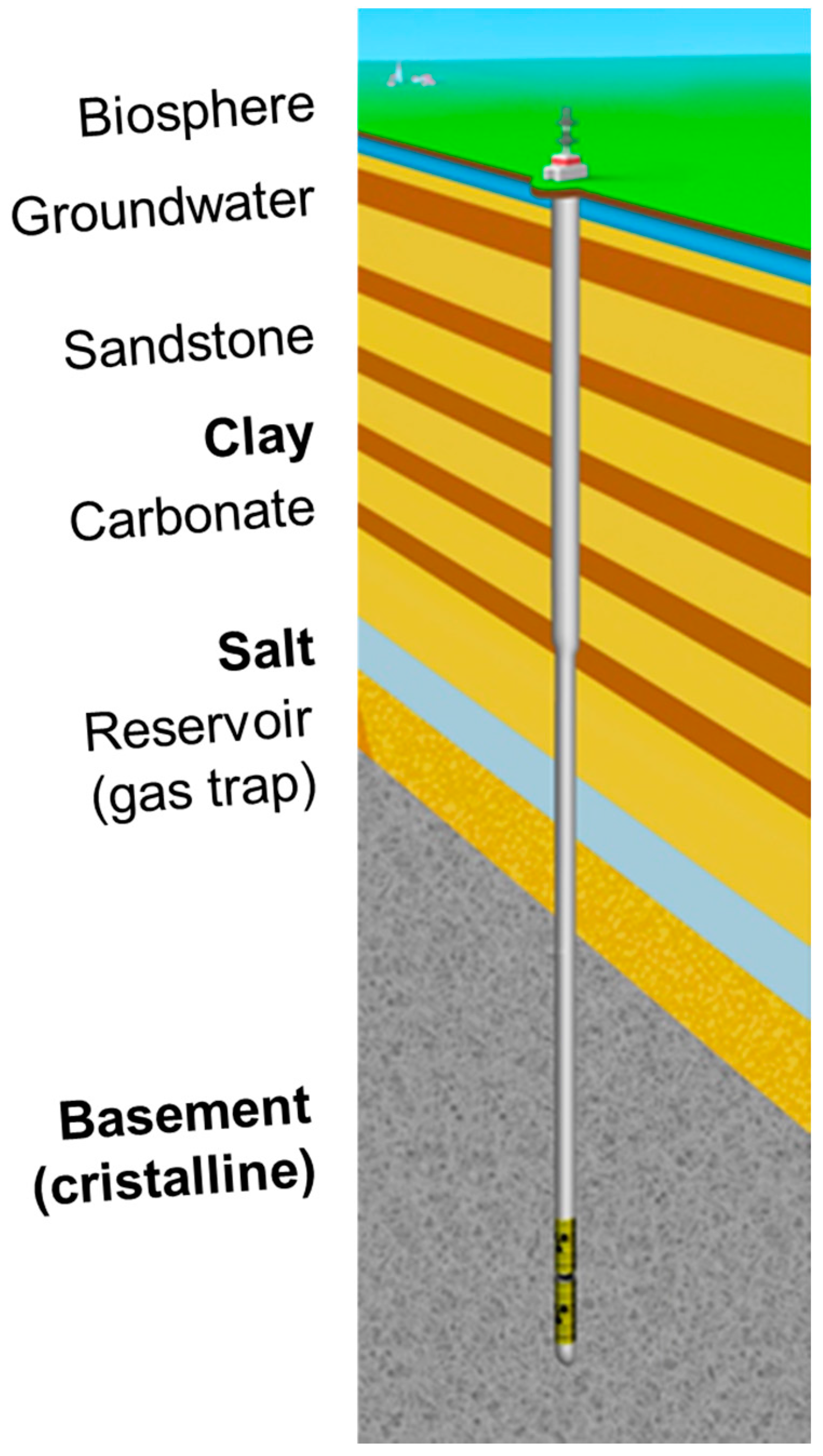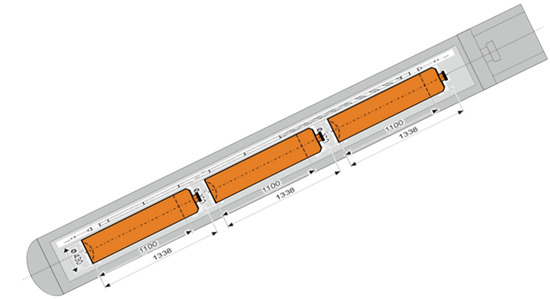 Figure 2. Deep Borehole Container-Retrievable (DBC-R) with three canisters and one rod for illustration (not to scale).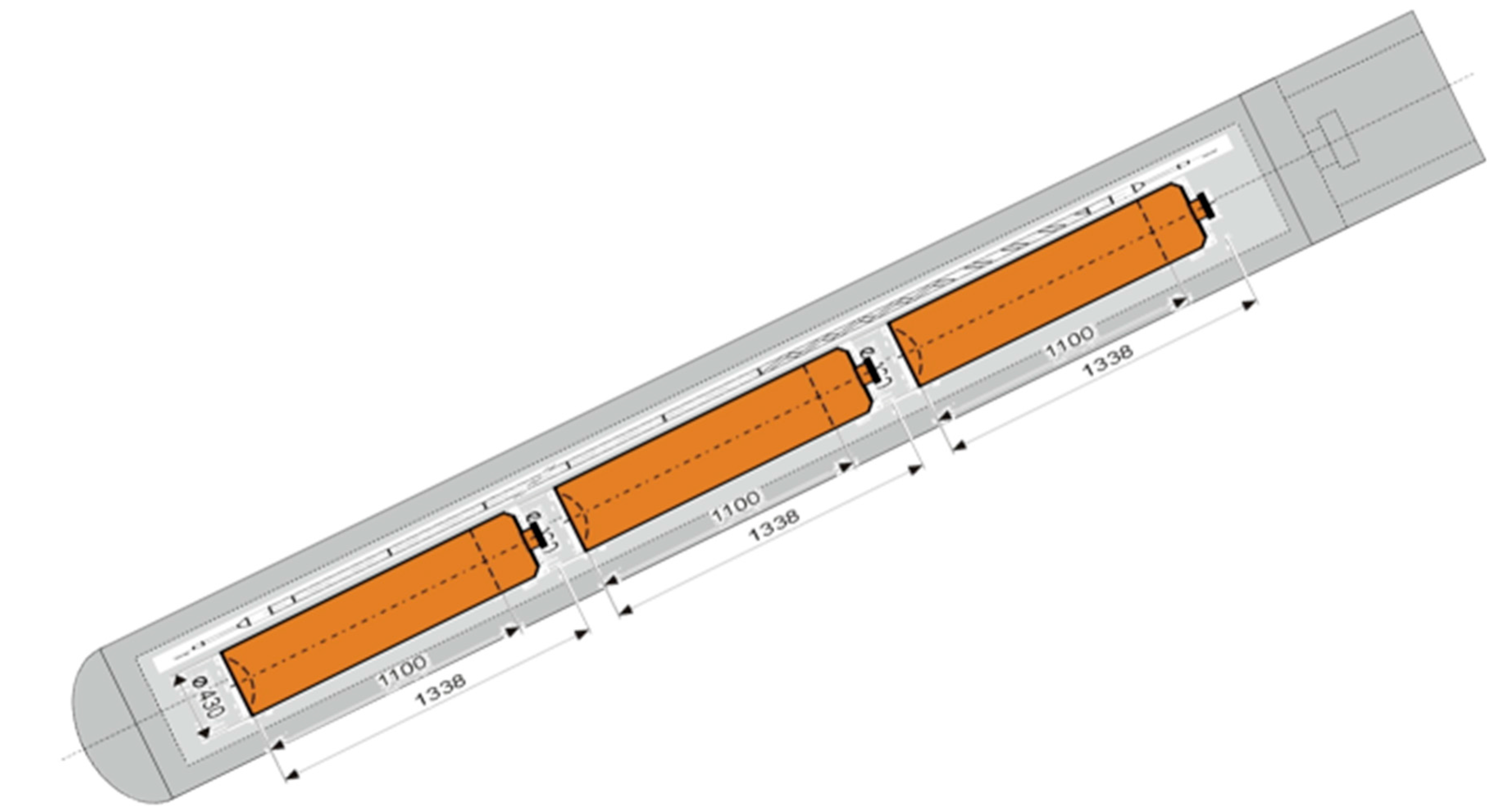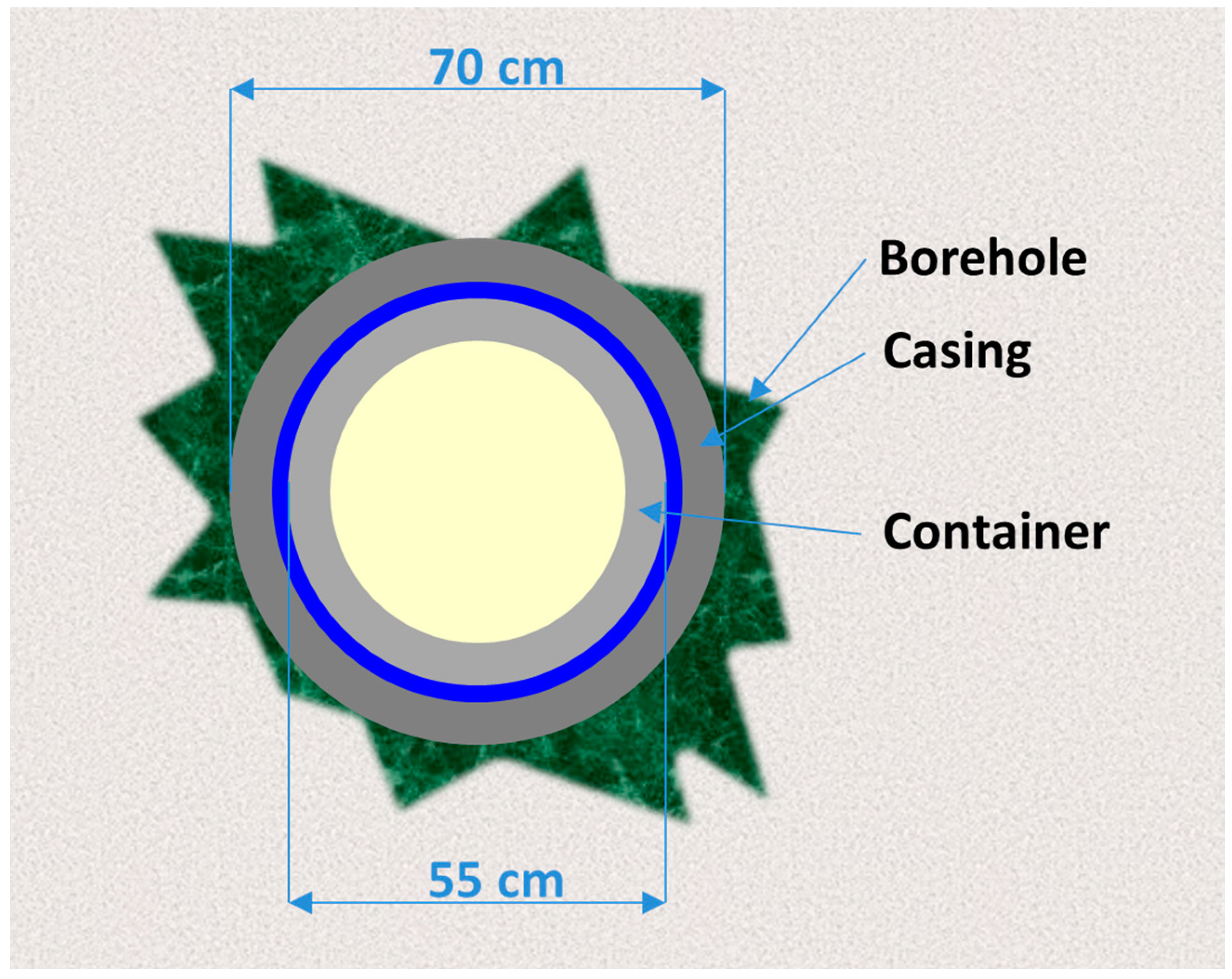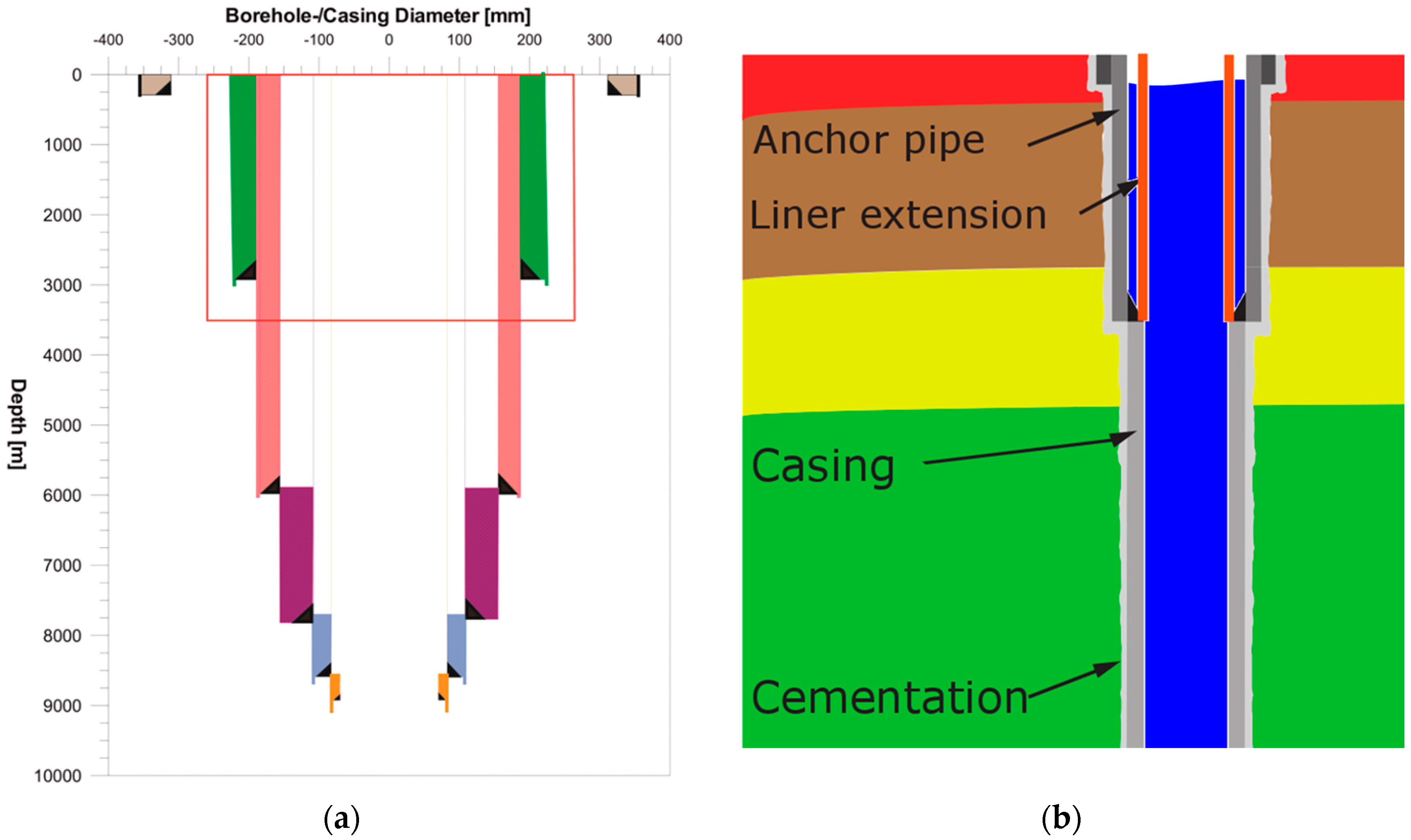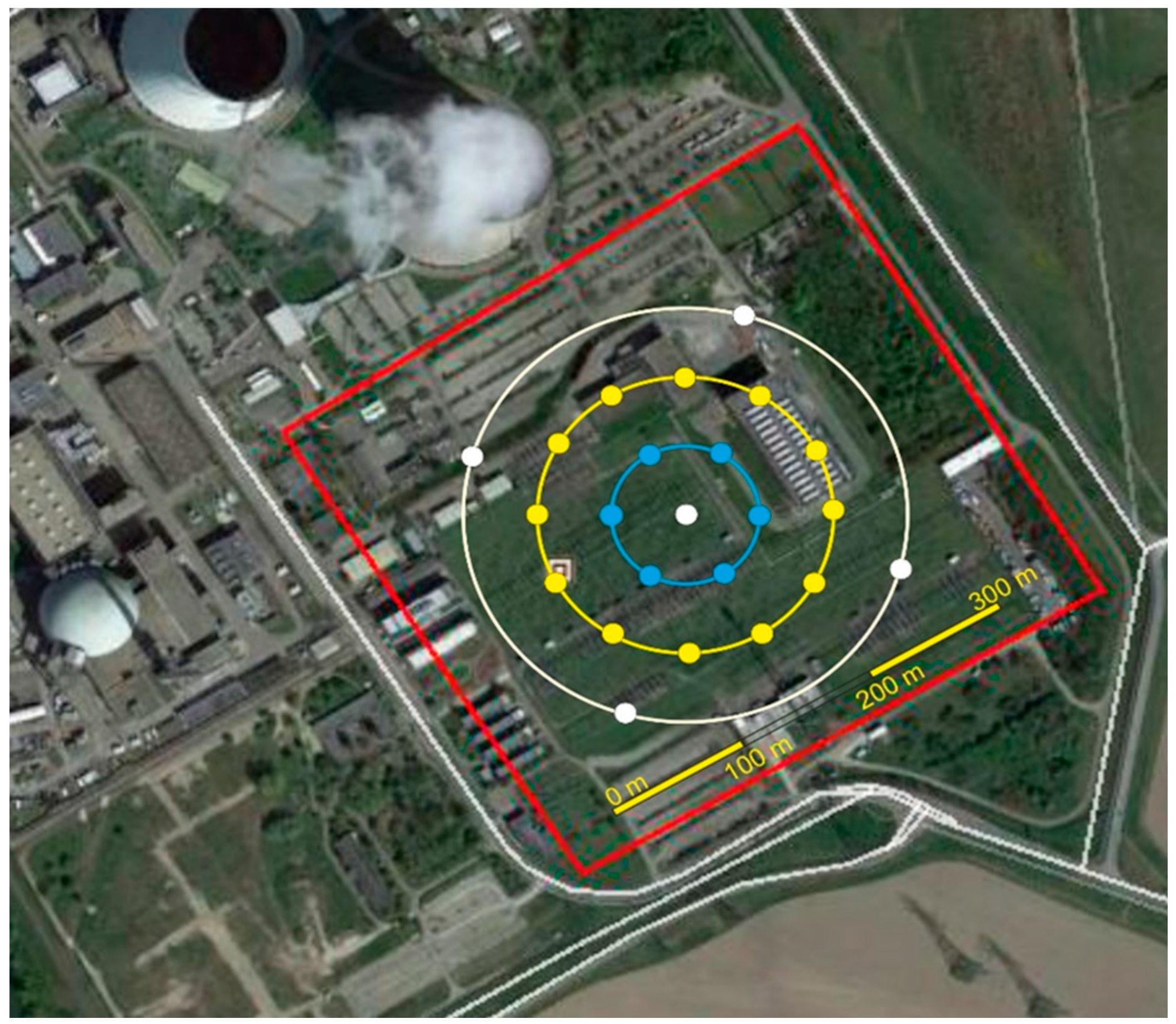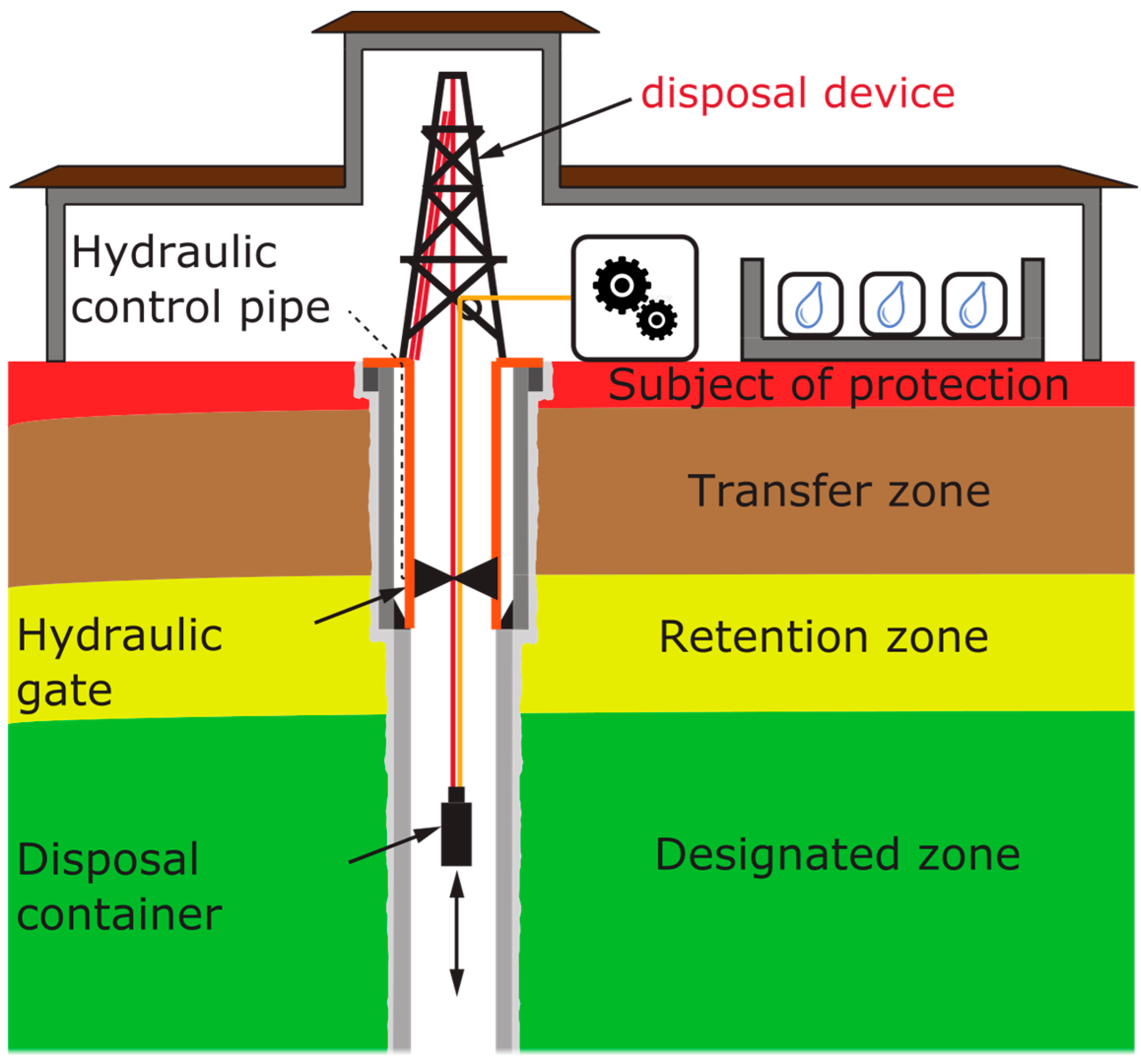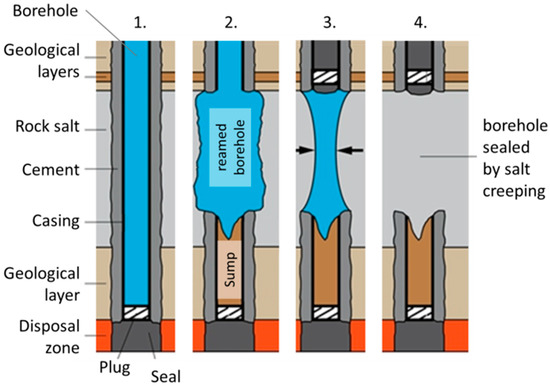 Figure 7.
Steps of borehole sealing (geology not to scale, modified after [
21
]).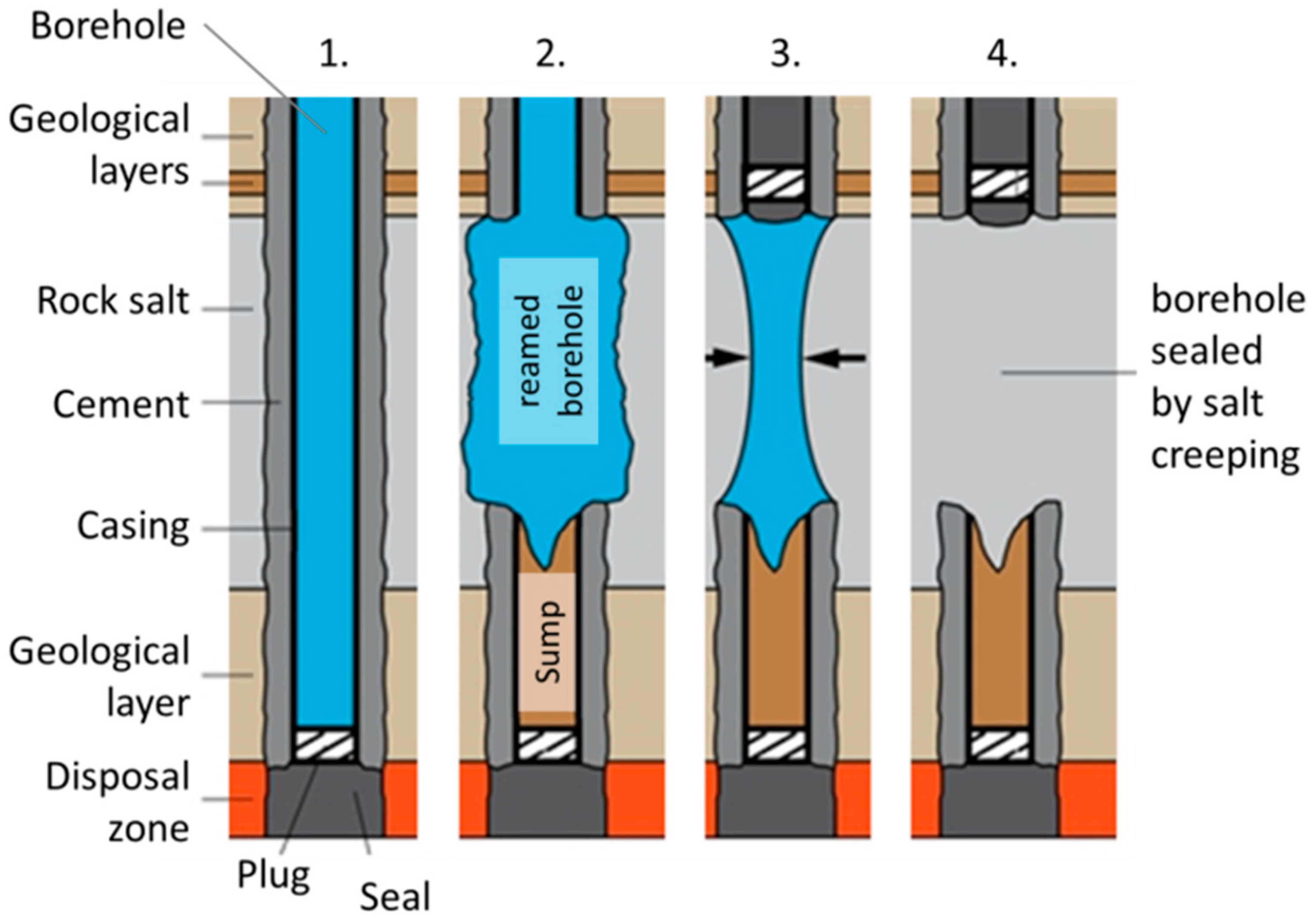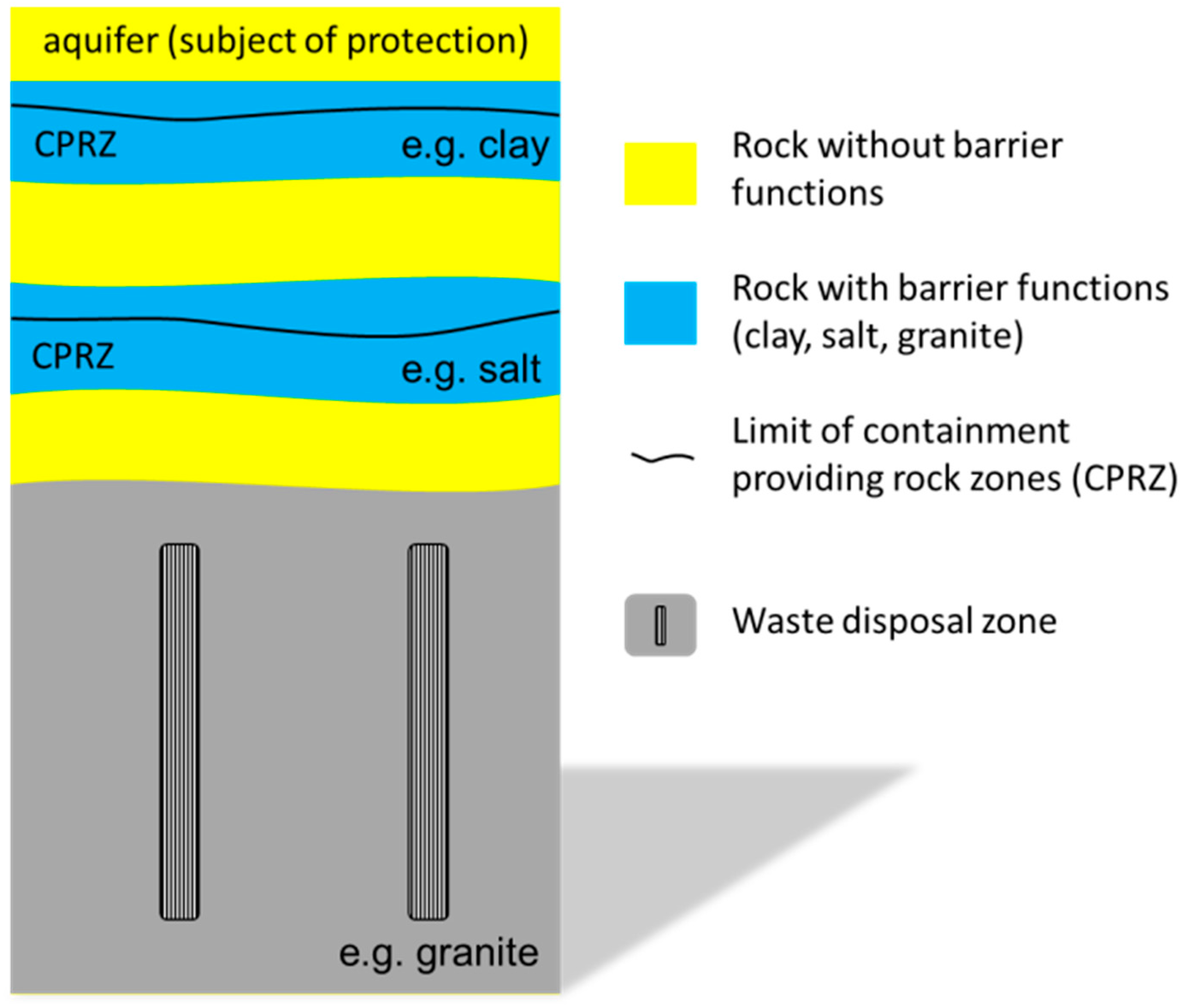 Table 1. Disposal depth, DBC-R per borehole and number of boreholes.

| Disposal Depth | DBC-R per Borehole | Number of Boreholes |
| --- | --- | --- |
| 1500–3500 m | 356 | 31 |
Table 2. Requirements of weighting group 1: Quality of containment and reliability of its evidence.

| No. | Requirement | Comment |
| --- | --- | --- |
| 1. | No or slow transport with groundwater in the CPRZ | Can be fulfilled depending on the definition and size of the CPRZ of the overlying rocks (salt/clay layer). |
| 2. | Favorable configuration of rock body, host rock and CPRZ | Can be fulfilled depending on the definition and size of the CPRZ of the overlying rocks (salt/clay layer) and host rock. |
| 3. | Good spatial characterization | Can be fulfilled depending on the definition and size of the CPRZ of the overlying rocks (salt/clay layer). Tools to characterize host rock properties are available for greater depths. |
| 4. | Good predictability of the long-term stability of favorable conditions | Can be fulfilled depending on the definition and size of the CPRZ of the overlying rocks (salt/clay layer). The rock formation relevant for assessment of the permeability should be defined. |
Table 3. Requirements of weighting group 2: Validation of containment.

| No. | Requirement | Comment |
| --- | --- | --- |
| 1. | Favorable rock mechanics | Can be fulfilled depending on the definition and size of the CPRZ of the overlying rocks (salt/clay layer). The host rock formation relevant for assessment of the rock mechanics is in the disposal zone. |
| 2. | Low tendency to generation of groundwater flows in host rock and CPRZ | Can be fulfilled depending on the definition and size of the CPRZ of the overlying rocks (salt/clay layer). The host rock formation relevant for assessment of the groundwater flows is in the disposal zone. |
Table 4. Weighting group 3: Further safety relevant features.

| No. | Requirement | Comment |
| --- | --- | --- |
| 1. | Protective composition of overlying rocks | A number of geological units with different but favorable characteristics, including additional redundant or diverse barriers, are possible in the generic concept due to depth of CPRZs and disposal zone. |
| 2. | Good conditions to avoid or minimize gas generation | The present concept for container and casing intends steel, which will inevitably lead to some gas generation. Gas generation may be minimized or slowed down by choice of suitable borehole fluid or cementation of containers. A future concept may also minimize the use of steel or may provide physical gas traps underneath the CPRZ. Gas generation cannot be completely avoided in the generic concept. |
| 3. | Good temperature compatibility | The temperature in the disposal zone will already be higher than 100 °C due to the depth. It is therefore not a criterion for site selection and not applicable or useful for DBD. |
| 4. | High radionuclide retention capability of CPRZ | Can be fulfilled depending on the definition and size of the CPRZ of the overlying rocks (salt/clay layer). Other rock formations could be relevant for assessment and should be defined. These criteria should also be re-evaluated for other rock formations and the host rock of the disposal zone. |
| 5. | Favorable hydrochemistry | Can be fulfilled depending on the definition and size of the CPRZ of the overlying rocks (salt/clay layer) which is not part of the host rock. Other rock formations could be relevant for assessment and should be defined.This criterion should also be re-evaluated for other rock formations and the host rock of the disposal zone. |
© 2017 by the authors. Licensee MDPI, Basel, Switzerland. This article is an open access article distributed under the terms and conditions of the Creative Commons Attribution (CC BY) license (http://creativecommons.org/licenses/by/4.0/).