Open Access This article is
freely available
re-usable
Article
Magnetotelluric-Geochemistry Investigations of Blawan Geothermal Field, East Java, Indonesia
1
Department of Physics, Faculty of Sciences, Universitas Brawijaya, Veteran Street, Malang, Indonesia 65145
2
Center of Energy and Natural Resources, Institute of Research and Community Services, Universitas Brawijaya, Veteran Street, Malang, Indonesia 65145
3
Department of Civil Engineering, Faculty of Engineering, Universitas Brawijaya, MT Haryono Street, Malang, Indonesia 65145
4
Hawaii Institute of Geophysics and Planetary, University of Hawaii, 1680 East-West Road, Pacific Ocean Science & Technology (POST) Building, Room 602 Honolulu, HI 96822, USA
*
Author to whom correspondence should be addressed.
Academic Editors: Maurizio Barbieri and Jesús Martínez Frías
Received: 26 March 2017 / Accepted: 24 May 2017 / Published: 10 June 2017
Abstract
:
An integrated magnetotelluric (MT) and geochemical study of the Blawan geothermal field has been performed. The character of the hot springs, the reservoir temperature, and geothermal reserve potential of Blawan geothermal field are assessed. MT measurements, with 250 m up to 1200 m spacings, were made at 19 sites, and 6 locations at the Blawan hot springs have been sampled for geochemical survey. The results of 2D modelling indicated that the geothermal system in the research area consisted of a cap rock zone (≤32 Ω·m), reservoir zone (>32 – ≤512 Ω·m), and heat source zone (>512 Ω·m), and also identified faults. The characteristics of the hot spring water were identified through analyzing the major and minor elements. A ternary diagram (Cl-SO4-HCO3) showed that the Blawan hot springs consist of bicarbonate water (at locations of AP-01, AP-02, AP-03) and chloride water (at locations of AP-04, AP-05, and AP-06), with a reservoir temperature of approximately 90 °C based on the Na–K–Ca geothermometer results. An estimate of the geothermal energy using the volumetric method, gave a total geothermal reserve potential of 1.823 MWe.
Keywords:
magnetotelluric; geochemistry; geothermal; Blawan; reservoir
1. Introduction
Indonesia contains about 40% of the global geothermal potential with about 80% of it being volcano-hosted geothermal, as Indonesia has 127 volcanoes—or about 13% of volcanoes around the globe [
1
,
2
,
3
]. There are 265 identified geothermal energy locations with a total potential of 28.1 GWe. Most of the potential is associated with volcanic lines, which generally has high enthalpy, and can be commercially developed for power generation. A small portion of geothermal sources are associated with non-volcanic systems, and usually have a relatively low temperature reservoir. Geothermal systems in Indonesia can generally be divided into five types based on the geological structure which is a predictor for the magnitude of its potential: volcano complexes and graben—caldera volcanic cones—generally have a potential energy that is much larger than the other types. So far, only about 4% of geothermal energy are optimally used in Indonesia. Furthermore, there is few resources available for the study, research, and community education of volcanoes and geothermal energy.
Indonesia has about 265 existing geothermal areas with 138 locations (52.07%) of those existing geothermal areas still at the initial stage of preliminary investigation to inventory their potential resource class, while 24 other locations (9.05%) are still at the stage of intoduction investigation to the potential of the resource class hypothetical. Only seven geothermal locations, or 2.64%, are currently utilized for electricity generation with a total installed capacity of 1189 MW.
Some of undeveloped geothermal area commonly directly used by the local community for tourism, heating, mushroom crops, fertilizer production, agricultural industry, and fish farming. However, in general the direct used of geothermal in Indonesia have not been developed [
4
].
The Ijen volcano is one the most active volcanoes—located in eastern of Java, Indonesia—and it is known for its large hyper acidic crater lake. The Ijen volcano presents significant volcanic and environmental hazards to its immidiate surroundings. Besides its threats, the volcano provides some benefits for the surrounding people through sulfur mining, tourism, and geothermal energy. In Blawan village north of the Ijen volcano, there are about 21 hot springs with surface temperatures ranging from 40 to 55 °C. This means the Ijen volcano complex, especially at Blawan area, is of significant interest for development as a geothermal field. In addition, the Blawan–Ijen volcano complex also has high potential for agriculture for primary commodities such as coffee, timber, and fruits. Furthermore, lush natural conditions in the caldera of old Ijen are home to residents with the establishment of the Sempol district in Bondowoso [
5
].
4. Results
4.1. Magnetotelluric Analysis
The data were inverted for 2D conductivity models in WinGlink (Schlumberger, Houston, TX, USA). Both data modes (i.e., electric and magnetic transverse) were used during the inversion process to obtain the model. The 19 magnetotelluric sites were divided in to four profile inversions (
Figure 4
). A regularized solution to the MT inverse problem for finding the model
m
that minimizes the objective function
S
(
m
) is given by [
19
]
where
d
is the observed data vector,
F
is the forward modelling operator,
m
is the unknown model vector, is the error covariance matrix,
L
is a linear operator, is the reference model, and
τ
is the user defined regularization parameter. In Equation 1, the first term on the right-hand side represents the data misfit and the second term quantifies the acceptability of the model and can be controlled by changing the regularization parameter τ [
20
].
The data misfit and model smoothness were analyzed to set up the regularization parameter (τ) for each profile. Testing values from 0.1 to 100 gave the best fit for τ = 3. An error of 20% for the apparent resistivity and 10% for the phase were assigned based on data misfits. A final model was chosen that balanced the requirements for a spatially smooth model with an acceptably small data misfit.
Our final 2D models created using WinGlink, developed by Schlumberger, along profile A1–A2, profile B1–B2, profile C1–C2, and profile D1–D2 are shown in in
Figure 5
. The 2D model of profile A1–A2 (
Figure 5
a) achieved a normalized r.m.s. (root mean square) misfit of 4.455% after 136 iterations. The 2D model of profile B1–B2 (
Figure 5
b) achieved a normalized r.m.s. (root mean square) misfit of 3.005% after 152 iterations. The 2D models of profile C1–C2 shown in (
Figure 5
c) achieved a normalized r.m.s misfit of 3.788% after 154 iterations. Finally,
Figure 5
d presents the 2D model of profile D1–D2 which achieved a normalized r.m.s. misfit of 1.967% after 164 iterations.
4.2. Geochemical Analysis
We used water geochemical data as supporting data. Analysis of the hot springs water are shown in
Table 2
. From the six samples taken, we obtained water pH ranges of 6 to 7. Since all of samples have pH close to neutral (pH = 8), we concluded that the Blawan hot springs are eligible to be used as representative samples to characterize the geothermal reservoir.
Figure 6
shows the constructed ternary (Cl-SO
4
-HCO
3
) diagram for the Blawan hot springs. This diagram is used to indicate the characteristic type of geothermal water and subsurface geothermal conditions at which the dissolved ions in the surface ascending thermal fluids originate [
21
]. The ternary diagrams illustrate that the water types of the hot springs are bicarbonate water (AP-01, AP-02, and AP-03) and chloride water (AP-04, AP-05, and AP-06). The high levels of HCO
3
found in Blawan springs probably resulted from mixing of surface groundwater with CO
2
rich steam which boiled off the hydrothermal system [
22
,
23
,
24
]. Meanwhile, the high Cl concentrations are derived from the reservoir and indicate a permeable zone in this area. The low-Na concentration are caused by mixing hot water with surface water, so the temperature of the hot water sample is reduced.
6. Conclusions
The result of magnetotelluric data processing and interpretation shows that the geothermal system in the study area consists of a caprock zone (≤32 Ω·m), reservoir zone (>32 Ω·m to ≤512 Ω·m), and a heat source zone (>512 Ω·m), and is supported by the presence of a fault. Geochemical analysis shows that the hot springs in the research area consist of bicarbonate water type (AP-01, AP-02, AP-03) and chloride water (AP-04, AP-05, AP-06). A Na–K–Ca geothermometer analysis indicated that the Blawan geothermal reservoir has a temperature of approximately 90 °C which implies a low temperature geothermal system. The potential of Blawan geothermal energy is found to be 1.823 MWe.
Acknowledgments
Authors would like to thank to Partnerships for Enhanced Engagement in Research (PEER) grant from USAID No. PGA 2000005053, Hibah Penguatan Pusat Studi, Research and Community Services Institution, and World Class University program of Universitas Brawijaya for partially financial support. Thanks also given to all people who participated during acquisition in Blawan. We also thank to reviewers who gave many suggestions in improving our manuscript. Their generous contribution of time and expertise are greatly appreciated.
Author Contributions
Sukir Maryanto developed the design survey, obtained funding, and participated. Cinantya N. Dewi collected MT data during acquisition and took samples for geochemical analysis. All authors contributed to data interpretation and final editing.
Conflicts of Interest
The authors declare no conflict of interest. The funding sponsor had no role in the survey design, collecting data, analysis, or data interpretation, in writing of manuscript, or decision to publish the results.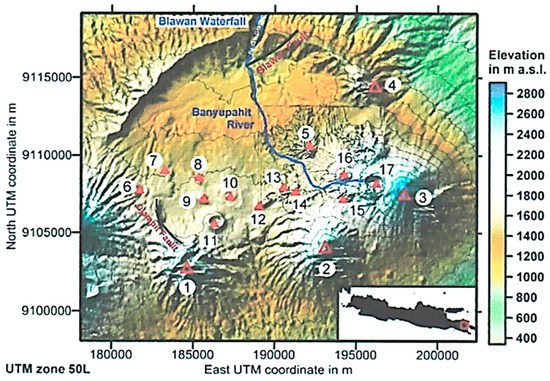 Figure 1.
Digital elevation model of the Ijen caldera complex. Red triangles indicate post-caldera volcanoes: 1: Jampit; 2: Ranteh; 3: Merapi; 4: Ringgih; 5: Blau; 6: Cemara; 7: Melaten; 8: Lingker; 9: Anyar; 10: Genteng; 11: Pendil; 12: Gelawan; 13: Kukusan; 14: Telaga Weru; 15: Widodaren; 16: Papak; 17: Kawah Ijen [
9
].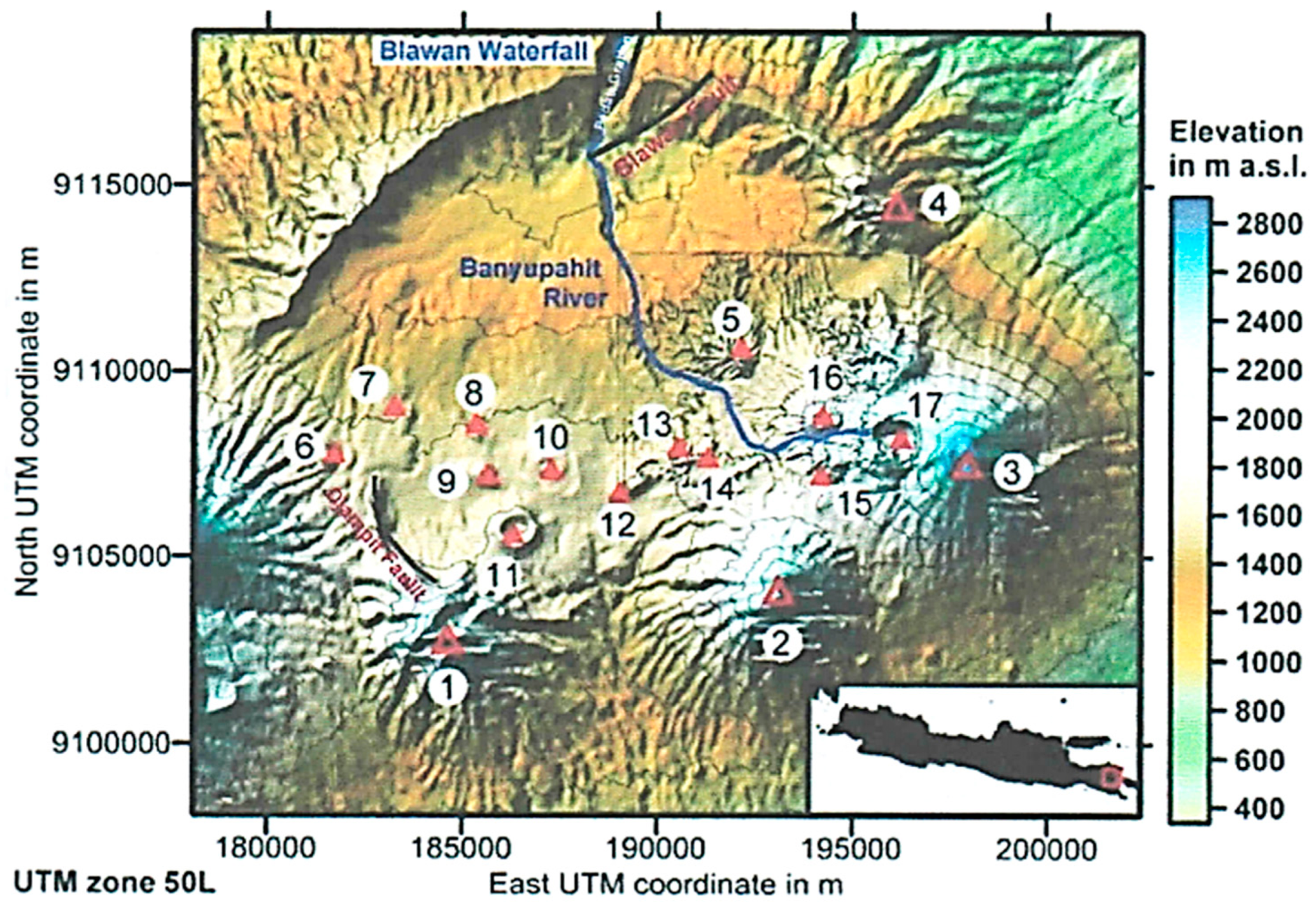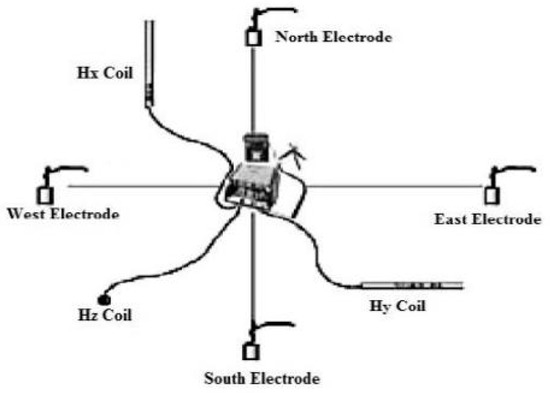 Figure 2. The configuration for the magnetotelluric acquisition used four porous pots (2 for Ex and 2 for Ey) and three magnetic coils (Hx, Hy, and Hz) that were set in different quadrants so that each coil could record the orthogonal x, y, and z magnetic components.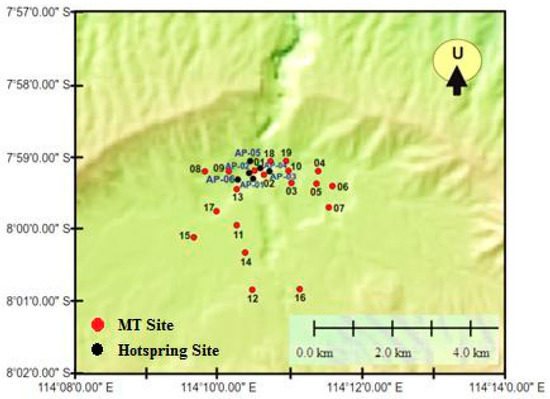 Figure 3. Magnetotelluric points of survey are marked by red dots spread out surrounding hot spring sites (black dots).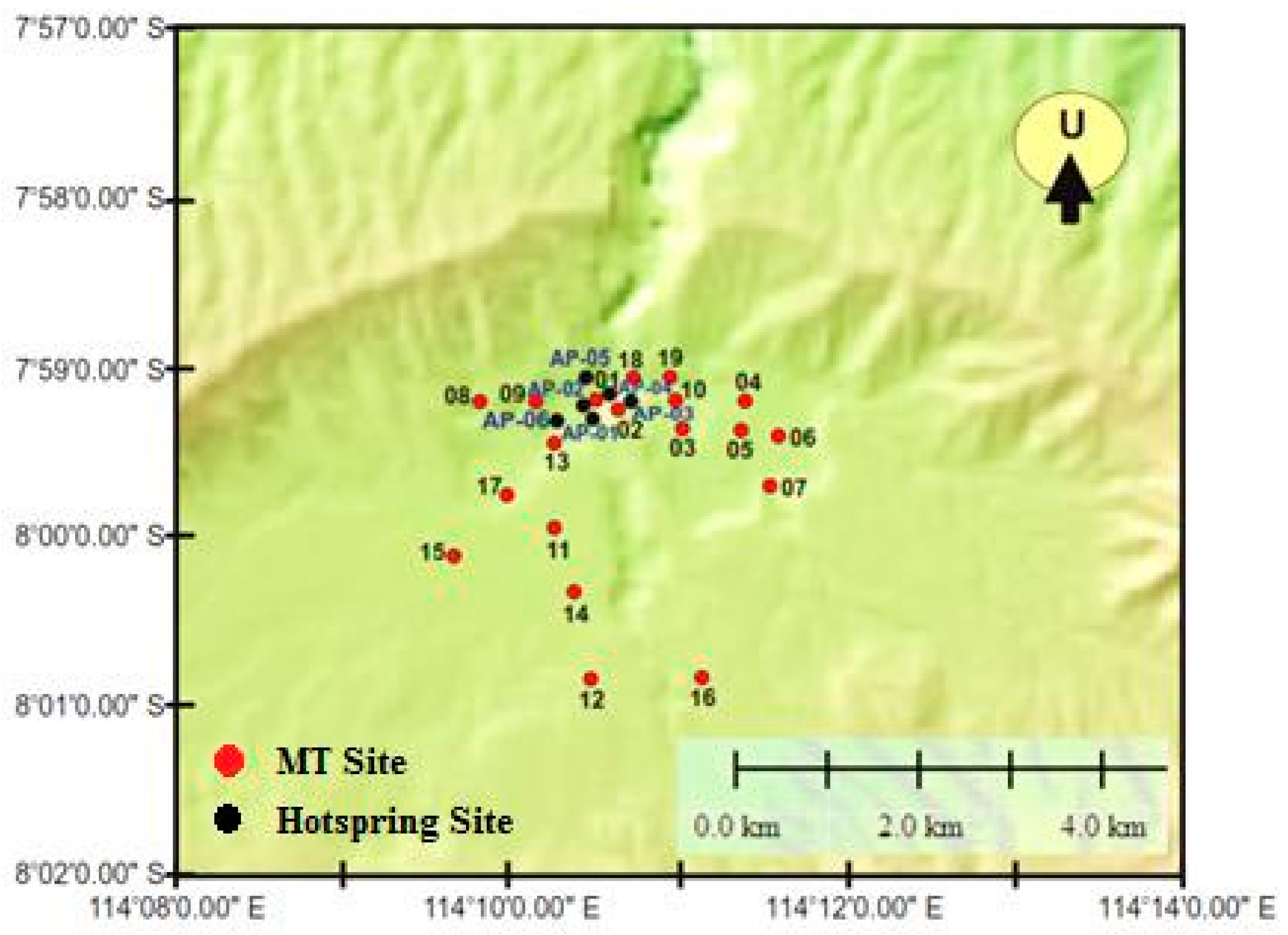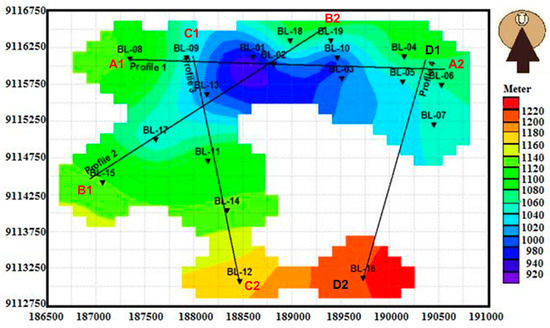 Figure 4. The 19 magnetotelluric points were divided into four inversion profiles to ease interpretation with the locations projected onto the profile lines.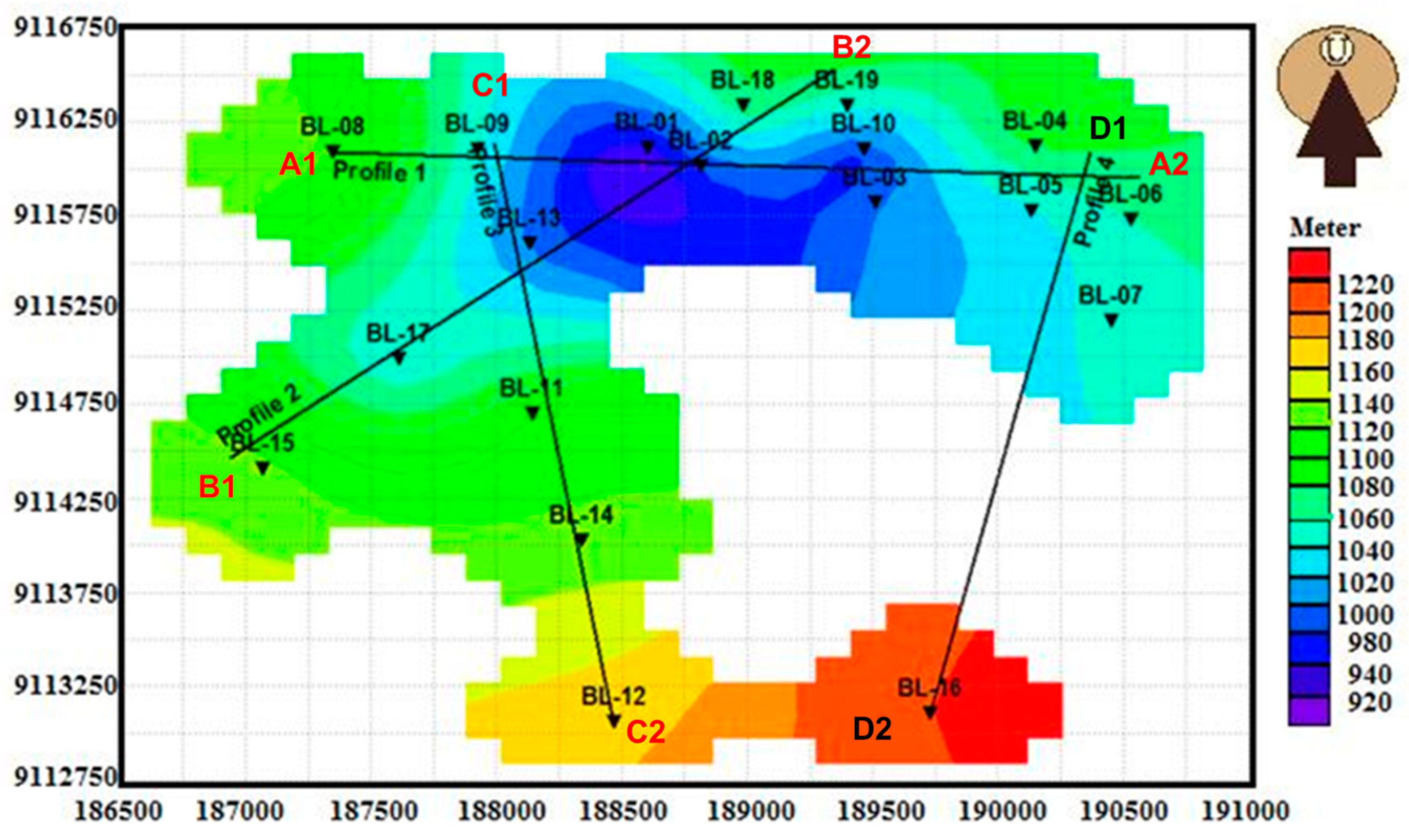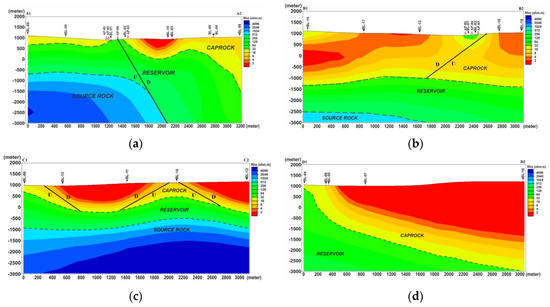 Figure 5. 2D models of (a) profile A1–A2 identified a low resistivity zone (<32 Ω.m) extending to a depth of 750 m above sea level which thickened to the west, and is indicative of hydrothermal alteration processes. This profile also indicated that the Blawan fault allowed fluid migration. Profile B1–B2 (b) is through a zone composed of pyroclastic fall deposits and found low resistivity values. The 2500m thick low resistivity value zone is a weak zone that is associated with the lineament of the Blawan fault. Profile C1–C2 (c) is composed of sediment deposits from Lake Blawan and also has low resistivity zone indicative of hydrothermal alteration processes. A high resistivity zone was located in the west side at depths from 1000–3000 m below sea level. No lineament was found in this profile. Profile D1–D2 (d) shows the low resistivity zone is very thick and get thicker towards BL-16. It is associated with Pleistocene sediment deposit from Lake Blawan and the Kalisengon River as well as with the volcanic activity of Mt. Blau.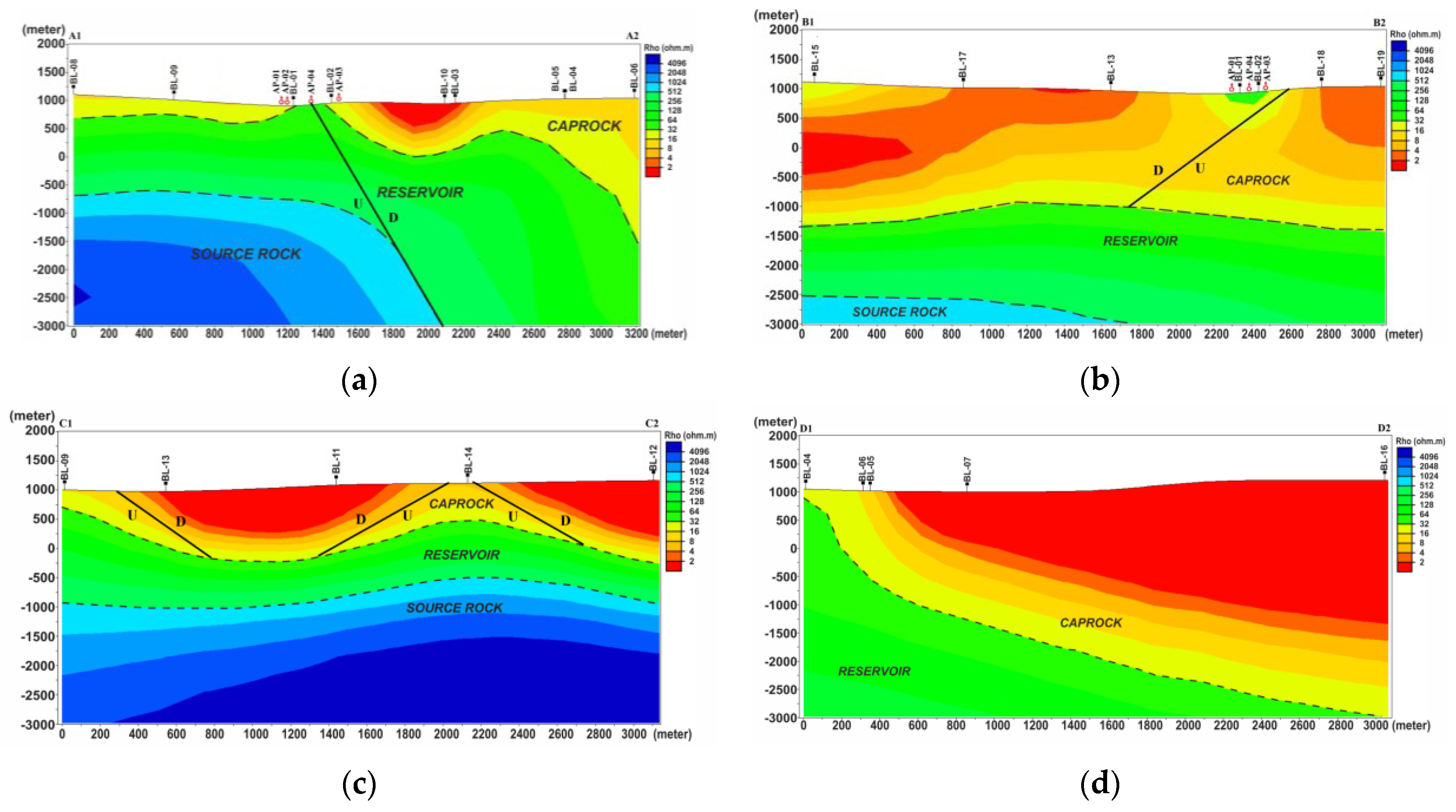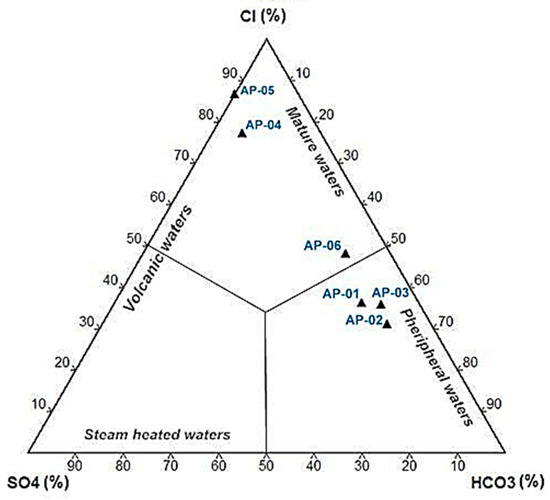 Figure 6.
Ternary diagram of Cl-SO
4
-HCO
3
for the Blawan hotspring sites [
21
].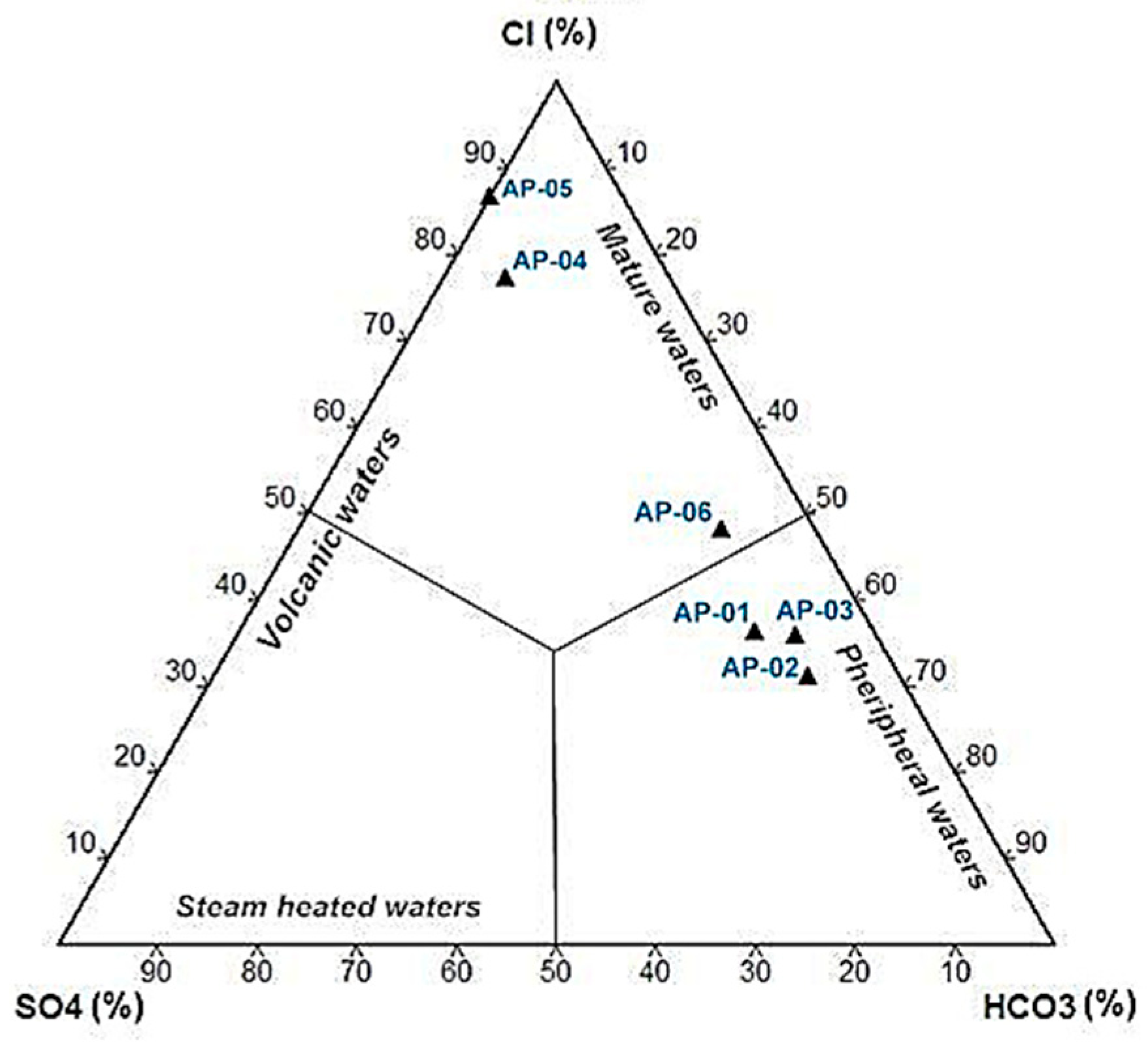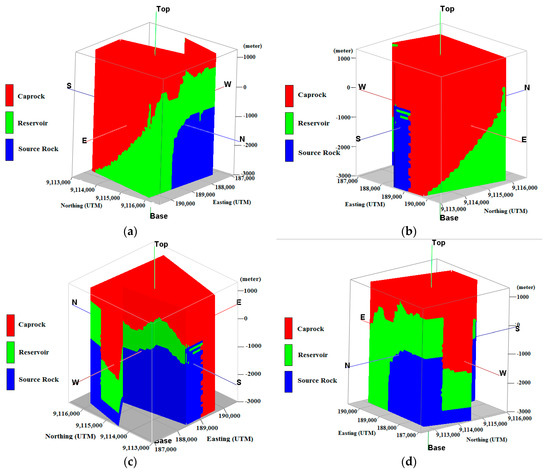 Figure 7. 3D model of the Blawan reservoir showed from (a) north-east, (b) south-east, (c) south-west, and (d) north-west. The low resistivity zone (≤32 Ω·m) covers the surface of the study area and thickens towards east (red zone). A medium resistivity zone (>32–≤512 Ω·m) is marked in green area and indicates a reservoir where there is accumulation of hot fluid. The blue area is a high resistivity zone (>512 Ω·m) and it shows indications of the presence of a fault with the orientation of the Blawan fault.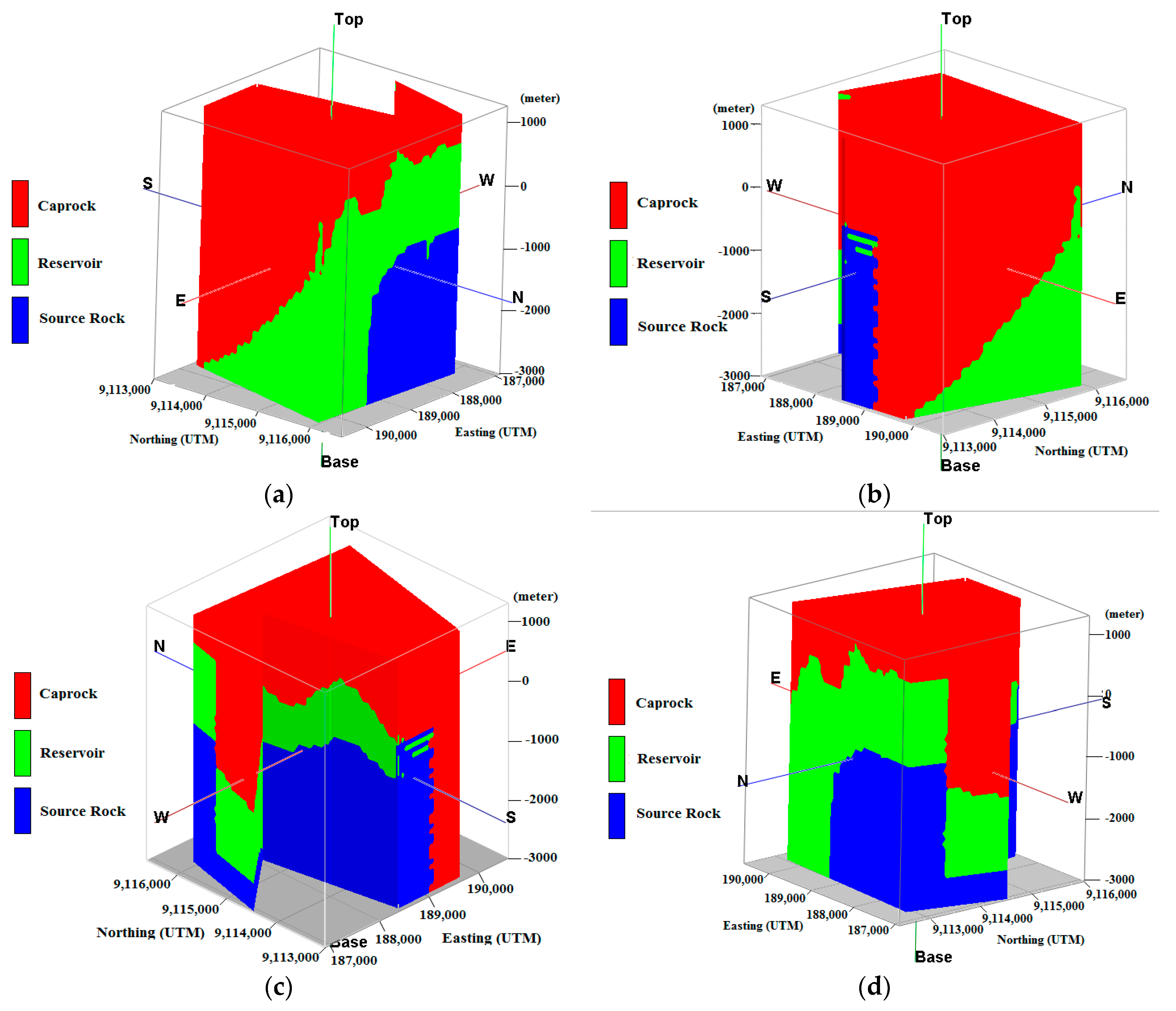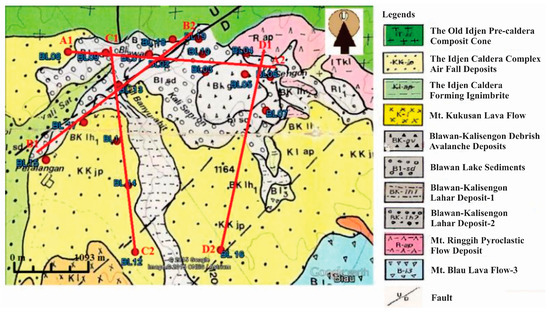 Figure 8. MT acquisition points overlaid with Blawan geological map. Rock formations in the study area are divided into three types. The Ijen Caldera Complex Air Fall Deposits (KKjp) are thought to have resulted from pyroclastic fall deposits from several eruption points (Mt. Blau, Mt. Ijen, Mt. Rante, and Mt. Suket). Blawan Lake Sediment (Bl sd) is characterized as intermediate between shale and sand, and some travertine sediments which contain fossils. The Blawan-Kalisengon avalanche debris deposit is composed of sediment from Lake Blawan and lava flows of Mt. Ringgih and Mt. Blau.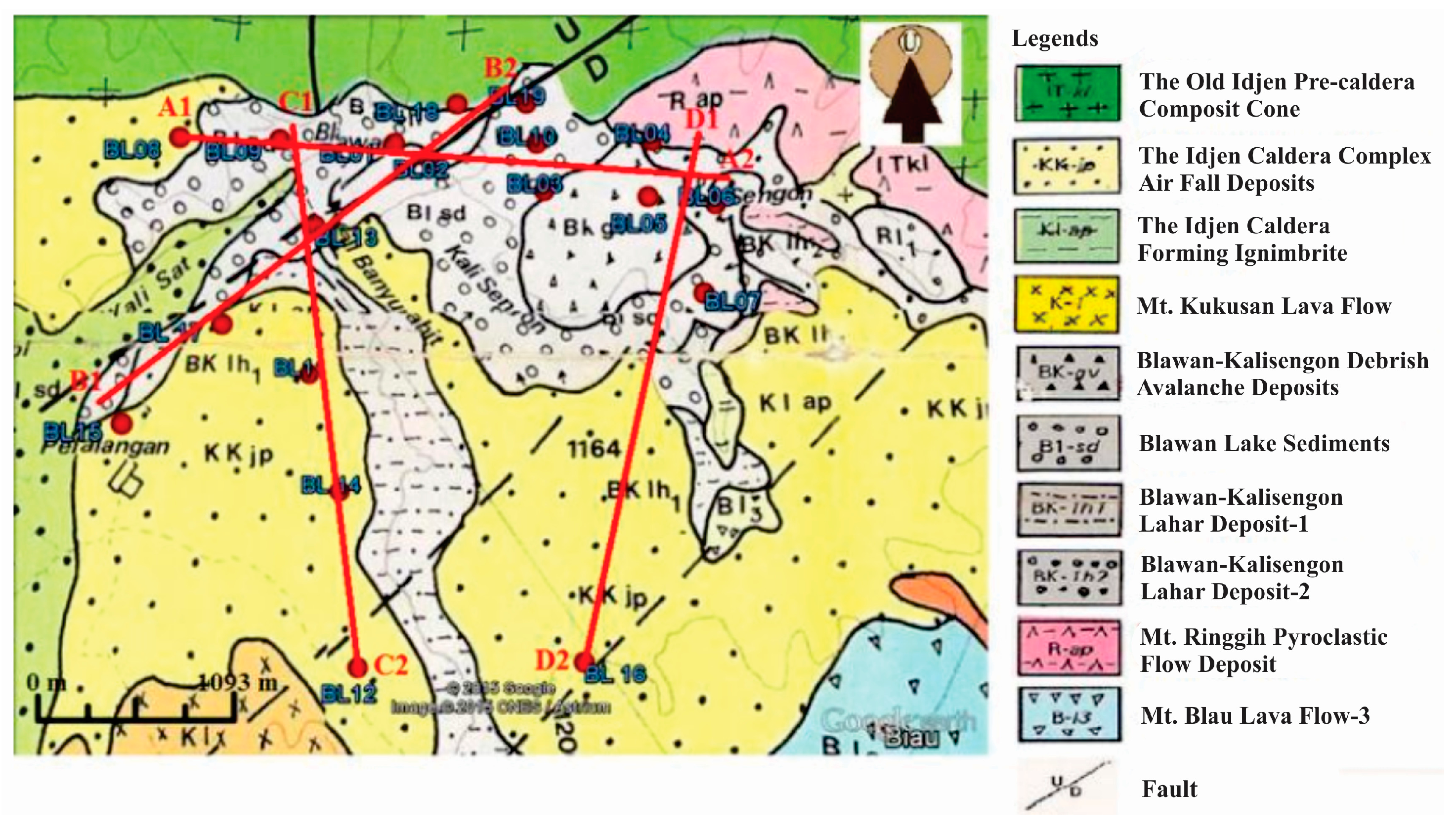 | Elements | Test Method |
| --- | --- |
| Cl | UV-VIS |
| HCO3 | UV-VIS |
| SO4 | UV-VIS |
| SiO2 | AAS |
| Na | AAS |
| K | AAS |
| Ca | AAS |
| Al | AAS |
Parameter
Concentration (mg/kg)
AP-01
AP-02
AP-03
AP-04
AP-05
AP-06
pH
6.628
6.718
6.648
6.822
7.685
6.725
Cl
130
145
140
160
130
150
HCO3
187.44
280.28
220
13.2
0
132.88
SO4
43.908
43.731
32.594
34.678
20.222
29.792
SiO2
13.43
12.25
9.72
15.29
9.06
10.62
Na
0.016
0.017
0.01
0.012
0.014
0.018
K
46.86
18.53
35.65
30.08
72.7
57.03
Ca
6.614
6.301
6.668
6.638
3.446
5.576
Al
0
<0.1006
0
0
0
0
Sampling Point
Ion
mg/kg
Temperature (°C)
AP-04
Na
0.012
61.15
K
30.08
Ca
6.638
AP-05
Na
0.014
107.1
K
72.7
Ca
3.446
AP-06
Na
0.018
89.65
K
57.03
Ca
5.576

© 2017 by the authors. Licensee MDPI, Basel, Switzerland. This article is an open access article distributed under the terms and conditions of the Creative Commons Attribution (CC BY) license (http://creativecommons.org/licenses/by/4.0/).