Magnetotelluric-Geochemistry Investigations of Blawan Geothermal Field, East Java, Indonesia
1
Department of Physics, Faculty of Sciences, Universitas Brawijaya, Veteran Street, Malang, Indonesia 65145
2
Center of Energy and Natural Resources, Institute of Research and Community Services, Universitas Brawijaya, Veteran Street, Malang, Indonesia 65145
3
Department of Civil Engineering, Faculty of Engineering, Universitas Brawijaya, MT Haryono Street, Malang, Indonesia 65145
4
Hawaii Institute of Geophysics and Planetary, University of Hawaii, 1680 East-West Road, Pacific Ocean Science & Technology (POST) Building, Room 602 Honolulu, HI 96822, USA
*
Author to whom correspondence should be addressed.
Academic Editors: Maurizio Barbieri and Jesús Martínez Frías
Received: 26 March 2017 / Revised: 23 May 2017 / Accepted: 24 May 2017 / Published: 10 June 2017
Abstract
An integrated magnetotelluric (MT) and geochemical study of the Blawan geothermal field has been performed. The character of the hot springs, the reservoir temperature, and geothermal reserve potential of Blawan geothermal field are assessed. MT measurements, with 250 m up to 1200 m spacings, were made at 19 sites, and 6 locations at the Blawan hot springs have been sampled for geochemical survey. The results of 2D modelling indicated that the geothermal system in the research area consisted of a cap rock zone (≤32 Ω•m), reservoir zone (>32 – ≤512 Ω•m), and heat source zone (>512 Ω•m), and also identified faults. The characteristics of the hot spring water were identified through analyzing the major and minor elements. A ternary diagram (Cl-SO4-HCO3) showed that the Blawan hot springs consist of bicarbonate water (at locations of AP-01, AP-02, AP-03) and chloride water (at locations of AP-04, AP-05, and AP-06), with a reservoir temperature of approximately 90 °C based on the Na–K–Ca geothermometer results. An estimate of the geothermal energy using the volumetric method, gave a total geothermal reserve potential of 1.823 MWe.
View Full-Text
►

▼

Figures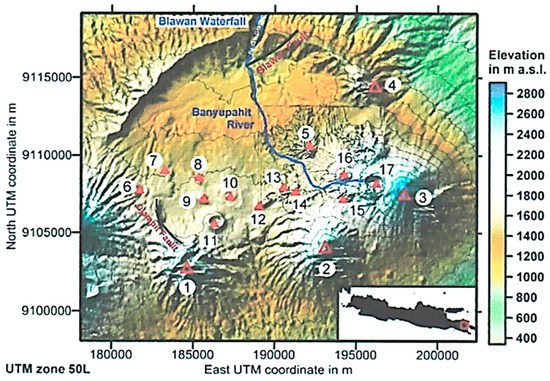 Figure 1
This is an open access article distributed under the
Creative Commons Attribution License
which permits unrestricted use, distribution, and reproduction in any medium, provided the original work is properly cited (CC BY 4.0).

Share & Cite This Article
MDPI and ACS Style
Maryanto, S.; Dewi, C.N.; Syahra, V.; Rachmansyah, A.; Foster, J.; Nadhir, A.; Santoso, D.R. Magnetotelluric-Geochemistry Investigations of Blawan Geothermal Field, East Java, Indonesia. Geosciences 2017, 7, 41.
Note that from the first issue of 2016, MDPI journals use article numbers instead of page numbers. See further details here.
Related Articles
Comments
[Return to top]