Folded Basinal Compartments of the Southern Mongolian Borderland: A Structural Archive of the Final Consolidation of the Central Asian Orogenic Belt
Department of Environmental Earth Science, Eastern Connecticut State University, Willimantic, CT 06226, USA
Academic Editors: Kevin Tansey, Stephen Grebby and Jesus Martinez-Frias
Received: 27 October 2016 / Revised: 22 December 2016 / Accepted: 27 December 2016 / Published: 11 January 2017
Abstract
The Central Asian Orogenic Belt (CAOB) records multiple Phanerozoic tectonic events involving consolidation of disparate terranes and cratonic blocks and subsequent reactivation of Eurasia's continental interior. The final amalgamation of the CAOB terrane collage involved diachronous closure of the Permian-Triassic Solonker suture in northernmost China and the Jurassic Mongol-Okhotsk suture in northeast Mongolia and eastern Siberia. The distribution, style, and kinematics of deformation associated with these two terminal collision events is poorly documented in southern Mongolia and northernmost China because these regions were later tectonically overprinted by widespread Cretaceous basin and range-style crustal extension and Miocene-recent sinistral transpressional mountain building. These younger events structurally compartmentalized the crust into uplifted crystalline basement blocks and intermontane basins. Consequently, widespread Cretaceous and Late Cenozoic clastic sedimentary deposits overlie older Permian-Jurassic sedimentary rocks in most basinal areas and obscure the deformation record associated with Permian-Triassic Solonker and Jurassic Mongol-Okhotsk collisional suturing. In this report, satellite image mapping of basinal compartments that expose folded Permian-Jurassic sedimentary successions that are unconformably overlapped by Cretaceous-Quaternary clastic sediments is presented for remote and poorly studied regions of southern Mongolia and two areas of the Beishan. The largest folds are tens of kilometers in strike length, east-west trending, and reveal north-south Late Jurassic shortening (present coordinates). Late Jurassic fold vergence is dominantly northerly in the southern Gobi Altai within a regional-scale fold-and-thrust belt. Local refolding of older Permian north-south trending folds is also evident in some areas. The folds identified and mapped in this study provide new evidence for the regional distribution and kinematics of Jurassic and Permian-Triassic contractional tectonism in the southern Mongolia-northern China borderland region. The newly mapped folds are also important potential targets for hydrocarbon exploration and vertebrate paleontological discoveries.
View Full-Text
►

▼

Figures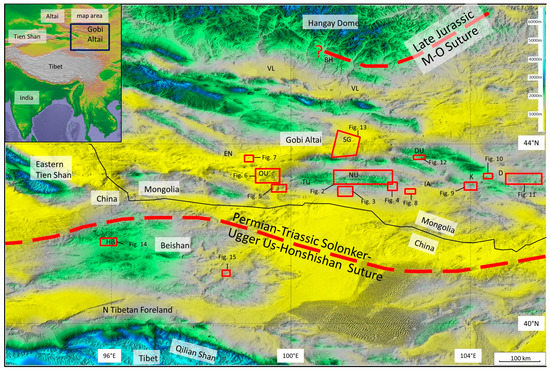 Figure 1
This is an open access article distributed under the
Creative Commons Attribution License
which permits unrestricted use, distribution, and reproduction in any medium, provided the original work is properly cited (CC BY 4.0).

Share & Cite This Article
MDPI and ACS Style
Cunningham, D. Folded Basinal Compartments of the Southern Mongolian Borderland: A Structural Archive of the Final Consolidation of the Central Asian Orogenic Belt. Geosciences 2017, 7, 2.
Note that from the first issue of 2016, MDPI journals use article numbers instead of page numbers. See further details here.
Related Articles
Comments
[Return to top]