Oxygen-Dependent Morphogenesis of Modern Clumped Photosynthetic Mats and Implications for the Archean Stromatolite Record
1
Department of Earth, Atmospheric and Planetary Sciences, Massachusetts Institute of Technology, Cambridge, MA 02139, USA
2
Institute of Earth Sciences, Academia Sinica, Nangang, Taipei 11129, Taiwan
3
Center for Studies in Physics and Biology, The Rockefeller University, New York, NY 10065, USA
4
Applied Molecular Photomedicine Laboratory, The Forsyth Institute, Cambridge, MA 02142, USA
5
Department of Biological Sciences, Wellesley College, Wellesley, MA 02481, USA
6
Australian Centre for Astrobiology, School of Biotechnology and Biomolecular Sciences, The University of New South Wales, Sydney, NSW 2052, Australia
*
Author to whom correspondence should be addressed.
Received: 2 August 2012 / Accepted: 25 September 2012 / Published: 11 October 2012
Abstract
Some modern filamentous oxygenic photosynthetic bacteria (cyanobacteria) form macroscopic tufts, laminated cones and ridges that are very similar to some Archean and Proterozoic stromatolites. However, it remains unclear whether microbes that constructed Archean clumps, tufts, cones and ridges also produced oxygen. Here, we address this question by examining the physiology of cyanobacterial clumps, aggregates ~0.5 mm in diameter that initiate the growth of modern mm- and cm-scale cones. Clumps contain more particulate organic carbon in the form of denser, bowed and bent cyanobacterial filaments, abandoned sheaths and non-cyanobacterial cells relative to the surrounding areas. Increasing concentrations of oxygen in the solution enhance the bending of filaments and the persistence of clumps by reducing the lateral migration of filaments away from clumps. Clumped mats in oxic media also release less glycolate, a soluble photorespiration product, and retain a larger pool of carbon in the mat. Clumping thus benefits filamentous mat builders whose incorporation of inorganic carbon is sensitive to oxygen. The morphogenetic sequence of mm-scale clumps, reticulate ridges and conical stromatolites from the 2.7 Ga Tumbiana Formation likely records similar O
2
-dependent behaviors, preserving currently the oldest morphological signature of oxygenated environments on Early Earth.
View Full-Text
►

▼

Figures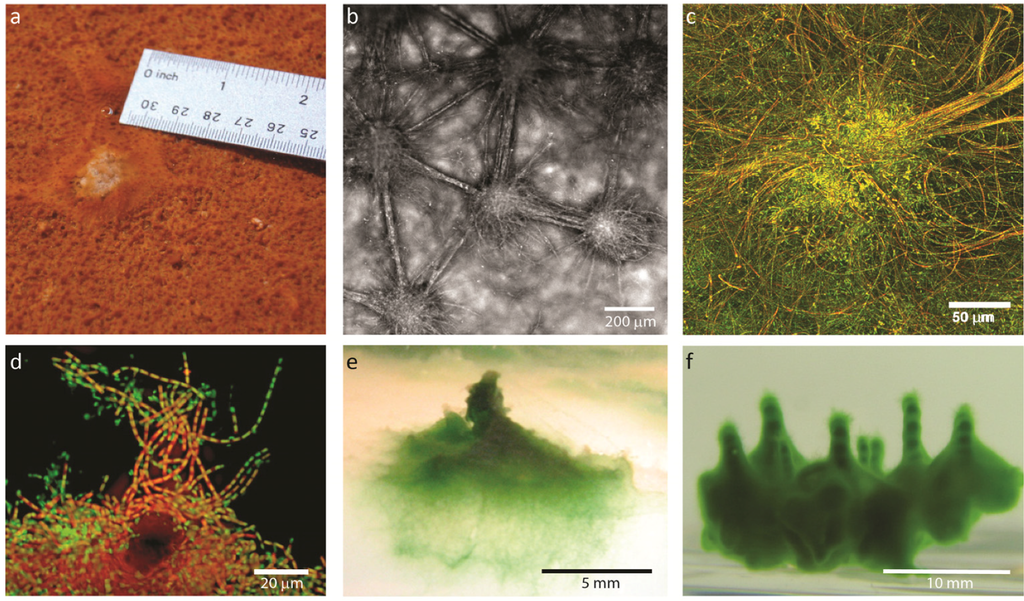 Figure 1

Share & Cite This Article
MDPI and ACS Style
Sim, M.S.; Liang, B.; Petroff, A.P.; Evans, A.; Klepac-Ceraj, V.; Flannery, D.T.; Walter, M.R.; Bosak, T. Oxygen-Dependent Morphogenesis of Modern Clumped Photosynthetic Mats and Implications for the Archean Stromatolite Record. Geosciences 2012, 2, 235-259.
Related Articles
Comments
[Return to top]