Dietary 25-Hydroxyvitamin D3 Supplementation Alleviates Porcine Epidemic Diarrhea Virus Infection by Improving Intestinal Structure and Immune Response in Weaned Pigs
Institute of Animal Nutrition, Sichuan Agricultural University, NO. 46 Xinkang Road, Yucheng District, Yaan, Sichuan 625014, China
*
Author to whom correspondence should be addressed.
Received: 21 July 2019 / Revised: 25 August 2019 / Accepted: 26 August 2019 / Published: 29 August 2019
Simple Summary
Porcine epidemic diarrhea is one of the major problems in current swine husbandry worldwide, and effective measures for prevention and treatment are scarce. We found that high dose 25-hydroxyvitamin D3 supplementation could ease intestinal injury and inhibit intestinal immune response induced by porcine epidemic diarrhea virus (PEDV), suggesting that feeding a high dose of 25-hydroxyvitamin D3 could be used as an approach against PEDV infection.
We conducted this experiment to determine if feeding 25-hydroxyvitamin D
3
(25(OH)D
3
) to weaned pigs would alleviate porcine epidemic diarrhea virus (PEDV) infection and immune response. Forty-two weaned pigs were allotted to 1 of 6 dietary 25(OH)D
3
treatments (5.5, 5.5, 43.0, 80.5, 118.0, 155.5 μg 25(OH)D
3
/kg diet) for 26 days. On day 22 of the trial, all the treatments were orally administrated with PEDV except for one of the 5.5 μg 25(OH)D
3
/kg treatments, which was challenged with the same volume of sterile saline and served as control. Another 5.5 μg 25(OH)D
3
/kg group for PEDV challenge was named CON-PEDV. Average daily gain (
p
< 0.05) was reduced by PEDV infection. PEDV administration also induced severe diarrhea (
p
< 0.05), reduction of villous height and the ratio of villous height to crypt depth, and increase of crypt depth and serum diamine oxidase activity (
p
< 0.05). Serum IgM and complement component 4 levels were increased by PEDV challenge. However, 155.5 μg 25(OH)D
3
/kg supplementation alleviated intestinal damage (
p
< 0.05) compared with CON-PEDV. Furthermore, 155.5 μg 25(OH)D
3
/kg supplementation downregulated the mRNA abundance of inflammatory cytokines and interferon signal pathway-related genes (
p
< 0.05) compared with CON-PEDV. These results suggested that dietary supplementation of 155.5 μg 25(OH)D
3
/kg could alleviate intestinal damage and protect against PEDV-induced inflammatory status.
View Full-Text
►

▼

Show Figures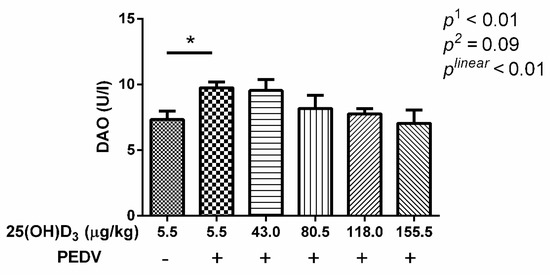 Figure 1
This is an open access article distributed under the
Creative Commons Attribution License
which permits unrestricted use, distribution, and reproduction in any medium, provided the original work is properly cited

MDPI and ACS Style
Yang, J.; Tian, G.; Chen, D.; Zheng, P.; Yu, J.; Mao, X.; He, J.; Luo, Y.; Luo, J.; Huang, Z.; Wu, A.; Yu, B. Dietary 25-Hydroxyvitamin D3 Supplementation Alleviates Porcine Epidemic Diarrhea Virus Infection by Improving Intestinal Structure and Immune Response in Weaned Pigs. Animals 2019, 9, 627.
Show more citation formats
Show less citations formats
Note that from the first issue of 2016, MDPI journals use article numbers instead of page numbers. See further details
here
.