Comparison Between Non-Invasive Methane Measurement Techniques in Cattle
1
Department of Animal Production, NEIKER—Tecnalia, Granja Modelo de Arkaute, Apdo. 46, 01080 Vitoria-Gasteiz, Spain
2
Departamento de Producción Agraria, Escuela Técnica Superior de Ingeniería Agronómica, Alimentaria y de Biosistemas, Universidad Politécnica de Madrid, Ciudad Universitaria s/n, 28040 Madrid, Spain
3
Departamento de Mejora Genética Animal, Instituto Nacional de Investigación y Tecnología Agraria y Alimentaria, 28040 Madrid, Spain
*
Authors to whom correspondence should be addressed.
Received: 28 June 2019 / Revised: 6 August 2019 / Accepted: 8 August 2019 / Published: 15 August 2019
Simple Summary
Enteric methane emissions pose a serious issue to ruminant production and environmental sustainability. To mitigate methane emissions, combined research efforts have been put into animal handling, feeding and genetic improvement strategies. For all research efforts, it is necessary to record methane emissions from individual cows on a large scale under farming conditions. The objective of this trial was to compare two large-scale, non-invasive methods of measuring methane (non-dispersive infrared methane analyzer (NDIR) and laser), in order to see if they can be used interchangeably. For this, paired measurements were taken with both devices on a herd of dairy cows and compared. Significant sources of disagreement were identified between the methods, such that it would not be possible to use both methods interchangeably without first correcting the sources of disagreement.
The aim of this trial was to study the agreement between the non-dispersive infrared methane analyzer (NDIR) method and the hand held laser methane detector (LMD). Methane (CH
4
) was measured simultaneously with the two devices totaling 164 paired measurements. The repeatability of the CH
4
concentration was greater with the NDIR (0.42) than for the LMD (0.23). However, for the number of peaks, repeatability of the LMD was greater (0.20 vs. 0.14, respectively). Correlation was moderately high and positive for CH
4
concentration (0.73 and 0.74, respectively) and number of peaks (0.72 and 0.72, respectively), and the repeated measures correlation and the individual-level correlation were high (0.98 and 0.94, respectively). A moderate concordance correlation coefficient was observed for the CH
4
concentration (0.62) and for the number of peaks (0.66). A moderate-high coefficient of individual agreement for the CH
4
concentration (0.83) and the number of peaks (0.77) were observed. However, CH
4
concentrations population means and all variance components differed between instruments. In conclusion, methane concentration measurements obtained by means of NDIR and LMD cannot be used interchangeably. The joint use of both methods could be considered for genetic selection purposes or for mitigation strategies only if sources of disagreement, which result in different between-subject and within-subject variabilities, are identified and corrected for.
View Full-Text
►

▼

Show Figures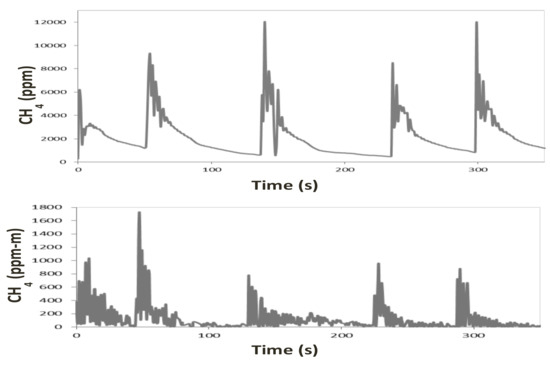 Figure 1
This is an open access article distributed under the
Creative Commons Attribution License
which permits unrestricted use, distribution, and reproduction in any medium, provided the original work is properly cited

Note that from the first issue of 2016, MDPI journals use article numbers instead of page numbers. See further details
here
.