Genomic Identification and Expression Analysis of the Cathelicidin Gene Family of the Forest Musk Deer
1
Institute of Ecology, Key Laboratory of Southwest China Wildlife Resources Conservation (Ministry of Education), China West Normal University, Nanchong 637009, China
2
Sichuan Wildlife Rehabilitation and Breeding Research Center, China West Normal University, Nanchong 637009, China
3
Chongqing Engineering Technology Research Center for GAP of Genuine Medicinal Materials, Chongqing Institute of Medicinal Plant Cultivation, Nanchuan 408435, China
4
State Key Laboratory for Quality and Safety of Agro-products (in prepared), Institute of Quality and Standard for Agro-Products, Zhejiang Academy of Agricultural Sciences, Hangzhou 310021, China
*
Authors to whom correspondence should be addressed.
†
These authors are contributed equally to this work.
Received: 24 May 2019 / Revised: 21 July 2019 / Accepted: 22 July 2019 / Published: 24 July 2019
Simple Summary
Cathelicidins are a group of host defense peptides in vertebrates with both antimicrobial and immunomodulatory activities. In the present study, we identified the entire repertoire of the cathelicidin gene family from the forest musk deer genome. Sequence comparison, phylogenetic topology, and gene and genomic organizations collectively suggest that all cathelicidin genes have already been fixed in the genome of forest musk deer before the split of moschidae and bovidae, while independent pseudogenization events have occurred after species divergence. In addition, real-time PCR analysis suggested that all functional cathelicidins play important roles in the immune system. The results of this study will be helpful for further evolutionary and functional studies.
The forest musk deer (
Moschus berezovskii
) is a small-sized artiodactyl species famous for the musk secreted by adult males. In the captive population, this species is under the threat of infection diseases, which greatly limits the increase of individual numbers. In the present study, we computationally analyzed the repertoire of the cathelicidin (CATHL) family from the genome of forest musk deer and investigated their expression pattern by real-time PCR. Our results showed that the entire genome of forest musk deer encodes eight cathelicidins, including six functional genes and two pseudogenes. Phylogenetic analyses further revealed that all forest musk deer cathelicidin members have emerged before the split of the forest musk deer and cattle and that forest musk deer
CATHL3L2
and
CATHL9
are orthologous with two cattle pseudogenes. In addition, the gene expression results showed that the six functional genes are not only abundantly expressed in the spleen and lung, but are also differently expressed in response to abscesses, which suggests that forest musk deer cathelicidins may be involved in infections. Taken together, identification and characterization of the forest musk deer cathelicidins provide fundamental data for further investigating their evolutionary process and biological functions.
View Full-Text
►

▼

Show Figures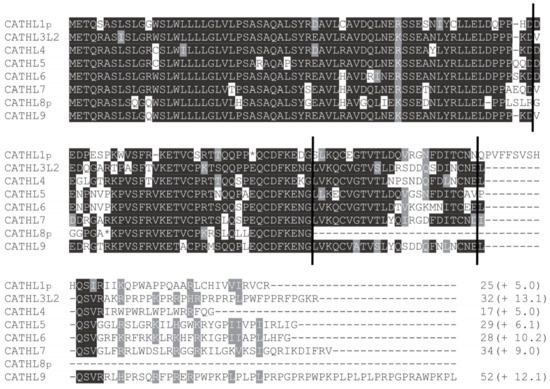 Figure 1
This is an open access article distributed under the
Creative Commons Attribution License
which permits unrestricted use, distribution, and reproduction in any medium, provided the original work is properly cited

Note that from the first issue of 2016, MDPI journals use article numbers instead of page numbers. See further details
here
.