Leonardo da Vinci's Animal Anatomy: Bear and Horse Drawings Revisited
Unit of Veterinary Anatomy and Embryology, Department of Anatomy, Animal Production and Clinical Veterinary Sciences, Faculty of Veterinary Sciences, University of Santiago de Compostela—Campus of Lugo, 27002 Lugo, Spain
*
Author to whom correspondence should be addressed.
Received: 10 April 2019 / Revised: 10 June 2019 / Accepted: 16 June 2019 / Published: 10 July 2019
Simple Summary
Leonardo da Vinci was an outstanding artist of the Renaissance. He depicted numerous masterpieces and was also interested in human and animal anatomy. We focused on the anatomical drawings illustrating different parts of bear and horse bodies. Regarding Leonardo's "bear foot" series, the drawings have previously been described as depicting a bear's left pelvic limb; however, based on the anatomy of the tarsus and the digit (finger) arrangement, they show the right posterior limb. In addition, an unreported rough sketch of a dog/wolf antebrachium (forearm) has been identified and reported in detail in one of the drawings of the "bear's foot" series. After a detailed anatomical analysis, the drawing "The viscera of a horse" has more similarities to a canine anatomy than to a horse anatomy, suggesting that it shows a dog's trunk. Besides, the anatomies of the drawings depicting the horse pelvic limb and the human leg were analyzed from the unprecedented point of view of movement production.
Leonardo da Vinci was one of the most influencing personalities of his time, the perfect representation of the ideal Renaissance man, an expert painter, engineer and anatomist. Regarding Leonardo's anatomical drawings, apart from human anatomy, he also depicted some animal species. This comparative study focused only on two species: Bears and horses. He produced some anatomical drawings to illustrate the dissection of "a bear's foot" (Royal Collection Trust), previously described as "the left leg and foot of a bear", but considering some anatomical details, we concluded that they depict the bear's right pelvic limb. This misconception was due to the assumption that the bear's
digit I
(1st toe) was the largest one, as in humans. We also analyzed a rough sketch (not previously reported), on the same page, and we concluded that it depicts the left
antebrachium
(forearm) and
manus
(hand) of a dog/wolf. Regarding Leonardo's drawing representing the horse anatomy "The viscera of a horse", the blood vessel arrangement and other anatomical structures are not consistent with the structure of the horse, but are more in accordance with the anatomy of a dog. In addition, other drawings comparing the anatomy of human leg muscles to that of horse pelvic limbs were also discussed in motion.
View Full-Text
►

▼

Show Figures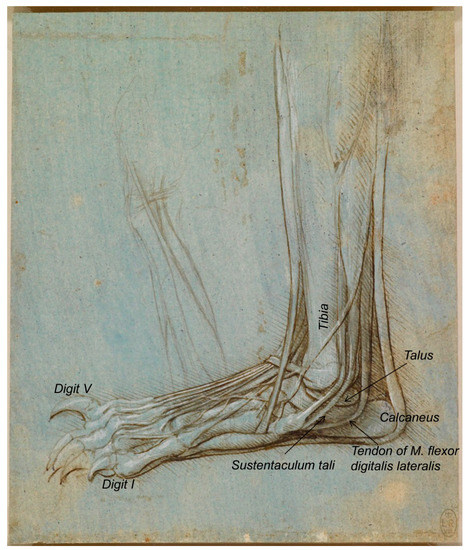 Figure 1
This is an open access article distributed under the
Creative Commons Attribution License
which permits unrestricted use, distribution, and reproduction in any medium, provided the original work is properly cited

Note that from the first issue of 2016, MDPI journals use article numbers instead of page numbers. See further details
here
.