Ruminal In Vitro Protein Degradation and Apparent Digestibility of Energy and Nutrients in Sheep Fed Native or Ensiled + Toasted Pea (
Pisum sativum

) Grains

1

Institute of Agricultural and Nutritional Sciences, Martin Luther University Halle-Wittenberg, Theodor-Lieser-Straße 11, 06120 Halle (Saale), Germany

2

Saxon State Office for Environment, Agriculture and Geology, Am Park 3, 04886 Köllitsch, Germany

3

Institute for Crop and Soil Science, Federal Research Centre for Cultivated Plants, Julius Kühn Institute (JKI), Bundesallee 58, 38116 Braunschweig, Germany

*

Author to whom correspondence should be addressed.

Received: 9 May 2019 / Revised: 17 June 2019 / Accepted: 26 June 2019 / Published: 1 July 2019
Simple Summary
Pea grains may partially replace soybean or rapeseed meals and cereals in ruminant diets, but this is limited by high solubility of pea protein in the rumen. Hydro-thermic treatments such as toasting may stabilize the protein and shift digestion from the rumen to the small intestine. The effect of toasting of ensiled pea grains on rumen-undegraded protein was tested in vitro and on apparent digestibility of organic matter, gross energy, and proximate nutrients in a digestion trial with sheep. Ensiling plus toasting increased rumen-undegraded protein from 20 to 62% of crude protein, but it also increased acid detergent insoluble protein, which is unavailable for digestive enzymes in the small intestine from 0.5 to 2.6% of crude protein. Ensiling plus toasting did not, however, affect total tract apparent digestibility of organic matter, energy, crude protein, or any other nutrient fraction, nor did it alter the concentration of metabolizable energy or net energy lactation in the peas. The technique can be implemented on farms and might have a positive impact on field pea production.
Pea grains may partially replace soybean or rapeseed meals and cereals in ruminant diets, but substitution by unprocessed peas is limited by high ruminal protein solubility. The effect of combined ensiling and toasting of peas using a mobile toaster (100 kg/h throughput rate, 180 to 190 °C supplied air temperature) on rumen-undegraded protein (RUP) was tested in vitro using the
Streptomyces griseus
protease test. The effects of ensiling plus toasting on apparent digestibility of organic matter (OM), gross energy (GE), and proximate nutrients were examined in a digestion trial. Concentrations of metabolizable energy (ME) and net energy lactation (NEL) were calculated. Native peas had 38 g RUP/kg dry matter (DM), which was 20% of crude protein (CP). Rumen-undegraded protein increased three-fold after ensiling plus toasting (
p
< 0.001). Acid detergent insoluble protein increased five-fold. Apparent digestibility was 0.94 (OM), 0.90 (CP), and above 0.99 (nitrogen-free extract, starch, and sugars) and was not altered by the treatment. The ME (13.9 MJ/kg DM) or the NEL (8.9 MJ/kg DM) concentration was similar in native and ensiled plus toasted peas. This technique can easily be applied on farms and may increase RUP. However, it needs to be clarified under which conditions pea protein will be damaged.
View Full-Text
►

▼

Show Figures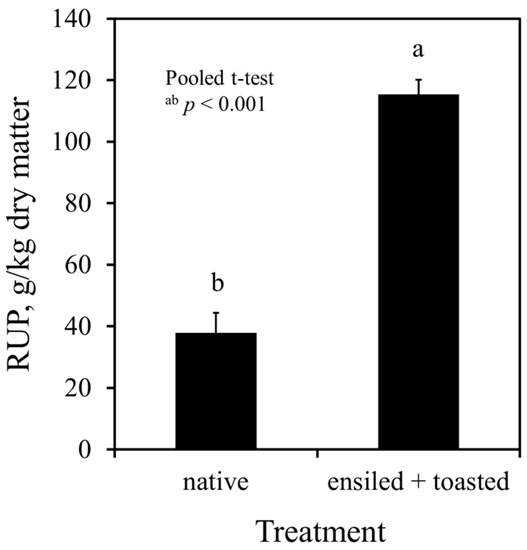 Figure 1
This is an open access article distributed under the
Creative Commons Attribution License
which permits unrestricted use, distribution, and reproduction in any medium, provided the original work is properly cited

MDPI and ACS Style
Bachmann, M.; Kuhnitzsch, C.; Okon, P.; Martens, S.D.; Greef, J.M.; Steinhöfel, O.; Zeyner, A. Ruminal In Vitro Protein Degradation and Apparent Digestibility of Energy and Nutrients in Sheep Fed Native or Ensiled + Toasted Pea (Pisum sativum) Grains. Animals 2019, 9, 401.
Show more citation formats
Show less citations formats
Note that from the first issue of 2016, MDPI journals use article numbers instead of page numbers. See further details
here
.