Motivation of Owners to Purchase Pedigree Cats, with Specific Focus on the Acquisition of Brachycephalic Cats
1
Royal (Dick) School of Veterinary Studies and The Roslin Institute, The University of Edinburgh, Easter Bush Campus, Roslin EH25 9RG, Scotland
2
Department of Veterinary Services, Ministry of Agriculture and Rural Affairs, Animal Welfare Unit, Beit Dagan 5025001, Israel
3
University of Veterinary and Pharmaceutical Sciences, Brno 612 42, Czech Republic
4
School of Animal, Rural and Environmental Sciences, Nottingham Trent University, Southwell, Nottinghamshire NG25 0QF, UK
5
Royal Veterinary College, Department of Clinical Science and Services (CSS), Hatfield AL9 7TA, UK
*
Author to whom correspondence should be addressed.
†
These authors have joint credit as first author.
Received: 1 June 2019 / Revised: 20 June 2019 / Accepted: 24 June 2019 / Published: 27 June 2019
Simple Summary
Selective breeding of domestic cats (Felis catus) has resulted in a variety of temperaments, body shapes, facial features and, in particular, coat types and colours. There are now over 70 recognised cat breeds, created over 150 years. Many cat owners select their cat for features that appeal to them, so cat breeders primarily focus on these aesthetic traits, changing cat features to their concept of beauty or appeal. Unfortunately, these changes can impact heavily upon cat health and welfare, as inbreeding and breeding for extreme physical conformations has become prevalent. Particular concern focuses on brachycephalic (BC) cats with wide flat faces (e.g., Persians and Exotic Shorthairs). Using a questionnaire for cat owners, we identified marked differences in how owners went about acquiring their cats when we compared owners of BC cats, pedigree (P), (but not BC) cats and non-pedigree (NP) cats; 1367 responses (BC n = 85, P n = 400, NP n = 882). Owners of BC cats were less likely to undertake significant research before buying their cat (e.g., not looking into management requirements or potential health problems associated with the BC face-shape and/or Persian coat) compared to P owners. Once owned, they did not consider their cat as healthy (especially related to eye and skin conditions) compared to P owners. BC owners were also less likely to recommend their breed to others, possibly reflecting poor health experiences and/or management issues.
Background: Cats are globally popular pets and pedigree cats are increasingly prevalent, with brachycephalic breeds being the most registered breeds. How owners decide upon and acquire their cats is poorly understood. Moreover, there are growing concerns about the health and welfare of brachycephalic (BC) dogs and recent studies are raising the awareness of health and welfare problems in BC cats. Methods: An online survey investigated owners' motivations, perceptions and behaviours prior to, during and following acquisition of non-pedigree (NP), extreme brachycephalic pedigree (BC; i.e., Persian and Exotic Shorthair) and mild to non-BC pedigree (P) cats.
Results
: The survey received 1367 valid responses (NP
n
= 882, P
n
= 400, BC
n
= 85 (6.2%)). There were marked differences between NP, P and BC owners' perception of their cats' health and welfare, reason(s) for acquisition and its process. Owners of NP were less influenced by appearance, behaviour and other features than P or BC owners. In contrast, P and BC owners were highly influenced by appearance, with P owners also placing greater importance on good breed health than BC owners. BC owners were less likely to recommend their breeds to prospective cat owners, apparently concerned by high maintenance requirements.
Conclusion
: Further research is needed to determine how decision-making is constructed and how it may be improved, especially in respect of welfare outcomes for extreme BC cats given the increased weighting given to appearance over health.
View Full-Text
►

▼

Show Figures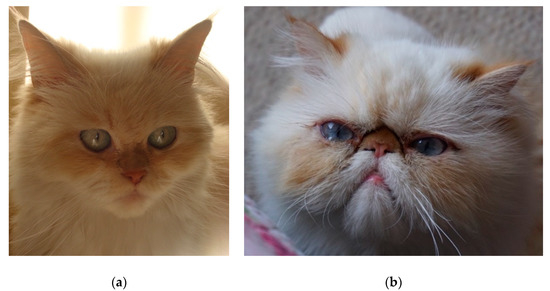 Figure 1
This is an open access article distributed under the
Creative Commons Attribution License
which permits unrestricted use, distribution, and reproduction in any medium, provided the original work is properly cited

MDPI and ACS Style
Plitman, L.; Černá, P.; Farnworth, M.J.; Packer, R.M.; Gunn-Moore, D.A. Motivation of Owners to Purchase Pedigree Cats, with Specific Focus on the Acquisition of Brachycephalic Cats. Animals 2019, 9, 394.
Show more citation formats
Show less citations formats
Note that from the first issue of 2016, MDPI journals use article numbers instead of page numbers. See further details
here
.