Immune System Stimulation Reduces the Efficiency of Whole-Body Protein Deposition and Alters Muscle Fiber Characteristics in Growing Pigs
1
Department of Animal and Food Sciences, Texas Tech University, Lubbock, TX 79409, USA
2
Department of Biology, South Plains College, Levelland, TX 79336, USA
*
Author to whom correspondence should be addressed.
Received: 1 May 2019 / Revised: 1 June 2019 / Accepted: 4 June 2019 / Published: 6 June 2019
Simple Summary
Disease reduces growth and protein retention in pigs. Protein retention is the balance between two energy-consuming processes in the body of pigs: protein synthesis and breakdown. Previous reports on the effects of disease on these components of protein metabolism and their consecutive effects on protein retention are inconsistent. In addition, limited information is available about the effects of disease on the composition of muscle fibers in pigs. Thus, we evaluated these parameters, since they help us to understand protein metabolism during disease in pigs. We used twelve gilts; five were used as a control and seven were made ill. Experimental diets were designed to supply nutrients that closely met the daily requirements of each group. Protein synthesis, protein breakdown, and protein retention were measured over 72 h. Pigs were then euthanized and various muscles were sampled. Our findings suggested that disease not only reduces protein retention by decreasing protein synthesis and protein breakdown, but also by reducing the efficiency of protein deposition. In other words, ill pigs synthesize more protein per unit of protein retention, compared to healthy pigs. In addition, disease reduces muscle mass and changes the composition of the muscle fibers. The latter might negatively affect pork quality.
Abstract
The effects of immune system stimulation (ISS), induced by repeated injection of
Escherichia coli
lipopolysaccharide, on the whole-body protein synthesis versus degradation rates, the efficiency of protein deposition (PD), and muscle fiber characteristics in pigs were evaluated. Twelve growing gilts were assigned to two levels of amino acid intake that was predicted based on the potential of each group's health status for PD and feed intake. Isotope tracer, nitrogen balance, and immunohistochemical staining techniques were used to determine protein turnover, PD, and muscle fiber characteristics, respectively. Protein synthesis, degradation, and PD were lower in immune-challenged pigs than in control pigs (
p
< 0.05). Strong tendencies for a higher protein synthesis-to-PD ratio (
p
= 0.055) and a lower protein synthesis-to-degradation ratio (
p
= 0.065) were observed in immune-challenged pigs. A decrease in muscle cross-sectional area of fibers and a shift from myosin heavy chain (MHC)-II towards MHC-I fibers (
p
< 0.05) were observed in immune-challenged pigs. These results indicated that ISS reduces PD not only by suppressing the whole-body protein synthesis and degradation rates, but also by decreasing the efficiency of PD in growing pigs. In addition, ISS induces atrophy in skeletal muscles and favors a slow-twitch oxidative fiber type composition.
View Full-Text
►

▼

Figures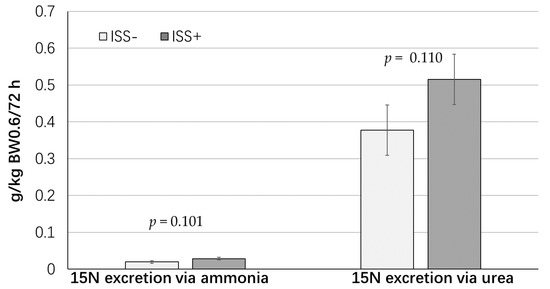 Figure 1
This is an open access article distributed under the
Creative Commons Attribution License
which permits unrestricted use, distribution, and reproduction in any medium, provided the original work is properly cited (CC BY 4.0).

Share & Cite This Article
MDPI and ACS Style
McGilvray, W.D.; Johnson, B.; Wooten, H.; Rakhshandeh, A.R.; Rakhshandeh, A. Immune System Stimulation Reduces the Efficiency of Whole-Body Protein Deposition and Alters Muscle Fiber Characteristics in Growing Pigs. Animals 2019, 9, 323.
Note that from the first issue of 2016, MDPI journals use article numbers instead of page numbers. See further details here.
Related Articles
Comments
[Return to top]