Genetic Mutation Analysis of High and Low IgY Chickens by Capture Sequencing
1
Institute of Animal Sciences, Chinese Academy of Agricultural Sciences, Beijing 100193, China
2
State Key Laboratory of Animal Nutrition, Beijing 100193, China
3
College of Animal Science and Technology, Yangzhou University, Yangzhou 225009, China
4
School of Life Science and Engineering, Foshan University, Foshan 528225, China
*
Author to whom correspondence should be addressed.
†
These authors contributed equally to this work.
Received: 6 March 2019 / Revised: 19 May 2019 / Accepted: 20 May 2019 / Published: 23 May 2019
Simple Summary
Immunoglobulin Y (IgY) is the major antibody produced by hens and it endows their offspring with effective humoral immunity against the pathogens. In previous research, we identified 13 genomic regions that were significantly associated with the serum IgY level or antibody responses to sheep red-blood-cells, but the specific mutations in these regions have not been reported. Therefore, we screened for variations in these regions in White Leghorn and Beijing-You chickens with high and low IgY. Our study identified 35,154 mutations and 829 Indels which were associated with IgY levels in both lines. Many non-synonymous mutations were located in crucial genes related to the host immune function, indicating the possible involvement of these genes in controlling IgY levels.
Based on the results of our previous genome-wide association study (GWAS), a comprehensive analysis on single nucleotide polymorphisms (SNPs) was performed on White Leghorn and Beijing-You chickens with high and low IgY levels in defined genomic regions using the capture-sequencing approach. High and low IgY chickens showed substantial genetic variations. In total, more than 30,000 SNPs were found in all four chicken groups, among which 1045 were non-synonymous mutations resulting in amino acids alterations. In total, 23,309 Indels were identified. Among the 1169 Indels that were found only in Beijing-You chickens, 702 were shared between high and low IgY chickens compared with the reference genome. There were 1016 Indels specific to the White Leghorn chickens, among which 188 were high IgY-specific, 134 were low IgY-specific and 694 were shared between the high and low IgY chicken lines. Many genetic mutations were located in the regulatory regions of important immunomodulatory genes, including
TAP1
,
TAP2
and
BF1
. Our findings provide an in-depth understanding of genetic mutations in chicken microchromosomes.
View Full-Text
►

▼

Show Figures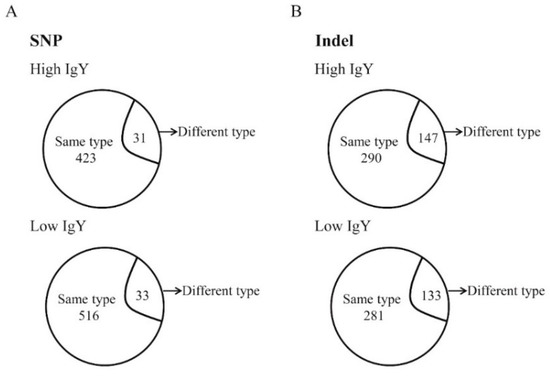 Figure 1
This is an open access article distributed under the
Creative Commons Attribution License
which permits unrestricted use, distribution, and reproduction in any medium, provided the original work is properly cited

MDPI and ACS Style
Wang, Q.; Wang, F.; Liu, L.; Li, Q.; Liu, R.; Zheng, M.; Cui, H.; Wen, J.; Zhao, G. Genetic Mutation Analysis of High and Low IgY Chickens by Capture Sequencing. Animals 2019, 9, 272.
Show more citation formats
Show less citations formats
Note that from the first issue of 2016, MDPI journals use article numbers instead of page numbers. See further details
here
.