Differential Expression of
KCNJ12

Gene and Association Analysis of Its Missense Mutation with Growth Traits in Chinese Cattle

College of Animal Science and Technology, Northwest A&F University, Yangling, Xianyang 712100, Shaanxi Province, China

*

Author to whom correspondence should be addressed.

Received: 18 March 2019 / Revised: 9 May 2019 / Accepted: 14 May 2019 / Published: 24 May 2019
Simple Summary
A central goal of livestock genomic study is to find causal genes underlying economic traits and identify effective variations which can be used as molecular markers for livestock breeding. The cattle KCNJ12 gene is an important candidate gene. To date, however, there have been no reports about the use of its missense mutation as a marker in cattle stature. In this study, missense mutation in KCNJ12 was firstly verified, which led to a change in its protein sequence. Further, a significant association was detected between the mutation of KCNJ12 and cattle stature, and we determined that the mutation in KCNJ12 could be used as a molecular marker in beef breeding programs. In addition, expression analysis of the KCNJ12 gene revealed high abundance in muscle and potential roles in bovine myocyte differentiation, which may be the subject of our future research.
The potassium inwardly rectifying channel, subfamily J, member 12 (
KCNJ12
) gene is a promising candidate for economic traits because of its crucial roles in myoblast development. Here, a missense mutation (Cys > Arg) was first detected to be located in exon 3 of
KCNJ12
from three Chinese cattle breeds by DNA-pool sequencing. Then, we performed an association analysis of this single-nucleotide polymorphism (SNP) with stature in three Chinese cattle populations (
n
= 820). A significantly positive correlation was revealed by a reduced animal general linear model and the CC genotype was the most favorable in three breeds. Further, we measured the expression profile of the
KCNJ12
gene in various cattle tissues and primary bovine skeletal muscle cells. Ubiquitous expression with high abundance in muscle was observed. Further, in primary bovine skeletal muscle cells, the
KCNJ12
mRNA expression was gradually up-regulated in differentiation medium (DM) compared with that in growth medium (GM), suggesting that the
KCNJ12
gene is involved in bovine myocyte differentiation. Conclusively, the
KCNJ12
gene is a functional candidate gene which can be used as a molecular marker for cattle breeding.
View Full-Text
►

▼

Show Figures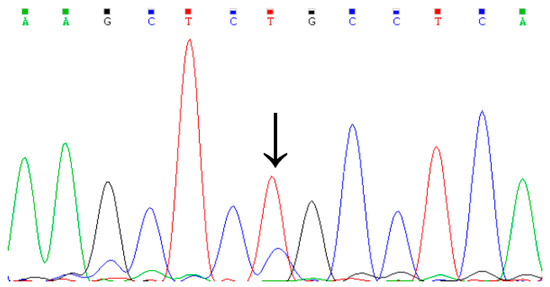 Figure 1
This is an open access article distributed under the
Creative Commons Attribution License
which permits unrestricted use, distribution, and reproduction in any medium, provided the original work is properly cited

MDPI and ACS Style
Cheng, J.; Peng, W.; Cao, X.; Huang, Y.; Lan, X.; Lei, C.; Chen, H. Differential Expression of KCNJ12 Gene and Association Analysis of Its Missense Mutation with Growth Traits in Chinese Cattle. Animals 2019, 9, 273.
Show more citation formats
Show less citations formats
Note that from the first issue of 2016, MDPI journals use article numbers instead of page numbers. See further details
here
.