Hair Cortisol in Sheltered Cows and Its Association with Other Welfare Indicators
1
Centre for Animal Welfare and Ethics, School of Veterinary Science, The University of Queensland, Gatton Campus, Gatton QLD 4343, Australia
2
Laboratory for the Conservation of Endangered Species, Centre for Cellular and Molecular Biology, Hyderabad 500007, India
*
Author to whom correspondence should be addressed.
Received: 8 April 2019 / Revised: 5 May 2019 / Accepted: 13 May 2019 / Published: 16 May 2019
Simple Summary
Hair cortisol concentrations are measured for the assessment of long-term stress in animals. The objective of this study was to assess the levels of stress in retired, abandoned and unproductive cows housed in traditional shelters through the measurement of their hair cortisol levels. The study further aimed to explore the association of the hair cortisol concentrations with other cow and resource-based welfare indicators. High hair cortisol levels were associated with dung lying in the sheds, low dry bulb temperature and shelters having little access to the yards. At the cow level, high hair cortisol levels were associated with injuries on the joints and body, dehydration, old age, and low body hair loss level. The study concluded that hair cortisol is an effective tool to assess stress levels in cows under field conditions.
Abstract
India, the country with the largest population of dairy cows in the world, has a policy of retiring abandoned and non-lactating cows in shelters, but the level of provision for their welfare in these shelters is unclear. Cows in 54 shelters across India were assessed for historic evidence of physiological stress, through determination of hair cortisol in 540 samples from 10 cows in each shelter by enzyme immunoassay. Animal-based and shelter resource-based welfare measures were recorded and correlations with the hair cortisol investigated by multivariable analysis. High hair cortisol concentrations were associated with dung in the lying area of the cowshed, a low dry bulb temperature there and little cow access to yards, as shelter-based variables. At a cow level, high hair cortisol concentrations were associated with dirty flanks, hock joint ulceration, carpal joint injuries, body lesions, dehydration, an empty rumen, old age, and low levels of body hair loss. Hair cortisol level promises to be an effective biomarker of stress in cows when conducting studies under field conditions.
View Full-Text
►

▼

Figures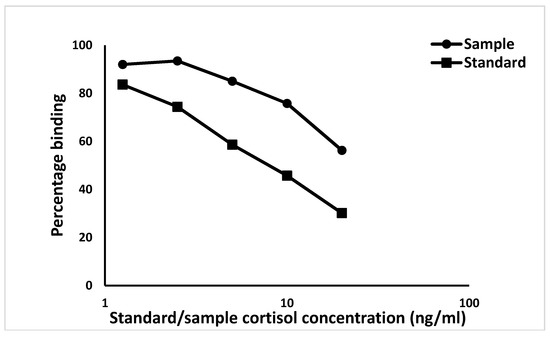 Figure 1
This is an open access article distributed under the
Creative Commons Attribution License
which permits unrestricted use, distribution, and reproduction in any medium, provided the original work is properly cited (CC BY 4.0).

Share & Cite This Article
MDPI and ACS Style
Sharma, A.; Umapathy, G.; Kumar, V.; Phillips, C.J.C. Hair Cortisol in Sheltered Cows and Its Association with Other Welfare Indicators. Animals 2019, 9, 248.
Note that from the first issue of 2016, MDPI journals use article numbers instead of page numbers. See further details here.
Related Articles
Comments
[Return to top]