Pregnancy and Litter Size, But Not Lamb Sex, Affect Feed Intake and Wool Production by Merino-Type Ewes
1
Faculty of Agriculture and Veterinary, Autonomous University of San Luis Potosi, San Luis Potosí 78321, Mexico
2
Regional University Unit Arid Lands, Chapingo Autonomous University Durango, Bermejillo 35230, Mexico
3
School of Agriculture and Environment and UWA Institute of Agriculture, The University of Western Australia, Crawley, WA 6009, Australia
4
CSIRO Animal Food and Health Sciences, Armidale, NSW 2350, Australia
5
National Institute for Forestry, Agriculture and Livestock Research, Campo Experimental Valle de México, Estado de México 56250, Mexico
*
Author to whom correspondence should be addressed.
Received: 22 March 2019 / Revised: 17 April 2019 / Accepted: 30 April 2019 / Published: 3 May 2019
Simple Summary
We examined whether feed intake and wool production are affected by pregnancy, litter size, or lamb sex on Merino genotype ewes. We observed that feed intake was influenced during pregnancy and lactation by litter size; whereas, wool production was influenced by litter size, but not by the sex of the lambs during pregnancy.
Abstract
Two experiments (Australia and Mexico) tested whether feed intake (FI) and wool production (WP) are affected by pregnancy (PRG), litter size (LZ), or lamb sex (LS) in Merino-type ewes. In Experiment-1, ewes were either not pregnant (NPR; n = 6), or carrying 1 (PR1; n = 7) or 3 (PR3; n = 11) fetuses, were studied in individual pens. NPR ewes had lower (
p
< 0.02) FI throughout PRG and lactation (LAC), except around lambing (
p
< 0.001). Following lambing, FI increased in PRG ewes (
p
< 0.001) to double the values in NPR ewes. PRG reduced WP (
p
< 0.001); in PR3, WP was lower than for both PR1 and NPR (
p
< 0.001). WP decreased during LAC and was lower in ewes rearing lambs than in NPR ewes (
p
< 0.001). Experiment-2 used 48 pregnant ewes (28 bearing singles and 20 bearing twins). Dam and lamb live weights (LW) and body condition (BC) were recorded from birth to weaning at 60 d, and dam fleece weight (DFW) was measured at weaning (12 months growth). WP was higher in ewes bearing and rearing single lambs than in ewes bearing twins (
p
< 0.001). DFW was positively (
p
< 0.01) related to LZ, dam LW, and BC, but not to changes in dam LW during LAC, or to lamb weight at birth or weaning, or LW gain, or LS. In conclusion, FI was affected during PRG and by LZ during LAC, whereas WP was influenced by LZ, but not LS, only during pregnancy.
View Full-Text
►

▼

Figures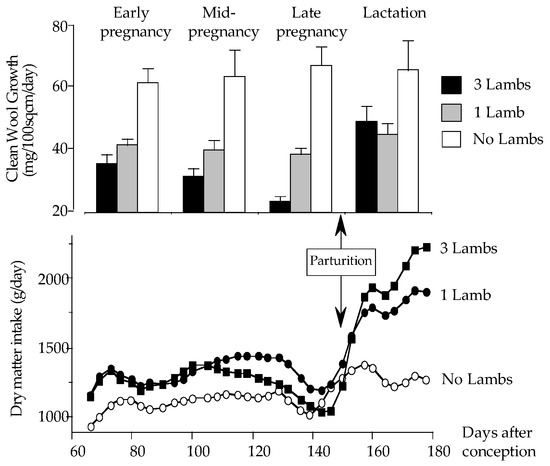 Figure 1
This is an open access article distributed under the
Creative Commons Attribution License
which permits unrestricted use, distribution, and reproduction in any medium, provided the original work is properly cited (CC BY 4.0).

Share & Cite This Article
MDPI and ACS Style
Ochoa Cordero, M.; Meza Herrera, C.A.; Vázquez García, J.M.; Stewart, C.A.; Rosales Nieto, C.A.; Ochoa Alfaro, A.E.; Purvis, I.W.; Cuevas Reyes, V.; Lee Rangel, H.A.; Martin, G.B. Pregnancy and Litter Size, But Not Lamb Sex, Affect Feed Intake and Wool Production by Merino-Type Ewes. Animals 2019, 9, 214.
Note that from the first issue of 2016, MDPI journals use article numbers instead of page numbers. See further details here.
Related Articles
Comments
[Return to top]