Characterization of
Staphylococcus

Species Isolated from Bovine Quarter Milk Samples

1

Department of Farm Animal and Public Health in Veterinary Medicine, University Clinic for Ruminants, University of Veterinary Medicine, 1210 Wien, Austria

2

Department of Farm Animal and Public Health in Veterinary Medicine, University Clinic for Poultry and Fish Medicine, University of Veterinary Medicine, 1210 Wien, Austria

*

Author to whom correspondence should be addressed.

Received: 28 March 2019 / Revised: 16 April 2019 / Accepted: 24 April 2019 / Published: 27 April 2019

(This article belongs to the Section

Cattle

)
Simple Summary
Staphylococci are the most prevalent bacteria isolated from bovine mammary secretions. They not only originate from cases of intramammary infections, but also from teat canal, skin and other environmental sources. They are usually divided into coagulase-negative staphylococci (CNS) and Staphylococcus (S.) aureus. In contrast to the contagious nature of most S. aureus infections, the epidemiology of CNS is less clear. Results of our observational study suggest that both, CNS and S. aureus, can be associated with clinical and subclinical mastitis but may also appear as colonizers and remain undetected in cows without inflammatory signs. As a result, the consequences differ, especially with the increased emphasis on reducing antibiotic use as a means of limiting antimicrobial resistance (AMR). A positive S. aureus test result requires antibiotic treatment of infected cows after evaluation of the probability of bacteriological cure, and, where necessary, implementation of management strategies to limit new infections. In contrast, treatment of CNS in cows without increase in somatic cell count should be avoided. Thus, these findings emphasize the value of regular bacteriological examination of clinical and subclinical cases and a thorough evaluation of any staphylococcal presentation before treatment.
Abstract
Staphylococcus (S.) aureus
is considered as a major mastitis pathogen, with considerable epidemiological information on such infections while the epidemiology of coagulase-negative staphylococci (CNS) is more controversial. The aim of this study was to use matrix-assisted laser desorption ionization time-of-flight mass spectrometry (MALDI-TOF MS) technology for identification of staphylococci isolated from bovine milk at species level and to characterize them in reference to presentation, somatic cell count (SCC), bacterial shedding (cfu) and antimicrobial resistance patterns. A total of 200 staphylococcal isolates (
S. aureus n
= 100; CNS
n
= 100) originating from aseptically collected quarter milk samples from different quarters of dairy cows were included in the study. They originated from cases of clinical (CM) and subclinical mastitis (SCM) or were isolated from milk with SCC ≤ 100,000 cells/mL in pure culture. We found staphylococci predominantly in cases of SCM (
n
= 120). In low-SCC cows, 12
S. aureus
and 32 CNS isolates were detected. Eighteen percent of each were associated with CM. Eleven CNS species were identified,
S. chromogenes
(
n
= 26) and
S. xylosus
(
n
= 40) predominated. CNS, particularly those in low-SCC cows, showed higher MIC90 (minimal inhibitory concentration) values for penicillin, ampicillin, cefoperazone, pirlimycin and marbofloxacin. Based on the present results, a careful interpretation of laboratory results is recommended to avoid antimicrobial therapy of staphylococci without clinical relevance and to ensure prudent use of antimicrobials.
View Full-Text
►

▼

Figures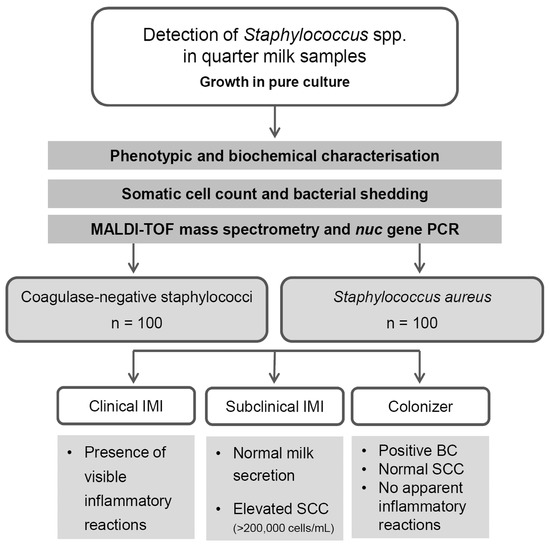 Figure 1
This is an open access article distributed under the
Creative Commons Attribution License
which permits unrestricted use, distribution, and reproduction in any medium, provided the original work is properly cited (CC BY 4.0).

Share & Cite This Article
MDPI and ACS Style
Wald, R.; Hess, C.; Urbantke, V.; Wittek, T.; Baumgartner, M. Characterization of Staphylococcus Species Isolated from Bovine Quarter Milk Samples. Animals 2019, 9, 200.
Note that from the first issue of 2016, MDPI journals use article numbers instead of page numbers. See further details here.
Related Articles
Comments
[Return to top]