Dnd1

Knockout in Sturgeons By CRISPR/Cas9 Generates Germ Cell Free Host for Surrogate Production

Faculty of Fisheries and Protection of Waters, South Bohemian Research Center of Aquaculture and Biodiversity of Hydrocenoses, University of South Bohemia in Ceske Budejovice, Zátiší 728/II, 389 25 Vodňany, Czech Republic

*

Author to whom correspondence should be addressed.

Received: 14 March 2019 / Revised: 8 April 2019 / Accepted: 12 April 2019 / Published: 17 April 2019
Simple Summary
Sturgeons, also called archaic giants, are critically endangered fish species due to overfishing for caviar and interference in their natural habitats. Some sturgeon species have life spans of over 100 years and sexual maturity is attained between 20 to 25 years. Sterlet (Acipenser ruthenus) has fastest reproductive cycle; thus, this species can be used for surrogate production in sturgeons. Primordial germ cells are the origin of all germ cells in developing embryos. Dnd1 is essential for formation and migration of primordial germ cells and its inactivation results in sterility in fish. In our study, we have used a cutting-edge genome editing technology known as CRISPR/Cas9 to knockout dnd1 and to prepare a sterile sterlet host. CRISPR/Cas9 knocked-out embryos lacked primordial germ cells and can be used as a sterile host for surrogate production in sturgeons.
Abstract
Sturgeons also known as living fossils are facing threats to their survival due to overfishing and interference in natural habitats. Sterlet (
Acipenser ruthenus
) due to its rapid reproductive cycle and small body size can be used as a sterile host for surrogate production for late maturing and large sturgeon species. Dead end protein (dnd1) is essential for migration of Primordial Germ Cells (PGCs), the origin of all germ cells in developing embryos. Knockout or knockdown of
dnd1
can be done in order to mismigrate PGCs. Previously we have used MO and UV for the aforementioned purpose, and in our present study we have used CRISPR/Cas9 technology to knockout
dnd1
. No or a smaller number of PGCs were detected in crispants, and we also observed malformations in some CRISPR/Cas9 injected embryos. Furthermore, we compared three established methods to achieve sterility in sterlet, and we found higher embryo survival and hatching rates in CRISPR/Cas9, UV and MO, respectively.
View Full-Text
►

▼

Figures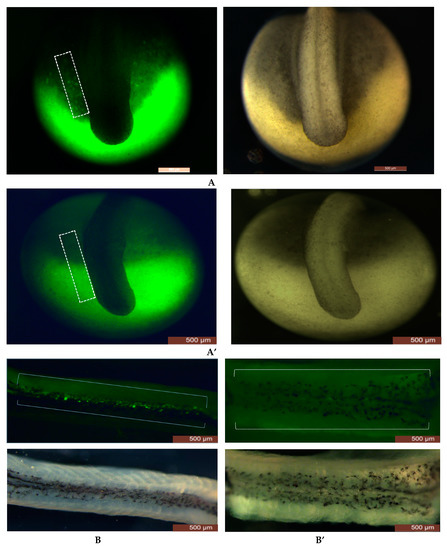 Figure 1
This is an open access article distributed under the
Creative Commons Attribution License
which permits unrestricted use, distribution, and reproduction in any medium, provided the original work is properly cited (CC BY 4.0).

Share & Cite This Article
MDPI and ACS Style
Baloch, A.R.; Franěk, R.; Tichopád, T.; Fučíková, M.; Rodina, M.; Pšenička, M. Dnd1 Knockout in Sturgeons By CRISPR/Cas9 Generates Germ Cell Free Host for Surrogate Production. Animals 2019, 9, 174.
Note that from the first issue of 2016, MDPI journals use article numbers instead of page numbers. See further details here.
Related Articles
Comments
[Return to top]