A Case of Letting the Cat out of The Bag—Why Trap-Neuter-Return Is Not an Ethical Solution for Stray Cat (
Felis catus

) Management

Environmental and Conservation Sciences, College of Science, Health, Engineering, and Education, Murdoch University, Perth, WA 6150, Australia

*

Author to whom correspondence should be addressed.

Received: 18 February 2019 / Revised: 1 April 2019 / Accepted: 10 April 2019 / Published: 16 April 2019
Simple Summary
Trap-Neuter-Return (TNR) is advocated as an effective, humane and ethical solution to problems caused by stray cats living in close association with human habitations. In Australia, TNR has previously been rejected by the Federal Government and the Australian Veterinary Association as an inappropriate management strategy for stray cats. Despite this, and public support for the control of cat numbers and legislative initiatives, calls persist for widespread trials of TNR. We review TNR literature that report empirical data to assess whether TNR resolves problems caused by stray cats and whether cats released under TNR would have a good quality of life. We identify ten ethical and welfare challenges that any cat control program must consider, particularly if cats are to be returned to urban environments. Simply, the weight of these data indicate that TNR cat management is unlikely to solve the problems in most cases and is unethical on animal welfare grounds. We argue instead for a holistic approach to reducing cat numbers using targeted adoption, early-age desexing and community education initiatives.
Abstract
Trap-Neuter-Return (TNR) programs, in which stray cats are captured, neutered and returned to the environment are advocated as a humane, ethical alternative to euthanasia. We review the TNR literature in light of current debate over whether or not there should be further TNR trials in Australia. We revisit the problems arising from stray cats living in association with human habitation and estimate how many stray cats would have to be processed through a scientifically-guided TNR program to avoid high euthanasia rates. We also identify 10 ethical and welfare challenges that have to be addressed: we consider the quality of life for stray cats, where they would live, whether the TNR process itself is stressful, whether TNR cats are vulnerable to injury, parasites and disease, can be medically treated, stray cats' body condition and diet, and their impacts on people, pet cats, and urban wildlife, especially endemic fauna. We conclude that TNR is unsuitable for Australia in almost all situations because it is unlikely to resolve problems caused by stray cats or meet ethical and welfare challenges. Targeted adoption, early-age desexing, community education initiatives and responsible pet ownership have greater promise to minimize euthanasia, reduce numbers rapidly, and address the identified issues.
View Full-Text
►

▼

Figures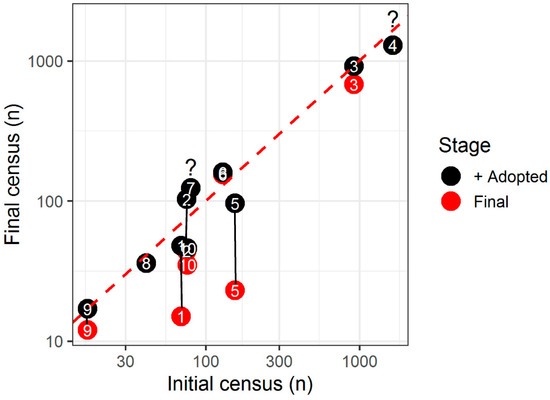 Figure 1
This is an open access article distributed under the
Creative Commons Attribution License
which permits unrestricted use, distribution, and reproduction in any medium, provided the original work is properly cited (CC BY 4.0).

Share & Cite This Article
MDPI and ACS Style
Crawford, H.M.; Calver, M.C.; Fleming, P.A. A Case of Letting the Cat out of The Bag—Why Trap-Neuter-Return Is Not an Ethical Solution for Stray Cat (Felis catus) Management. Animals 2019, 9, 171.
Note that from the first issue of 2016, MDPI journals use article numbers instead of page numbers. See further details here.
Related Articles
Comments
[Return to top]