Feeding Diets Moderate in Physically Effective Fibre Alters Eating and Feed Sorting Patterns without Improving Ruminal pH, but Impaired Liver Health in Dairy Cows
1
Institute of Animal Nutrition and Functional Plant Compounds, Department for Farm Animals and Veterinary Public Health, University of Veterinary Medicine Vienna, 1210 Vienna, Austria
2
Institute of Milk Hygiene, Milk Technology and Food Science, Department for Farm Animals and Veterinary Public Health, University of Veterinary Medicine Vienna, 1210 Vienna, Austria
3
BIOMIN Research Center, Biomin Holding GmbH, 3430 Tulln, Austria
*
Author to whom correspondence should be addressed.
Received: 27 February 2019 / Revised: 19 March 2019 / Accepted: 27 March 2019 / Published: 29 March 2019
Simple Summary
This study tested the hypothesis that the content of physically effective fibre in the diet modifies eating and feed sorting patterns of cows, which is reflected in rumen and systemic health variables. We observed that switching cows from a diet high to a diet moderate in physically effective fibre (17.8%; 28% starch on dry matter basis) in an attempt to stabilize rumen pH variations altered eating, sorting, and chewing behaviour. However, this attempt did not prevent ruminal pH drop and the impairment of liver health variables. Therefore, our study emphasizes the importance of increasing the level of physically effective fibre for particles >8 mm beyond 17%–18% of the diet when (barley grain-based) starch content is at a 28% level.
The main challenge in dairy cattle feeding is to find a balance between the energy and physically effective fibre (peNDF), required to maintain rumen health. In an attempt to regulate the balance between energy intake and rumen buffering, we hypothesized that the content of peNDF in the diet modifies eating and feed sorting patterns of the cows. Sixteen lactating Simmental cows were switched from a diet high in peNDF, with which they were fed for one week, to a diet moderate in peNDF for four weeks. Data showed that during the moderate peNDF feeding the cows increased sorting for medium-sized particles and avoided both long and very fine particles. In addition, cows decreased their eating time per meal, but increased the number of meals per day, obviously attempting to decrease the amount of fermentable substrate per time unit while maintaining high levels of nutrient/energy intake. Although these changes during the moderate peNDF feeding went along with a lower diurnal variation of ruminal pH, feeding of the latter diet did not prevent ruminal pH drop and increased the level of all liver enzymes, indicating liver tissue damage. In conclusion, the altered eating, chewing, and sorting behaviour of the cows during the moderate peNDF feeding could not alleviate the deficiency in peNDF, which resulted in ruminal pH depression and impairment of liver health variables.
View Full-Text
►

▼

Show Figures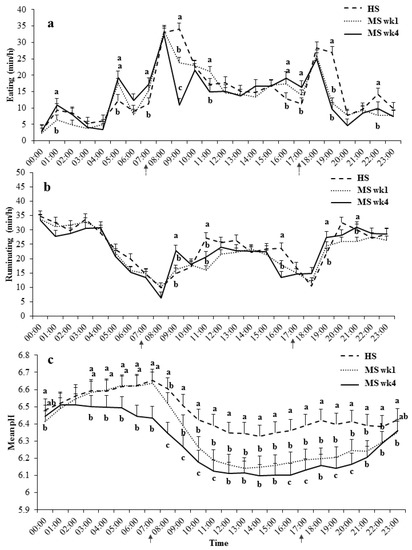 Figure 1
This is an open access article distributed under the
Creative Commons Attribution License
which permits unrestricted use, distribution, and reproduction in any medium, provided the original work is properly cited

MDPI and ACS Style
Kröger, I.; Humer, E.; Neubauer, V.; Reisinger, N.; Zebeli, Q. Feeding Diets Moderate in Physically Effective Fibre Alters Eating and Feed Sorting Patterns without Improving Ruminal pH, but Impaired Liver Health in Dairy Cows. Animals 2019, 9, 128.
Show more citation formats
Show less citations formats
Note that from the first issue of 2016, MDPI journals use article numbers instead of page numbers. See further details
here
.