Health Benefits of Supplementing Nursery Pig Diets with Microalgae or Fish Oil
1
Department of Animal Biosciences, University of Guelph, ON N1G 2W1, Canada
2
Department of Obstetrics and Gynecology and Physiology and Pharmacology, Western University, London, ON N6A 5C1, Canada
*
Author to whom correspondence should be addressed.
Received: 28 January 2019 / Revised: 26 February 2019 / Accepted: 28 February 2019 / Published: 5 March 2019
Simple Summary
Weaning is a stressful event and the associated stress can affect piglet's growth and health. The inclusion of omega-3 polyunsaturated fatty acids (n-3 PUFA) in piglets' diets may reduce the inflammation associated with stress occurring at weaning, allowing for optimal growth and health. Many n-3 PUFA sources are fish-based; however, the use of microalgae may provide a similar alternative to fish products. We therefore investigated the use of fish oil or microalgae in piglets' diets in addition to less expensive plant-based protein sources and assessed the effects of piglets' diet on growth and health. It was determined that the inclusion of fish oil or microalgae did not affect piglet's growth, but dietary fish oil reduced feed intake when pigs were placed on a common diet. Microalgae and fish oil supplementation also decreased the stress response following an immune stress challenge. However, no effects of piglet's diet were found on piglet's immune response. Results from this trial suggest that microalgae and fish oil can differentially affect the piglet's stress response, possibly due to different nutrient profiles in the two feed ingredients.
Abstract
Weaning stress can negatively impact a pig's performance; dietary supplementation with omega-3 polyunsaturated fatty acids (n-3 PUFA) reduces inflammatory stress and promotes nursery pig's health and growth. Fish oil (FO) is a major source of n-3 PUFA; however, microalgae (AL) may provide an alternative source of n-3 PUFA. The aim of this study was to assess the health benefits of supplementing a plant protein-based nursery diet with 3.12% AL or 1.25% FO providing equal total n-3 PUFA compared to a control (CON) diet. Seventy-two pigs were fed experimental diets for three weeks (phases 1 and 2), followed by a common standard diet for three weeks (phase 3). Following phase 2, 8 pigs per treatment underwent a lipopolysaccharide (LPS) immune stress challenge to assess the acute-phase response and 8 pigs per treatment were vaccinated with novel antigens to assess acquired immunity. No significant differences in piglets' growth were observed, despite decreased feed intake in FO piglets compared to AL piglets in phase 3. AL supplementation tended to reduce, and FO supplementation significantly reduced the LPS-induced fever response. The AL pigs had significantly reduced cortisol responses, increased cytokine concentrations, and increased chromogranin A concentrations compared to FO and CON pigs following LPS challenge. Results suggest that AL or FO supplementation in nursery diets differentially modulate the acute-phase response, possibly due to different n-3 PUFA profiles between the two ingredients.
View Full-Text
►

▼

Figures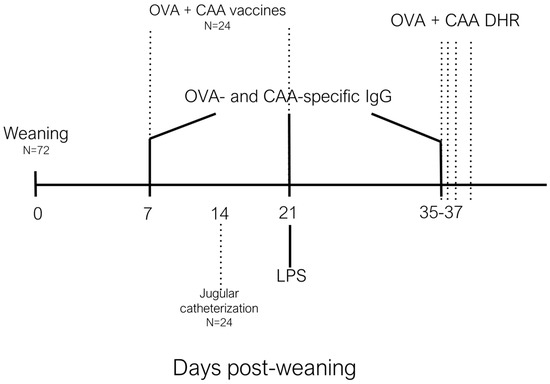 Figure 1
This is an open access article distributed under the
Creative Commons Attribution License
which permits unrestricted use, distribution, and reproduction in any medium, provided the original work is properly cited (CC BY 4.0).

Share & Cite This Article
MDPI and ACS Style
Lee, A.V.; You, L.; Oh, S.-Y.; Li, Z.; Code, A.; Zhu, C.; Fisher-Heffernan, R.E.; Regnault, T.R.H.; De Lange, C.F.M.; Huber, L.-A.; Karrow, N.A. Health Benefits of Supplementing Nursery Pig Diets with Microalgae or Fish Oil. Animals 2019, 9, 80.
Note that from the first issue of 2016, MDPI journals use article numbers instead of page numbers. See further details here.
Related Articles
Comments
[Return to top]